Inspiration
Wendy Cloyd on the History of Drury's President's Residence
When J. Timothy Cloyd, Ph.D., assumed the presidency of Drury University, he and his wife, Wendy, moved into the historic president's residence on campus. We sat down with her to learn what it's like to live in a piece of university history.
By Lucie Amberg
Dec 2021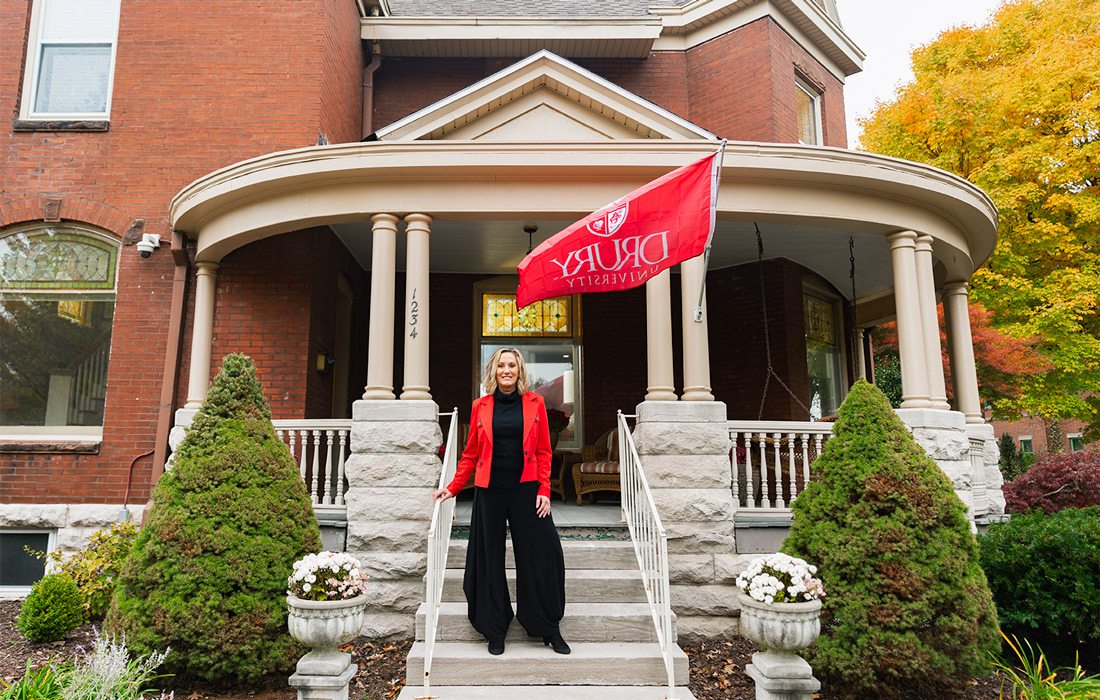 417 Home: When did you move into the house?
Wendy Cloyd: We moved here in 2016. We were living in Conway, Arkansas. Drury University came to Tim and asked him to interview for the presidency here. When he came home and told me the mission of the school, we prayed about it and felt this was where God was leading us, to this beautiful campus. So that's what brought us here, and we love it.
417 Home: What were the first things you noticed about the house?
W.C.: I was able to come into the house a couple of times before we moved in. The house was built in 1895, and it's absolutely beautiful. I immediately noticed the stained glass in this house—you can't buy it anymore. And downstairs, there are eight leaded-glass windows, which just don't get made anymore, and they're so special.
417 Home: How did you make this historic home feel like your home?
W.C.: I didn't want to take away from the natural beauty, but I also wanted to update it. The Board of Trustees was so gracious about me putting my own touch to it and making it our style. [Drury trustees] Rosalie Wooten and Rita Baron helped me a lot.
417 Home: What were some of the updates you made?
W.C.: We took down the wallpaper downstairs and painted the walls a light gray. In the dining room, there was a brass chandelier. I didn't want to spend money on changing things, so I antiqued the chandelier myself, which gave it a new, fresh look. There were white candlesticks, and I brushed those with a light gold. In the entry foyer, there's a beautiful chandelier that had been in the house for a long time. I antiqued that chandelier in black and gold, and I went to Lowe's and found updated chandelier lanterns.
417 Home: How is the campus reflected in your home?
W.C.: Of course, I wanted to have art from the school here. I reached out to [artist and Drury associate professor] Jacqueline Warren. She was in Italy at the time. She had her studio opened up for me, and I got to pick out what I wanted.
417 Home: How wonderful!
W.C.: I know! So we have a lot of her art, and we also have work by [artist and Drury professor] Todd Lowery. We love displaying art from our amazing faculty and students—we try to fill it up with our talent here on campus.
417 Home: What are some of your favorite moments of entertaining in this home?
W.C.: The whole downstairs is my favorite place to entertain. There are pocket doors in the living room that lead into the family room, so it's all very open. After graduation, we always have a big picnic here for several families and board members. That's an indoor-outdoor event, so it really utilizes all of the entertaining spaces.
417 Home: You must have missed having some events during the last couple of years.
W.C.: Well, when I look back before COVID, we were entertaining so much that it was easy to lose sight of how special it is. COVID had such an impact on our ability to gather with people and of course, everyone has gone through so much.