Outdoor Spaces
Modern Meets Tropical in This Backyard Oasis
Robert and Angie Belk's backyard pool area was designed with function and accessibility in mind. This modern outdoor design merges nature with manufactured elements and marries the indoors and outdoors through floor-to-ceiling windows.
By Tessa Cooper
Mar 2021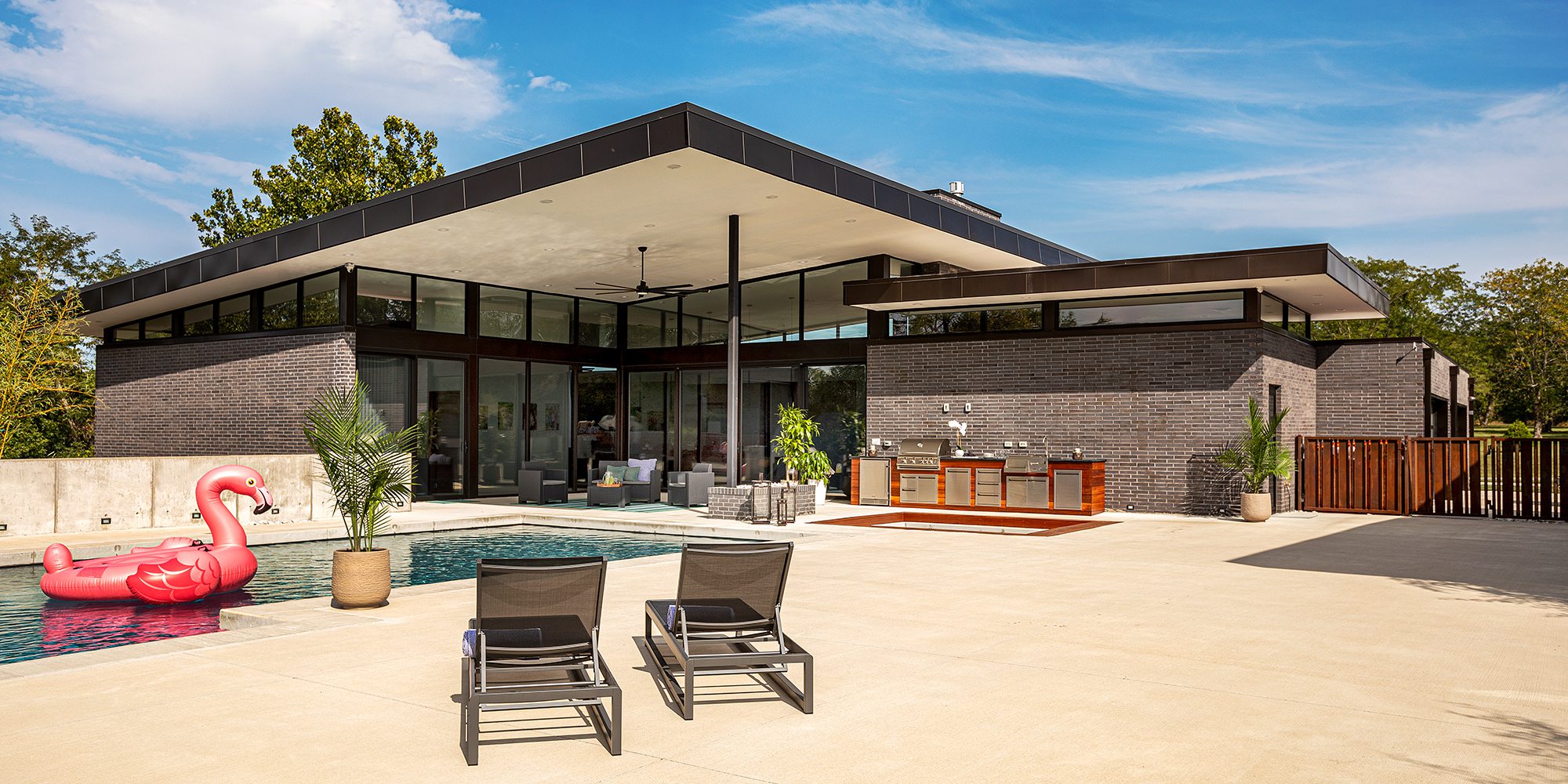 In 2016, Robert and Angie Belk began putting plans for their dream custom home into action. While envisioning it, their future outdoor space was often at the forefront of their minds. 

Now, the indoor and outdoor sections of their property are nearly intertwined thanks to thoughtful planning by lead architect Michael Hampton at Arkifex Studios. "When the large glass doors are open near the kitchen, the indoor and outdoor space become one," Hampton says. "The large roof overhanging above the patio helps create a covered space that can be enjoyed at any time."
Other design choices merge nature with manufactured. "I wanted the hot tub and the pool to be separate," Robert says. "I like a little more of a modern touch. That is why there is a lot of concrete there, including concrete around the coping and concrete walls." But to offset the industrial feel of this material, they chose to add bamboo plants for a pop of greenery.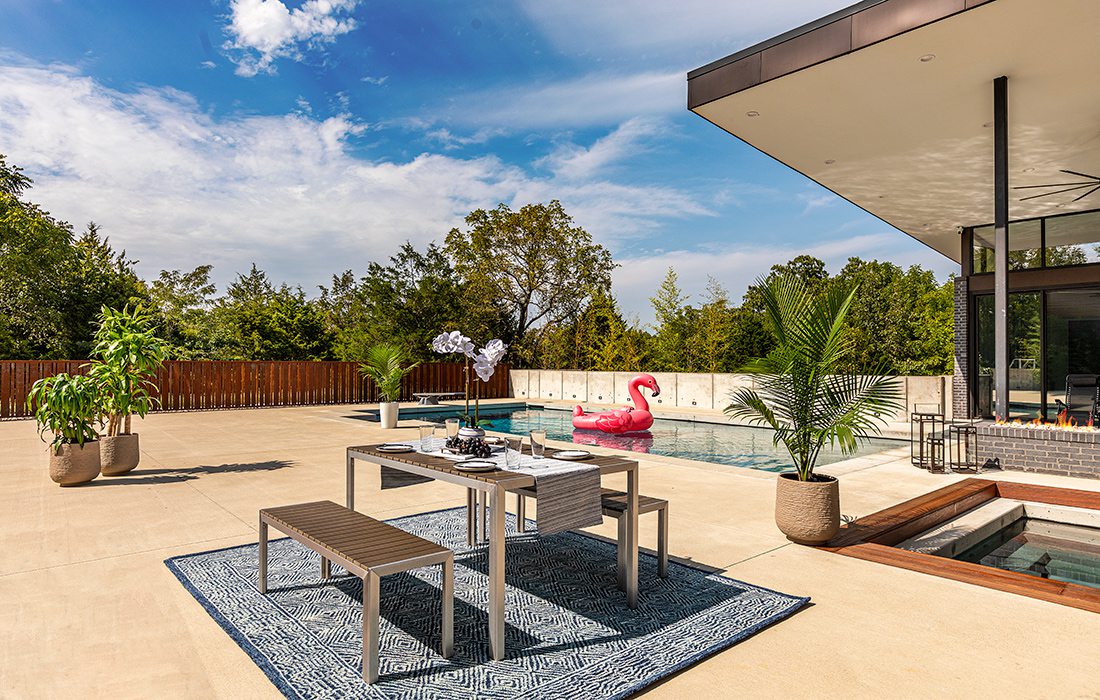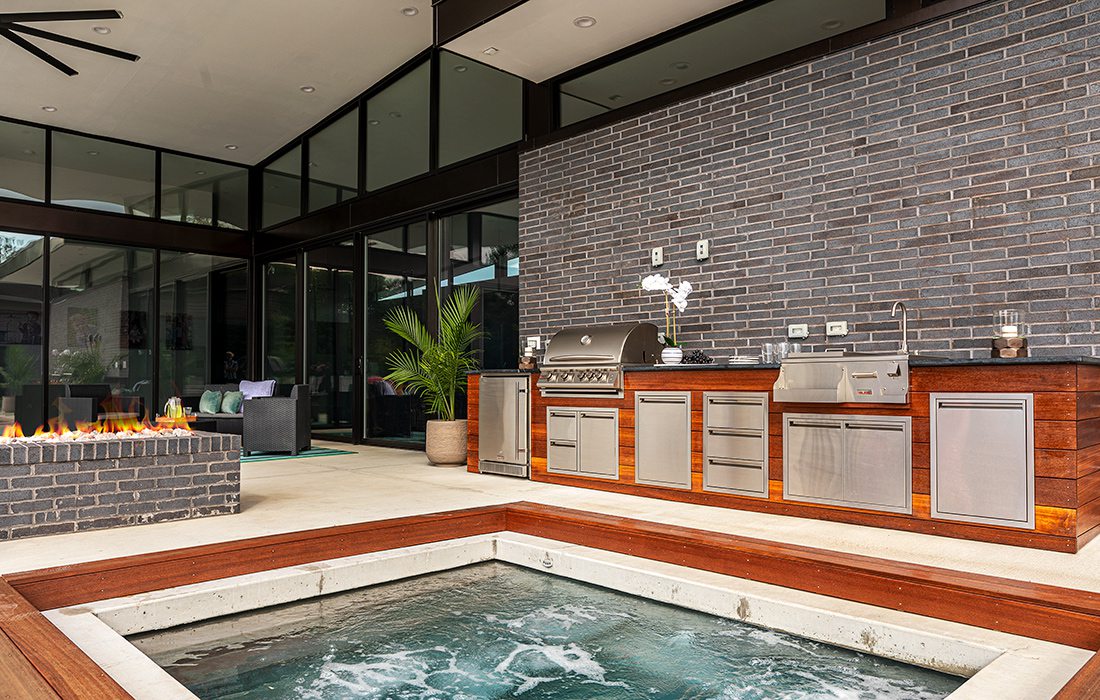 The pool and hot tub lend a picturesque view from the interior thanks to floor-to-ceiling windows, and these watering holes never sport a cover. According to Robert, the family leaves the amenities open year-round thanks to their automated freeze protection systems. And with the hot tub and outdoor fireplace, it's never a challenge to get fresh air even on chilly days.

Builder
Aaron King
Cutting Edge Homes
417-861-8656
Plants
All In Bamboo, LLC
417-369-1396
Outdoor Kitchen Appliances
417-833-1113