Outdoor Spaces
A Colorful Homestead
Bright flowers and veggies pepper Amy and Alan Taylor's garden that features a hand-built greenhouse and artistic touches.
by Tessa Cooper
Mar 2023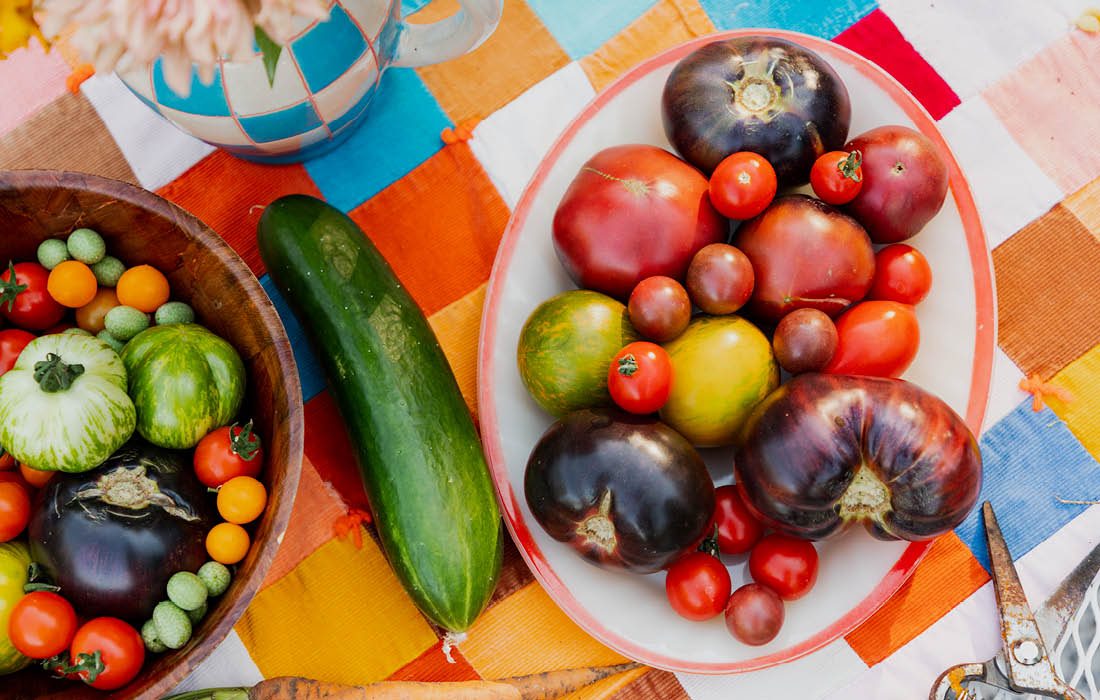 In Amy and Alan Taylor's garden, there are whimsical touches throughout. Chinese long beans dangling on an arched trellis, cheerful zinnias, colorful vintage patio furniture and a brood of photogenic chickens make it feel like the setting of a nostalgic children's storybook. 
"Every year, I have so much fun planning our garden," Amy says. "I ask myself, 'How can I make it the most magical space that I can?'"
The pair purchased their land just outside Ozark city limits in 2018 and moved to their 6-acre homestead that September with their three children. The first year they lived there, they gardened directly in the ground. "We had no raised beds, and it was a disaster because the weeds there were just ridiculous," Amy says.
When the COVID-19 pandemic hit, the Taylor family had extra free time to help their garden flourish. They built a greenhouse and raised beds made with reclaimed materials atop one large rock bed. Some of these reclaimed materials included castaway windows and doors, old fence posts and retired electrical conduit.
The Taylors have since added a chicken coop and a pink, yellow and orange mural by Amy, and they designated a section of the pasture specifically for the goats. Scattered throughout the garden and greenhouse, you'll see vintage decor and patio furniture. Amy is an avid flea marketer, and she curates almost the entire top floor at Camp Flea in Ozark along with her friend Megan Cunningham.
Each year, Amy tries to plant a few new vegetables and flowers and several repeats. Some of her go-to flowers are zinnias and sunflowers. "Zinnias are so easy to grow because they are really tolerant, and sunflowers are so dramatic and have a magical feel when they get so big," Amy says. The Taylors always include herbs in their garden to garnish drinks and even use as greenery in bouquets.
While she and Alan do their research before trying out a new plant, they aren't afraid of trial and error. "We've just had really good luck, but I think it's because we love to garden and it's exciting to us," Amy says. "You just kind of have to go with the flow and realize not everything works out, but you learn from it."