Outdoor Spaces
Bob and Barb Kipfers Backyard Native Garden
Missouri Master Naturalists Bob and Barb Kipfer cultivated a beautiful backyard native garden at their home in Ravenwood that balances beauty and function.
By Jo Jolliff
Jun 2023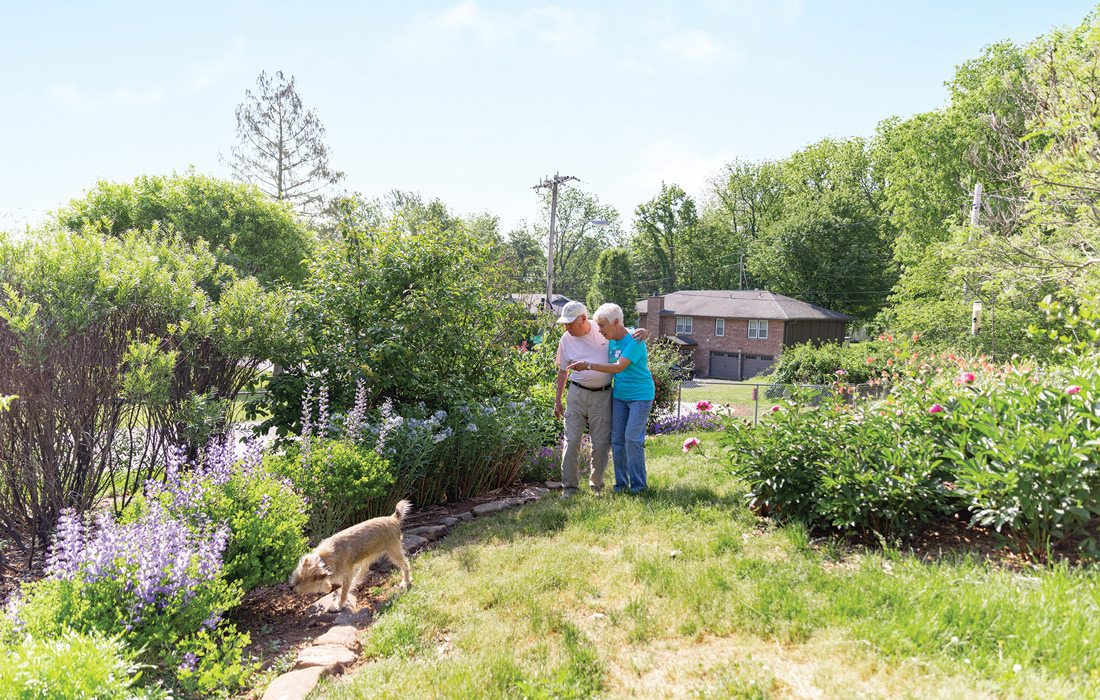 We've lived in this house since 1973 when we first moved to Springfield. It was the last house to be occupied in this new addition, at the time, called Ravenwood. Of course, over the years we had traditional landscaping but then I started to learn more about the connections in our natural world in ways that I was totally uninformed about before. 
I'd always loved plants and knew I'd want to become a master gardener when I retired from nursing. Then I got more interested in conservation, and my husband, Bob, heard about the Springfield Plateau Master Naturalist and took the course in 2007. I later took it after him. I also got involved with the native butterfly house at Nathanael Greene/Close Memorial Park and started learning from Dr. Chris Barnhart. I learned very specific things about butterflies, plants and natural life that I never knew before. 
Once I was aware of those connections, I was also aware of the fact that a lot of things we put in our yard are not good for the environment. And are certainly food deserts for our natural animals, insects and birds. So I wanted to change that. We started a rain garden and I started to plant native plants and got rid of the invasive plants I had that were causing problems. 
I just got really enthusiastic about it. I started looking into how I could make this the best place for the food web and have something blooming from spring to late fall providing food sources for wildlife. I started seeing particular butterflies and insects that were attracted to the plants. And of course, when you get the insects, you get lots of bird activity as well. 
As conservation became more of my focus I also focused on sharing this information with others. One big resource I found that I am now on the board of is the program Grow Native. It's sponsored by the Missouri Prairie Foundation and provides lots of information about native plants and all kinds of possibilities you can have for them in different gardens. 
One of the biggest ways I spread awareness, though, is simply by being outside and people will walk by and say, "I really like your yard," and I'll say, "Come on in!" and show them around. We are certified with Yard Ethic so we have a sign from them and signs along the fence to let people know that this is a pollinator garden and is wildlife friendly. I've just been so excited to see more people getting interested in native plants. Our Master Naturalists had the native plant sale in April and I was so overjoyed to see all these people pouring in and the vendors were all almost sold out. 
I think plants connect us with our real world and not with the screen world. Talking about it, sharing. We have neighbor kids who get so excited when they see a particular insect or hummingbird and we get to teach fifth graders each week at the Wonders of the Ozarks Learning Facility (WOLF) at Bass Pro so we really see young people's excitement about the natural world. I just hope that people continue to become more enthusiastic about it.