Projects
The McQuearys' Outdoor Escape Where the Paw Paw's Grow
John and Karen McQueary, owners of Hotel Vandivort, and their two young children escape to their own wooded oasis where they explore a variety of topography and care for native plants.
By Jo Everhart
Sep 2021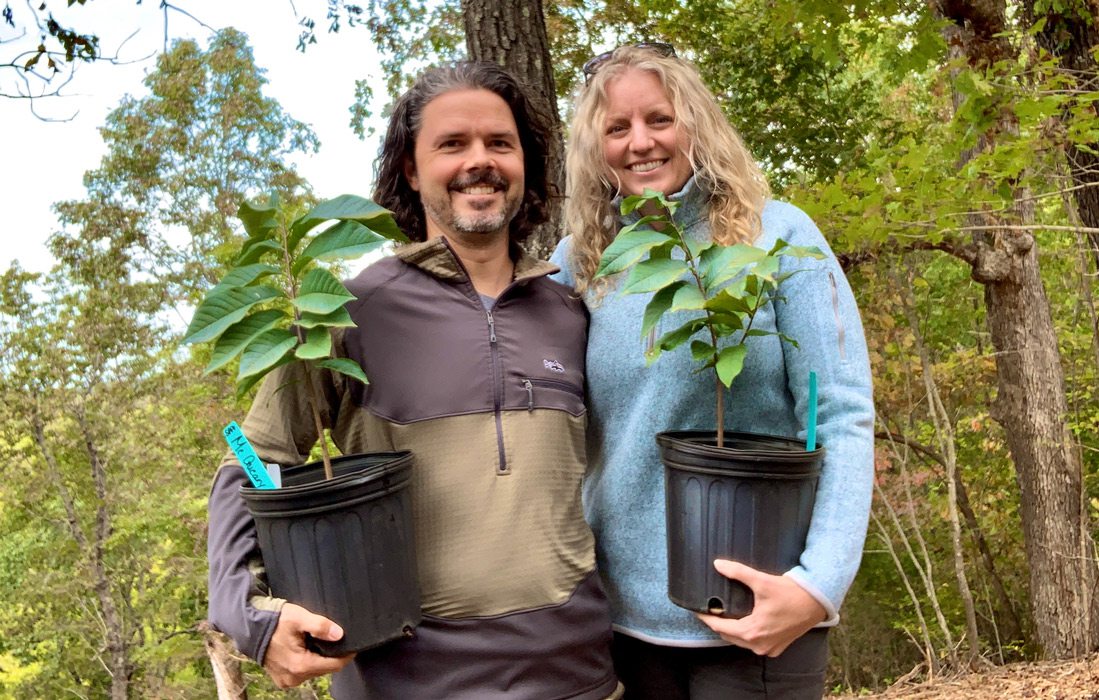 The McQueary family purchased 175 acres of untouched land in  2020 as a place to escape from city life—and they dove headfirst into exploring it. They began clearing paths before being drawn off the trails to survey every hidden spot on their property. They found bluffs, hills and two wet weather waterfalls. "There were no trails that led to the waterfalls; we just heard them off in the distance and bushwhacked our way through to discover these amazing, charming waterfalls in the middle of nowhere," says Karen McQueary, co-owner of Hotel Vandivort with her husband, John. 
Another treasured find was a paw paw patch located below the bluffs that look out across Osage Fork River. McQueary fell in love with this native plant often mentioned in Ozarks folk music. Paw paws offer a tropical mango-banana-citrus flavor incongruent with its Midwest origins. "Paw paws are this totally unique, foraged food that you don't really experience any other way and can't buy in the store," says McQueary. 
They planted additional paw paws to help them cross pollinate and added other native plants like morels, walnut trees and raspberry bushes. "Our intention is just to help cultivate the forest and plant more things to exist wildly," says McQueary. "We want to make it a rich, vibrant, natural Missouri forest." 
The paw paws grow beside the river beneath a grove of tall, well-established sycamore trees and attract zebra swallowtail butterflies, making this the perfect campground for the McQueary's to spend their evenings. Even better, within the sycamore trees lies a massive eagle's nest that is home to two eagles and their baby. The eagles will return to their nest each year and continue to build on it, allowing the McQueary family to watch them soar above each year, something that was a selling point for them when purchasing the land late last summer.  
They have many other plans for the land, too. Short term, McQueary says they would like to host a paw paw harvest party for their friends and family to make dishes using the paw paws and spend the evening on their land. Long term, she says they would like to build a cabin, not only for their enjoyment now but also so the land can stay in their family for years to come. "I don't know where my kids will go to college or where they'll land in life," says McQueary. "I don't necessarily expect them to stay in Springfield forever, but my hope is that they'll have this piece of property with the cabin that they'll have memories of and they can always keep so there is always this connection to the Missouri Ozarks."