Retailers
The Perfect Backyard Swing for Your Home
Rebecca Facas, owner of Restoration Grove, designs and builds custom porch swings that become treasured family heirlooms.
By Heather Kane Kohler
Mar 2022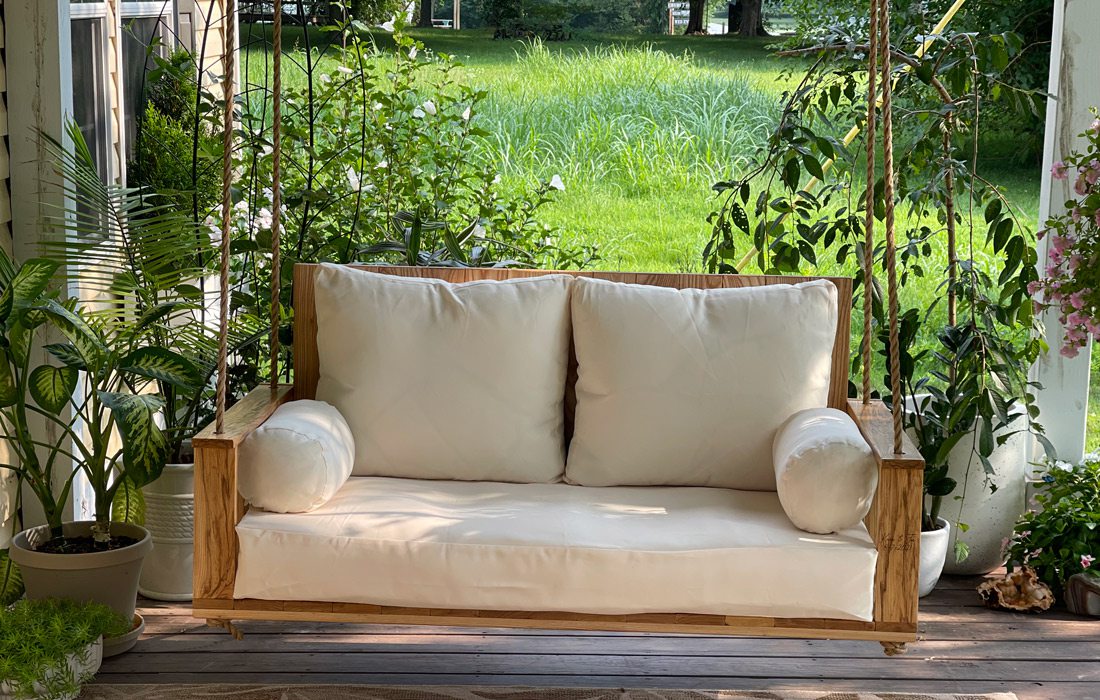 A porch is an extension of your home. It's a place to gather in the shade, drink iced tea and look upon your neighborhood or, if you live in the country, the rolling Ozark hills. Spending time in our outdoor spaces is a seasonal treat, so why not get your very own custom porch swing, so you can sway in the breeze on warm days?  Rebecca Facas, owner of Restoration Grove, can make your Southern porch swing dreams come true. You'll be able to pick your stain, style, finish and size with the help of Facas, an experienced woodworker and mom of three.
Facas has created these custom swings as wedding gifts, engraving heirloom pieces with couples' names and wedding dates. "A porch swing is one of those things that if it's made well, will last through many generations. I see them as beautiful family heirlooms," says Facas. Locally sourced ash is a hardwood that holds up well, so often that's what Facas uses for her swings. "Throughout history, ash was used to make baseball bats and to make wagons because it holds up well outdoors," explains Facas. Once the swing has been built, boiled linseed oil is applied in multiple coats, which adds strength to the wood and keeps the bugs from eating it, then it's sealed. Creating your own custom swing will allow you to get the perfect fit for your outdoor space, plus you can make sure the style will match your home's aesthetic perfectly. These swings are true works of art, made with lots of heart.