2021 Winners
Best of 417 2021: Food & Drink
Our readers have spoken. We've compiled the best places to eat, dishes to try and bars to sit down and have a drink in southwest Missouri, as voted by our readers.
Readers' Choice Awards Edited By Krysten Muench | Editors' Picks By Katie Pollock Estes | Art Direction By Sarah Patton
Feb 2021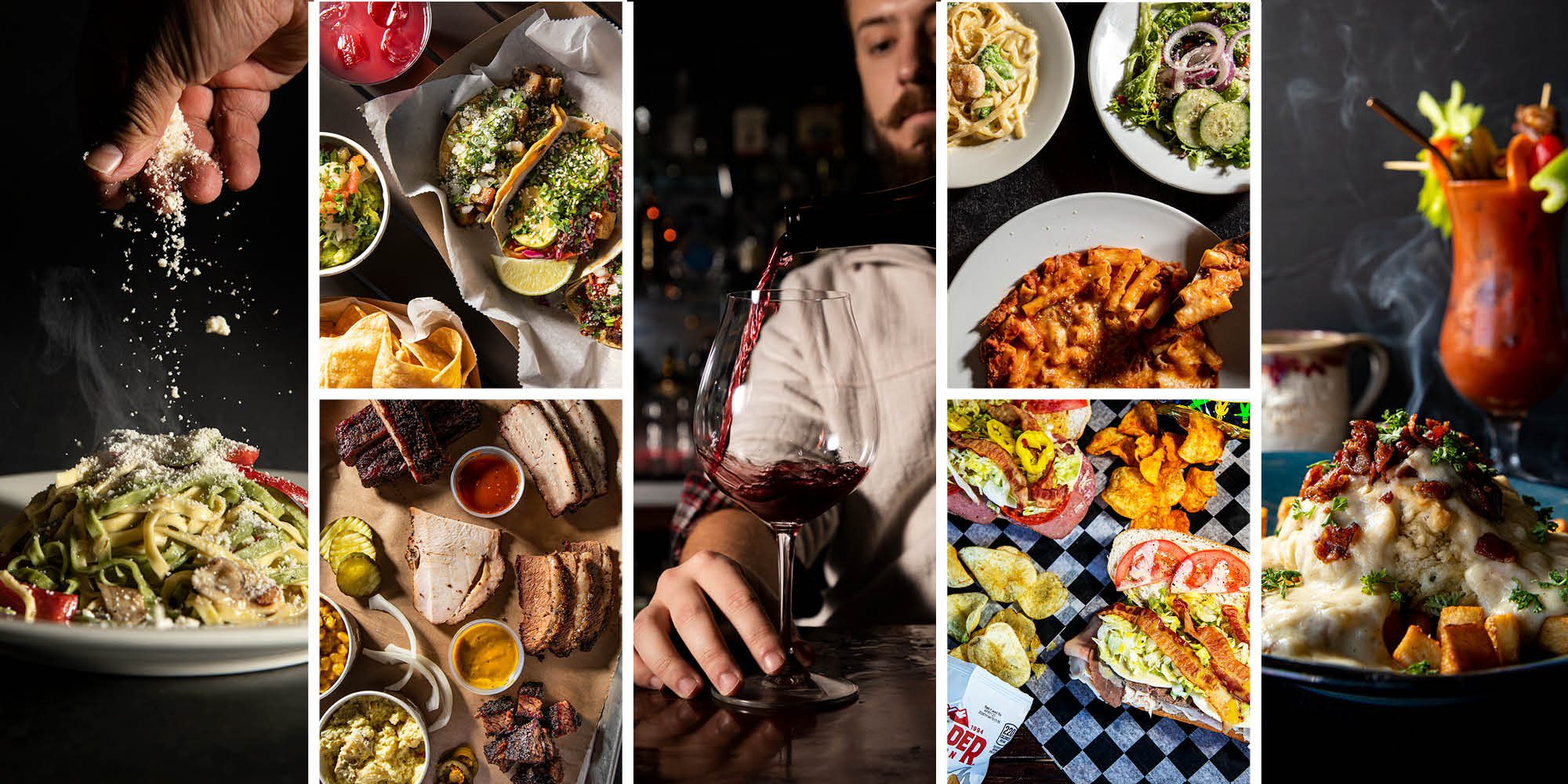 5 BEST SPRINGFIELD FINE DINING RESTAURANTS
(in alphabetical order)
Avanzare Italian Dining
Flame Steakhouse & Wine Bar
Jimm's Steakhouse & Pub
Metropolitan Grill
Ocean Zen
5 BEST PLACES FOR LUNCH
(in alphabetical order)
Bambinos Café
City Butcher and Barbecue
The Grotto 
Jimm's Steakhouse & Pub
Neighbor's Mill Bakery & Cafe
BEST SPRINGFIELD CASUAL RESTAURANT

Winner: Bambinos Café
Second Place: Black Sheep Burgers + Shakes 
Third Place: Big Whiskey's American Restaurant & Bar 
BEST BRANSON AREA RESTAURANT
Winner: The Keeter Center at College of the Ozarks
Second Place: Level 2 Steakhouse
Third Place: Chateau Grille (Chateau on the Lake)
BEST JOPLIN RESTAURANT
Winner: Crabby's Seafood Bar & Grill
Second Place: Red Oak Steakhouse
Third Place: Joplin Eagle Drive-In
BEST NEW RESTAURANT
Winner: Team Taco
Second Place: Lucky Tiger Sandwich Co.
Third Place: Catrina's Mexican Kitchen & Cantina
BEST RESTAURANT SERVICE
Winner: Jimm's Steakhouse & Pub
Second Place: The Keeter Center at College of the Ozarks
Third Place: Flame Steakhouse & Wine Bar
BEST PLACE FOR BREAKFAST
Winner: Gailey's Breakfast Cafe
Second Place: Early Bird Breakfast Pub
Third Place: Morning Day Cafe
BEST PLACE FOR BRUNCH
Winner: Aviary by Lavender Falls
Second Place: The Keeter Center at College of the Ozarks
Third Place: The Order at Hotel Vandivort
BEST CATERER
Winner: Simply Delicious Catering
Second Place: Traveling Chef
Third Place: Char Steakhouse & Oyster Bar
BEST SALADS
Winner: Jimm's Steakhouse & Pub
Second Place: Bambinos Café
Third Place: St. Michael's Sports Bar and Grille
BEST BURGERS
Winner: Black Sheep Burgers + Shakes
Second Place: Grad School
Third Place: Bair's Sports Grill
BEST STEAKS
Winner: Jimm's Steakhouse & Pub
Second Place: Flame Steakhouse & Wine Bar
Third Place: Metropolitan Grill
BEST SANDWICHES
Winner: The Sub Shop
Second Place: Lucky Tiger Sandwich Co.
Third Place: Druff's

BEST PIZZA
Winner: Pizza House
Second Place: The Big Slice
Third Place: Rocco's Pizza
BEST CHICKEN WINGS
Winner: Coyote's Adobe Cafe
Second Place: Lindberg's Tavern
Third Place: Ebbets Field
BEST BARBECUE
Winner: City Butcher and Barbecue
Second Place: Crosstown Barbecue
Third Place: Gettin' Basted
BEST ITALIAN FOOD
Winner: Avanzare Italian Dining
Second Place: Piccolo Contemporary Italian
Third Place: Gilardi's Ristorante
BEST MEXICAN FOOD
Winner: Cesar's Old Mexico
Second Place: Maria's Mexican Restaurant
Third Place: La Paloma Mexican Grill
BEST TACOS
Winner: The Great American Taco Company
Second Place: Tinga Tacos
Third Place: Cesar's Old Mexico
BEST THAI FOOD
Winner: Thai Express
Second Place: Everyday Thai
Third Place: Rama Thai Café
BEST CHINESE FOOD
Winner: Leong's Asian Diner
Second Place: Chinese Chef
Third Place: Lucy's Chinese Food
BEST RAMEN
Winner: Karai Ramen + Handroll
Second Place: OMO Japanese Soul Food
Third Place: Skully's Ramen
BEST SUSHI
Winner: Haruno Japanese Sushi Bar & Grill
Second Place: Hinode Japanese Steakhouse and Sushi
Third Place: Nakato Japanese Steakhouse & Sushi Bar
BEST BEER MENU
Winner: 417 Taphouse
Second Place: The Backlot at Alamo Drafthouse
Third Place (tie): Best of Luck Beer Hall
Third Place (tie): MudLounge
Editor's Note: The Backlot at Alamo Drafthouse is temporarily closed due to COVID-19.
BEST LOCAL BREWERY EXPERIENCE
Winner: Mother's Brewing Company
Second Place: Springfield Brewing Company
Third Place: 4 By 4 Brewing Company
BEST NEW BAR
Winner: Vantage Rooftop Lounge & Conservatory
Second Place: The Hepcat
Third Place: The Finley's Speakeasy
Editor's Note: In the time since Best of 417 voting ended, The Hepcat has closed.

BEST COCKTAIL MENU
Winner: The Golden Girl Rum Club
Second Place: Vantage Rooftop Lounge & Conservatory
Third Place: MudLounge
BEST WINE MENU
Winner: Flame Steakhouse & Wine Bar
Second Place: Metropolitan Grill
Third Place: Ocean Zen Pacific Rim Restaurant
BEST SWEET TREATS
Winner: Andy's Frozen Custard
Second Place: Pineapple Whip
Third Place: European Café
BEST COFFEE SHOP
Winner: Mudhouse Coffee
Second Place: Classic Rock Coffee
Third Place: Architect Coffee Co.
BEST FOOD TRUCK
Winner: London Calling Pasty Company
Second Place: The Wheelhouse
Third Place: Not'cho Ordinary Taco
BEST VEGETARIAN-FRIENDLY OPTIONS
Winner: Cafe Cusco
Second Place: The Wheelhouse
Third Place: Farmers Gastropub
BEST GLUTEN-FREE OPTIONS
Winner: Cafe Cusco
Second Place: Black Sheep Burgers + Shakes
Third Place: The Wheelhouse
BEST PATIO
Winner: Vantage Rooftop Lounge & Conservatory
Second Place: Galloway Grill
Third Place: Tie & Timber Beer Co.
BEST GIRLS NIGHT OUT
Winner: Vantage Rooftop Lounge & Conservatory
Second Place: Cherry & Pickwick in the Rountree Neighborhood
Third Place: Vineyard Market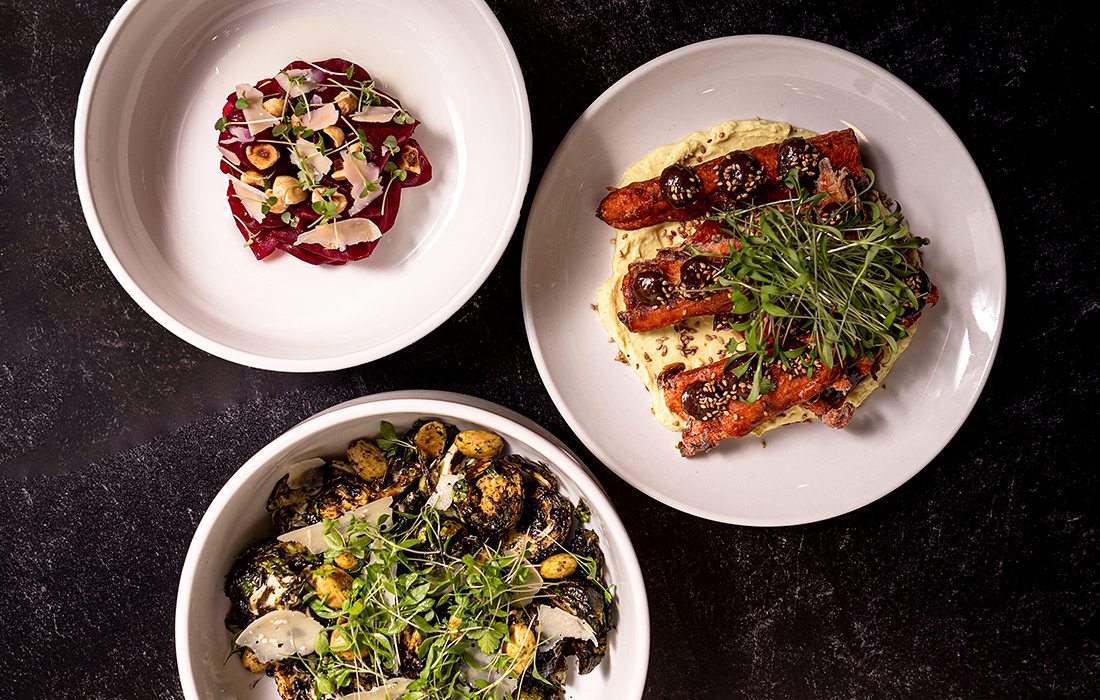 BEST MENU SURPRISES
Progress
We get so excited when Progress releases a new seasonal menu because we know there will be unexpected delights that we just have to try. Aside from managing to reinvent the lowly carrot every single time with stellar results, the restaurant always throws us some delicious curveballs as well. And another little bonus: Some plates are half off before 6 p.m., so you can sample some of those new-menu goodies for a discount.

BEST EXTERIOR FACELIFT
Gilardi's Ristorante
We have been inspired over and over again during the past year by the creative ways our local restaurants have pivoted to make business work during a pandemic, and the exterior remodel at Gilardi's Ristorante has been one of our favorite projects in terms of aesthetics. The building was spruced up with fresh paint, fresh flowers and new stonework, and a lot of work went into patio upgrades as well that add ambiance and comfort to the space—including infrared heaters so you can keep dining there during chilly months. Early in January, Gilardi's announced that it will be working on an interior facelift as well, and we can't wait to see what they do to the place.

BEST WAY TO WASTE LESS
Springfield Compost Collective Residential Pick-Up Service
We love the fact that we can now keep our food waste out of the landfill without having to keep a big compost bin in the yard. Springfield Compost Collective, which has been helping local businesses with their composting and placing free community compost bins around town, now offers weekly residential pick-up for $15 per month. Less food waste goes to the landfill, and the work on our end is minimal. That sounds so, so perfect, doesn't it?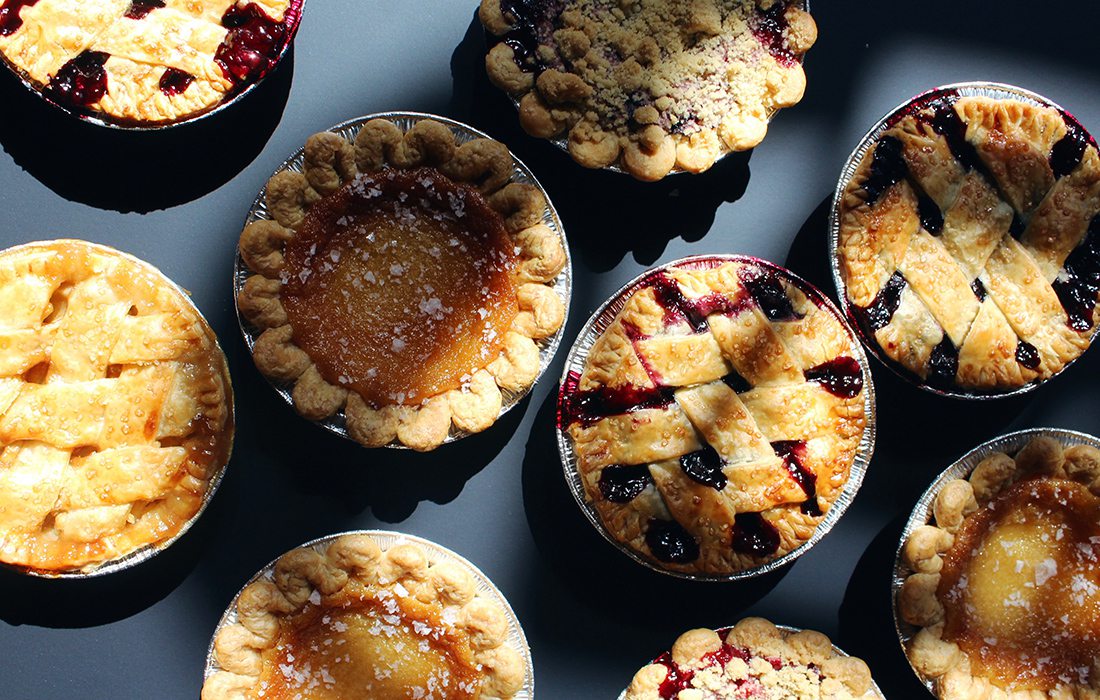 BEST GLOW UP
Prairie Pie
It has been so awesome to see one of our favorite bakers grow. Prairie Pie has gone from a teensie operation that hand-delivered freshly baked butter-crust pies to your front door to a ubiquitous pie purveyor churning out the good stuff from the ovens at Vito's Kitchen. Now, Prairie Pie is taking over the Vito's space and creating a storefront. Last fall, owner Eleanor Taylor hosted pot pie pop-ups and managed to make an old alley look like a sweet outdoor bistro. If that was a preview of the charm she'll be bringing to her storefront, we're here for it.

BEST BUDDING SWEET TREAT TREND
Small Batch Ice Cream
The past year has seen the birth of some fresh, small-batch ice cream makers who are sweetening the dessert scene. First up is Culture Counter, whose vegan options are just as delicious as their traditional treats. We are particularly obsessed with the mocha flavor. Riot Desserts (order online) and Sweet Emotion both offer dairy-free options as well, with xylitol-sweetened sugar-free flavors at the former and oat-milk bases and fruit whips available at the latter.

BEST HELPING HAND
Mother's Brewing Company
When things got weird, we learned who we could count on to step up and help others, and Mother's Brewing Co. was one among the best. How did they help out during last spring's shutdown? They offered up their bottling line to help The Coffee Ethic bottle their drinks for to-go orders. They joined up with Community Foundation of the Ozarks to start the Mother's Industry Fund as a way to raise money for local hospitality industry workers displaced from their jobs. And even before the happenings of 2020, they had been putting community first with things like the Doin' Good orange wheat ale, a portion of which benefits the Care to Learn Fund. Thanks, Mother's, for perpetually inspiring us to give back.

BEST FARM DINNER EXPERIENCE
Harvest
While a lot of restaurants were pushing outdoor dining this past year, the Dinner in the Orchard events at Harvest really turned a necessity into something special. Owner and chef Craig von Foerster and his team created a magical atmosphere beside  the Sunshine Valley Farm apple orchard located right outside the restaurant doors, by providing a place where diners could safely space out—they even had one dinner that featured music from Springfield Regional Opera, available to stream for curbside-pickup diners.

BEST FRESHIES FOR YOUR KITCHEN
Local CSAs
CSA stands for Community Supported Agriculture, and it's a stellar way to support your favorite local farms while also filling your fridge with fresh local produce. How does it work? You buy a share, and in return you get the fruits and veggies that are in season. Both Millsap Farms and Urban Roots Farm offer CSA packages and even partner with other local producers like Terrell Creek Farm and Bechard Family Farms to offer CSA add-ons like eggs, fruit, cheese or freshly baked bread. Make sure you sign up for your CSA as soon as you can; they sell out. Believe us, we know. We missed our chance to sign up last year and still regret it!

BEST PLACE FOR INDIAN FOOD CRAVINGS
Taj Mahal
Every so often we find ourselves falling in love with an old favorite, and that happened recently with Taj Mahal on East Republic Road, our recent go-to for all our Indian food cravings. Their naan has the best texture. Their lamb roganjosh is divine. Their tandoori chicken is impossibly tender. Even their samosas are delightfully craveable!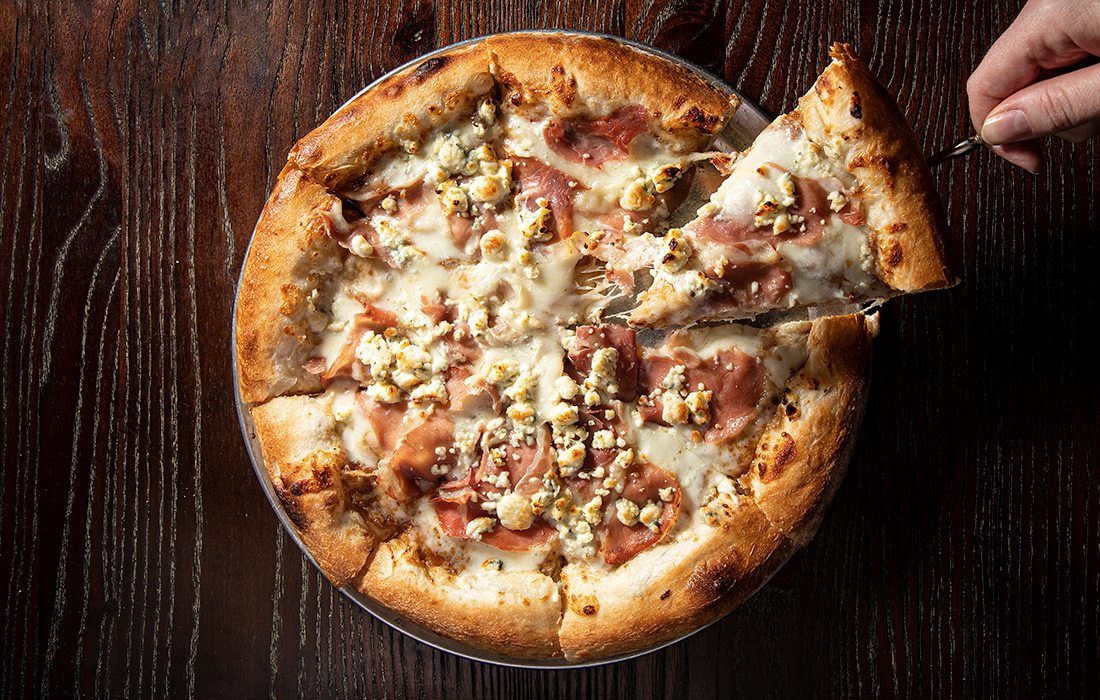 BEST USE OF FIGS
Luco's Legacy from Luco's Pizza
For anyone who likes to venture away from the (dare we say, quite boring) typical pizza toppings, we highly recommend the Luco's Legacy pie from Luco's Pizza. It has a delightful flavor combination, with sweet fig jam, funky gorgonzola, creamy boursin cheese, savory prosciutto and zippy red onions. The crust is great, but it's the fig jam that we love on each sweet-and-salty slice.

BEST MORNING FUEL
Architect Burrito from Architect Coffee Co.
Believe us when we tell you that you need to start your day with a breakfast burrito from Architect Coffee Co. Maybe you're thinking, "Oh, it's just a breakfast burrito." And you'd be right. It is just a breakfast burrito. But we're telling you, there's something about it that we can't resist. Is it the crisp bacon? (You gotta pick bacon, but the other option is sausage.) Is it the roasted corn? Is it the black beans that trick our minds into thinking this thing is a little healthier than it really is? It might just be the chipotle aioli, but honestly who knows? The thing is simply delicious, and if you need a way to mix up your morning, we highly recommend ordering this filling beast of a meal.

BEST SUNSHINEY BRUNCH
The Finley
The outdoor patio at The Finley in Ozark is a lovely space that offers sunshine in spades and a whole lot of charm. We like to go for brunch (the bonus vitamin D jumpstarts our day), so we can order the fried green tomato BLT or the chorizo tacos for a mid-morning fuel up. We love the patio for its churchyard marriage of quaint cuteness and modern menu offerings. Mimosas all around!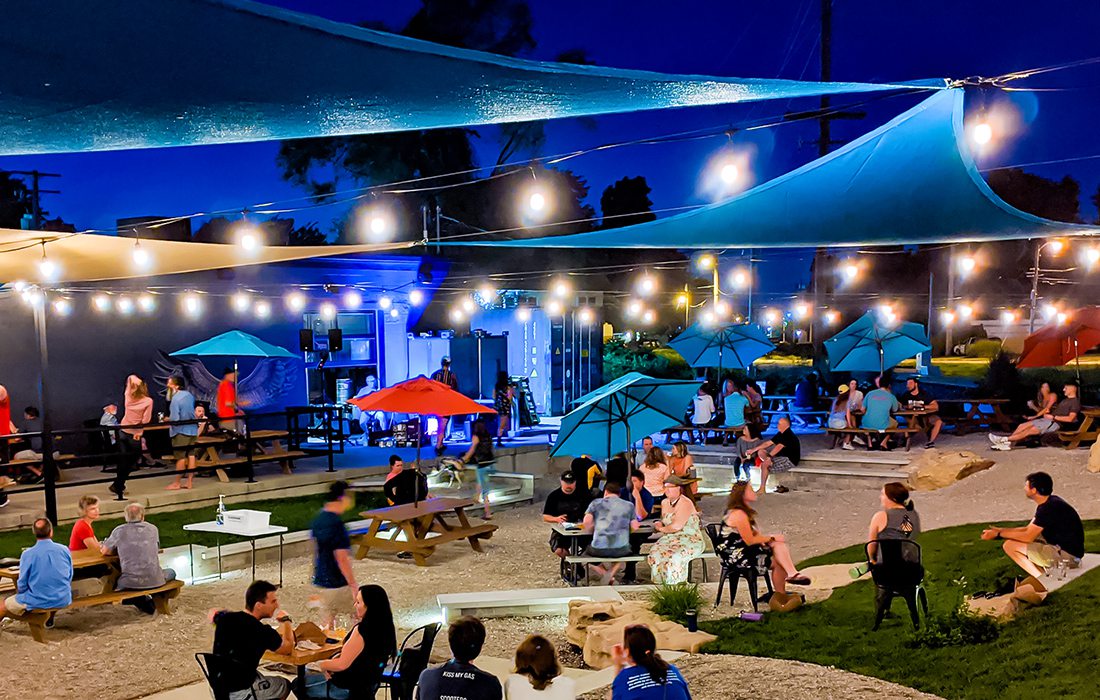 BEST GATHERING PLACE
Tie & Timber Beer Co.
As a neighborhood gathering place (you know, the place where you go to have a beer with your partner but end up running into five friends), we adore the outdoor area at Tie & Timber Beer Co. in Rountree. It's extremely spacious, with plenty of shade canopies and umbrellas for sunny days and twinkling string lights for warm nights. And social distancing is no problem because there's a ton of space to spread out.

BEST CHICKEN SALAD
Tarragon Chicken Salad from Derby Deli
The love we feel for this chicken salad borders on shameful. We have ordered it on salads, pretending it's healthful. (Nothing this creamy is healthful!) We have ordered it as a sandwich, crunching into thick, crispy bacon with every sinful bite. We have ordered it by the pint, to pile onto croissants for picnic potlucks. And we aren't saying we've eaten it with a fork directly from the to-go container while standing in front of the open fridge at 10 p.m. because, well, we'd never do something like that. (Just kidding; we've done that.) The tarragon chicken salad from Derby Deli is just that good, people. It's filled with so much tarragon that every bite is a euphoric explosion of herbaceous flavor.

BEST BUDDY FOR DOWNTOWN RESTAURANTS
Better Block SGF
Perhaps you've noticed some of the wood-framed and turf-carpeted patios that have popped up outside restaurants that didn't have a spec of outdoor dining space before. In some cases, that's because Better Block SGF has used sidewalk and street space to create patios that have made outdoor dining downtown a little easier. You might have seen them at places like Druff's, Nonna's Italian American Cafe and Mudhouse Coffee. In most cases, it was simply one little parallel parking space that had to be sacrificed in order to create a temporary dining area that could inspire a greener, more pedestrian and bistro-like downtown. And what better timing for this to start happening than last year, when outdoor dining became a community necessity during COVID.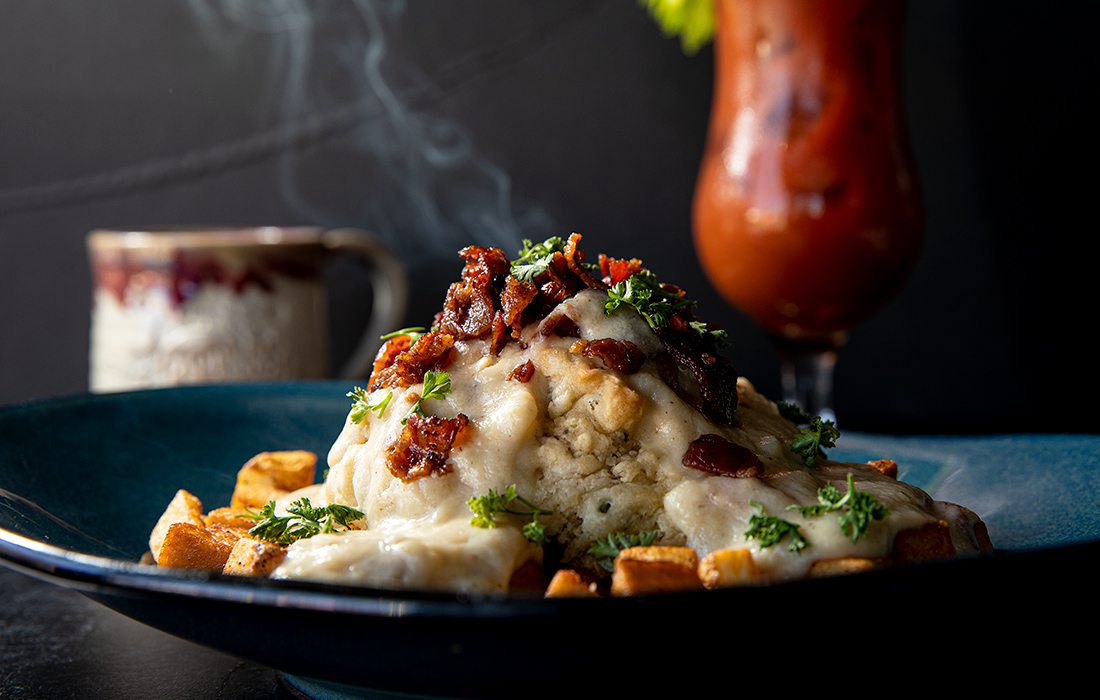 BEST EARLY MORNING BELLY BOMB
Main Street B&G from Morning Day Cafe
There are rabbit food breakfasts for days when you want to start off on a healthful foot. And then there are gut buster breakfasts for days when you want to hurl your diet right into the trash can and spoil yourself. The Main Street B&G dish from Morning Day Cafe in Nixa falls squarely into gut buster territory, and we love it. It features all the most indulgent breakfast staples, but elevated. The fried potatoes and bacon crumbles are there, of course, but the biscuit is made with rosemary, and the gravy is packed with mushrooms. Paired with one of the restaurant's super-tasty bloody marys, it's the rich, sloppy dish that takes hangover cures up a notch.


BEST HANDHELD MEAL
Hand Pies from Simply Baked by Chandler
Tucked away in Kimberling City is a hidden gem that you might not know about, although it already has a following of locals and lake-goers. It's called Simply Baked by Chandler, where they dish out super-popular hand pies that are known to sell out if you don't get there fast enough to snag them. These are savory pies, not sweeties, and they are filled with things like chorizo and egg, ham and pesto, a Guinness gravy beef stew or classic chicken pot pie filling. If you miss the hand pies, don't fret. There are a ton of treats on the menu, too, so you can snack away your sorrow with something sweet.

BEST GROCERIES WITH A HOMEMADE TOUCH
The Keeter Center at College of the Ozarks
The curbside food game at Keeter Center is top-notch and has proven to be a great way to get pantry necessities, meals and treats that have a homemade flair thanks to being made on the College of the Ozarks campus. That's because the university's students grow, raise, produce and prepare just about everything that makes it into a to-go bag or onto a plate for customers. That includes fresh milk, jarred jams, milled grains, fresh ice cream and even meat products. Around the holidays The Keeter Center was even offering cookie decorating kits and a veritable feast packed up to-go for New Year's Eve. So we give them some big props for going the extra mile.


WHAT DO YOU LOVE MOST ABOUT 417-LAND?
THE GREAT OUTDOORS
The final, open-ended question on the Best of 417 Readers' Choice Awards ballot asks 417-landers to share their very favorite thing about the region. One of the three most common themes among the answers was this: access to the great outdoors. Some people specifically called out their favorite outdoors spaces, while others simply praised the variety of beautiful landscapes and outdoors activities scattered around 417-land. Since this year's Best of 417 awards are fully food-focused, we thought we'd add a tasty element to each of the "What do you love most about 417-land?" responses. For this one, it's pretty obvious: Access to the great outdoors also means access to stellar picnic spots. One of our favorites is Nathanael Greene/Close Memorial Park in Springfield, where there is a ton of open space so you and other park-goers can spread out and find your own favorite picnic nook. And once your meal is finished, you can walk along the path around Lake Drummond, explore the many themed gardens, peek into the butterfly house or find your inner zen at the Mizumoto Japanese Stroll Garden. But your perfect picnic doesn't have to take place at a beautiful manicured park. The region has a wealth of trails and natural areas where you can seek out your own special spot.
THE OVERALL VIBE OF THE COMMUNITY
Many answers focused on the overall feeling of the community, with voters pointing out that Springfield in particular benefits from being just the right size (not too big, not too small). People mentioned the mix of old traditions and progressive new ideas in a region that's welcoming. We feel these things in the dining world too, which is always growing and changing with exciting trends but still offers old favorites that make it feel like home.
AND OF COURSE, THE PEOPLE
And finally, many of the "What do you love most about 417-land?" answers revolved around the people who call 417-land home. You all really seem to love your neighbors! That's amazing, and we love it. And this is the easiest category when it comes to adding a dining element: Who best to experience amazing local eats with than other people? We know right now dining out in big groups isn't advisable, but when the time is right we'll all be ready to grab our bestest besties, head to our favorite old haunts and share all of the tastiest eats.