2020 Winners
Best of 417 2020: Food & Drink
Our readers have spoken. We've compiled the best places to eat, dishes to try and bars to sit down and have a drink in southwest Missouri, as voted by our readers.
Editors' Picks By Katie Pollock Estes | Readers' Choice Awards Edited By Haley Phillips | Art Direction By Fried Design Co.
Feb 2020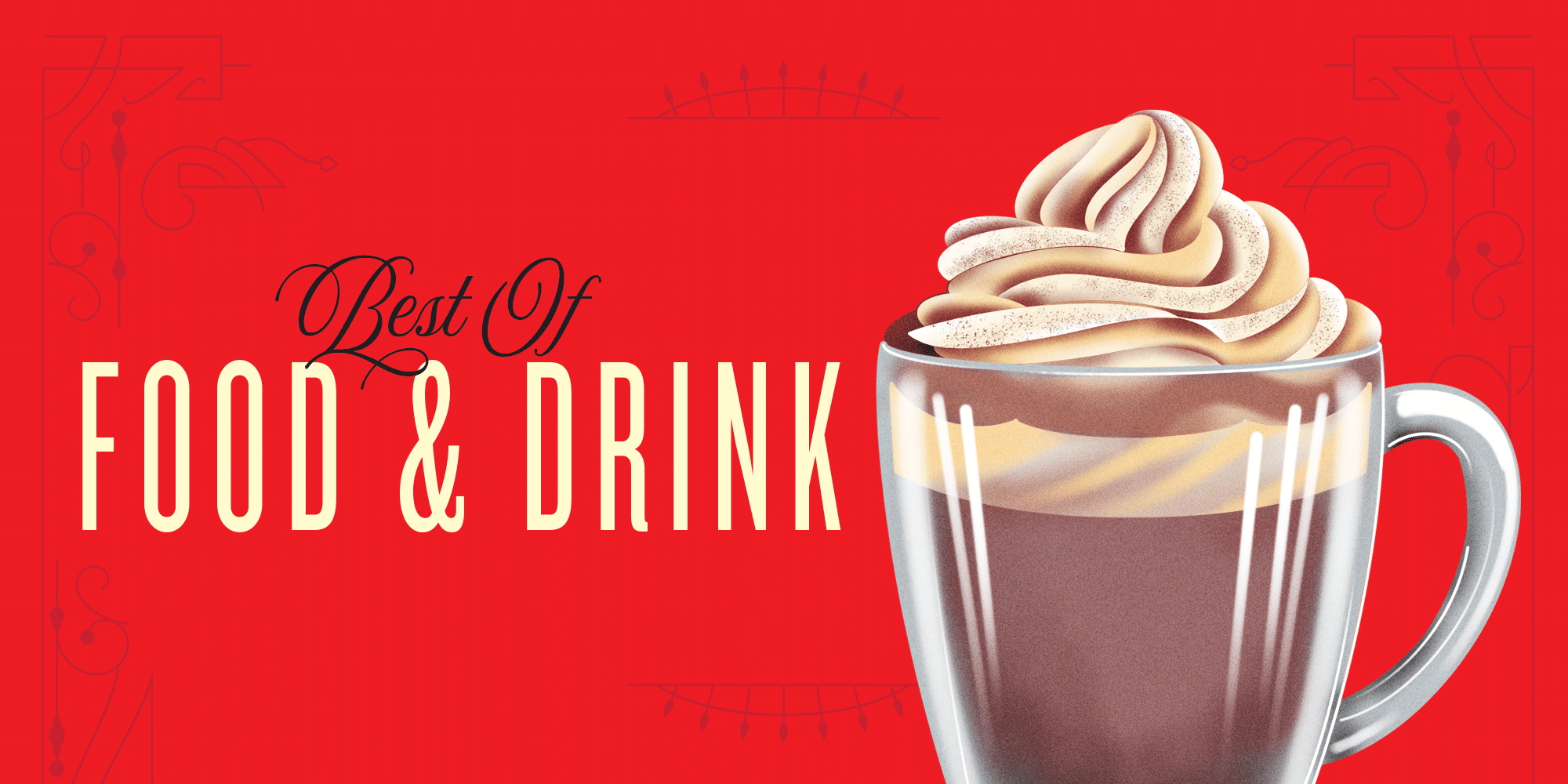 BEHOLD, THE 2020 FOOD & DRINK WINNERS OF OUR BEST OF 417 CONTEST, COMPLETE WITH EDITORS' PICKS.
It's time for our annual Best of 417 Awards, in which our readers help us name the best of the best among local restaurants, attractions, shops, services and more in the southwest Missouri region. For the second year, our editors have done much of the groundwork for you by creating a curated ballot. You, our readers, selected your top picks, and the businesses with the most votes made it to the Readers' Choice Awards list. The staff at 417 added even more must-try goodness to the list in the form of Editors' Picks. Read on to see who made the cut for our Food & Drink category.


5 BEST SPRINGFIELD FINE DINING RESTAURANTS
(in alphabetical order)
Avanzare Italian Dining
Flame Steakhouse & Wine Bar
Jimm's Steakhouse & Pub
Metropolitan Grill
Ocean Zen
5 BEST PLACES FOR LUNCH
(in alphabetical order)
Bambinos Cafe
City Butcher and Barbecue
The Grotto 
Jimm's Steakhouse & Pub
Neighbor's Mill Bakery & Cafe
BEST SPRINGFIELD CASUAL RESTAURANT

Winner: Black Sheep Burgers + Shakes
Second Place: Bambinos Cafe 
Third Place: Big Whiskey's American Restaurant & Bar 
BEST JOPLIN RESTAURANT
Winner: Red Oak Steakhouse
Second Place: Crabby's Seafood Bar & Grill
Third Place: Joplin Eagle Drive-In
BEST PLACE FOR BREAKFAST
Winner: Gailey's Breakfast Cafe
Second Place: Anton's Coffee Shop
Third Place: Morning Day Cafe
BEST STEAKS
Winner: Jimm's Steakhouse & Pub
Second Place: Flame Steakhouse & Wine Bar
Third Place: Metropolitan Grill
BEST BURGERS
Winner: Black Sheep Burgers + Shakes
Second Place: Grad School
Third Place: Bair's All-American Sports Grill
BEST SALADS
Winner: Jimm's Steakhouse & Pub
Second Place: Bambinos Cafe
Third Place: The Derby Deli
BEST SANDWICHES
Winner: The Sub Shop
Second Place: Druff's
Third Place: Sisters in Thyme Bistro & Bakery
Editor's Note: Sisters in Thyme has since become a to-go only spot and no longer offers the option to dine in.
BEST PIZZA
Winner: Pizza House
Second Place: Rocco's Pizza
Third Place: The Big Slice
BEST CHICKEN WINGS
Winner: Coyote's Adobe Cafe
Second Place: Lindberg's Tavern
Third Place: Ebbets Field
BEST BARBECUE
Winner: City Butcher and Barbecue
Second Place: Crosstown Barbecue
Third Place: Danna's BBQ & Burger Shop
BEST ITALIAN FOOD
Winner: Avanzare Italian Dining
Second Place: Gilardi's Ristorante
Third Place: Nicola's Ristorante
BEST TACOS
Winner: The Great American Taco Co.
Second Place: Cesar's Old Mexico
Third Place: Tinga Tacos
BEST THAI FOOD
Winner: Rama Thai Café
Second Place: Thai Thai Cuisine
Third Place: Everyday Thai
BEST CHINESE FOOD
Winner: Leong's Asian Diner
Second Place: Lucy's Chinese Food
Third Place: Chinese Chef
BEST RAMEN
Winner: Karai Ramen + Handroll
Second Place: Farmers Gastropub
Third Place: Skully's Food Truck
BEST SUSHI
Winner: Haruno Japanese Sushi Bar & Grill
Second Place: Nakato Japanese Steakhouse & Sushi Bar
Third Place: Hinode Japanese Steakhouse and Sushi
BEST BEER MENU
Winner: 417 Taphouse
Second Place: Best of Luck Beer Hall
Third Place: MudLounge
BEST NEW RESTAURANT
Winner: The Rock Food & Friends
Second Place: The Finley
Third Place: Craft Sushi
BEST COCKTAIL MENU
Winner: The Golden Girl Rum Club
Second Place: The Order at Hotel Vandivort
Third Place: Scotch & Soda
BEST LOCAL BREWERY EXPERIENCE
Winner: Mother's Brewing Co.
Second Place: Springfield Brewing Co.
Third Place: 4 By 4 Brewing Co.
BEST SWEET TREATS
Winner: Andy's Frozen Custard
Second Place: Pineapple Whip
Third Place: European Café
BEST COFFEE SHOP
Winner: Mudhouse
Second Place: Classic Rock Coffee
Third Place: Big Momma's Coffee & Espresso
BEST BRANSON AREA RESTAURANT
Winner: The Keeter Center at College of the Ozarks
Second Place: Level 2 Steakhouse
Third Place: Chateau Grille (Chateau on the Lake)
BEST FOOD TRUCK
Winner: London Calling Pasty Co.
Second Place: The Wheelhouse
Third Place: Not'cho Ordinary Taco
BEST VEGETARIAN-FRIENDLY OPTIONS
Winner: Cafe Cusco
Second Place: Farmers Gastropub
Third Place: The Wheelhouse
BEST GLUTEN-FREE OPTIONS
Winner: Black Sheep Burgers + Shakes
Second Place: Cafe Cusco
Third Place: Farmers Gastropub
BEST MEXICAN FOOD
Winner: Cesar's Old Mexico
Second Place: La Paloma Mexican Grill
Third Place: Mexican Villa
BEST RESTAURANT SERVICE
Winner: Jimm's Steakhouse & Pub
Second Place: The Keeter Center at College of the Ozarks
Third Place: Flame Steakhouse & Wine Bar
BEST CATERER
Winner: Simply Delicious Catering
Second Place: Traveling Chef
Third Place: Char Steakhouse & Oyster Bar
BEST WINE MENU
Winner: Flame Steakhouse & Wine Bar
Second Place: Metropolitan Grill
Third Place: Ocean Zen
BEST RESTAURANT PATIO
Winner: Galloway Grill
Second Place: The Rock Food & Friends
Third Place: Cherry Picker Package x Fare
BEST PLACE FOR BRUNCH
Winner: Aviary Cafe
Second Place: The Keeter Center at College of the Ozarks
Third Place: The Order at Hotel Vandivort
BEST FARM DINING EXPERIENCE
Winner: Thursday Night Pizza Club at Millsap Farms
Second Place: Lavender Falls Farm
Third Place: Cheese Night on the Farm (Terrell Creek Farm)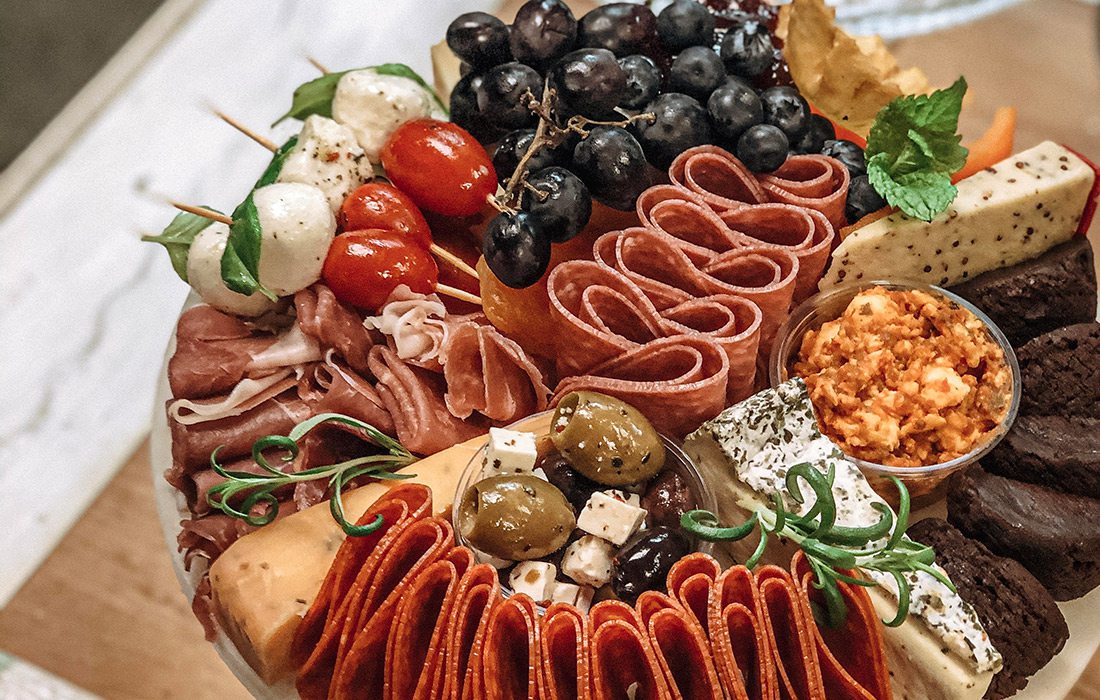 BEST EAT WITH YOUR EYES
Lavish Grazing
If you don't feel a hunger pang every time you look at Lavish Grazing's Instagram this ode to cured meats is not for you. As for us, we can't get enough. The company caters charcuterie trays for groups large and small, overflowing with tastefully arranged meats, cheeses, fruit, crackers and treats like dips, cookies or fresh herbs. The pictures alone make us want to reach into our screens to pluck out a nibble of something satisfying. We love Lavish Grazing's creativity, too, like the holiday "Santa Box" to put out Christmas Eve instead of cookies (it even had carrots for reindeer!).

BEST NEW MENU ANTICIPATION
Progress
Few seasonal change-ups get us as excited as the ones at Progress, where menu revamps are extensive, creative and surprising—and always entice us to share our tasting notes. Last summer, we raved about the fried chicken entrée and the watermelon dessert. We were sad to see that watermelon disappear but jazzed for what would come next. Lather, rinse, repeat every season for a fresh dining experience worth getting excited about.

BEST SPOT TO SEE EVERYONE YOU KNOW
Architect Coffee
In addition to serving a satisfying breakfast and always-just-right coffee, Springfield's Architect Coffee Co. has something else on the menu: a lil' socialization. That's because we are constantly running into people we know. It's the best sun-filled coffee shop for the extroverted introvert (or introverted extrovert?). It feels good to get some work done, sit down for a meeting and—surprise!—share a nice moment with a pal who happens to be passing through. But there's no see-and-be-seen pressure, no gotta-be-there vibe. Just good coffee and good humans, all in one place.

BEST PLACE TO GET A THUNDER MUFFIN WITHOUT GOING TO LAMPE
Expresso in Branson
Have you ever had a Thunder Muffin? It's a legend here at the 417 offices, and no one can mention it without everyone else in the room groaning in sorrow that we don't have one in front of us right this second. The gigantic blueberry muffins are truly loaded with fresh berries—many in every bite—and are made by the blueberry heroes at Persimmon Hill Farm in Lampe. We enjoy visiting the blueberry patch for a muffin, but we recently fell in love with a more convenient option: ordering a Thunder Muffin at the drive-thru at Expresso (expressobranson.com), an on-the-go coffee shop in Branson that also serves a nice cappuccino and some darn good cold brew, too.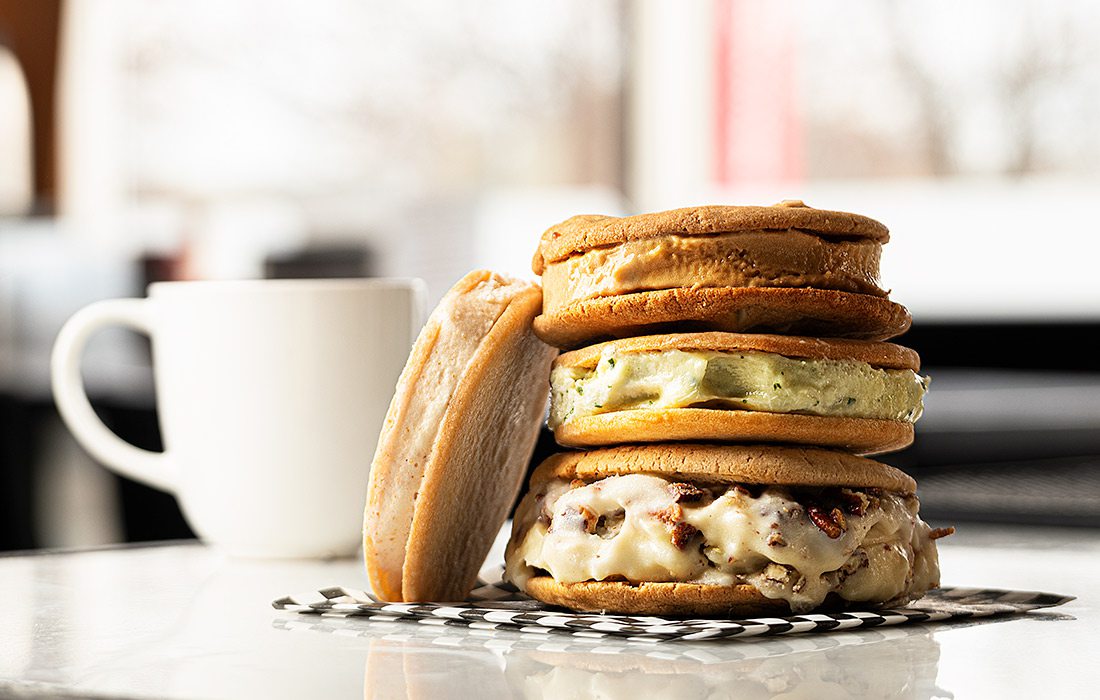 BEST SWEET COLLAB
Ice Cream Sandwiches at Druff's
Druff's in downtown Springfield is known for its seriously creative grilled cheese sammies, like the deeply delightful Uncle Tatey that's a mashup of sweet strawberry and spicy pork. Springfield's Prairie Pie is known for all-butter crusts that are stuffed with things like our favorite-ever strawberry-rhubarb filling, a deep layer of Earl Gray cream, or classic apples dressed up with caramel sauce. Druff's has long been serving slices of those pies, but a new collab between the two businesses has us excited: ice cream sandwiches featuring cookies made by Prairie Pie that surround ice cream made by Druff's. They come in clever flavors, like Coffee Ethic cold brew ice cream (wait… is this a stealth three-way collab?) served on white chocolate macadamia nut cookies. Or basil-ginger ice cream served on sugar cookies. These sweet treats get a big ol' "Yes please!" from us.

BEST LIL' BIT OF EVERYTHING
Lucky Tiger
It's no secret that Lucky Tiger Sandwich Co. has been winning over fans since it opened in September. It's well-deserved praise—these folks know how to make a mean sandwich. And you can sample little hints of so many different cuisines here. There are Vietnamese-inspired banh mi sandwiches (including our favorite, the crispy pork belly banh mi), plus hints of Korea in the kimchi tots and classic American flavors in the juicy burgers and the fried chicken sandwiches. Oh, and then there are the places where you get combos: the bulgogi cheesesteak for Korean-American mashup, or the falafel banh mi for a Vietnamese-Middle Eastern tag team. You can expect to be surprised on your first visit and anxious to return once that visit is over.

BEST PLACE FOR A CARDINALS PRE-GAME
Hold Fast Brewery
Since opening this fall at Kimbrough Avenue and Trafficway Street in Springfield, Hold Fast Brewing has become known for a laid back atmosphere, hometown brewed beer and a rotating schedule of visiting food trucks. It's especially nice on warm days when the garage doors are slung open for a breezy indoor-outdoor atmosphere. That's why it's such a great spot to pre-game during the summer before a Springfield Cardinals game. And its location is perfect. Sip some craft beer before marching about ⅓ of a mile down Trafficway Street to the front doors of Hammons Field.

BEST SURPRISE MENU FROM A COFFEE SHOP
The Press Coffee & Juice Barr
It's right there in the name: The Press Coffee & Juice Bar. You expect this spot in Brentwood shopping center to serve lattes. But then—surprise!—you'll also find a pretty stellar breakfast and lunch menu as well. Our favorite dish is the Gogi Quesadilla. It's stuffed with kimchi, salad greens and cheese with a creamy-spicy dipping sauce and your choice of protein. (Get it with tofu.) The mashup of Mexican and Korean flavors can be found in other dishes too, like omelets topped with sweet soy sauce, nachos that you can order with bulgogi, and street tacos that you can douse in spicy goji sauce.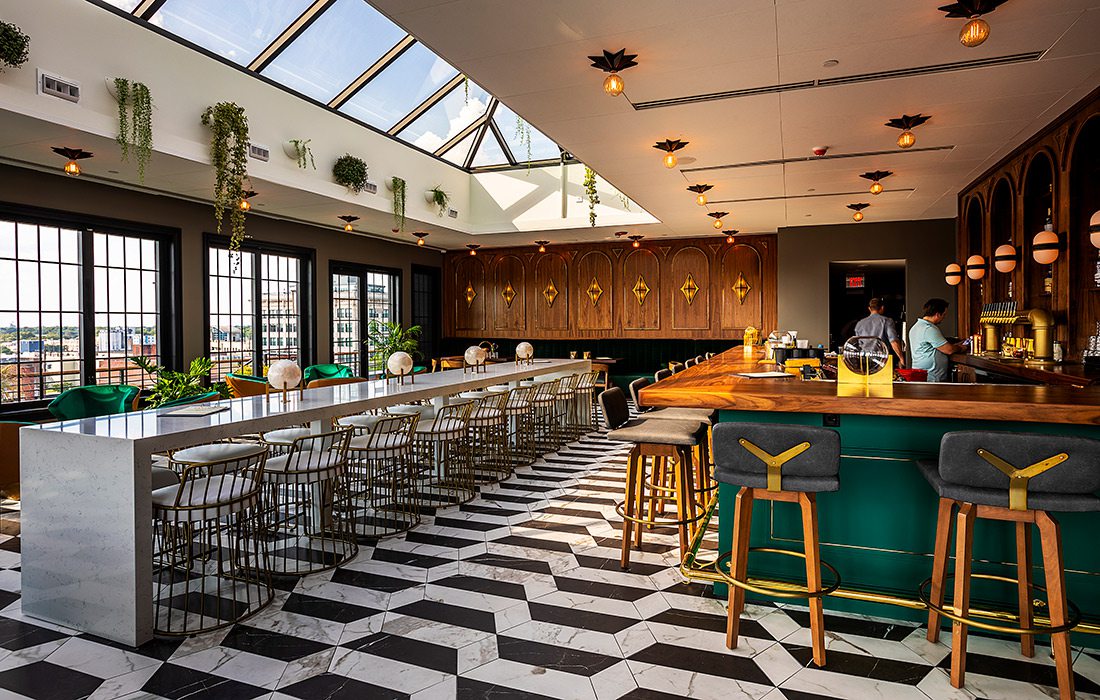 BEST BIG CITY FEATURE
Vantage Rooftop Lounge & Conservatory
The visual impact of the Vantage Rooftop Lounge & Conservatory space is our favorite part. First there is the sunny inside space (small but made airy by a high ceiling and tons of windows) and it's gorgeous art deco meets modern décor. Then you step out into the outdoor space and are hit with a beautiful view of the city and plenty of space to mix and mingle. It's a great place to watch the sunset (cocktail in hand, of course) and feel like you're enjoying a night out in a city that's a little bit more cosmopolitan.
BEST TASTY FREEBIES
Customer Appreciation Burgers at Great Escape Beerworks
We absolutely love supporting local businesses—and we absolutely love when they love their customers. That's why we thought it was so awesome when Great Escape Beerworks in Galloway busted out a grill and whipped up a whole bunch of free burgers for their loyal customers. It's those type of little nuggets of community and connection that we adore about Springfield's businesses—especially when they taste good.
BEST VEGAN MENU
Piccolo Contemporary Italian
Fully vegan menus are in short supply in 417-land, and we especially don't expect to see them at Italian restaurants (where a lil' cheese or a lot of cheese is on everything). But at Piccolo Contemporary Italian in Nixa, there's an entire separate menu that's 100% vegan from top to bottom that includes appetizers, pasta, pizza and even vegan cheesecake. The Bolognese sauce features Jake's Vegan Italian Sausage, the pizza is topped with gooey faux mozzarella and the cheesecake uses tofu to achieve an animal-product-free sweet treat.

BEST FOODIE PODCAST
Springfood
If you love food, then you should be listening to the Springfood podcast, where hosts Dan Howell and Andy Karr dig into the Springfield dining scene with local guests. In fact, 417 managing editor Claire Porter was a guest in September and talked about her tasty relationship with the food at Queen City Deli. A recent episode saw the hosts sampling every Julie's Chewies cookie with guest Sarah Jenkins, and no we're not jealous at all. Why would you say that? Please excuse us while we go order a box of cookies.

CHECK OUT ANOTHER WINNING CATEGORY