2019 Winners
Best of 417 2019: Food & Drink
Our readers have spoken. We've compiled the best places to eat, dishes to try and bars to sit down and have a drink in southwest Missouri, as voted by our readers.
Editors' Picks By Katie Pollock Estes, Rose Marthis, Claire Porter, Vivian Wheeler | Readers' Choice Awards Edited By Rose Marthis | Art Direction By Fried Design Co.
Feb 2019
BEHOLD, THE 2019 FOOD & DRINK WINNERS OF OUR NEW AND IMPROVED BEST OF 417 CONTEST, COMPLETE WITH EDITORS' PICKS.
Each year, 417 Magazine brings you Best of 417, featuring all the amazing things about southwest Missouri. This year, our editors did a lot of the groundwork for you by creating a curated ballot. You, our readers, selected your top picks or write-ins, and your local faves with the most votes made it to this list.


5 BEST SPRINGFIELD FINE DINING RESTAURANTS
(in alphabetical order)
Flame Steakhouse & Wine Bar
Jimm's Steakhouse & Pub
Metropolitan Grill
Ocean Zen
Touch Restaurant & Oyster House
(Editor's Note: At the time of voting, Touch Restaurant & Oyster House was still open. After the voting period ended, Touch closed and reopened as Char Steakhouse & Oyster Bar. )
5 BEST PLACES FOR LUNCH
(in alphabetical order)
Bambino's Cafe
City Butcher and Barbecue
The Grotto West Coast Grill
Jimm's Steakhouse & Pub
Nearly Famous Deli & Pasta House
BEST JOPLIN RESTAURANT
Winner: Red Onion Cafe
Second Place: Crabby's Seafood Bar & Grill 
Third Place: Red Oak Steakhouse 
BEST BRANSON-AREA RESTAURANT
Winner: The Keeter Center at College of the Ozarks
Second Place: Level 2 Steakhouse
Third Place: Chateau Grille
BEST PLACE FOR BREAKFAST
Winner: Gailey's Breakfast Cafe
Second Place: Early Bird Breakfast Pub
Third Place: Anton's Coffee Shop
BEST PLACE FOR BRUNCH
Winner: Aviary Café
Second Place: The Keeter Center at College of the Ozarks
Third Place: The Order
BEST SPRINGFIELD CASUAL RESTAURANT
Winner: Black Sheep Burgers and Shakes
Second Place: Big Whiskey's American Restaurant & Bar
Third Place: Bambino's Café
BEST STEAKS
Winner: Jimm's Steakhouse & Pub
Second Place: Flame Steakhouse & Wine Bar
Third Place: Metropolitan Grill
BEST BURGERS
Winner: Black Sheep Burgers and Shakes
Second Place: Bair's All-American Sports Grill
Third Place: Grad School
BEST SALADS
Winner: Jimm's Steakhouse & Pub
Second Place: St. Michael's Sports Bar & Grille
Third Place: Bruno's Italian Restaurant
BEST SANDWICHES
Winner: Sub Shop
Second Place: Sisters in Thyme Bistro & Bakery
Third Place: J. Parrino's Queen City Deli
BEST PIZZA
Winner: Pizza House
Second Place: The Big Slice
Third Place: Piccolo
BEST CHICKEN WINGS
Winner: Coyote's Adobe Cafe
Second Place: Lindberg's Tavern
Third Place: Harbell's Grill & Sports Bar
BEST BARBECUE
Winner: City Butcher and Barbecue
Second Place: Crosstown Barbecue
Third Place: Lost Signal Brewing
BEST ITALIAN FOOD
Winner: Avanzare Italian Dining
Second Place: Gilardi's Ristorante
Third Place: Nicola's Ristorante
BEST MEXICAN FOOD
Winner: Cesar's Old Mexico
Second Place: Mexican Villa
Third Place: La Paloma Mexican Grill
BEST TACOS
Winner: Great American Taco Company
Second Place: Cesar's Old Mexico
Third Place: Purple Burrito
BEST THAI FOOD
Winner: Rama Thai Café
Second Place: Thai Peppers
Third Place: Thai Express
BEST CHINESE FOOD
Winner: Leong's Asian Diner
Second Place: Chinese Chef
Third Place: Yen Ching
BEST RAMEN
Winner: Karai Ramen + Handroll
Second Place: Omo Japanese Soul Food
Third Place: Farmers Gastropub
BEST CASHEW CHICKEN
Winner: Leong's Asian Diner
Second Place: Lucy's Chinese Food
Third Place: Canton Inn
BEST SUSHI
Winner: Haruno Japanese Sushi Bar & Grill
Second Place: Nakato Japanese Steakhouse & Sushi Bar
Third Place: Hinode Japanese Steakhouse and Sushi
BEST DESSERTS OR PASTRIES
Winner: Andy's Frozen Custard
Second Place: Pineapple Whip
Third Place: European Café
BEST COFFEE SHOP
Winner: Mudhouse Coffee
Second Place: Classic Rock Coffee Co.
Third Place: Big Momma's Coffee & Espresso Bar
BEST FOOD TRUCK
Winner: London Calling Pasty Company
Second Place: The Wheelhouse
(Editor's Note: The Wheelhouse food truck is now parked, but you can get the same food in their restaurant inside Vib Hotel.)
Third Place: Not'cho Ordinary Taco
BEST VEGETARIAN-FRIENDLY OPTIONS
Winner: Cafe Cusco
Second Place: Aviary Café
Third Place: Farmers Gastropub
BEST RESTAURANT SERVICE
Winner: Jimm's Steakhouse & Pub
Second Place: The Keeter Center at College of the Ozarks
Third Place: Flame Steakhouse & Wine Bar
BEST CATERER
Winner: Simply Delicious Catering
Second Place: The Traveling Chef
Third Place: Touch Restaurant & Oyster House
(Editor's Note: At the time of voting, Touch Restaurant & Oyster House was still open. After the voting period ended, Touch closed and reopened as Char Steakhouse & Oyster Bar.)

BEST COCKTAIL MENU
Winner: The Golden Girl Rum Club
Second Place: Scotch & Soda
Third Place: Missouri Spirits
BEST LOCAL BREWERY EXPERIENCE
Winner: Mother's Brewing Company
Second Place: Springfield Brewing Company
Third Place: 4 By 4 Brewing Company
BEST BEER MENU
Winner: 417 Taphouse
Second Place: Patton Alley Pub
Third Place: MudLounge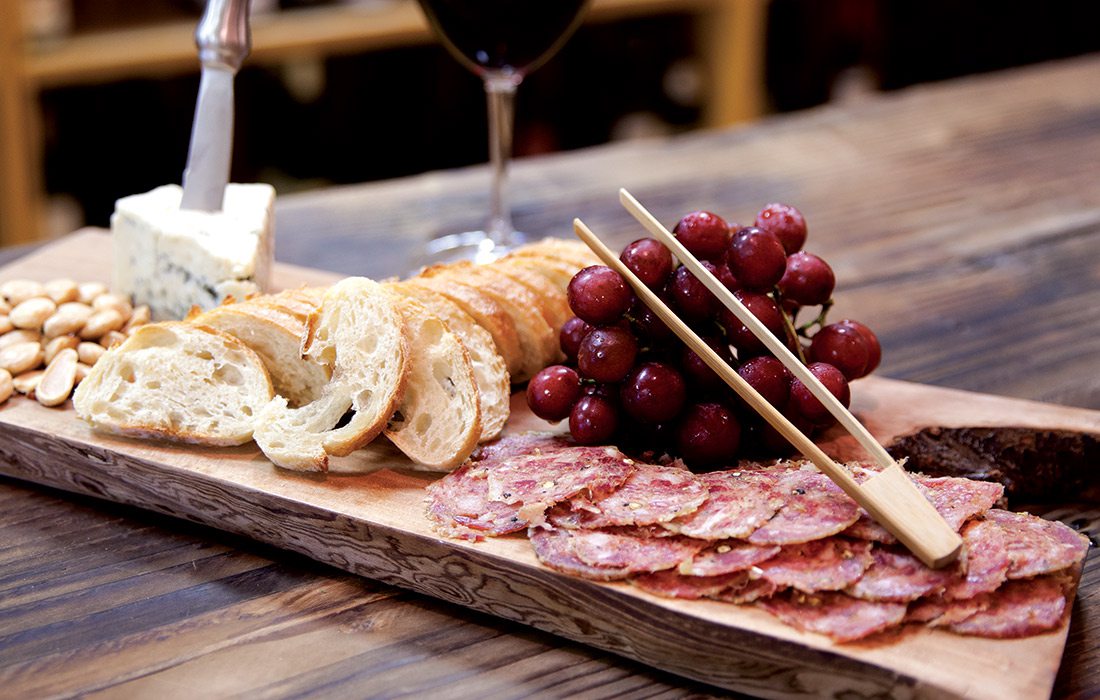 BEST PLACE TO BE A LADY WHO LUNCHES
Derby Deli
Even when it's a workday—even when we're only playing hooky from the office—we love gabbing with friends across the table at Derby Deli while we pretend to be ladies who lunch. Because the thing about dining inside Brown Derby International Wine Center is that the food is great and the vibe is oh-so-leisurely. Just look at the diners around you. Chances are, they are leaning back in their chair, one hand casually grazing the neck of a wine glass, the crumbs of a finished meal resting on the plate. What's the rush? Let's just finish this glass. Maybe have one more. We have all the time in the world. Or at least, we do when we're ladies who lunch.
BEST SO-BIG-IT'S-SILLY PIZZA PIE
The 26-inch pizza at Vito's Kitchen
If there's one thing we love, it's stellar pizza. It's a treat we can rarely resist, and the pie at Vito's Kitchen is among the best—with perfect crust, creative topping combinations, beautiful ingredients, and an only-open-on-certain-days schedule that makes you feel like you're part of a club. But we guess it wasn't enough just to have amazing pie; Vito's also needed to have amazingly enormous pie. Only the bravest diners with the steeliest of stomachs can tackle the Big Vito Pizza Challenge—a loaded 26-inch, 10-pound pizza that is free if you can snarf it up quickly enough. Is there such a thing as too much of a good thing? Nah!
BEST GLUTEN-FREE DISHES
Cafe Cusco
We are continually impressed by the sheer number of gluten-free options available at Commercial Street's purveyor of Peruvian food, Cafe Cusco. On our last visit we counted  a whopping 55 items on the menu that had the friendly little gluten-free symbol beside them. Fifty-five! And that doesn't even take into account the kids menu. It's a great place to go if you have a gluten-sensitive out-of-town visitor—a place where they'll have lots to choose from and won't feel limited by their dietary restrictions. If you're visiting for the first time, opt for the ceviche taco plate. The ceviche has a delightful acidic punch, keeping every bite interesting. If that sounds a little too zippy for you, try the Lomo Saltado, a sauté of steak and veggies tossed with fresh herbs and a flavorful sauce.
BEST GIRLS NIGHT EATS
The Vineyard Market
Next time you and your girlfriends are sipping on some rosé and daydreaming about taking a wine country getaway together (even though you know in the back of your mind that you're never going to plan one), direct the conversation to The Vineyard Market instead. The spot boasts a great wine selection, Napa-style charcuterie boards and other great eats, and even a humidor if you're into the cigar life. Whether you're indulging in Mimosa Saturdays or just diving into any old girls' night out to share a beautiful plate of meat and cheese, this is one of our favorite spots to sit back, relax and dish on some hot goss'.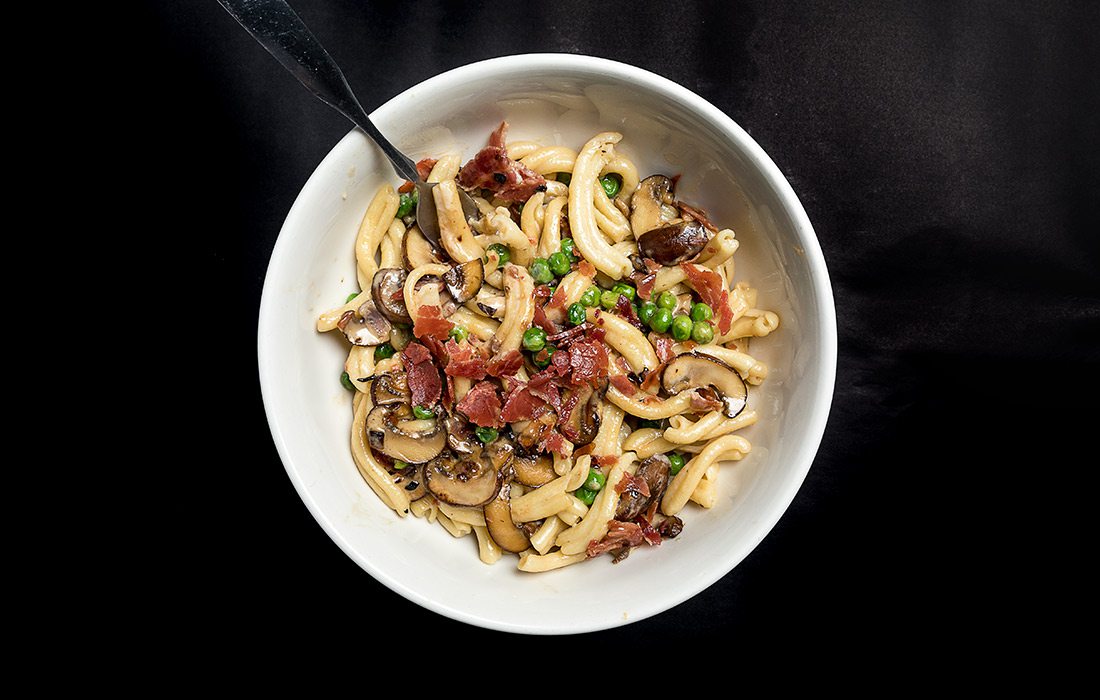 BEST HOMEMADE PASTA
Salvatore's Fresh Ristorante Italiano
Truly from-scratch pasta is surprisingly hard to come by in southwest Missouri, which is why we get excited when we step inside Salvatore's Fresh Ristorante Italiano. Not only is handmade pasta their thing, but you can actually see them in action. If you're lucky, you could pop in for lunch as the fettuccine is stretched or the rigatoni is sliced just inside the front windows and right beside the cozy dining room. Forget your diet and dive into a plate of the Wicked Chicken Riggi's—a plate of tender rigatoni noodles in a creamy, spicy red sauce with either grilled chicken or (if you think you might be in the mood for a totally worth-it heart attack) chicken Parmesan. Bonus: The bread is handmade, too.
BEST SUPER-ANTICIPATED OPENING
Team Taco
When Elle's Patisserie closed last year, leaving an empty purple building at Cherry and Pickwick in Springfield, we all wondered what would become of the charming little structure. Then we heard about Team Taco. Tacos! A taco hut! Oh, it's perfect. So we waited. We sampled their fare at events around town and nudged our friends with our elbows: "Can't wait until this place opens up on Cherry!" And then we waited some more. We're still waiting, by the way. Give us our tacos, Team Taco, please! We might sound a little overbearing here, but we just know we're going to be great friends. We're here when you're ready. Aaaaaany time now...
BEST BRICK-AND-MORTAR TO TRUCK EXPANSION
The Pitch Pizza & Pub
We always get excited when we hear that one of our favorite food trucks has migrated into the brick-and-mortar world (like when The Wheelhouse found a home inside the Vib Hotel lobby and started slinging drunken noodles indoors). It's just as exciting but much less common that we see things go the other way. But The Pitch Pizza & Pub added some mobile eats to their repertoire with a food truck that makes welcome appearances outside 4 By 4 Brewing Co., a brewhouse that previously only had fresh popcorn to offer hungry patrons. Now, guests can taste some luscious craft beer, join in some fun games and fill their bellies with stellar pizza at the same time. So be sure to keep an eye out for the shiny little red trailer from The Pitch on your next visit to the brewery.
BEST TUCKED-AWAY HOME COOKING
Pickin Porch Grill
Have you ever tucked into a plate of crispy fried catfish at an eatery hidden inside—wait for it—a craft mall? Then you've never enjoyed the comfort food from Pickin Porch Grill. At Branson Craft Mall you can work up an appetite perusing handmade arts and crafts and then fill up on things like burgers and fried appetizers. It's typical American fare, but it's done so well that numerous Bransonites have told us it's among their favorite places to grab a bite in the area. And really, you can't go wrong with a pile of crunchy onion rings, can you? We feel especially ooey gooey for the carne asada fries, topped with a homemade avocado sauce. Oooh, that sounds good. Just be aware: Pickin Porch Grill closes for the winter along with much of Branson. Make sure you swing by when they reopen on March 1.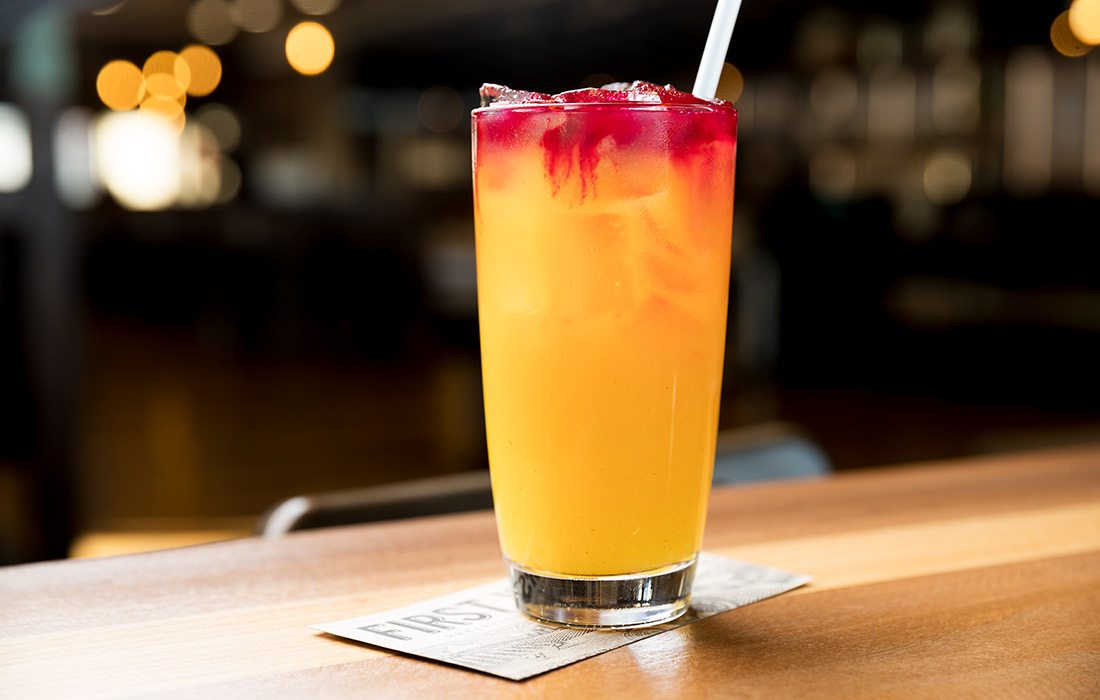 BEST DAY STARTER
Morning Meditation Juice at First Watch
Mornings are hectic enough as it is, and sometimes we feel lucky if we even get out the door on time. So when we go to breakfast, we want it to feel like a bit of an escape—from the hullabaloo, and from our daily pasty oatmeal. That's why the Morning Meditation juice at First Watch always has us singing a bright, new tune. The zippy combination of orange, lemon and ginger gets a hint of earthiness from turmeric and beet. It's sweetened with agave nectar, the most zen of all the sweeteners. The way the beet juice floats on top of the bright citrusy parts of the drink makes it feel just a little bit like you're about to dip into a tequila sunrise—minus the vice. It'll turn your day right around, especially if you woke up on the wrong side of the bed.
BEST CHEESY SMOKY PILE OF GOODNESS
Pulled Pork Nachos from Smokin' Bob's BBQ
You know when you're hungry but you don't know what you want because you're kind of in the mood for everything? You want something warm, but not hot. You want something crunchy... but also soft. Maybe smoky, but it's gotta have some sweetness in there, too. You also need something, like, melty? It's a hard feeling to pin down, and when it strikes, a satisfying meal is a challenge. Luckily for those in the Springfield area, there's one dish that will check all the boxes. That, my friends, is the barbecue nachos at Smokin' Bob's BBQ. A base of crunchy tortilla chips is smothered with smoked cheddar cheese and piled high with pulled pork. (This is the traditional meat option, but feel free to ask for others, like the burnt ends.) Then drizzle sweet or spicy barbecue sauce, a scoop of beans and a scoop of coleslaw. Now you're really building flavors and textures. But don't stop there! Make your nachos next level by ordering a side of cheesy corn. Save the cup and dump it right on top of your nachos. Use both hands to carry your creation to your table, and devour the perfectly warm, crunchy, soft, smoky, sweet, spicy, melty, delicious dish that satisfies every craving.
BEST HOMEMADE PICKLES
Druff's
Money can't buy you happiness, but it can buy you a pickle from Druff's, and that's pretty darn close. What makes these pickles so good you ask? They're a wonderful combination of salty and sour and just a little bit crunchy. They also provide the perfect contrast to Druff's signature grilled cheese sandwiches, adding just a touch of brightness to an otherwise rich meal. We love that these dill pickles are made in-house. The team at Druff's starts by making a brine composed of vinegar and some secret spices (including coriander, mustard seed, lots of garlic and more). The brine is simmered, and then more herbs and spices are added to the mix. Throw in some cold water, and it's ready to be poured over the fresh cucumbers. A mere 48 hours later, these chill dills are ready to be served. A quick pickle at its finest.
BEST PUPUSAS
Tacos El Gordo
In a green and pink hut off the train tracks hides Springfield's best-kept secret. As soon as the clock strikes noon, customers pack Tacos el Gordo (1510 N. National Ave., Springfield) to the gills waiting for flavorful tacos, burritos, tortas and the ilk. But the shining spot on the menu isn't the trompo (although meat on a spit is never to be missed); it's the pupusas. As is anything wrapped in masa and crammed full of pork and cheese, these certainly aren't good for you, but oh, lord, are they good. The pupusas are perfectly pillowy and, surprisingly for something coming straight off the griddle, not at all greasy, meaning you won't think twice about devouring one (or two!).


CHECK OUT ANOTHER WINNING CATEGORY