Recipes
How to Make Your Own Butter Board
Butter boards, a unique take on charcuterie boards, are sweeping social media due to the satisfying process of building them.
By Jo Jolliff
May 2023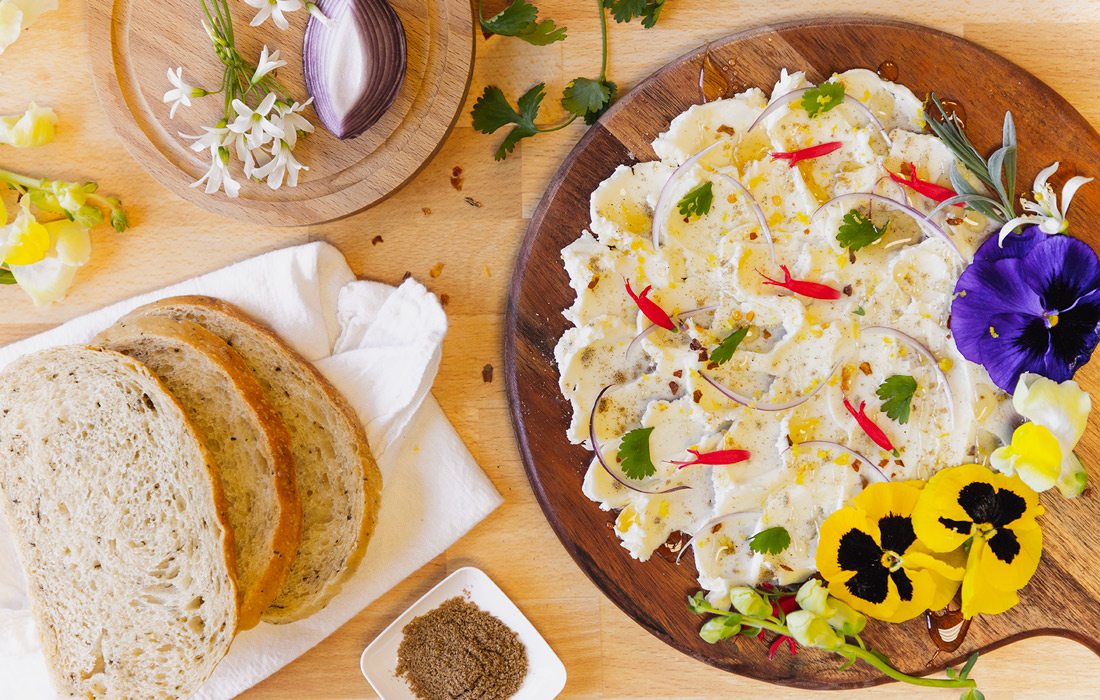 Though it may sound obvious, to create your butter board you start with butter. To keep it local, we use locally produced butter from Pleasant Valley Farm at The Little Farm Store (417-929-1338). Use a rounded butter knife to spread the butter on a decorative charcuterie board of your choice. The easiest (and most aesthetically pleasing) method is by starting in one corner and spreading the butter down in even strokes, to create a fish scale effect across the board. Then evenly drizzle honey over the butter. We recommend wildflower honey from Soozeebeez (200 E. Commercial St., Springfield; 417-860-7773) and habanero honey from Bee-Transformed Honey (307 W. Glenwood, Springfield; 417-869-0233). The great thing about butter boards is that if you're serving a wide range of guests, with some who prefer a mild flavor and others looking for the habanero punch, you can section it off and add raw honey to one side with habanero on the other. 
Next, add your herbs and spices, and the same rules apply here; feel free to only add particular seasonings to particular spots. Generously sprinkle on a variety of your favorite flavors from Chabom Tea & Spices (209 E. Commercial St., Springfield; 417-719-4311). We recommend a base of red pepper flakes, coriander, cardamom or fresh herbs like cilantro. For a little extra pizazz add edible flowers from Maypop Flower Farm or Schaffitzel's Greenhouse to amp up the butter with beautiful colors and a unique, fresh flavor.
Finally, pick your favorite bread. If you want to stay local, try a loaf of dark rye or rosemary bread from Ava Bread, which is sold at MaMa Jean's Natural Market. Cut your bread into bite-size pieces and set it beside your butter board so guests can grab a piece and swipe it along the butter for the perfect piece of buttered bread.