Food
Tips for Making D.I.Y. Botanical Bites
You've probably seen beautiful blossoms on birthday cakes or eye-catching blooms on a charcuterie board. Edible flowers are all the rage.
By Juliana Goodwin
Mar 2022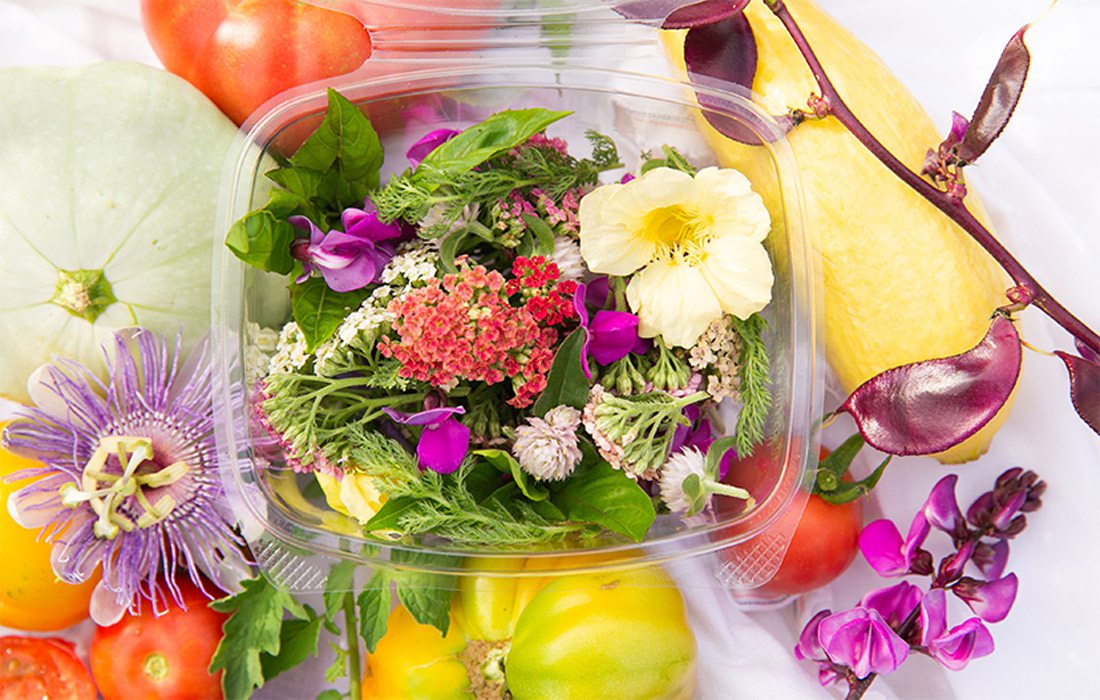 Molly McCleary, owner and operator of Maypop Flower Farm (17450 Quetzal Dr., Neosho; 417-501-5076) got into the business when chefs and bakers requested edible flowers for their creations. McCleary was already selling bouquets at farmers markets, so she started packaging edibles to sell to local restaurants.
Cherrelle Hitchcock and her husband own Flora & Forge (4645 N. Farm Road 165, Springfield; 417-343-2013) in Springfield, where they sell flower arrangements, edible flowers and ornamental metalwork. Hitchcock's foray into the business started with her own garden. When the pandemic hit her husband lost his job, so they expanded their gardens during the stay-at-home orders. This serendipitously led them into flower farming, which included selling teas and salad kits containing edible flowers. Now their flower farm is a full-time business.
Getting Started
A few of the easiest edible flowers to grow are marigolds, calendula and nasturtiums. They are all easy to start from seed, come in a variety of colors, grow prolifically and have different tastes, says McCleary."I plant these all in the field and garden in the ground, but you can plant them in pots on your porch.… If you get the gem and French marigold varieties, they are small and more manageable," she says.
A bonus is marigolds, zinnias and nasturtiums attract beneficial insects and detract bad pests, says Hitchcock. 
Hitchcock's three favorite edible flowers are daylilies, redbuds and nasturtiums.

Delicious Delights
The petals of daylilies taste like a sweet pea, says Hitchcock. If you get them before they open, then they taste like asparagus and can be used in a veggie dip. Easy and accessible edibles for most gardeners are herb flowers, such as the ones that bloom on basil, the ladies suggest. Those are great in a variety of dishes from grilled meats to cakes.

Redbuds are high in vitamin C and are a nice addition to salads. Nasturtiums have a peppery flavor, so they pair nicely with berries and a sweet balsamic vinaigrette, Hitchcock says. Peonies pop on a charcuterie board. Pansies, violas and elderflower are all edible. And violas are good in a stir fry or salad. The little blue borage flower tastes like a cucumber, says McCleary.
"Roses are elegant, add a great smell and taste and are my favorite for decorating cakes," says McCleary. Roses are gorgeous in the garden, too.
Things to Know
Just because a flower is edible doesn't mean it tastes great. Dahlias are popular on cakes because of their beauty, but don't add a lot to the flavor, says McCleary.
The orange fizz scented geranium is fun to use in drinks but is not for everyone because it's strong and can resemble the flavor of essential oil. A little goes a long way, says Hitchcock.
Daylilies are poisonous to cats, so avoid those if you are a cat owner, says Hitchcock.
When considering growing your own, a good place to research is seed companies, suggests McCleary. "Seed companies will tell you many details about each flower. You can see how tall they will grow so you can plan accordingly for your garden. I recommend johnnyseeds.com, which has an extensive list of edible flowers with pictures," says McCleary.
There are many possibilities, so have fun with it, they echo.