Dishes
Find Nashville-Style Hot Chicken at Hot Cluckers
For Southern-style heat without a trip to Nashville, head down Sunshine Street in Springfield MO to Hot Cluckers and get the napkins ready.
By Claire Porter
Jun 2019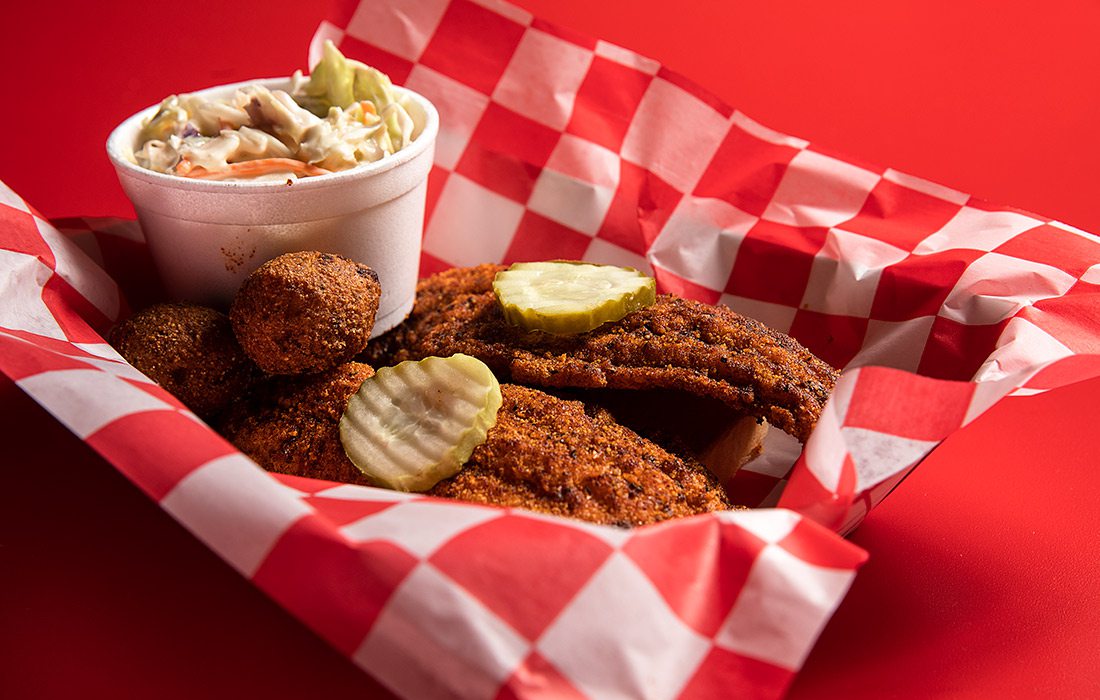 You've surely heard the lore—fried chicken so hot it'll melt your face off, the salty taste of your own tears commingling with each peppery bite, spiciness so intense your sinuses drain immediately. Nashville hot chicken has a reputation that precedes it, and, until recently, you couldn't find kickin' chicken quite like it anywhere in southwest Missouri. That is until Hot Cluckers arrived last year. True to its name, Hot Cluckers (1450 E. Sunshine St., Springfield; 417-882-5825) marketed itself as Springfield's go-to spot for Nashville-style hot chicken. This bone-in chicken is brined, marinated and deep fried to a crispy finish and then slathered in a hot and spicy paste and served atop white bread with a pickle slice. 

Hot Cluckers serves juicy, hot chicken in every form imaginable—white meat, dark meat, whole bird, half bird, quarter bird, tenders… you name it, they've fried it—along with fried catfish and Southern-style sides like fried green tomatoes (recently made with a new and improved recipe), fried okra, fried pickles, coleslaw and bacon-Gouda mac and cheese. If you're a spice weenie, or even just a sane person who doesn't want to consume a meal that sears off your taste buds, Hot Cluckers offers the ability to customize your meal's spiciness with amusingly named spice levels ranging from the Nancy to Hot Mother Clucker. Even still, the hottest level isn't call-the-firehouse hot—but for you thrill-seekers, the restaurant's Facebook page has been teasing the development of a more intense heat level, and hot sauce at the table helps up the ante for those who want that Nashville-style why-did-I-do-this-to-myself dining experience.