Dishes
Loaded Fries and Six More Good Things
These seven dishes or drinks have passed our taste buds this month and made us rave. They are ranked by level of yumminess.
By Katie Pollock Estes
Oct 2021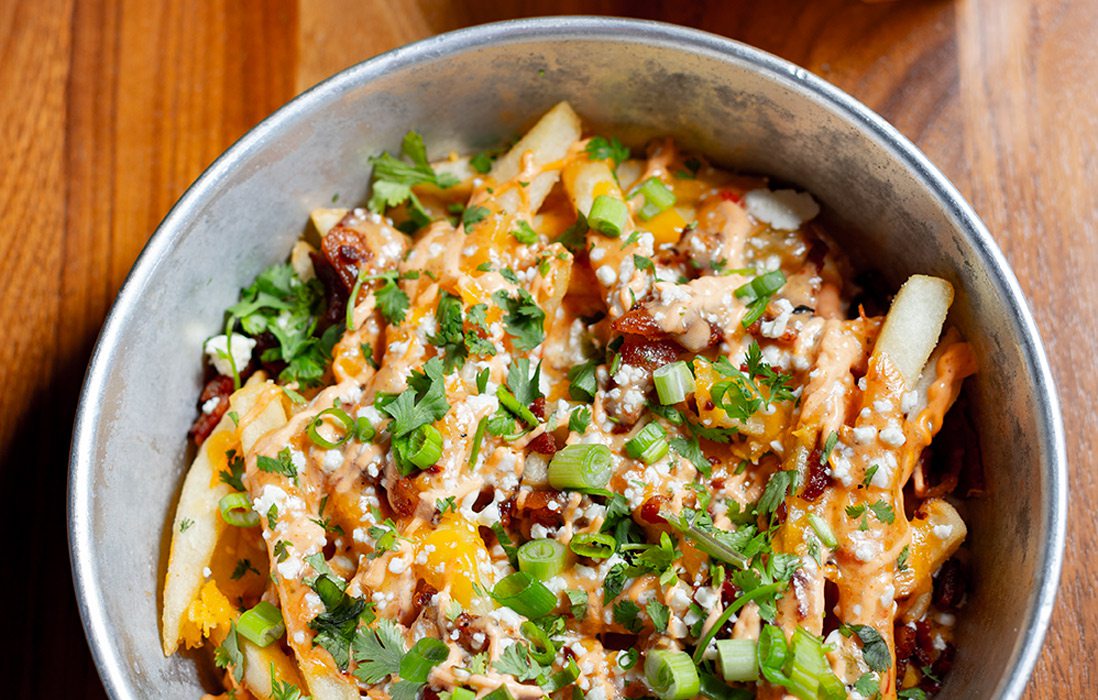 1. Our favorite thing to indulge in during a movie is an order of the Loaded Fries from Alamo Drafthouse (4005 South Ave., Springfield, 417-708-959). They're topped with Hatch green chili queso, cheddar cheese, smoked bacon, cilantro, green onions and sriracha sour cream. Crunchy, spicy, smoky, creamy—It's all the good stuff!
2. The Goi Cuon Spring Rolls from Pho Kim (3433 S. Campbell Ave., Suite C, Springfield, 417-883-9999) are a delightfully fresh way to start a meal. Soft rice paper wrappers hold pork, shrimp, basil, lettuce, vermicelli and cilantro. And you can dip those herbaceous beauties in savory peanut dipping sauce.
3. If you're on the fence about whether you like Brussels sprouts, the super-crispy and super-flavorful fried brussels sprout leaves with citrus dressing from Char Steakhouse & Oyster Bar (1620 E. Republic Road, Springfield, 417-823-8383) might just make a believer out of you.
4. We're super into the Pan-Roasted Salmon Tikka Masala from Farmers Gastropub (2620 S. Glenstone Ave., Springfield, 417-864-6994). It's served with a rice pilaf, mushrooms and tikka curry sauce, and it's mouthwateringly good.
5. The Jammy Egg & Pesto on Rye from Kingdom Coffee perfectly satisfied a recent bout of "I don't know whether I'm hungry for breakfast or lunch." The thick-cut toast holds a beautiful soft-boiled egg, super-sweet tomatoes, microgreens and pesto.
6. Lately, we've been loving the menu at Lake Time Bistro (13272 Highway 13, Suites C and D, Kimberling City, 417-739-1328), and the Shrimp New Orleans is one of our faves. The shrimp is served in a jalapeno-garlic-onion butter broth and served with crusty bread.
7. We love the not-too-sweet but very tasty chocolate-espresso-banana muffin from The Coffee Ethic (124 Park Central Square, Springfield, 417-866-6645). It's crumbly in the best way and wonderful for satisfying a sweet tooth.