Dishes
Savory Donuts Are Our New Obsession
Whether you have a sweet or savory tooth, Dough Bar's booth has the donut for you.
By Katie Pollock Estes
Dec 2022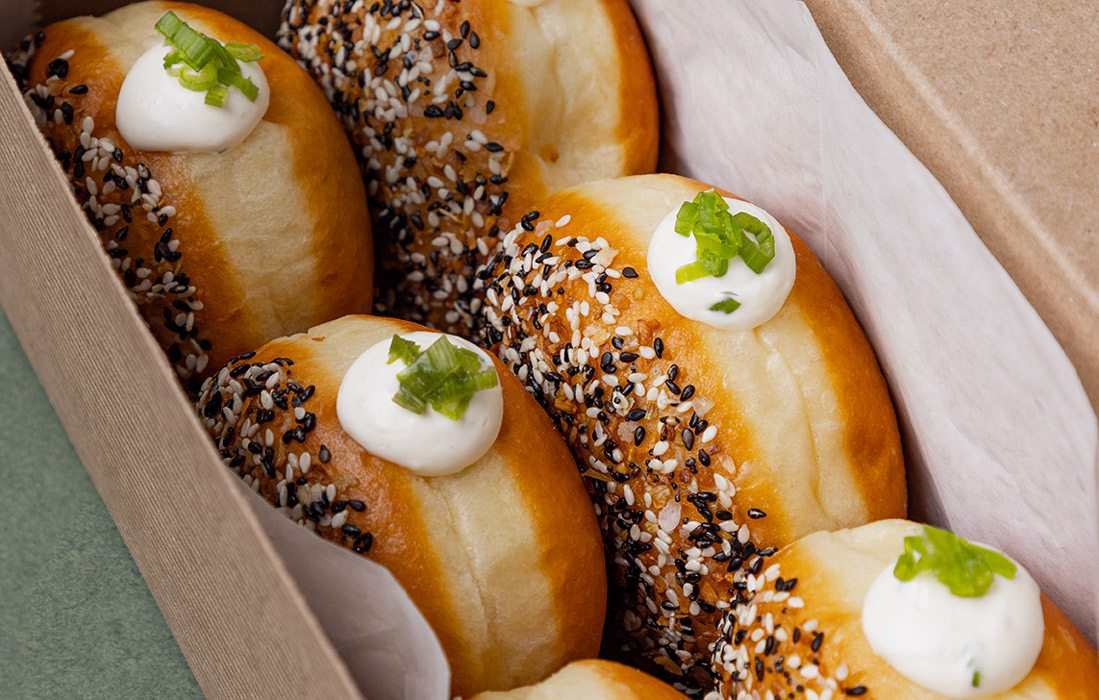 If you're an early arriver to Farmers Market of the Ozarks on Saturday mornings, you might be lucky enough to snag one of the savory brioche donuts from Dough Bar's booth. This decorator of beautiful cookies has begun dabbling in donuts, and the brioche variety with their light and fluffy texture are absolutely to-die-for. We've tried and loved the Nutella cream, lemon-blueberry cheesecake and lemon curd varieties, and each one tickled our sweet tooth.
But the savory variety, the one that sells out week after week, really won us over. Its cream cheese based filling is flavored with roasted garlic and scallions, and the donut is topped with everything bagel seasoning. Not a speck of sweetness in sight, and so delish. Are they big enough to share? Sure, maybe. But you won't want to—for two reasons. One, they are tasty enough to make you greedy. And two, these things are absolutely packed with filling. So much so, that it's kind of a challenge to cut them up. We tried. There is no skimping on ooey-gooey goodness on the inside of these donuts. The best solution is to just accept that you're going to eat every fluffy, messy morsel of your savory fried brioche breakfast, and you're going to enjoy the heck out of it.
Editor's note: When this story was first published, Dough Bar was known as Liz Cookie Co. The business has since undergone a rebrand with a new name. This story has been updated 03-28-2023.