Reviews
Ozarker Eats from the Ozarker Lodge
Our bite sized review of the many local options Ozarker Lodge has to offer.
By Tessa Cooper
Nov 2023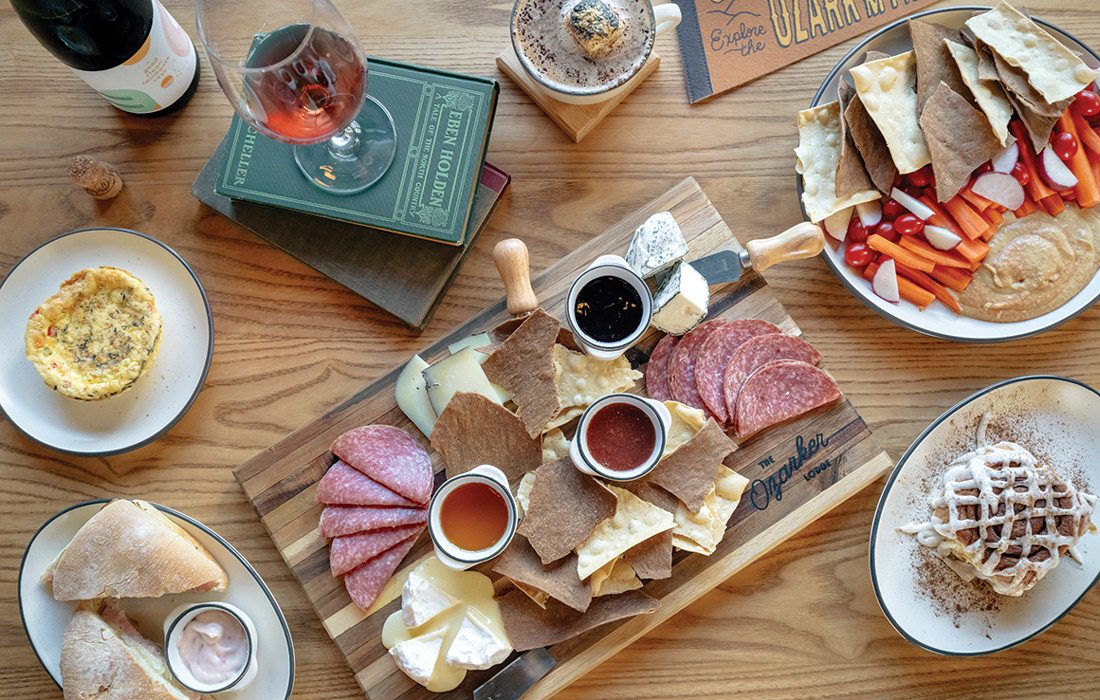 Be it you're just in Branson for the day, or you're an overnight guest at the Ozarker Lodge (995 Historic Hwy. 165, Branson), don't sleep on Storeroom. This cozy, modern-rustic lobby café is part coffee shop, part wine bar. It's open 6 a.m. to midnight, so it's a good stop for a morning, noon or late evening pick-me-up.
You'll notice offerings and ingredients from several 417-land businesses peppered throughout the menu––just take the coffee for starters. Storeroom sources beans from Kingdom Coffee (multiple locations), and while it's hard to go wrong with such a quality product, the baristas really know what they're doing and can produce an excellent cup your favorite way. The S'mores latte is their specialty, and the toasted marshmallow garnish it comes with makes it extra hard to resist.
On the food front, you can grab something sweet or savory for breakfast, like a Grandma Ruth's Cinnamon Roll (3000 Green Mountain Dr., Ste 108, Branson) or an asparagus and cheddar quiche. Now, onto the adult portion of our menu tour: the wine and beer list. They serve natural wines, such as spumante by Springfield-based Good Clean Wine and beer on tap from Mother's Brewing Company (215 S. Grant Ave., Springfield) and Turkey Creek Brewery (1865 US-65 BUS, Hollister). Whatever you choose to fill your glass with, pair it with a charcuterie board featuring Terrell Creek Farm cheeses and sourdough bread from Neighbor's Mill Bakery & Café (1435 E. Independence, Ste #110).