Reviews
Grab Breakfast or Brunch at Nixa's Morning Day Cafe
With inventive breakfast options, colorful decor and a friendly atmosphere, Nixa's Morning Day Cafe gives you a reason to become an early riser.
By Claire Porter
Jul 2019
For those who know me, it will come as no surprise to learn that I am far from being a morning person. If I agree to meet you before 8 a.m., you know I really love you. Such was the case when a close friend came to town, and we tried to squeeze a catch-up session into her packed schedule. We wound up getting breakfast at Morning Day Cafe in Nixa on the suggestion of several co-workers who had fallen in love with the quirky breakfast joint on Nixa's main drag.
This colorful cafe is the perfect place for a quiet breakfast alone or for a whole group, and the menu is extensive enough that my sweet-toothed friend and my salt-loving self could each find something to enjoy. We started with coffee to get the blood and conversation flowing. The menu has the classics, plus a few out-of-the-box options, like the Jolt with lime, microfoam milk and cayenne honey. Smoothies also show up on this menu along with plenty of cocktails—great for those who like to start the party early.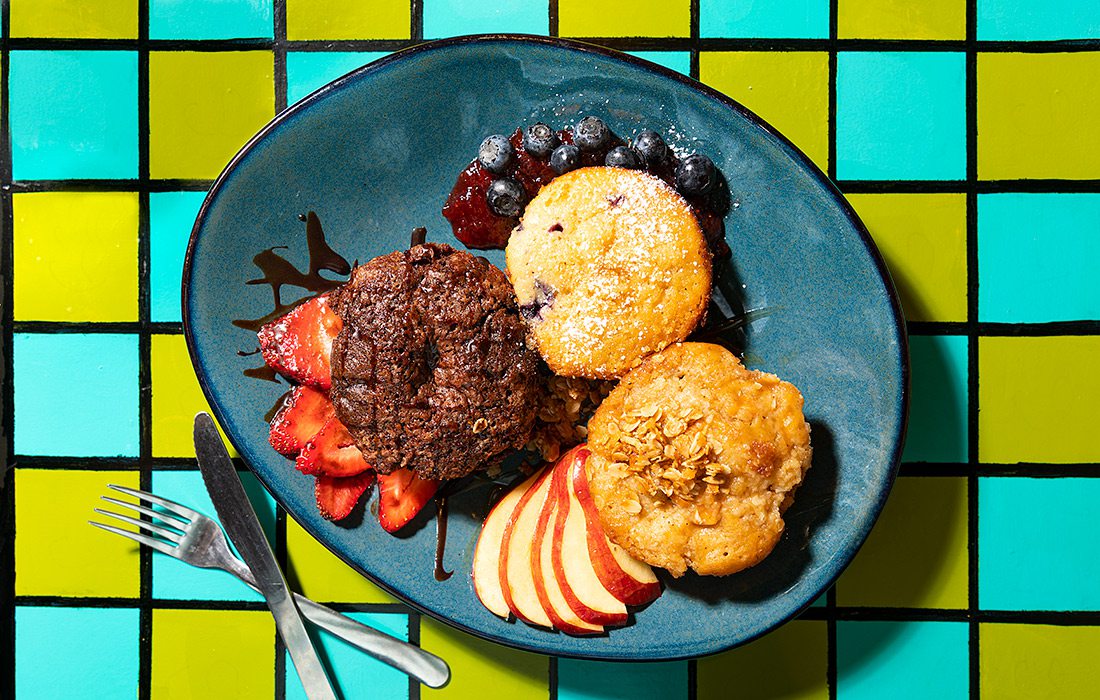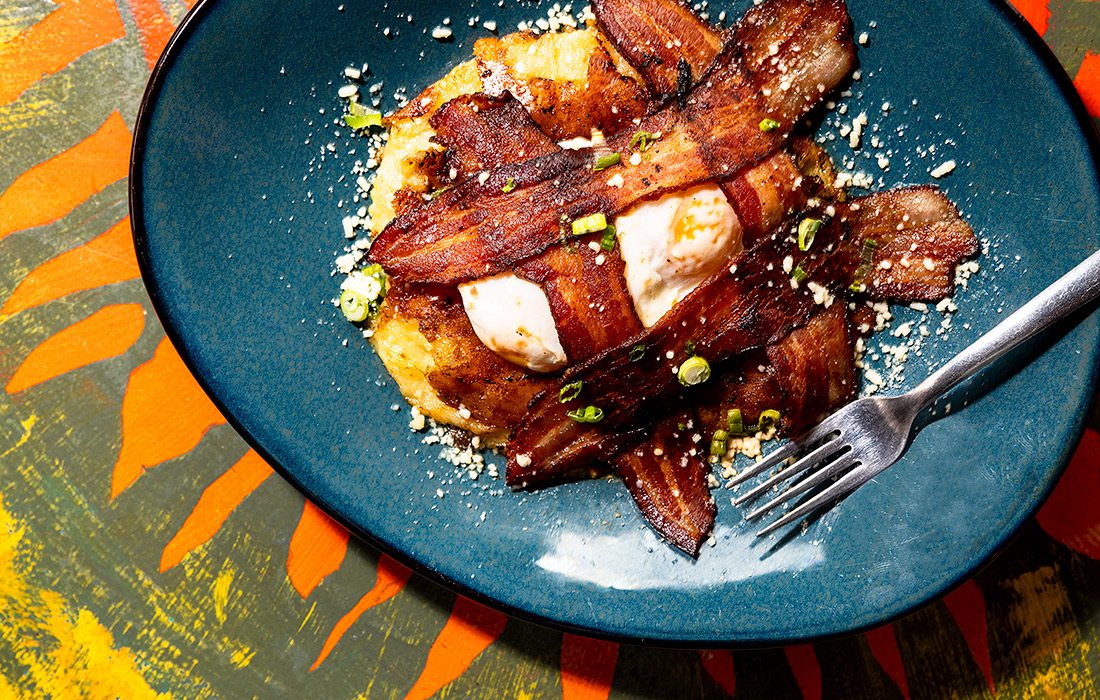 Photos by Brandon Alms The muffin sampler comes with three muffins and a smattering of sliced fruit and jam, while the #Bacon (yes, pronounced "hashtag bacon") is four strips of woven bacon set atop a caramelized Gouda potato cake and served with eggs.
While we took a few minutes to mull over the myriad menu options, we started out with a muffin sampler—also at the suggestion of a co-worker, who was obsessed with the super-dense and rich chocolate muffin. The trio comes with three massive muffins served with berries and jam, but I found the baked goods plenty sweet on their own. Eventually we landed on our entrees, each cleverly named. The #Bacon (pronounced "hashtag bacon," and yes, you have to say it out loud to your server and pretend you're not embarrassed) was four strips of bacon arranged in a pound sign atop a caramelized Gouda potato cake, served with eggs. The potato cake was a pleasant surprise with its blend of salty, cheesy and crispy elements—It was everything a potato should be.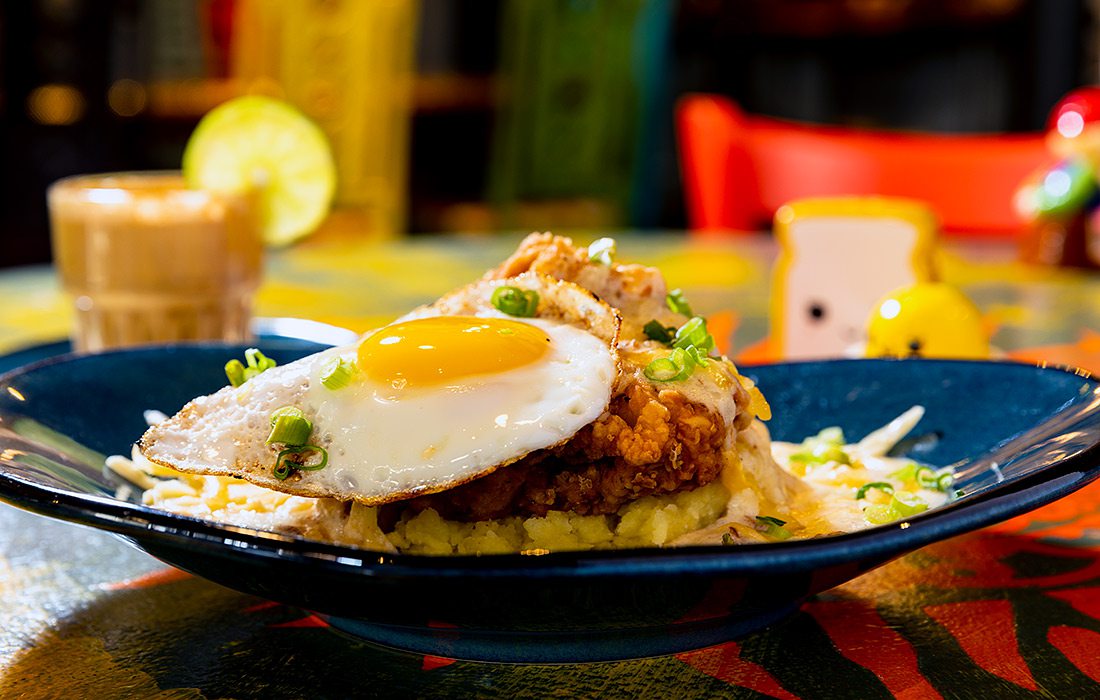 We also opted for one of the lunch entrees, which are served all day, instead of a traditional breakfast. Lunch fare, I hoped, would trick my body into believing it was normal to be awake at this hour. The Chicken & Egg had everything I want in a cheat dish—potatoes, fried chicken, cheese, gravy, fried egg. It was insanely indulgent, and I loved the mixture of textures. There's some witchcraft making those creamy potatoes so addictive, and the fried chicken's breading was plenty crunchy.
The cafe is open until midafternoon and also has grain bowls, salads and soups on the menu, which makes it a cozy option for lunch if you hate your morning alarm as much as I do. If you're craving more than a classic diner or you need to simply shake up your routine, pop into this art-filled gem on Nixa's Main Street.

What to Look for at Morning Day Cafe

A New Drink Menu
Opening in early August, Morning Day Cafe's bar is expanding into the former hardware store next door. Plans for the new space include an additional 50 seats, draft beer, vintage-style cocktails and Nite Bites, an upscale full dinner menu. 
Eat with Your Eyes
The interior design at Morning Day Cafe is a visual smorgasbord. The tables are patterned, the plates are colorful, and the tabletop trinkets have a personality of their own. Don't forget to look up, either. Each month, artwork from a different local artist lines the walls, and at the end of the year, works are sold at a charity auction.
Soak up the Sun on the Outdoor Patio
Perhaps one of the most appealing perks of the cafe is the outdoor seating. Umbrellas keep you from squinting into your coffee, while the nice breeze and the bustle of Nixa's main drag help perk you up.