Reviews
Coming Up Lavender: The Menu Re-Vamp at Aviary by Lavender Falls
Aviary by Lavender Falls is serving lavender-infused meals that combine the spirit of both Aviary Café and Lavender Falls Farm in one menu.
By Katie Pollock Estes
Dec 2020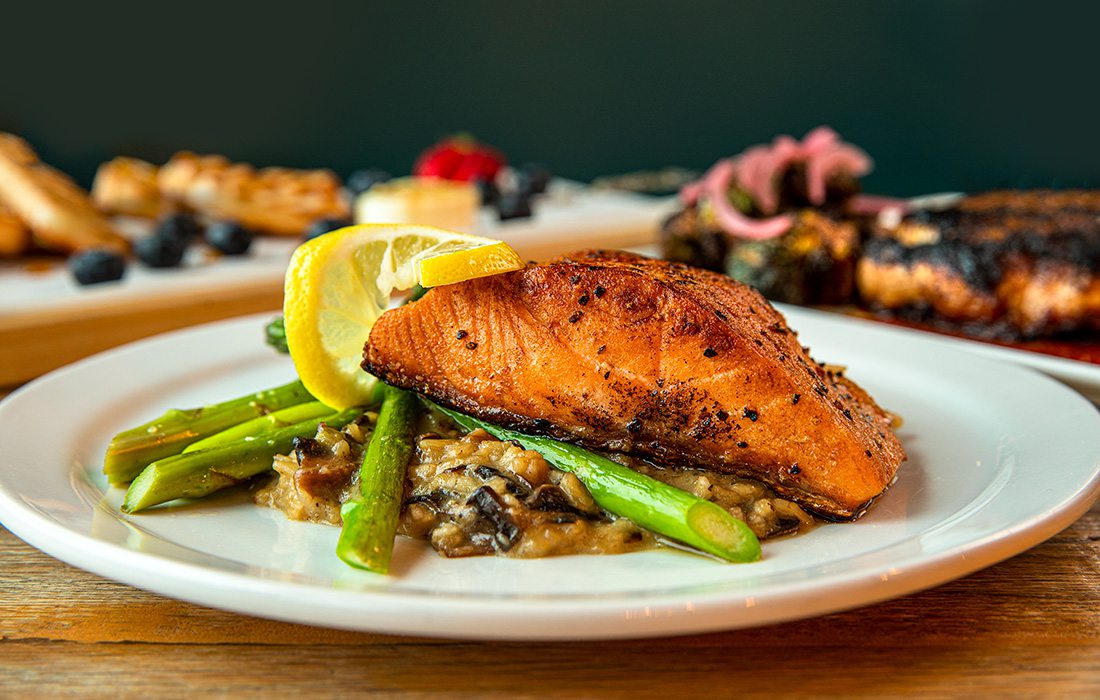 Two spots that have been favorites for my out-of-town family when they come to visit are Aviary Café and Lavender Falls Farm. We've been visiting Aviary with them since the original location first opened, sharing crepes and mountains of pomme frites. And we visited Lavender Falls Farm with them one sweet, sweltering summer night to enjoy a relaxing dinner on the farm. Although the downtown Aviary is currently closed and Lavender Falls Farm had to take a break from farm dinners during the pandemic, the Aviary storefront at Farmers Park is still delivering the good stuff—now with Lavender Falls Farm's owners at the helm and operating under a new name: Aviary by Lavender Falls.
When I stopped by for dinner with my family, we were definitely in the mood for lavender, so we started by sharing a plate of the lavender honey with goat cheese. Six super-crisp crostini were served over drops of honey, fresh strawberries and blueberries, and a honey-drizzled round of creamy goat cheese. It sounds simple, and it was. But there is something so magical about the delicately floral honey combined with the tart and earthy notes of the cheese. I found myself scraping as much honey from the plate as I could with my fork to spread over my crostini—I would have licked it clean if that had been socially acceptable.

For our entrees, my husband and I ordered the salmon filet (served with mushroom and red pepper risotto and asparagus) and the pork tomahawk (served with mashed potatoes, fried Brussels sprouts and roasted tomato chili sauce), and shared them both so we could taste all the things. While the salmon was well-prepared and delicious, it was the pork tomahawk that won the night for us. Sure, it looks impressive on the plate with its giant handle of a bone sticking out of a plump chop. But it was the juiciness of every single bite that we really loved. Even our 4-year-old noticed it when we plopped a few bites down on her plate beside her grilled cheese: "Oooh! Juicy!" It was the satisfying meat-and-potatoes meal I didn't even realize I was craving.
We ended the meal as we always do at Aviary, sharing a warm salted caramel crepe for dessert. We also took a minute to talk with our server about the changes underway thanks to the partnership between Aviary owner Westward Alliance, and Catherine and Thor Bersted of Lavender Falls Farm. The connection to Lavender Falls means more than just a few delightfully floral menu additions. The restaurant is also revamping its second entrance (former home to a patisserie several years ago) to use as storefront space. That part wasn't quite ready yet when we visited (although some cosmetic changes in the dining room had already happened, like the addition of deep emerald paint to the walls to create a richer atmosphere), but diners could still purchase some of the Lavender Falls and Brown Abbey products from their tables—like jars of that dreamy lavender honey. Lavender Falls items are for sale on Aviary's website, too, including body products like lavender shea butter lotion and tasty ingredients like a lavender steak rub. So while we miss Aviary's downtown Springfield outpost in a darling vintage storefront, we are pretty excited to keep an eye on what's on the horizon for this sweet marriage of crave-able dining and everybody's favorite little purple flower.
Looking for More Places to Grab Breakfast?