Reviews
Our Review of Ariake Sushi & Robata
Ariake Sushi & Robata, the newest restaurant from Haruno owners John Jung and Young Jun, features shareable small plates full of surprising and delightful flavors.
By Katie Pollock Estes
Oct 2023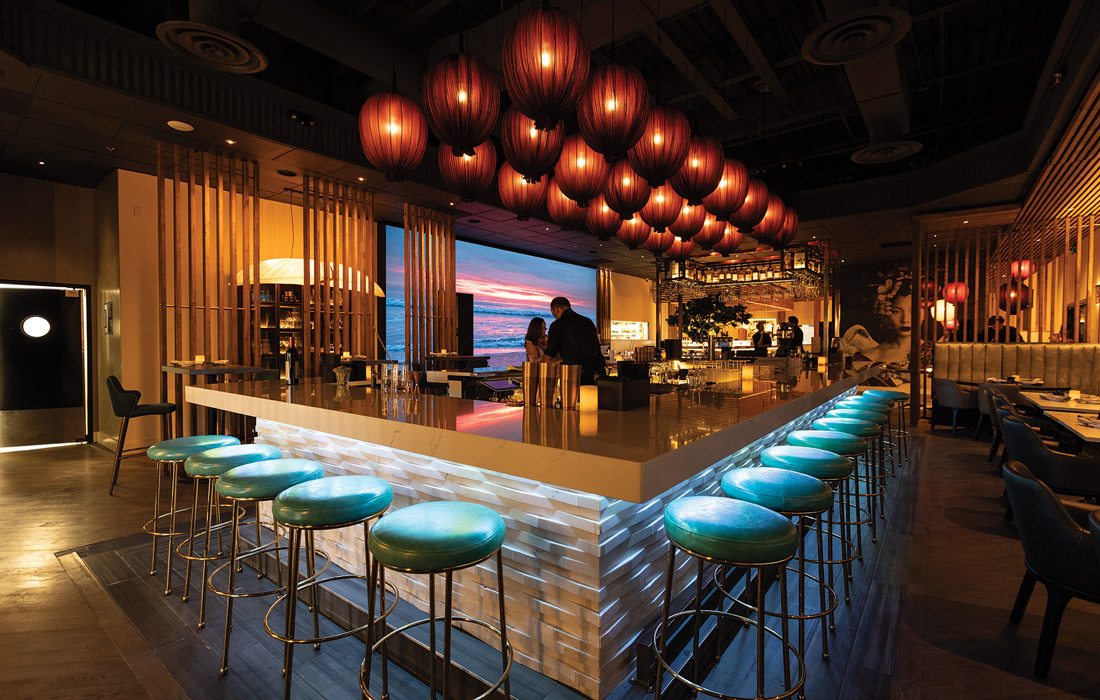 Perhaps one of the most anticipated restaurant openings this year, Ariake Sushi & Robata had a lot of expectations to live up to before it even opened its doors. That's partly due to who the owners are. John Jung and Young Jun also own Haruno, Kai and Karai, three Springfield restaurants with excellent reputations. Now that I've had a chance to try Ariake, I have to say: It didn't disappoint!
With Ariake's gorgeous modern interior, fun sake menu and spot-on service, it was more than just the food that my husband, Eli, and I loved when we visited for dinner. But for this review, let's focus on that food. We tackled the menu of (very) small plates by ordering a bunch of items that excited us and shared them all for a true tasting experience.
Hands down, my favorite dish was the white usuzukuri, a raw flounder dish from the cold tasting menu. Each piece of flounder was rolled into a perfect bite, which included a thin slice of pear, candied quinoa, lava salt, yuzu and chili oil. In my mouth, it was simultaneously delicately tender and explosively flavorful. It tasted bright, refreshing and, best of all, surprising. When I say this dish made me feel pure, unadulterated joy, I'm not exaggerating. I did a little happy wiggle with every bite. I even saved the last piece to eat at the very end of our meal.
Our server told us that the flounder was from Jeju Island in South Korea. You might have heard of Jeju Island; it's known for both super-sweet tangerines and the Jeju Haenyeo, a group of women divers who have a rich history of plunging deep into the water to gather shellfish. I think Jeju Island should be famous for that flounder too.
Also from the cold tasting menu, we ordered the yellowtail chiru, and it was an excellent option as well. It was made with sliced yellowtail, ponzu sauce, chili oil, fresh orange and tobiko.
Next up: the shishito peppers, which were wokfried in spicy shoyu and served with garlic aioli. These were so much fun to eat. Some were mild, and some were super spicy, but regardless they were all delicious.
We wanted to taste some of the grilled meat from the robata yaki portion of the menu, so we ordered two pieces of filet, which were cooked to medium- rare and presented on skewers. We loved the lemon slices and spicy seasoning that came on the side, allowing us to customize each bite. The steak was the star, though—so incredibly tender and tasty.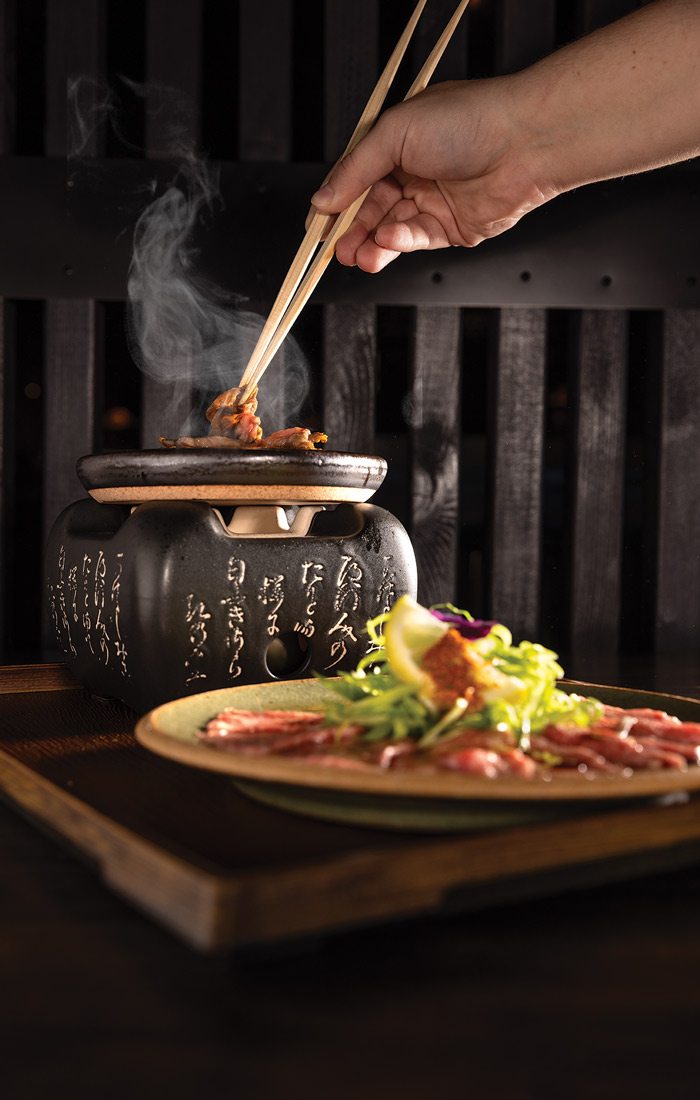 Photos by Brandon Alms
After that, we moved on to the hot tasting menu and tried the karaage. Crispy chunks of fried chicken thigh were served with a sweet chili dipping sauce and lemon slices to brighten it all up. Although it was delicious and perfectly prepared, it didn't feel quite as special as the dishes we tried before.
We couldn't skip the sushi menu, so we ordered some fatty tuna nigiri (otoro) and the crispy yasaimono. The latter featured pats of crispy rice topped with mango, avocado, asparagus, lemon and cilantro. It was such a fresh and fun bite, but the otoro nigiri was our favorite. It was like buttah! The tuna was melt-in-your-mouth tender. I'd never tried otoro before, but now I'm on Team Otoro forever. 
Finally, we ended the meal by sharing the matcha crème brûlée. I'm a sucker for the subtle flavor tea adds to a sweet dish, and this instantly became one of my favorites. It was creamy and not too sweet, with plenty of true matcha flavor and a tart mango puree that was a perfect complement. Between that and the flounder, I'm still dreaming about this meal.