Reviews
Shareable Plates and World Flavors Rule Progress's Menu
Former pop-up dining concept Progress has opened the doors at its brick-and-mortar location and offers globally inspired flavors and family style dishes that are almost too good to share.
By Claire Porter
Feb 2019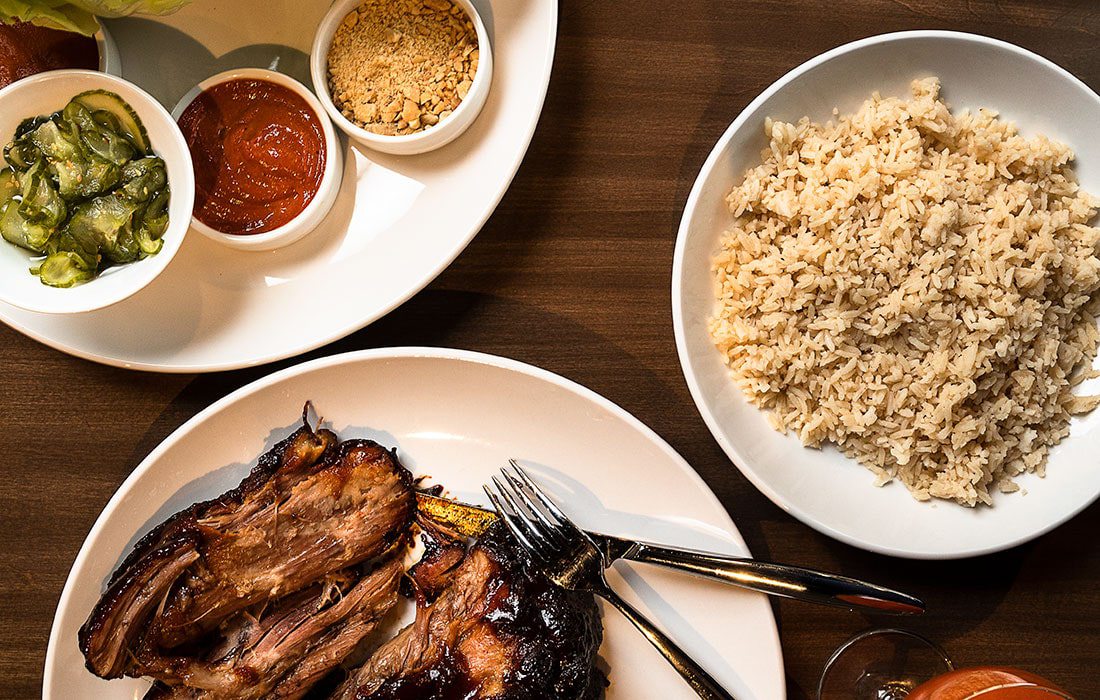 As new eateries pop up in the Springfield dining scene, there's been an increased focus on family style dining as chefs and restaurateurs encourage one of the best parts of dining out—sharing a meal with those you enjoy. Lately, no one has done that better or made that easier than Progress. The former pop-up restaurant concept run by trio Daniel Ernce, Cassidy Rollins and Michael Schmitz has moved into the space at Farmers Park once occupied by Metropolitan Farmer, and the restaurant's menu is built to share. 
Consisting of small plates, larger plates and entrees billed as "interactive family style," the globally inspired offerings can easily be built into a customized meal for two or for 20. A group of friends and I had previously come in for brunch and, impressed by the plentiful savory options and inventive approaches (I'm looking at you sunflower seed pesto), we decided to explore the dinner menu. We ordered what seems like an inordinate amount of food for four people, but portion sizes and prices were reasonable and the courses were well paced enough that we didn't end our night feeling gluttonous. 
After a few selections from the custom cocktail menu curated by Schmitz, we started with the potato bread small plate as we built our meal strategy. The doughy bread's crust has a nice snap, and it's served with salted whipped cream. A co-worker told me we'd want to lick the cream right off the plate, and she wasn't wrong. After ordering a second plate of bread—we couldn't resist—we selected our meal. We chose a mixture of vegetable-based dishes, proteins and cuisines to sample Progress's range. The global inspiration was apparent, as some of our dishes included New American style carrots braised in smoked beef fat and seared scallops with pureed cauliflower, Korean buttered ramen noodles, Middle Eastern–inspired butternut squash shawarma and North African harissa-braised beef.
Out of all of the dishes we had that night, the veggie plates stood above the rest. As exciting as we found the international cuisines, exotic spices and new combinations we tried that night, it was the humble and familiar cauliflower and carrot that shone the most. The preparation of each dish maintained the vegetable's integrity and brought to light savory flavors that left us fighting over the last bites. The roasted cauliflower steak was easily our favorite dish; two co-workers and one stranger had even raved to me about it. This dish was irresistible. There were layers of texture thanks to the smooth carrot puree and the crispy spiced Rice Krispies (yes, really), and bursts of acidity from pickled fennel.
Progress plans to shift its menu seasonally, and the new winter menu debuted in mid-January. Although the offerings will change, you can still expect each iteration of the menu to maintain the consistent inventiveness, thoughtful preparation and carefully considered pairings that have helped Progress make a name for itself as it grew in the pop-up world. The menu is varied enough to satisfy cravings of both adventurous eaters and traditionalists, so gather a group and get ready to share—although, you might want to exercise your right to be selfish and order a dish or two for yourself. We won't judge. 

Get the Most Out of Your Progress Experience
Best Seat in the House
Occupying the former Metropolitan Farmer space, Progress's interior was redone with a refined modernist feel with eye-catching details—be sure to look up at the undulating ceiling. Each seat gives you a good glimpse of the space, but try to catch a banquette seat facing the kitchen to see the crew at work. 
Seasonal Shifts
Expect the menu to change each season as new produce hits its prime. The February menu includes vegetable-forward standouts like beet tartare and smoked cauliflower with pumpkin seeds and wintery comfort dishes like a pork chop drizzled with onion caramel. 
Going Up
After your meal, take the elevator upstairs to Reverie, Progress's sister rooftop bar. Sip on an inventive cocktail from the extensive drink menu or, if your appetite is still going strong, try some of the bar's small bites and desserts. 


Tuesday–Friday, 4–10 p.m.
Saturday, 9 a.m.–3 p.m., 4–10 p.m.