Reviews
Our Review of Blue Heron Farm & Bakery
Blue Heron Farm & Bakery's storefront expansion offers up an array of new menu items.
by Katie Pollock Estes
Feb 2023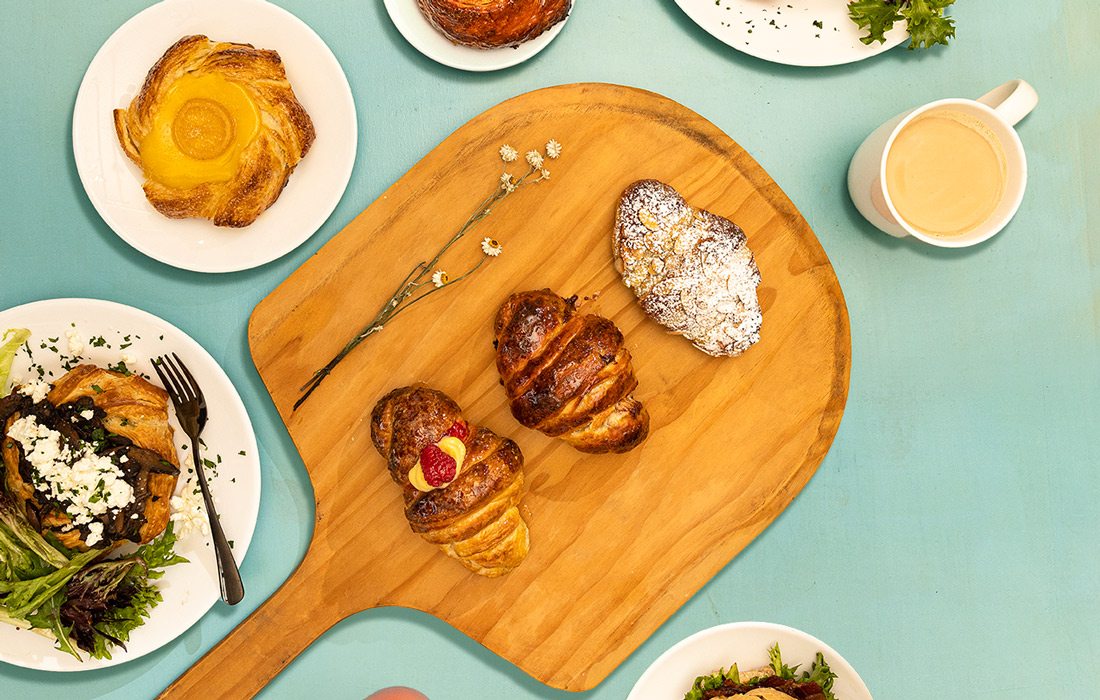 The quaint and cozy joy of visiting Blue Heron Farm & Bakery's brick-and-mortar shop on East Commercial Street starts before you even walk through the door. The blue-painted facade of the little eatery is located just east of Commercial Street's intersection with Boonville Avenue, which means as you breeze down the sidewalk to head into Blue Heron, you're treated to the harmonious twinkling music of the Corinthian Bells wind chimes that hang outside Ms. Gilmore's right across the street. On a fair-weather day in Springfield, it feels like a truly lovely C-street moment.
But a visit to Blue Heron is all about the food, so let's talk food! You might recognize this business's name if you frequent local farmers markets. They've been selling baked goods and farm-fresh items (like duck eggs) at Farmers Market of the Ozarks for years, but the storefront expansion has allowed for even more tasty offerings.
On my first visit, I tried some of the classic baked goods. They have a handful of filled croissants (like raspberry cream, chocolate and more), cinnamon rolls, freshly baked loaves of artisanal breads and other sweet treats.
I ordered a lemon galette and an almond croissant. The lemon galette would be a dream for anyone who's obsessed with lemon curd—it was huge and had so much filling! The pastry itself was flaky and just a little sweet thanks to the addition of finishing sugar, but the chewy preserved lemon slice was my favorite part. It was like the cherry on top, but better.
I loved the almond croissant even more. It was a beautiful pastry with the warm and comforting nutty-sweet flavor of frangipane. I loved the crunchy sliced almonds on top too. While I ate them, I sipped a cup of filtered coffee with a bit of their super-smooth homemade caramel added. But I was eyeing a few espresso menu items too, like The Algerian with iced espresso, turbinado syrup and lemon.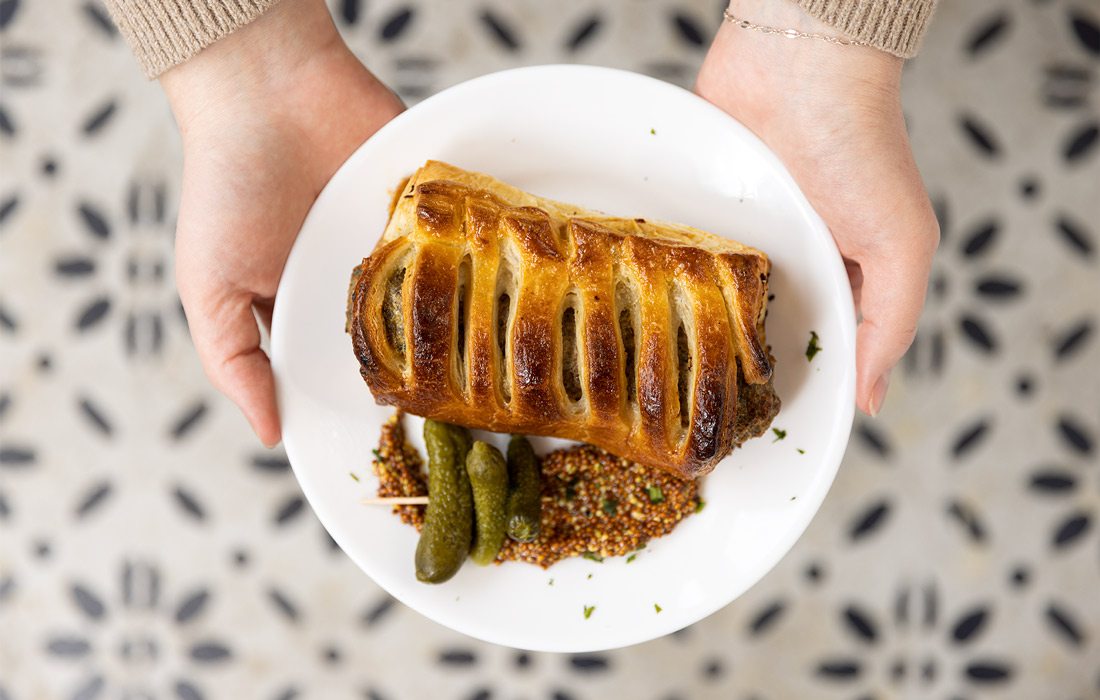 Another thing to love about this cafe-shop combo: Owners Jennie and James Boosey put a huge focus on local ingredients. The flour they use in their pastries is from  a Kansas City-based milling company, and their savory dishes are packed with 417-land ingredients like Terrell Creek Farm cheese, Box Turtle Farm greens, locally made sausage, Willow Mountain mushrooms, chicken from Peace Valley Poultry and more.
On my first visit, the shop wasn't offering those savory items because they were temporarily serving a limited menu while they worked on a few expansions to their dining room seating area. After those tasty pastry indulgences whetted my appetite, I couldn't wait to return and try more.
I went back a few days later to taste the Le Pot Pie dish and a Lincolnshire sausage roll.
Le Pot Pie was comfort on a plate, like a warm and steamy hug. The pastry was deliciously flaky, and the filling was packed with tender bite-size bits of chicken, celery and peas. But my favorite part was the side of carrots. They were roasted to perfection and seasoned just right. If they offered those carrots as a standalone side, I'd order them every single time I visit.
The Lincolnshire sausage roll was a delight too. While the flakey pastry and herbacious sausage are quite tasty on their own, the acidic little punches from the accompanying whole-grain mustard and teeny little pickles were an ideal complement that made the dish.
Whether you visit Blue Heron for a sweet morning treat or a savory lunch, one thing you can bank on is expertly made pastry on anything you dig into. So order a sippable drink and plan to stay a while to savor the flavors at this charming little C-Street spot.
About Blue Heron Farm & Bakery