Reviews
We Review Ramata Italian in Branson
A new restaurant at Branson Landing is showing off how good Italian food can be.
By Jorge Cespedes
Feb 2022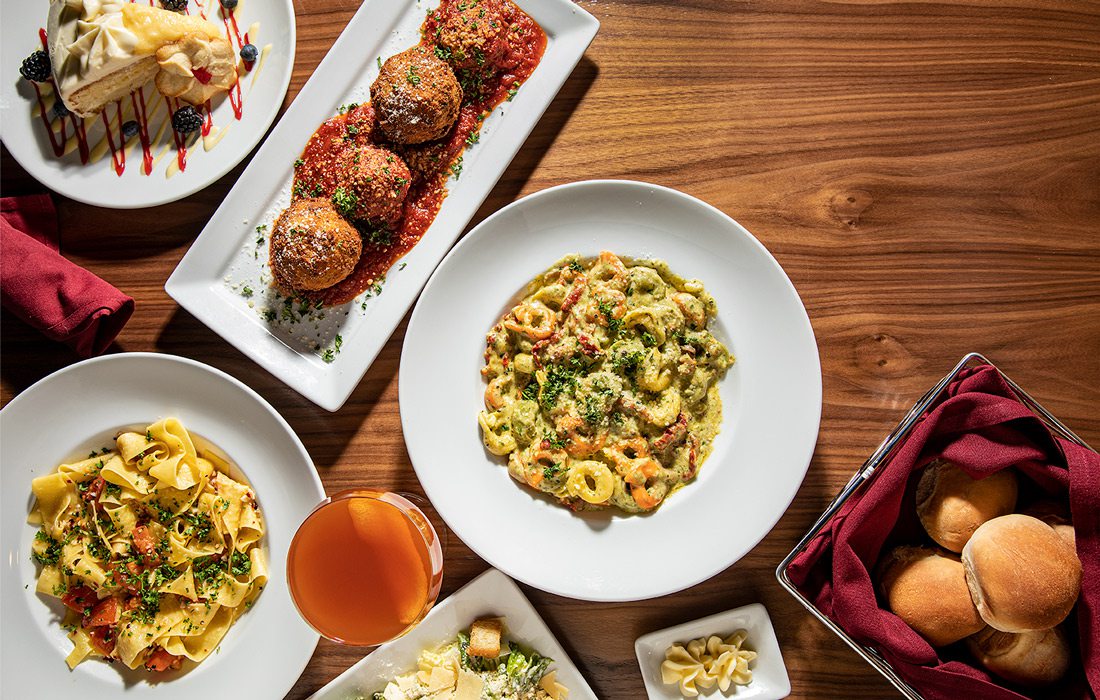 A new restaurant in the area is always something to talk about—anticipating how it will look and what the food will be like. Ramata Italian (1201 Branson Landing Blvd., Branson, 417-231-9559) the new eatery at Branson Landing, has outdone itself as a fine dining destination for the Branson area. The space itself is quite large and beautiful, modern looking and elegant, yet approachable and inviting. It has a large 360-degree bar with lots of seating, a comfy lounge in front of a fireplace and a wall of refrigerated bottled wine. The kitchen has a glass wall so diners can get a view of the busy team hard at work on their entrees.
On a recent visit, I requested a table in the main dining room, in front of that glass wall so I could see into the kitchen. A well-set table was in front of me, and I realized all the other tables were neatly set as well, just waiting for customers. The hand-crafted cocktail menu was long and entertaining, with every major spirit represented. I dwelled on every option and considered what libation I would choose to start the evening with. I ended up choosing the Business Class Perks, a cocktail made with Basil Hayden Bourbon, Aperol, Lucano Amaro and lemon. This particular drink caught my attention for several reasons: one, I love a good bourbon-based cocktail, and two, it has not one but two Italian bitter liqueurs—which I happen to really appreciate. The use of lemon let me know that this would be a shaken cocktail, just the right thing to get my taste buds going for a night of eating. 
Our server, Natalia, came by to check on us, and we ordered three appetizers: the Calamari Fritti, the Arancini & Meatball Combination and finally the Spinach Artichoke Shrimp Dip. We were assured by Natalia that these were great options, then off she went with the order. The plates arrived, and they looked wonderful. All three appetizers were plated in large, beautiful white plates that highlighted each dish.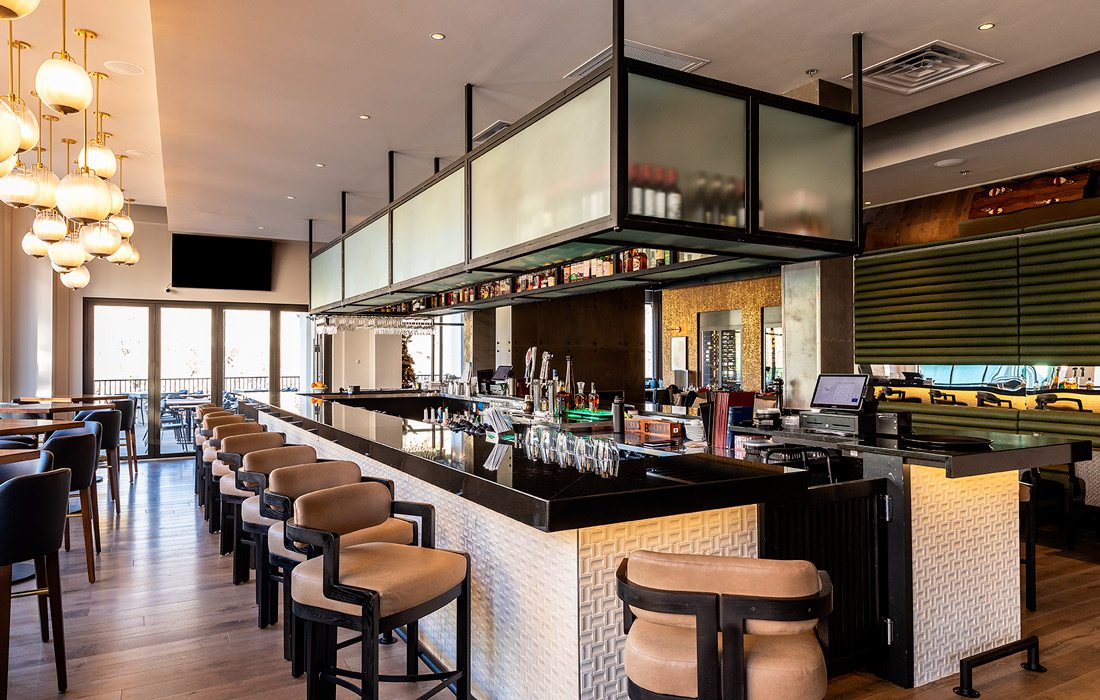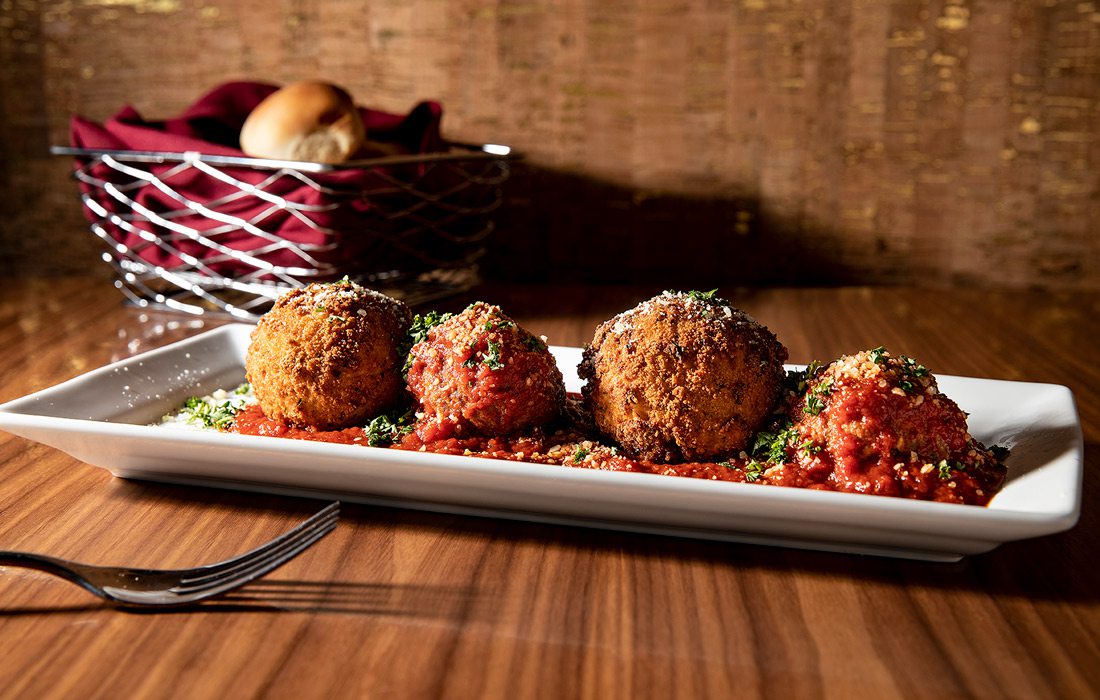 The calamari came with a side of arugula, house marinara sauce and some lemon wedges to be squeezed over the crispy fried seafood. There's so much flavor in that sauce; be careful, or you may eat all of it. In the arancini and meatball combo, the arancini (Sicilian deep-fried stuffed risotto balls) were served alongside home-made meatballs with what they call Ramata's red sauce. What can I say? Welcome to flavor town because these are so good and different from most other appetizers in the area—totally worth it. Finally, the dip was way bigger than expected but so delicious I actually had to stop myself from eating all of it or I wouldn't have had space for the rest of the meal.
As I went a bit overboard with the apps, I skipped any salads or pizzas and went straight for the entrée. My choice for the night was the Crispy Pork Chop Milanese. This was a 2-inch-thick pork chop with a crispy breadcrumb top, served with a wild mushroom risotto, arugula and a fig-cabernet wine sauce. It was delicious and perfectly cooked to a soft middle pink. Oh and did I mention it was super juicy? A plate of Tortellini di Pesto came as well, and this was also delicious, with a ricotta stuffing for the tortellini, sundried tomatoes, prosciutto, and a creamy garlic sauce covering everything. Overall, it was very good food, and the portions were bigger than expected, so be ready to eat a big meal. The restaurant has a great wine list from all over the world and a good intro to Italian wines for that curious foodie.
The dessert menu had a surprise for me that I really loved: an espresso martini just like one I had recently created. They call it Italian Dance Lessons, and it's made with espresso vodka, Tia Maria coffee liqueur and fresh espresso. It was just what I needed to wrap up the night.
This is a place worth trying out for sure. Come hungry and ready to experience lots of unique dishes that are loaded with flavor. It's perfect for a date night or for a group of friends to eat and laugh around an Italian dinner table, the way they do in Italy.