Reviews
Super-Fresh Food from Thailand Station
Regional Thai cuisine from Thailand Station is filled with the freshest veggies and some fun and delicious surprises.
By Jorge Cespedes
May 2022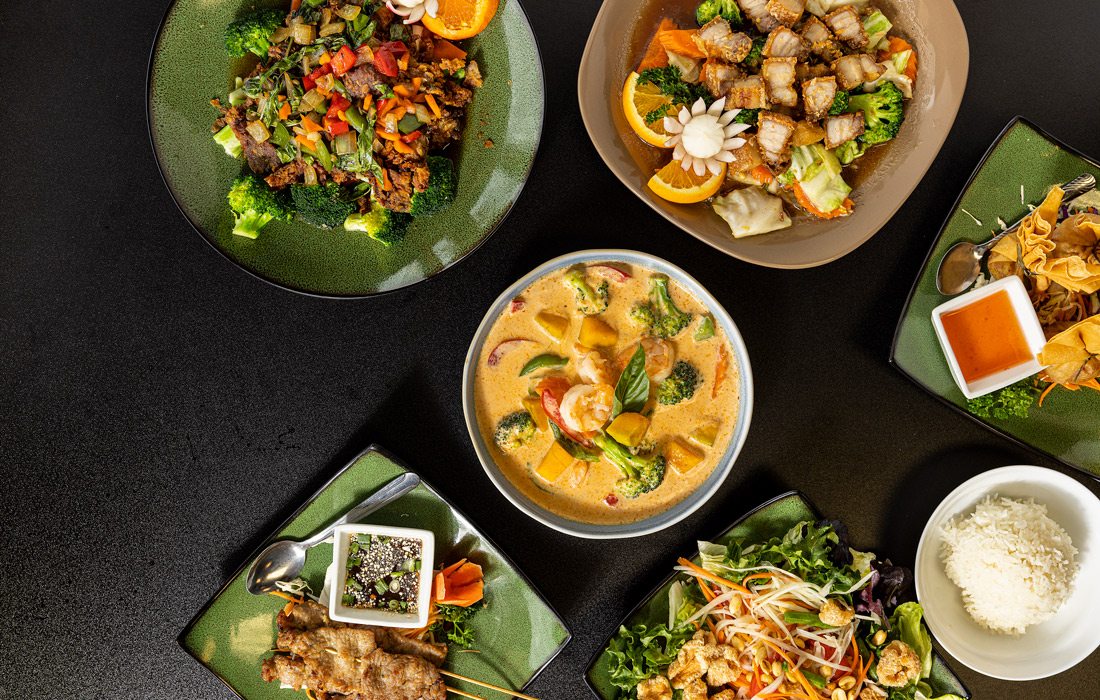 The cuisine we're exploring this month is one that I suspect most of you already like: Thai cuisine. And the newest restaurant to share this food with Springfield is called Thailand Station.  
The restaurant is owned by two friends, Gift Williams and Mint Hempala. Located at 1730 E. Republic Road in a small shopping center that also houses Sugarfire BBQ, this little restaurant space has one very unique north-facing wall. On it is a large a colorful mural showcasing and defining the different regions of Thailand—and the food styles and ingredients each one of those regions is known for. It lets us know, for example, that southern Thai food will include chicken and hearty broths; the central region offers lots of rice-based dishes with fried eggs, green veggies and seafood soups; and so on and so forth until this very entertaining and educational art piece comes to an end. What diners get in addition to bright artwork is a good understanding of what to expect when the menu arrives. 
Just like at so many other Asian restaurants around town, the menu here is not a small one but one with lots of options to choose from and some helpful photos of their most popular dishes. This vast reading material has the expected options and more; appetizers, soups, salads,wok dishes, noodle dishes, fried rice, curries, fish and seafood and my favorite, a chef special list of dishes that may be a bit more unique. Now, what to do with such a large menu? You should probably order a dish from each section, right? You may laugh, but that's almost what I ended up doing. 
I decided to start with two apps. First was a crispy tofu, deep fried and served with a homemade sweet and sour sauce topped with crushed peanut. Second, I tried the Moo Ping,  which consisted of three pork skewers, marinated and grilled and served with a house chili lime sauce that really complemented the taste of that special char it gets from a grill.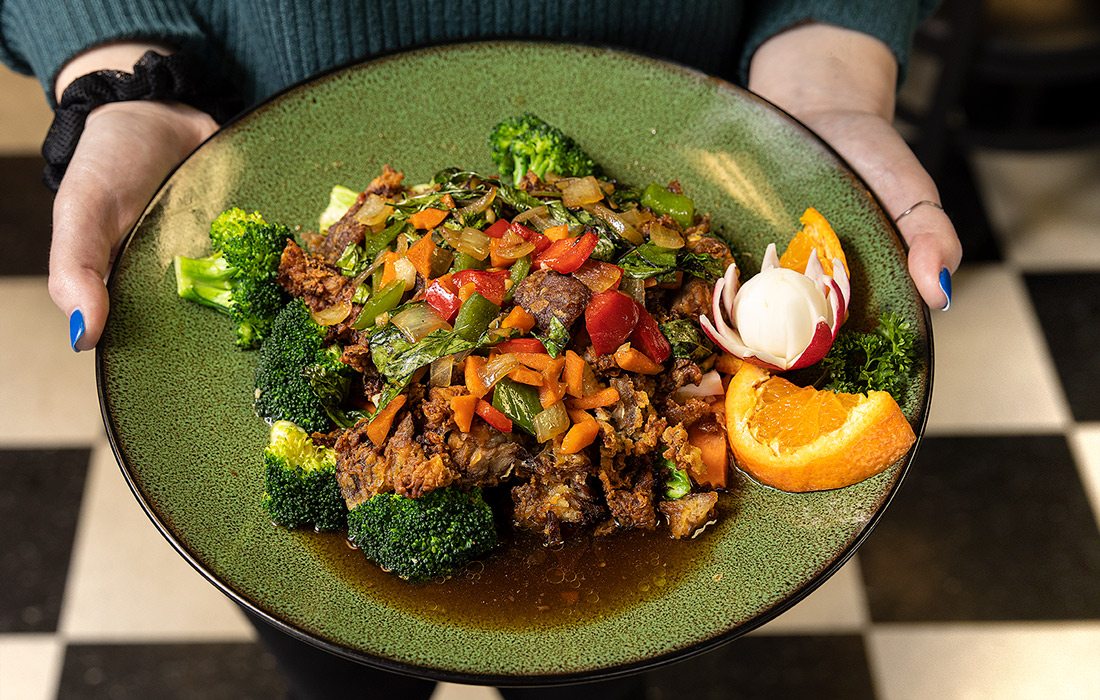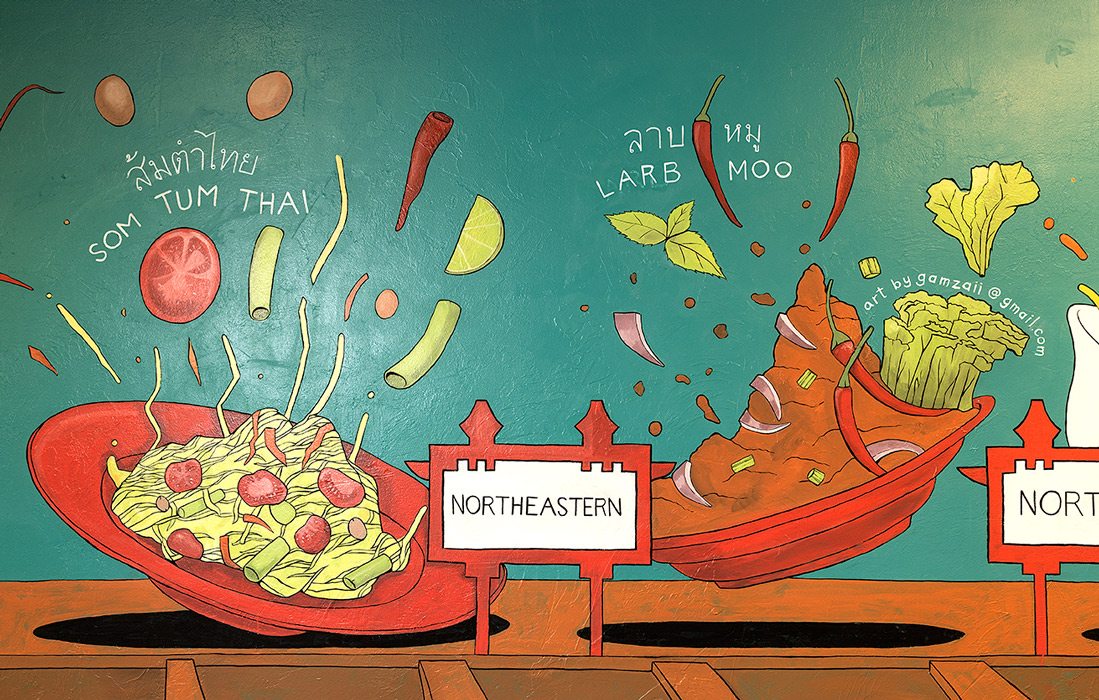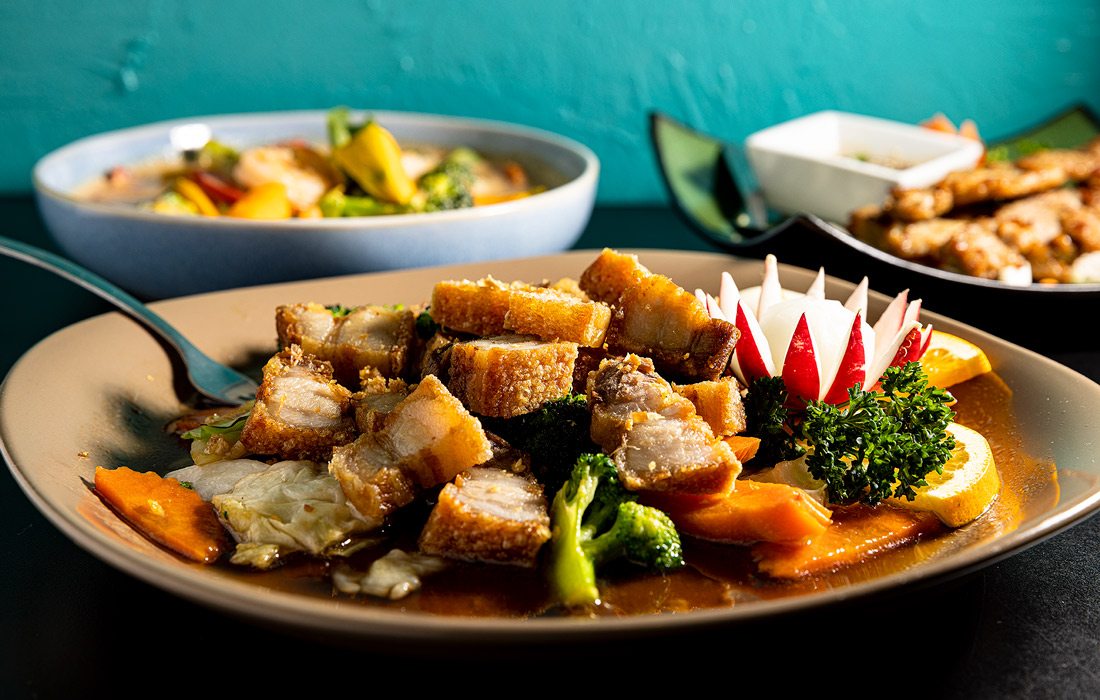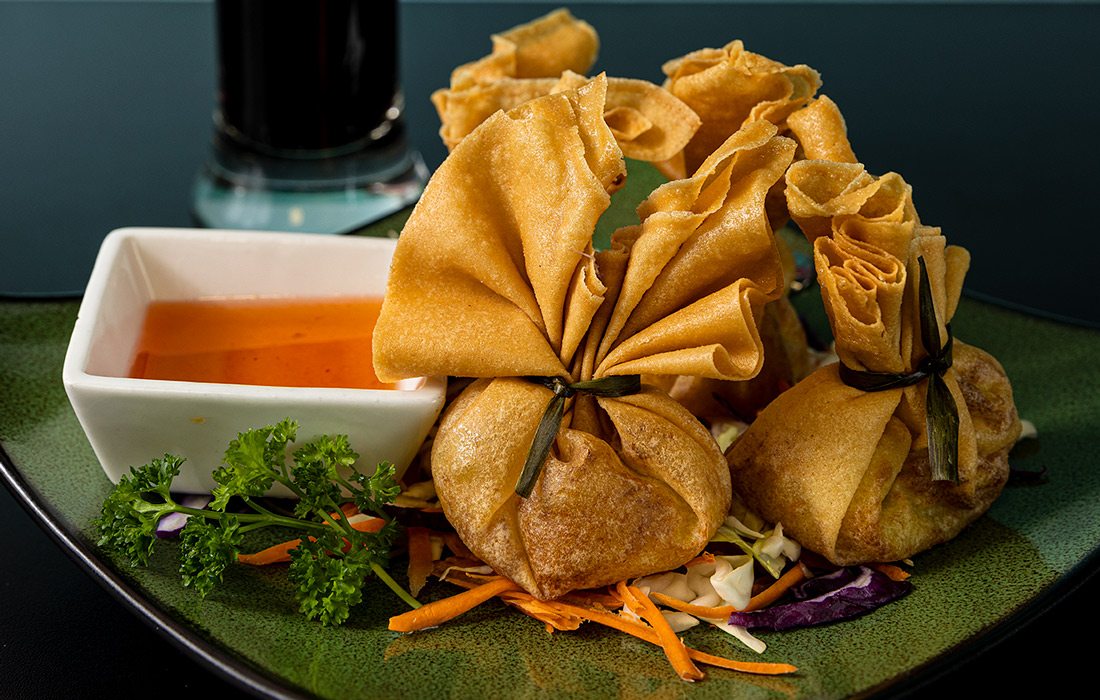 One thing I'd like to point out is that they do have some domestic and imported beer and wine, but they are more than okay with you bringing over your own bottle of wine. They just charge you a corking fee. I decided to go for a Schloss Vollrads Estate Riesling Kabinett Medium-Dry that really complemented this style of food. I will say that with this and spicier style food, a very juicy white wine will be the way to go.  
For the entrees, it was hard to choose from such a large menu, but I ended up going for one curry dish and two of the chef's menu items. First, the curry dish: One that jumped off the list was a shrimp pumpkin curry, which is coconut-based. They used medium size chunks of pumpkin in it, and let me tell you, it's so good. That was my first time having any style of squash in a curry like that, and I absolutely loved it. Then we ordered the broccoli crispy pork belly that was made with lots of crunchy chunks of, you guessed it, pork belly. It was accompanied by carrots, cabbage and white rice. The last dish I wanted to try was the crispy duck with a basil sauce, and this was also delicious. The duck was bursting with flavor and the crunchy skin was absolutely a treat. With all of this, you can choose the spice level you wish to try, from 1 to 5, and I went with a level 2 across the menu. I definitely don't regret it; it was the right amount of heat. 
For dessert, I went a bit different route but still one I'd recommend. Try the Thai coffee, a strong black coffee topped with sweet milk and served on ice. It was so good and just the perfect amount of sweetness to wrap it all up.
Find Thailand Station at 1730 E. Republic Road, Springfield, Missouri. The restaurant is open Monday–Saturday, 11 a.m.–9 p.m.