Reviews
Whiskey Tango is Bringing Downtown Vibes to South Springfield
Whiskey Tango in south Springfield, Missouri has a unique cocktail menu and ambient vibes that provide a sophisticated night out.
By Vivian Wheeler
Mar 2019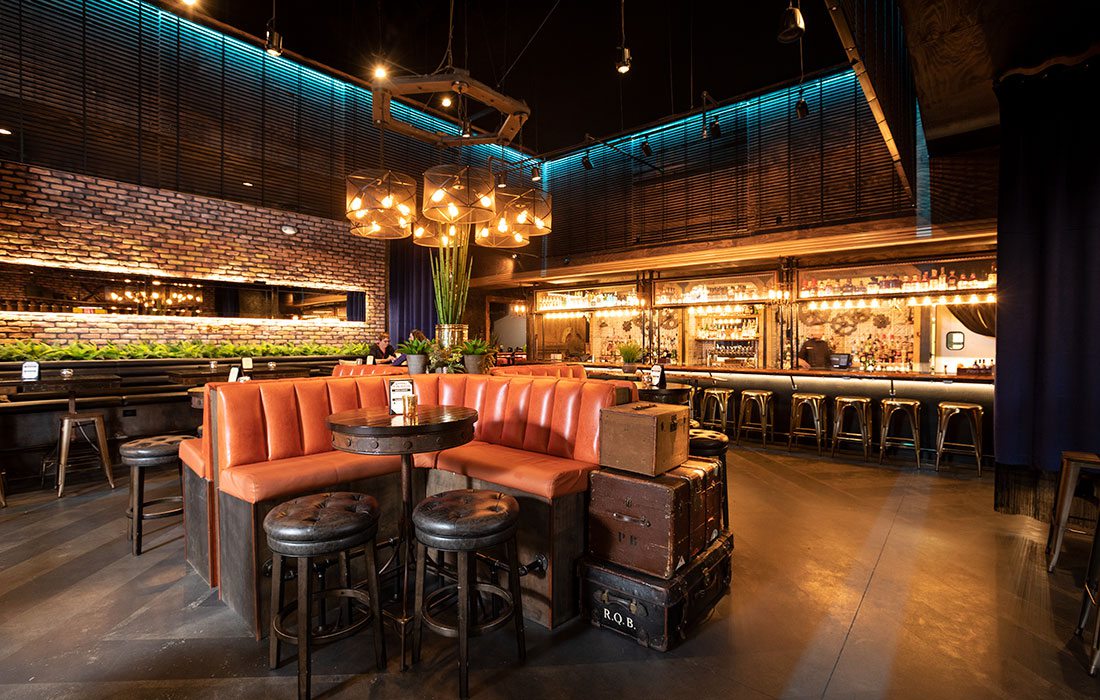 I'd been hearing quite a bit about the bar that took over the space previously occupied by Parlor 88 on Republic Road, so when my mom came into town, I thought it was the perfect opportunity to check out Whiskey Tango. When we got there, the first thing we both noticed was the gorgeous decor. Lush fabrics, warm wood, glowing lighting and industrial touches combine to create a sophisticated and fun atmosphere that you can't find anywhere else in Southwest Missouri. When we arrived, we practically had the place to ourselves, and we opted to sit in a cozy high-top bar. Once we settled in, we turned our attention to the cocktail menu. 
If it's your first time at Whiskey Tango, the cocktail menu might provide a bit of a shock, as it did to my mother and me. Drink names like Topless, Bottoms Up and Plan B fill the menu, and those are just the ones I can mention here. Although the risqué nature of the bar was a surprise to me, if I had paid a bit more attention to the name, it probably wouldn't have been. The bar's name is inspired by the phrase Whiskey Tango Foxtrot, which is a military euphemism for WTF. The name alone should have been a signal to me to expect the unexpected. 


Once my mom and I settled on cocktails, we decided to order some food. Whiskey Tango's food menu is everything I want from a bar. There are scrumptiously unhealthy dishes like the Loaded WTF Fries, which come with applewood smoked bacon, green onions, chipotle ranch, cheese and tomato, and then there are dishes that fall on the lighter side, like tuna poke. There's a little something for everyone and every situation. Sometimes you want to enjoy a leisurely dinner with a few cocktails at a bar, and sometimes you want to soak up the alcohol after a night of drinking. At Whiskey Tango, you can do both. Because it was our first time there, my mom and I decided to try a variety of items. 
We ordered the mahi-mahi tacos to start. Panko-crusted mahi-mahi is topped with a lemon aioli, sweet-and-sour slaw and lime crema. I've eaten a lot of fish tacos, and these did not disappoint. We also ordered the crispy Brussels salad. This scrumptious salad combines Brussels sprouts, mixed greens, apple mustard vinaigrette, green apples, toasted pecans and shoulder bacon. The portion was large, and the play of sweet and sour was a nice touch. The Brussels sprouts and bacon added some heft to the salad, and as a result it was quite satisfying. The last thing we tried was CJ's Amazing Chicken & Gouda Pasta—pasta tossed in a vodka tomato cream sauce with marinated grilled chicken, oregano, roasted garlic and smoked Gouda. For me, it didn't live up to its name, and, of the three dishes, this was my least favorite. As tasty as the description sounded, the dish was lacking in flavor. 
As we were finishing our food, we eyed the desserts. Both the fried pie a la mode and the Chocolate Wasted Cake looked good, but we had already overindulged. Dessert will have to wait until next time. The gorgeous decor, variety of dishes and playful cocktails guarantee that I'll be back, but next time I probably won't bring my mom. Enjoying a cocktail named Penisillan seems like more fun with friends.