Life
No Passport Needed to Travel the World at Getaway Golf
Head around the world in 36 holes at Getaway Golf, a new Springfield destination, home to two 18-hole miniature golf courses featuring famous landmarks from across the globe.
By Stephanie Towne Benoit | Photo by Brandon Alms
Jul 2017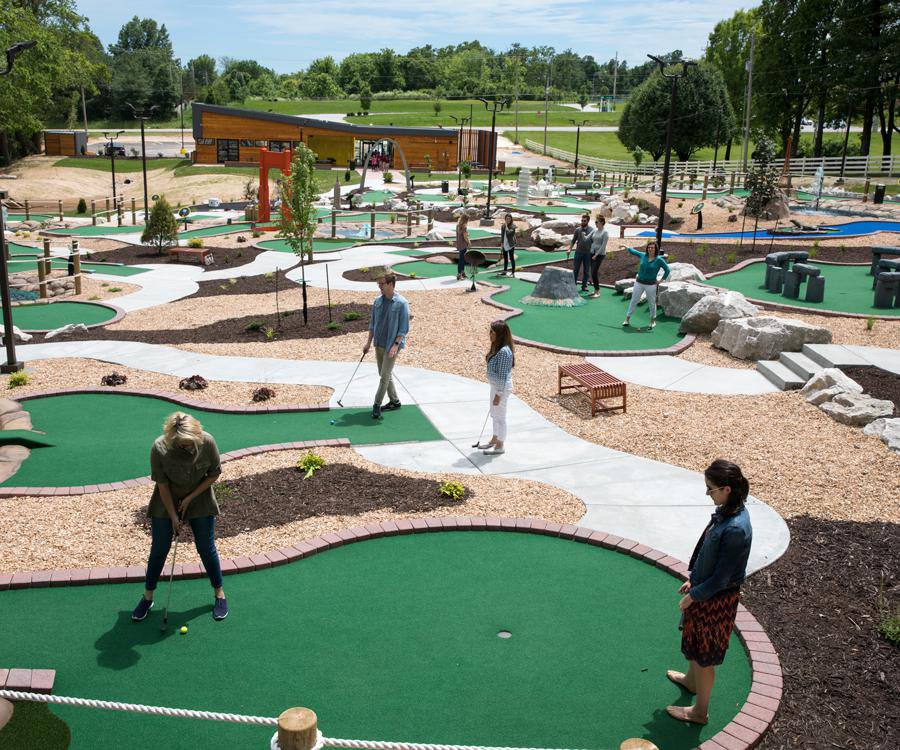 Travel the world at Getaway Golf. Greens representing U.S. landmarks (at left) and international monuments (at right) are at the spot's Sunshine Street location. 
Playing miniature golf is no doubt a fun and family-friendly activity. But cool, exciting and transportive? In most cases, not by a long shot. That's what John Reinart hopes to change with Getaway Golf, Springfield's new miniature golf business, which opened for business in May.
Centered around helping visitors enjoy faraway places without leaving 417-land, Getaway Golf provides an immersive experience with two adjacent 18-hole courses—one themed around North American landmarks, the other featuring international scenes—designed by New Jersey–based Harris Mini Golf. That travel theme was inspired by Reinart's own trips, including a five-year stint in Indonesia. "Traveling has always been a big part of my life," he says.
The experience begins in a sleek, upscale clubhouse area replete with modern features such as an 18-foot-long check-in counter constructed with wood that was sourced locally. "It's a beautiful, open clubhouse that you walk into," he says.
Intended for all skill levels, the courses feature dramatic depictions of landmarks like Mount Rushmore, Machu Picchu, the Grand Canyon, the Roman Colosseum and the Leaning Tower of Pisa, each built by Elemoose, a Springfield company known for fabricating conceptual signs, sets and exhibits for the likes of Disney Cruise Line, Dollywood and Bass Pro Shops. "We really have created a mix of everything," Reinart says.
Something especially important to Reinart was making the courses accessible to all people, including those with disabilities. "That was a big thing for us," he says. To do that, Harris Mini Golf incorporated an ADA-compliant route, which weaves through both the U.S.-centered and internationally focused courses.
Reinart hopes that all attendees leave Getaway Golf having enjoyed a unique, memorable experience. "What we were striving to create here is more than just coming here and playing one round or one course," he says. "We want this experience as a whole to really have a spot in your memory."