Health
Walking in Springfield
Discover your city and do your body a little bit of good by simply lacing up your sneakers and going for a walk.
By Gary Harlan
Jun 2017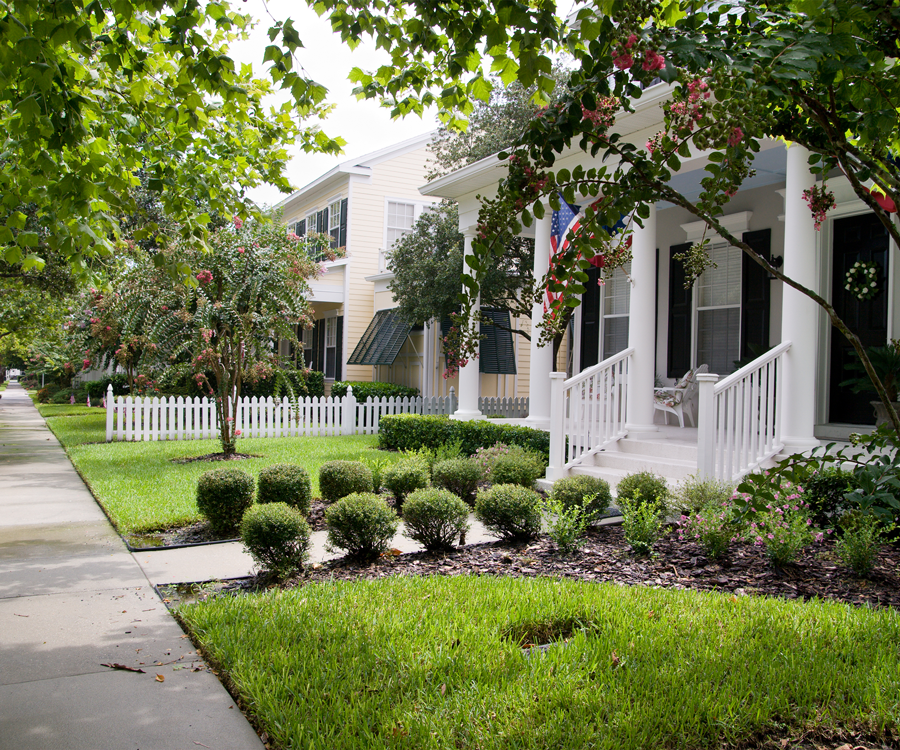 How well do you know Springfield? Having lived here most of my life, I thought I knew it pretty well. That is, until I rediscovered it on foot.

It all began because my knees gave out. I was a runner forced to acknowledge the fact that my knees would no longer tolerate the pounding of the pavement. I didn't immediately regard walking as a viable alternative. Far from it. For one thing, I was addicted to the runner's high. Who ever heard of walker's high? It seemed very much like giving up fine wine in favor of grape juice. Whoopee!
I knew people who ran in groups, but I ran alone. Running was a solitary activity, perfectly suited for someone like me who lived a solitary life. If I wasn't running in the country, my runs began at the Downtown YMCA. I saw much of Springfield, but I never really experienced it. All the buildings and houses were in the background of my consciousness. The pedestrians were simply obstacles to maneuver around.
All that changed when I agreed to start walking with David McQueary, a friend of mine who was also forced to give up running. At first, we walked the same route each day: from the Downtown Y, southeast through the Missouri State campus and beyond for a total of 4.6 miles. One day I suggested we start walking longer distances, taking routes in all directions. Since then we have walked in nearly every neighborhood within a 6- to 14-mile radius from downtown.
"We have walked in nearly every
neighborhood within a 6- to 14-mile radius
from downtown Springfield."
Google "benefits of walking" and you find an abundance of information on the health advantages of walking at least 30 minutes a day—losing weight; strengthening the heart; preventing dementia; and a boost in circulation thus increasing oxygen supply to every cell in your body—just to name a few. But if all this was the sum total of benefits gained from walking, I would be better off using the treadmill in my basement and saving the money it costs driving from my home outside of Marshfield to downtown Springfield. I have gained a great deal more from my Springfield walks, and it seems these extra benefits derive from one essential feature of the experience: living in the moment.
It's easier to talk about living in the moment than to actually do so. If we aren't dwelling on the past we're worrying about the future. When I meet David for our walks in the morning, we first decide how long we want to walk—ranging from an hour-and-a-half to three hours. Then we choose which direction we want to head. That is the extent of the structure of our walks. We talk about whatever comes to mind—family, politics, the Cardinals, restaurants and so on. But these discussions are usually limited to the initial portion of the walk. Then we slide into the moment, greeting people we meet with a "Good morning" (something I would never have thought about doing as a runner, unless it was another runner), and taking in the environment—that is, experiencing Springfield. 
For me, experiencing Springfield has meant acquiring a newfound appreciation of the city. Take, for instance, the houses. Sure, there are some neighborhoods that have large, expensive homes. One such area I enjoy walking through is the stretch of Meadowmere Street running east of Delaware Avenue. But what has really become apparent to David and me is that no matter where you walk in Springfield, you will find properties that are well taken care of. It's as if the owners are speaking to you. They are saying, "I may not be rich, and I may have a modest home, but I am as proud of what I have as the person who owns a mansion."
One thing you become aware of walking is the history of Springfield. Many times during our walks on the north side of town, David has pointed to someone's house and said, "Look! That used to be a corner store." Becoming aware of the demise of all the neighborhood markets, you recall what life was like back in the pre-Walmart, pre-supermarket days. You imagine kids riding bikes to these mom-and-pop stores to buy a soda.
History is presented in various forms. There is a marker at Phelps Grove Park commemorating the life of John Smith Phelps—a Springfield lawyer who defended Wild Bill Hickok, congressman, governor and commander of the Phelps Regiment during the Civil War. The park is located on a portion of what was his 1,050-acre farm. When you are walking in the moment, unconcerned about hurrying from point A to point B, you have time to stop and investigate the discoveries you come across. Some of them are ones you've passed hundreds of times without even noticing. Others you might have noticed but never gave them a second thought. 
As you have no doubt gathered, most of our walking takes place in Springfield. But not all of it. We have walked through well over a dozen parks and have utilized the available walking paths. We especially enjoy walking the 8-mile South Creek Trail, which begins at the intersection of Sunset Street and National Avenue. Walking through Nathaniel Greene Park and Close Memorial Park alone makes this a worthwhile journey.
In the century and a half since Henry David Thoreau extolled the virtues of walking, particularly taking nature walks, there has been an abundance of documentation from scientists and psychologists supporting his views. For instance, researchers from Stanford University concluded that exposure to nature goes a long way toward reducing rumination, which happens when we become fixated on the negative things that happen in our lives—a divorce, a layoff, family squabbles, an insult—any number of things that cause anxiety and can result in depression. To treat this condition, put on some sneakers and start walking. You will feel better and you will be surprised how much you learn without even trying. I like to think of it as the therapeutic value of living in the moment.
Gary Harlan has made many interesting historical and cultural discoveries during his long walks around the Springfield. Here are a few more of his favorite highlights.
A Little Bitty Library
While walking south on Jefferson Avenue one day, we noticed something rather unusual. In front of a home was a small wooden box with a glass door. It contained books available for borrowing. Take a book, return it and take another book. It was not until we came across similar boxes in other parts of town that we realized these were part of an organized effort. Later I made an internet search and discovered it was a worldwide effort based in Wisconsin. They are called Little Free Libraries and have a stated mission: to promote literacy and the love of reading by building free book exchanges worldwide and to build a sense of community as we share skills, creativity and wisdom across generations. There are more than 36,000 Little Free Library book exchanges around the world, bringing curbside literacy home and sharing millions of books annually.
A Historical Building
Walking along College Street one day we discovered a granite marker in the 1100 block commemorating other prominent figures from the 19th Century. The marker reads: "About February 1830, William Fulbright erected, near this spot, the first cabin built on the site of the present city of Springfield. At the same time, A.J. Burnett built a pole cabin near the natural well, and John Fulbright another near Jones' Spring. The first church service was held and the first church (Methodist) organized in the cabin of William Fulbright and the settlement was called Campbell and Fulbright Springs."
An Unsung War Hero
One such example is the Lincoln Memorial Cemetery. I have driven west on Chestnut Expressway between Highway 65 and downtown hundreds of times, yet I never noticed this cemetery located about a quarter-mile east of Glenstone Avenue. David suggested we check it out, and then I researched it on the internet. I learned it is the oldest African-American cemetery in Springfield, opened in 1919 as a result of the Jim Crow laws, which mandated racial segregation in many communities through the mid-1960s. Were it not for our walks, I would have been denied the honor and privilege of becoming acquainted with Myrl Billings, who is buried at this cemetery.

Billings was a Springfieldian who lived on Prospect Avenue. He fought in World War I with the 369th Infantry, known as "The Harlem Hellfighters." They fought alongside French forces all over France. Because of the unit's steadfast courage, France awarded the infantry with the Croix de Guerre (Cross of War), the country's highest award for military valor. In addition to receiving the award with his unit, Billings received a second Croix de Guerre for his individual heroic action.

After the war Billings returned to Springfield in 1919. Unfortunately, his return to civilian life was short-lived. His health had deteriorated because of all the gassing he was exposed to on the battlefield, and he died one year after returning home. But Billings made his mark during that brief period. He became an organizer of the Norville Stafford American Legion Post and was one of the founders of the first Boys Club in Springfield.
A Familiar Last Name
We discovered another small cemetery one day that again brought us face to face with the origins of Springfield. It is the Rountree Cemetery located on Bennett Street west of Scenic Avenue. Enclosed by a rock wall, the cemetery is part of Rountree Park. As with Billings, Phelps and the Little Free Libraries, I turned to the internet for background on what we discovered. In this case I learned that the park and the cemetery are located on what was the 240-acre homestead of Lucius Rountree. Born in 1814, Rountree was 6 when his family moved from North Carolina to Tennessee. He was 16 when his family arrived in what would become Springfield. They arrived just months after the Campbell and Fulbright families settled here. His father, Joseph, became the first schoolteacher in Springfield. Rountree served as a captain in the Union Army during the Civil War. He married Rebecca McClelland in 1845. They are both buried in the Rountree Cemetery near their parents.