5 Best Trail Rides
Everybody has a little cowboy in them, right? Grab your spurs, and take the kids for a horseback riding day trip to one of our favorite nearby spots for trail riding.
BY Kelsey Berry | Photo by Kevin O'Riley
Sep 2013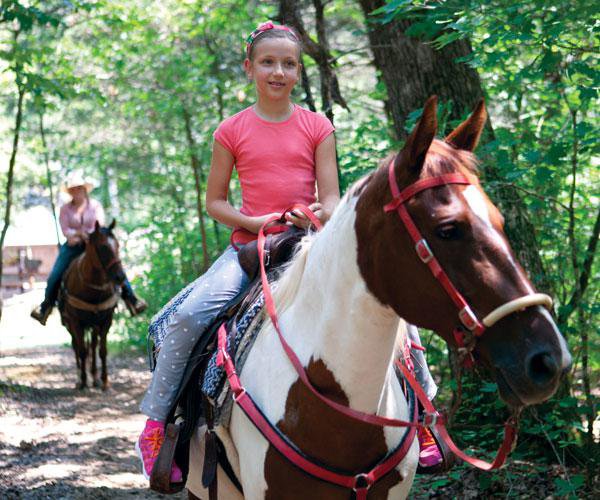 ❶ Dogwood Canyon Nature Park
2038 W. State Hwy 86, Lampe, 417-779-5983,dogwoodcanyon.net
Cost: $55 for a one-hour ride; $100 for a private two-hour ride; $150 for a five- to six-hour advanced ride; $125 for a three- to four-hour cattle drive adventure
Why We Love It:  Experience all Dogwood Canyon has to offer on horseback. From a simple trail ride to a cattle drive adventure, there are ways for kids of every riding skill level to enjoy a ride. Reservations are required. For one-hour trail rides, riders must be 8 years old, 48 inches tall and no more than 240 pounds. Advanced trail riders must be 12 years old. For cattle drives, riders must be 10 years old.

❷ Bucks and Spurs Guest Ranch
Douglas County Farm Rd. A422, Ava, 417-683-2381, bucksandspurs.com
Cost: $85 per person for a two-hour ride.
Why We Love It: Best known for its three-night vacation package, this dude ranch also makes for a great day trip. Spend two hours on horseback traveling down into a canyon and across the Big Beaver Creek. The terrain makes for an adventurous ride that is ideal for both beginners and advanced riders. Reservations are required.

❸ Uncle Ike's Trail rides, inc
8393 W. Hwy. 76, Notch, (between Branson and Branson West, a quarter mile west of Indian Point Rd. on Hwy. 76), 417-338-8449, uncleikestrailride.com
Cost: $27 per rider, $10 for a pony ride
Why We Love It: Explore the same trails where Uncle Ike, the first Postmaster in Notch, and his son rode a horse to deliver mail in the 1800s. Each 40- to 50-minute trail ride is taken at walking speed. A guided pony ride is available for riders of all ages. No reservations are required.

❹ Bear Creek Trail Rides
Off Hwy. 65, 7 miles north of Branson, 417-337-7708
Cost: $25 for a one-hour ride; $60 for a two-hour ride
Why We Love It: Feel like a real cowboy as you ride through the unmanicured trail at Bear Creek. The trail is hilly and can be rocky at times, guaranteeing an adventure. Reservations are required. All riders must be at least 7 years old and no more than 250 pounds. Experienced riders only for the two-hour trail rides.

❺ Bear Mountain Riding Stables and Dude Ranch
15290 Hwy. 62 W., Eureka Springs, Arkansas, 479-253-6990, bearmountainstables.com
Cost: $25 per horse
Why We Love It: This dude ranch offers trail rides every day of the year with the exception of Christmas and rainy days. Take a ride surrounded by natural rock formations. On the way back to the ranch, the trail leads into a valley and through the forest where riders can see all kinds of natural wildlife. Reservations for trail rides are required.