Life
A Lasting Legacy at American Independent Taekwondo
American Independent Taekwondo has a large impact on the local community through the offering of no-cost martial arts classes.
By Michelle Lewis
Jul 2023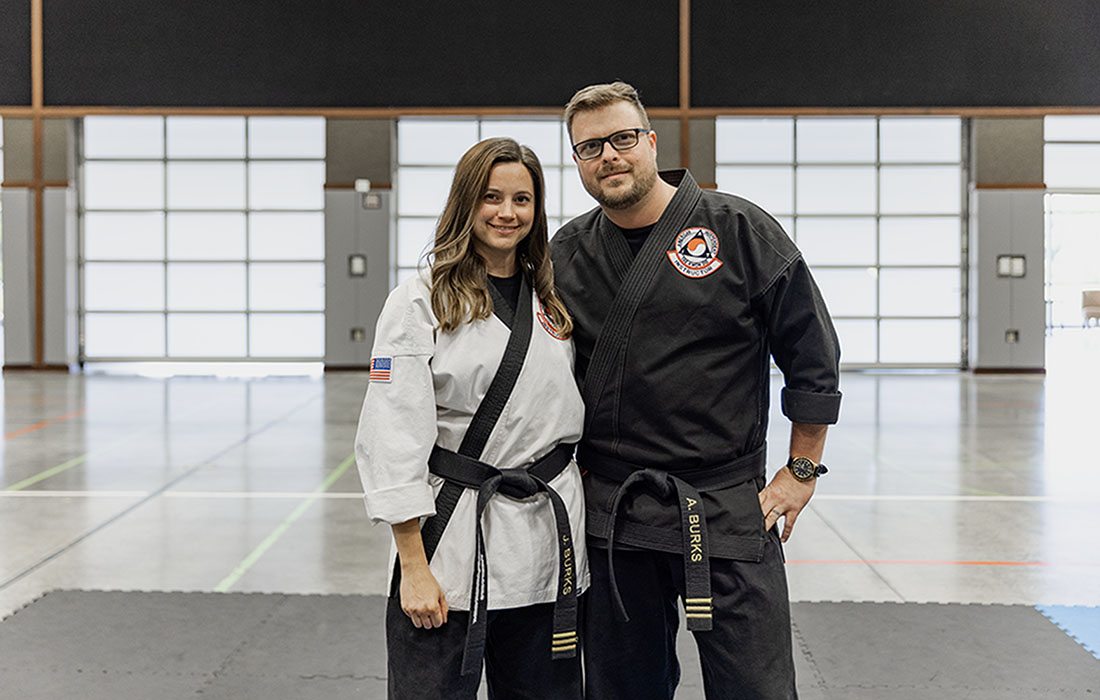 Aaron and Jenna Burks walked into their first ever martial arts class in 2015 with one goal: lose weight to get in shape. With two kids, there weren't many classes they could feasibly afford. They stumbled upon American Independent Taekwondo and it wasn't long until they saw a real change in their lives. After four years and hundreds of classes, the pair earned their black belts and learned how to be instructors.
Somewhere along that journey the owner, Steve Brown, decided to pass the school on to the couple and their family. "We said we would pray and think about it and he said he already had. He told us he knew it was us who were meant to take over the school," says Aaron Burks. "We still run it for free, just like he did."
American Independent Taekwondo was founded in 1988 after Brown decided he didn't want to have to continue to turn away students that couldn't afford classes. He promised himself that he would never charge for another class and decided he would do whatever it took to keep this promise, even when it meant working multiple jobs to personally finance the organization.
Today, American Independent Taekwondo operates the same way it did over 30 years ago: out of church gyms and any other places in the community that will host the organization's meetings. Classes revolve around the same teachings Brown learned under his instructor, Keith Yates, who learned under the teachings of Jhoon Rhee, the father of American Taekwondo.
"The idea is that people come in and they train physically while training their bodies to come into self-control and self-discipline," says Aaron Burks.
With this multi-disciplinary approach, instructors push the students to make the choice to invest in themselves. This personal investment creates an environment that encourages self-growth and reflection. Each and every week students break down individual barriers and learn how to succeed in their own personal endeavors.
"We've had people tell us, 'I didn't know what I was living for' but they thought maybe if they could show up to another class they could keep going," says Aaron Burks. "When you put value on people and teach others to put value on people you get a long-term community."
Classes operate in an integrated structure that is unique to American Independent Taekwondo. While there is a separate class for students ages 6–10, all other students are divided into only two classes based on skill level instead of age. Inside a beginner class you may see seniors with a 12-year-old to one side of them and an experienced law enforcement officer on the other.
"Martial arts is all-inclusive. It doesn't matter who you are, what size you are or what age you are because you're in a uniform," says Jenna Burks. "You can just be confident in doing what everyone else is doing and learning alongside them."
This integration breaks down barriers between students and allows them to walk through this journey together to the best of their own abilities.
"There are people that you meet in these classes that you may have never given the time of day before," says Aaron Burks. "When you find out more about their lives you might realize they are exactly what you needed to help you grow."
This community that is created within these classes is what both Jenna and Aaron Burks say is their favorite part of teaching with American Independent Taekwondo. Even students who leave the school after only a handful of classes maintain a connection with the instructors and their classmates, as well as the skills they learned.
This environment is created largely because of the fact that there is not a charge for these classes. The Burkses have found that when students are invested in the martial arts for personal growth, the quality of classes actually increases. "This would never happen anywhere else," says Aaron Burks. "When you join, you're part of the family."
In the future, American Independent Taekwondo has hopes to expand its reach within 417-land. At the end of the day, they say their goal is to make sure everyone who needs the support of American Independent Taekwondo has the opportunity to enroll in classes and hope they are able to continue to increase their capacity and their impact on the local community.
To start taking classes with American Independent Taekwondo or to learn more about opportunities to donate, visit their website.