Life
The Best Fall Festivals in Southwest Missouri
Enjoy the perfect fall day in southwest Missouri with festival fun for the whole family.
By Jo Everhart, Kate Duby and Caroline Mund. Additional reporting by Michelle Lewis and Madeleine Rice Photography by Brad Zweerink, Chuck Travers and Linda Huynh
Aug 2023
The next two months are all about the sights, smells and sounds of autumn's arrival in southwest Missouri, and nearby small-town fall festivals go all in when it comes to quirky fun. This season, spend a day or two outside in the cooling air and crisp sunshine—crunching into fresh apples, spying enormous pumpkins, participating in funky competitions and digging into all the fair food you can handle. Take a look at all your fall fest options below.
Be sure to gather safely this fall—see the Springfield-Greene County Health Board website for current guidance. Make sure you check festival websites for up-to-date event information in case of changes or cancellations.

What kind of fall fest are you looking for?
Watch pumpkins weigh in at record sizes at the Republic Pumpkin Daze. This year, for the first time, the fun is expanding to a two day festival.

October 6–7
Republic, Missouri
Must-Do Activity: Tractor pull
Must-Try Snack: Pumpkin pancakes
Must-See Entertainment: Pie eating contest
Admission is free
You've never seen pumpkins like these before. With pumpkins weighing in at over 600 pounds the Republic Pumpkin Daze Festival holds competitions for the largest pumpkins. You can participate in other categories like largest watermelons, tomatoes and sunflowers.
Even if you don't participate in the competition, you can watch the produce weigh in. It's not just the pumpkins that are big. This year's event is a celebration of the City of Republic's 150th anniversary and Pumpkin Daze's 30th festival celebration. Usually held on Main Street, this year it takes place at J.R. Martin Park, allowing more space for entertainment and up to 350 booths for vendors.
There's something for everyone at this festival including more hands-on activities. Bring lawn chairs to sit and listen to performances by Geezer, Mark Chapman Band and Isaac Kenneth. Grab your friends and family to enjoy tasty treats in the concessions area for breakfast, lunch and dinner. Dive into kettle corn, ice cream, pig on a stick, barbecue by Smokin' Wheels, corn dogs and tons of festival food.
Let your pets strut their stuff at the pet parade. "We have had dogs dressed up as everything you can imagine," says Cheri Hamilton, President of the Pumpkin Daze Committee. The parade is not limited to just dogs, though; enjoy seeing a wide variety of chickens, cows, ducks and more animals dressed up too.
The Republic Pumpkin Daze also offers a kids zone section full of activities to keep the kids entertained, including a playground, laser tag, human hamster balls and inflatables. Finally, don't miss competing in the pedal tractor pull, offered in both youth and adult categories.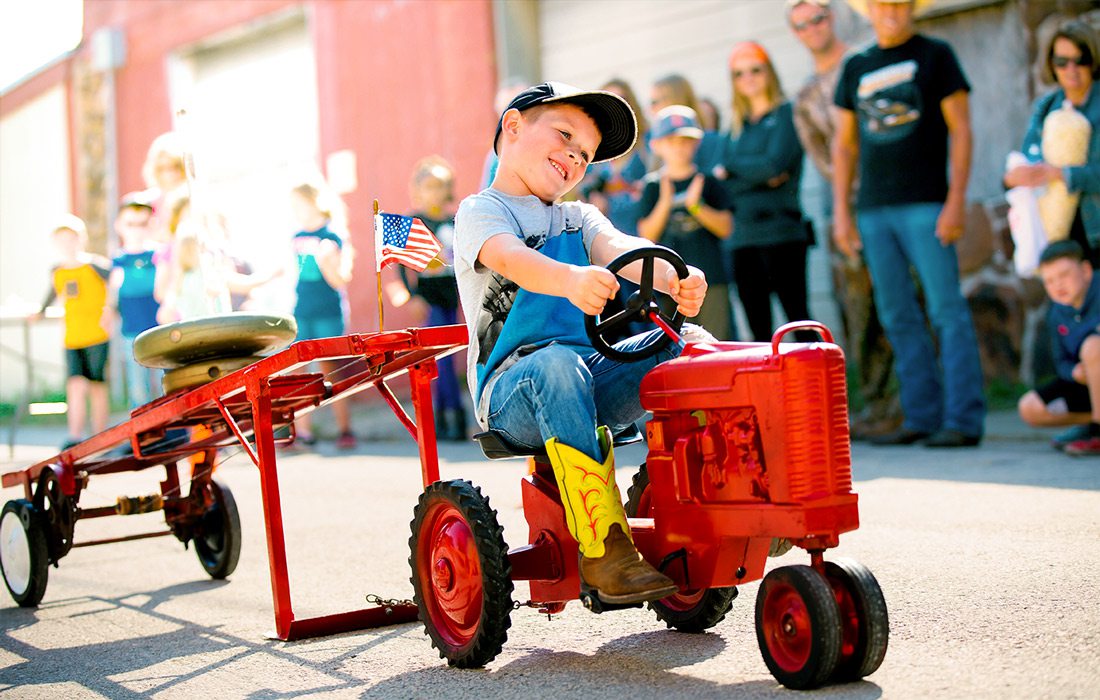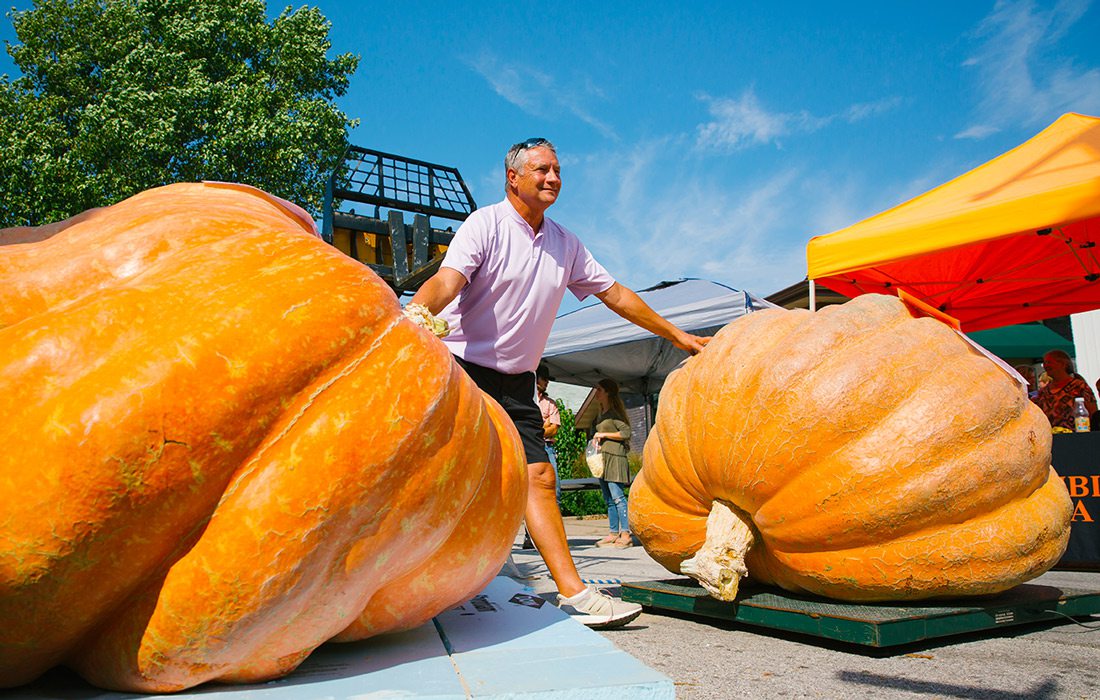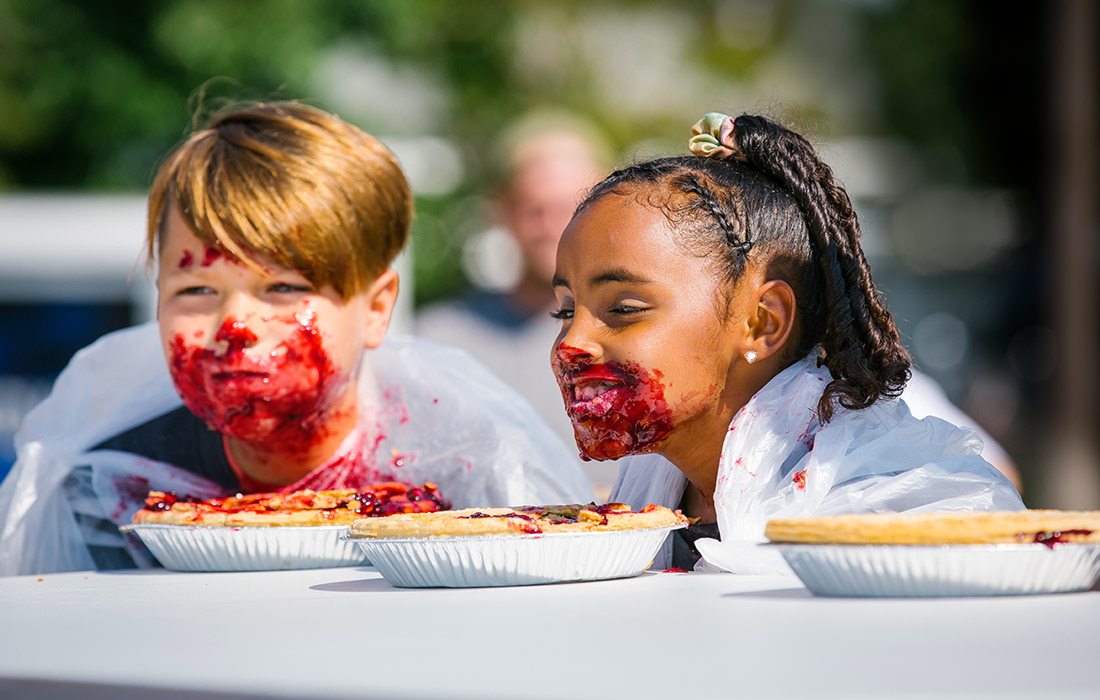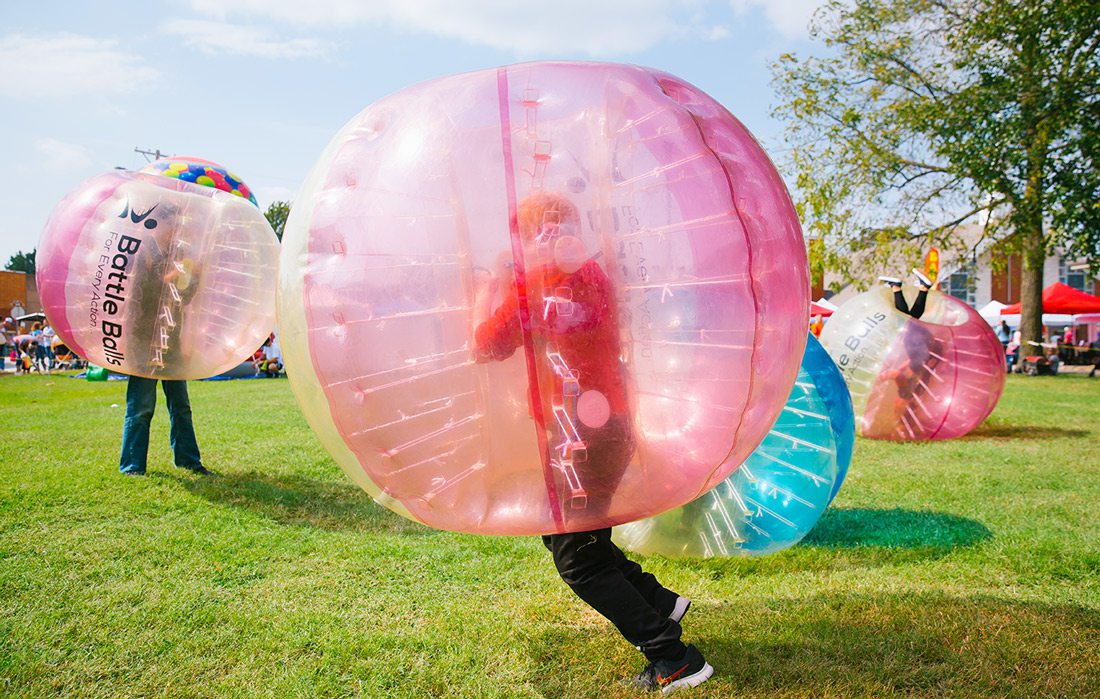 This three-day long festival is all apple-themed.
September 7–9
Seymour, Missouri
Must-Do Activity: Pet show at the gazebo
Must-try snack: Hand-dipped corn dogs
Must-See Entertainment: SoulRoot Band
Admission is free
The Annual Seymour Apple Festival has harvested the perfect environment for the entire community for almost 50 years. With a beautiful fall atmosphere, everyone is given a warm welcome for a packed weekend long celebration. Be sure to grab a lineup sheet so you don't miss any of the events.
Enjoy the environment of the historic downtown with sidewalk sales and shops where you can find a variety of home decor from furniture and rugs to homemade signs and candles. You can shop till you drop with more than 100 vendors providing plenty of options from the Seymour Merchants Association. Once you've worked up a big enough appetite, take a break and get a bite to eat from food vendors offering all the favorites like corn dogs and tacos.
The schedule of events for the weekend is packed with the Annual Fun Run 5K, kids turtle race and parade. As made obvious by the name, the Seymour Apple Festival puts an extra emphasis on the harvest of apples in the fall with the apple-peeling contest, apple baked goods contest and the crowning of the apple princess. You've never had so much fun with apples.
Enjoy the variety of music each night from Members Only, Isaac Kenneth, SoulRoot Band and the Joey Herd. With this lineup a true Missourian won't be able to resist toe-tapping along, and if your toes are feeling especially tappy, you can even join the squaredancing crowd.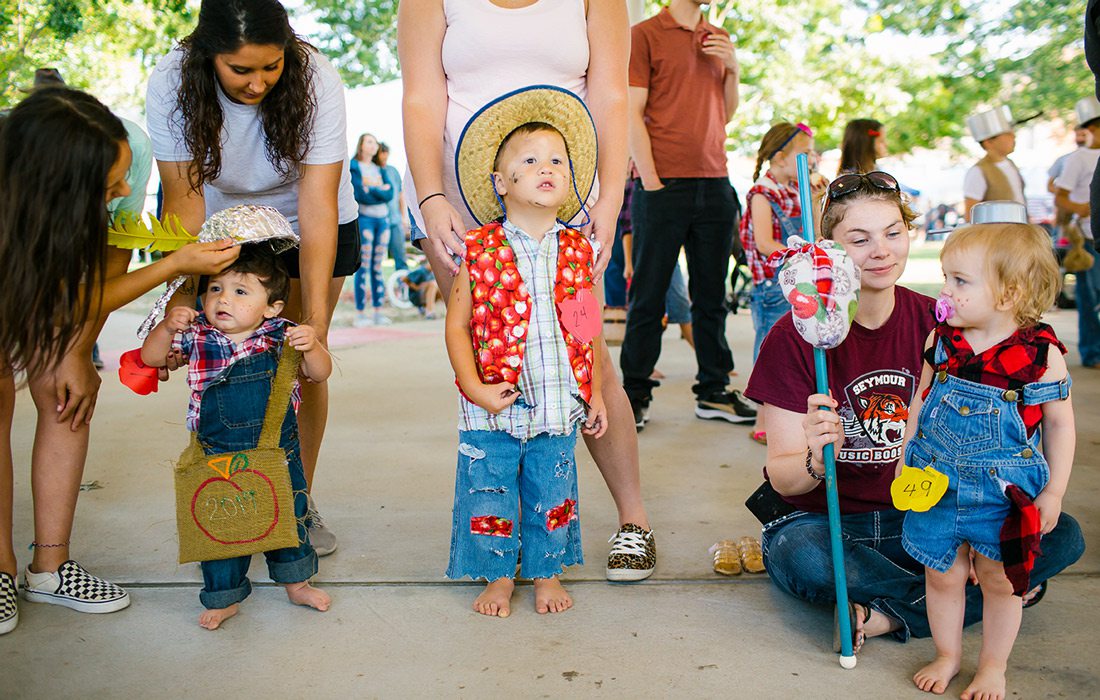 Fest at a glace:
Town
Carthage
When
October 20
Must-try snack
Brats on the Square
Must-see entertainment
Marching Band Festival
Must-do activity
Three Minutes of Fame Lip Sync Competition
Carthage can't contain its joy for the arrival of autumn into just one day and instead stretch out their festivities throughout the entire month of October. Events span 10 days across the month and the festival kicks off with a live auction on the first of the month, then a lobster boil and night out at the courthouse the following day.
The following weekend is two days full of pageants for everyone from babies and toddlers to high school students. You can even show off your pets in the pet show or Dachshund Dash to find the fastest wiener dog.
The real festivities don't kick off until October 20 with a carnival throughout the week and special events each day. Among the special events is the Automotive Swap Meet followed by Cruise Night at the 66 Drive-In Movie Theater, where you can register your car or attend as an audience member for a night of live entertainment and prizes.
Carthage puts an emphasis on community for the Maple Leaf Festival parade, antique tractor show and marching band festival that takes place throughout this week of celebration. You can then end your festivities with some spooky fall fun.
The 7th Annual Charity Costume Ball, called "A Haunted History," is a night of live music, dinner, dancing performances from YMCA spectral dancers. You can add more spookiness to the evening with a haunted history tour or ghost tour ride.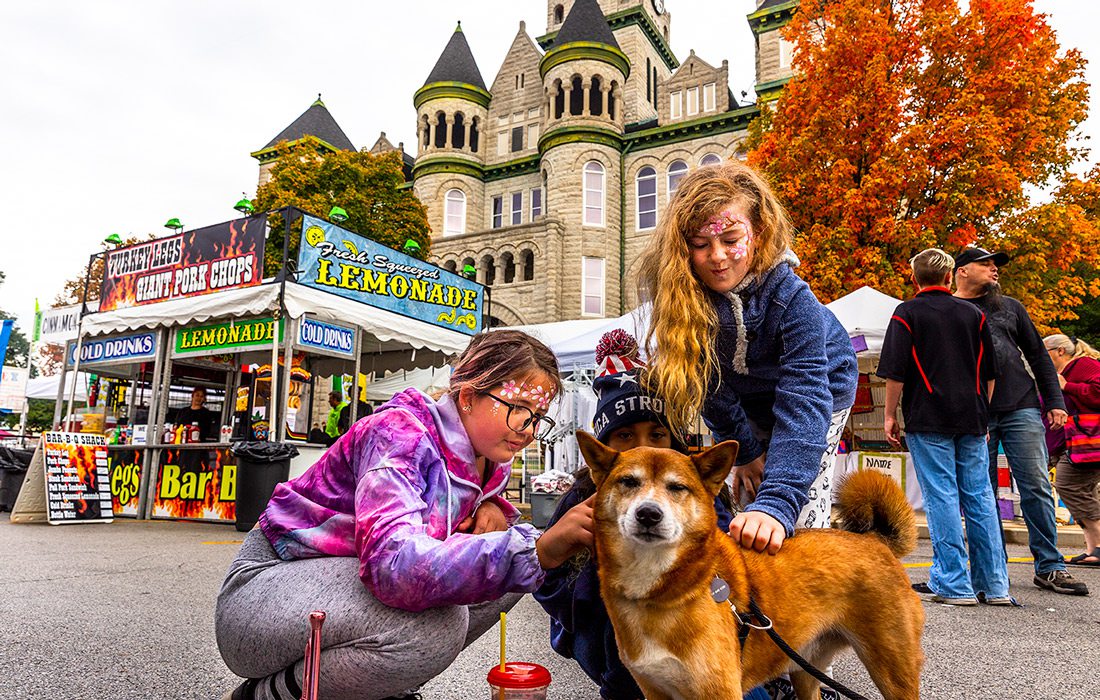 Fest at a glance:
Town
Hollister  
When
October 14
Must-try snack
Hurts Donuts
Must-see entertainment
Dogs Gone Grape Pup Pageant
Must-do activity
Grape Stomp
Start your festival day off right with some morning exercise and partake in the Color Me 5k run starting at 9 a.m. After that head over to Downing Street for the Hollister Grape Festival, from 10 a.m. to 6 p.m. This 24-year-old festival includes about 120 vendors that range from food trucks and craft vendors to non-profits and  local businesses. Hurts Donuts even makes a special donut for the grape festival and treats for pups.
The fun doesn't stop there. Kids can enjoy the kids area with activities such as bounce houses, petting zoo and pumpkin carving or painting. You can even bring your "paw-ticipants" to embark in the Dogs Gone Grape Pup Pageant, and then vote for your favorite model. Enjoy live entertainment on the main stage as well as beer and wine garden. Festival goers can even participate in a grape stomping event just like they did in "I Love Lucy."
While this competition is strictly for stomping the grapes, not throwing them, there are both youth and adult divisions that guests can enter. This isn't just any simple grape stomp though. Groups of four are put on stage and then put on a minute-long performance all while mashing the grapes and being ranked by a set of judges. These judges are not above accepting bribes for this intense competition so make sure to stop by to see the judges in their purple togas and drop off your best treat. Winners receive excellent prizes, including the traveling ugly monkey trophy, which brings lots of bragging rights.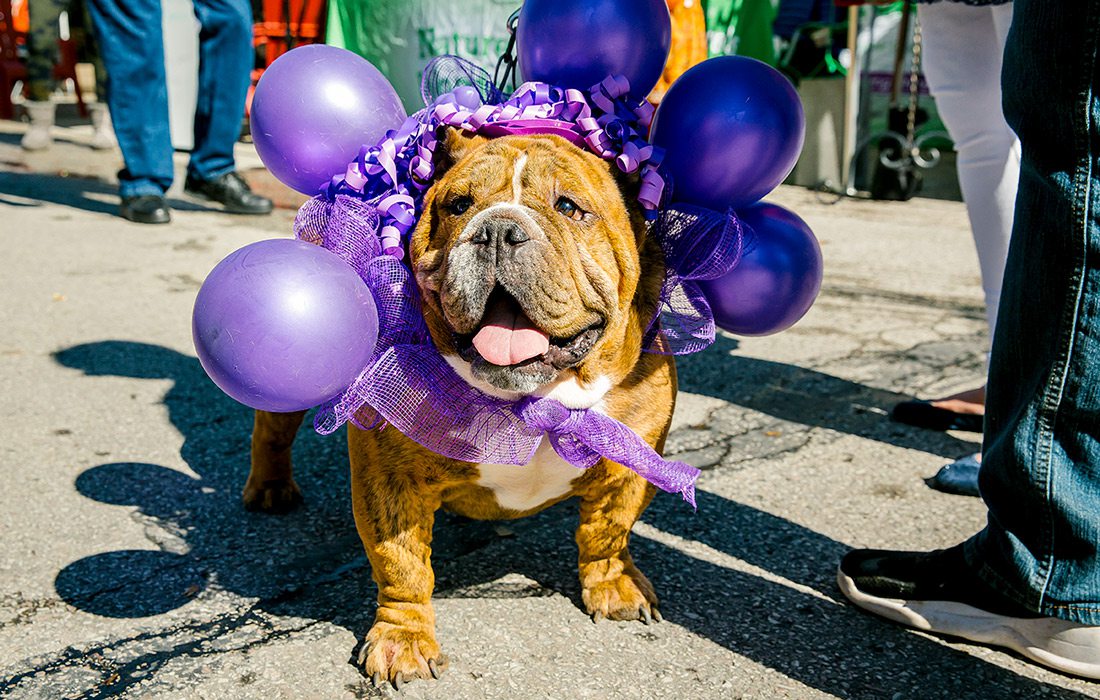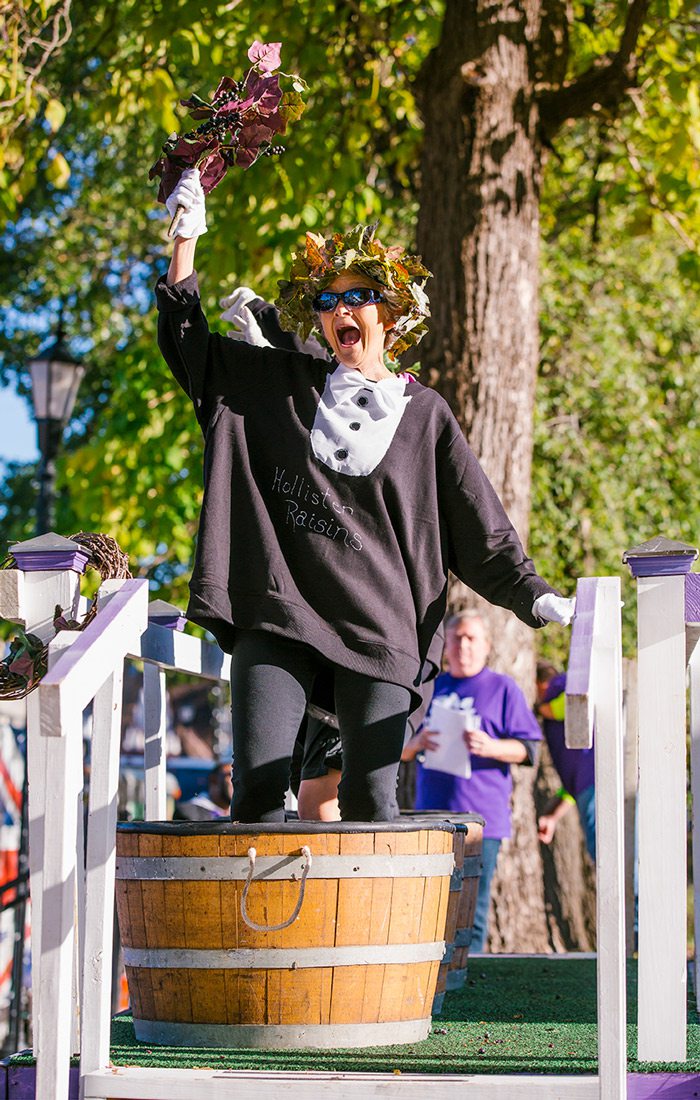 Fest at a glance:
Town
Mt. Vernon
When
October 13–15
Must-try snack
Apple dumplings
Must-see entertainment
Apple butter making on the courthouse lawn
Must-do activity
Pie-eating contest
Made the old-fashioned way in big copper kettles, apple butter is the star and namesake of this food-filled festival in Mt. Vernon. Each fall, during the second full weekend in October, more than 400 local food and craft vendors set up camp on the historic Mt. Vernon courthouse square, with the apple butter makin' at the center of it all. Known and loved across Missouri, this fall festival is not one to skip.
Join fellow apple butter epicures on the Lawrence County Courthouse lawn just after daybreak and watch the sauciers work their magic until mid-afternoon (trust us, you'll want to stay all day!) while you peruse craft booths and sample homemade treats. As you await the crowning of the Apple Butter Queen, take part in cult-favorite competitions like the bubblegum-blowing contest and the apple-pie-eating contest, or get a head start on No-Shave November for the mustache and beard-growing contest. The fun doesn't stop there—and the furry faces don't either.
Have your phone camera handy and head over to Spirit of '76 park for the annual wiener dog races (does a cuter thing exist?) or catch the pet parade––a kid-approved, festival-committee favorite. But if there's one tradition you simply can't miss out on at Apple Butter Makin' Days, it's partaking in the seemingly endless array of beloved carnival food.
From turkey legs and tornado potatoes to funnel cakes and snow cones, food is everywhere at this festival, and you'll be glad you came hungry! Beyond the boiling kettles, apples come in pretty much every form—pie, cider, dumplings, you name it. Make sure you try a little bit of everything, and don't even think about leaving without a jar or two of homemade apple butter.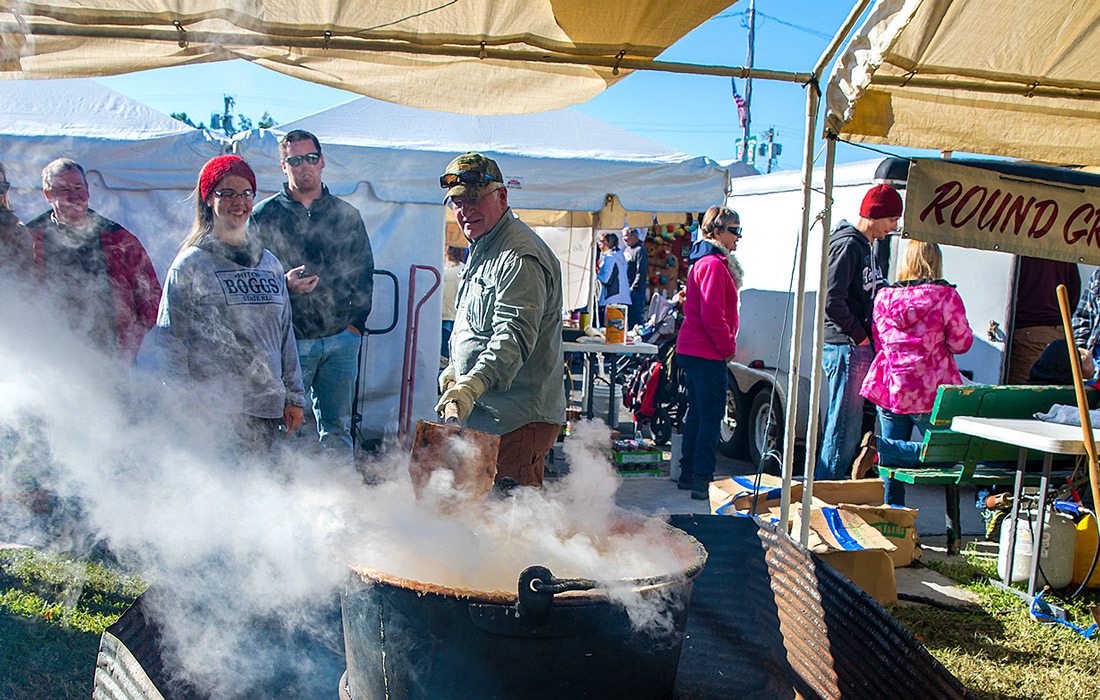 Photos by Brad Zweerink, Chuck Travers, Linda Huynh Left to right: At Apple Butter Makin' Days, the tasty treat is cooked in giant kettles—so stock your pantry while you're there; Classic car enthusiasts can view some beauties here, too; Ready? Set? Go! Wiener dog races are a festival tradition.
Find a timeless celebration at the Hootin' an Hollarin' Festival this year. This festival has a rich history of 63 years and makes sure to include that throughout the festival.
September 21–23
Gainesville, Missouri
Must-Do Activity: Nighttime square dancing
Must-Try Snack: Chocolate-covered bacon
Must-See Entertainment: Outhouse Races
Admission is free
It's time to brush up on your do-si-do and promenade! On its 63rd anniversary, Hootin' an Hollarin' is bringing noise and fun back to Gainesville. True to its name, the festival features live music, square dancing, parades and more. At Hootin' an Hollarin', smiles are contagious and laughter is abundant as little kids in prairie dresses, bonnets, overalls and cowboy hats dance around in time to a live bluegrass medley.
With a keen understanding of the old-timey comfort that brings people back every year, the festival organizers dedicate themselves to curating an atmosphere that welcomes first-time visitors. The festival even plays host to  myriad family reunions each fall. But the 60-year preservation of well-loved town traditions is not the only thing that sets this festival apart from others––if there's anything the Gainesville crew prides itself on, it's that the hootin' and hollarin' doesn't stop until late in the evening.
At 9 p.m. each night of the festival, the streets are alive with the sound of fiddles as square dancing commences. The merrymaking goes on until midnight, and the next day's festivities, even in competition with the nightly square dancing shindig, certainly will not hold back.
Everyone looks forward to the annual Queen Contest and the big Saturday parade, but the pork rinds, chicken legs, and homemade root  beer floats deserve at least an honorable mention. Stop by all of the food  and craft booths spread throughout the festival grounds, and you're guaranteed to find something handmade, timeless and one-of-a-kind.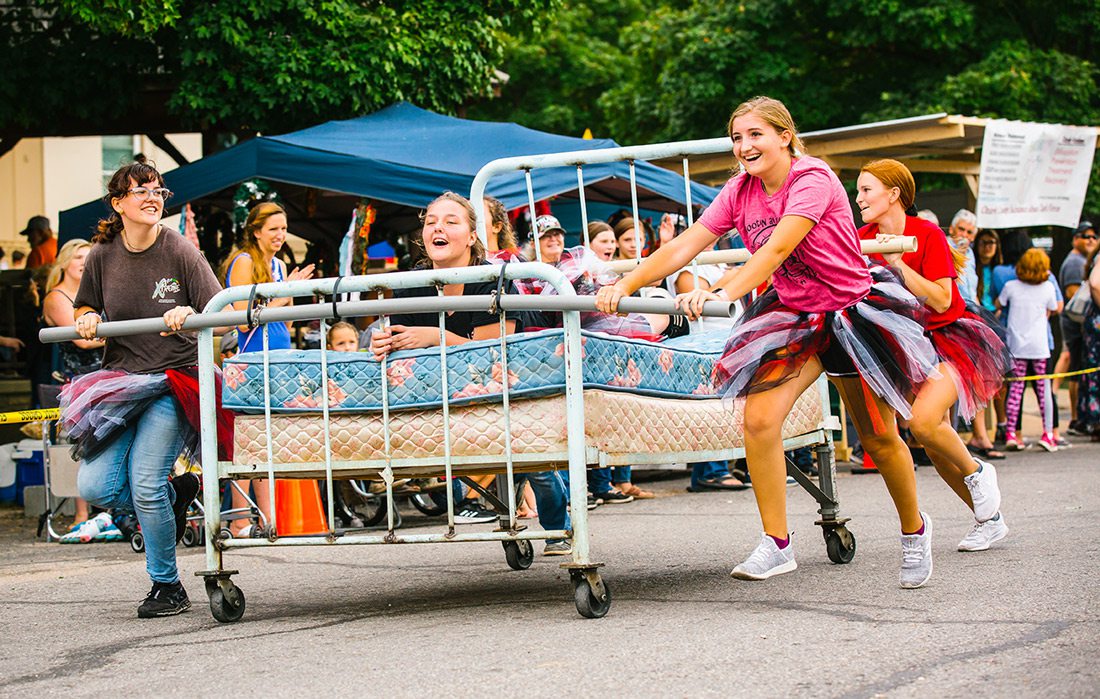 Japanese Fall Festival
Celebrate Japanese culture and Springfield's sister city relationship with Isesaki, Japan at the Japanese Fall Festival.
September 8–10
Mizumoto Japanese Stroll Garden in Springfield, Missouri
Must-do Activity: Nihon bunka taiken tent
Must-Try snack: Omo Japanese Soul Food
Must-See Entertainment: Yosakoi dances from Uzumaru
Tickets sold at the door of the festival.
Autumn Daze
Find a wide range of activities and vendors at Autumn Daze.
September 14–16
Branson, Missouri
Must-Do Activity: Watching demonstrations from woodworkers
Must-Try Snack: Funnel cake fries
Must-See Entertainment: Entertainment tent featuring live performances from Branson Shows
Admission is free
Applefest
Celebrate the fall harvest and support a local orchard in a loving community at Applefest.
September 15–16
Marionville, Missouri
Must-Do Activity: See the white squirrels that are native to the area
Must-Try Snack: Locally grown apples and peaches
Must-See entertainment: Saturday Parade
Admission is free
Marshfield Harvest Days
Discover that fall festival feeling and enjoy the best parts of the season at Marshfield Harvest Days.
September 29–30
Marshfield, Missouri
Must-Do Activity: Punkin Chunkin'
Must-Try Snack: Kettle corn
Must-See Entertainment: Car show
Admission is free
Shakin' in the Shell Fest
Everything you want from a fall festival can be found at Shakin' in the Shell Fest.
September 15–16
Shell Knob, Missouri
Must-Do Activity: Pooch Palooza
Must-Try Snack: BBQ nachos
Must-See Entertainment: Morgan Squared
Admission is free
Cider Days
Kick off the season and taste flavors of fall at Cider Days this year.
September 16–17
Historic Walnut Street in Springfield, Missouri
Must-Do Activity: Grab a hot or cold cup of the festivals namesake
Must-try snack: Local food trucks
Must-See Entertainment: Local dance performances
Tickets sold online or at the door of the festival.
Black Walnut Festival
Bring the whole family to have some seasonal fun and celebrate the history in the area at the Black Walnut Festival. Proceeds go toward youth programs around the community.
September 21–30
Stockton, Missouri
Must-Do Activity: Tractor pull
Must-Try Snack: Chili
Must-See Entertainment: Live Bluegrass
Admission is free
Heritage Reunion
Visit a historic mill and see live historical demonstrations while shopping for handcrafted gifts at the Heritage Reunion.
September 23–24
Fair Grove, Missouri
Must-Do Activity: Demonstrations of farm work from the 1800s-1900s at Wommack Mill
Must-Try Snack: Grandma Sue's Lemonade
Must-See Entertainment: Live music at the mill
Admission is free
Ozark Arts and Crafts Fair
Find something original and handmade to take home at the Ozark Arts and Crafts Fair.
October 6–8
Ozark, Missouri
Must-Do Activity: Shop around
Must-Try Snack: Root beer
Must-See Entertainment: Local artisans at work
Admission is free
Pioneer Heritage Festival
Celebrate traditional culture and heritage of the Ozarks at the Pioneer Heritage Festival.
September 29–30
Ava, Missouri
Must-Do Activity: Square dancing Friday night
Must-Try Snack: BBQ sandwiches
Must-See Entertainment: Youth Stringed Instrument Talent Show
Admission is free
Take your fall fun on the road by hitting up some drivable festivals throughout Missouri.
Get Your Witch On
Kimmswick Witches Night Out
October 14, Kimmswick, 314 Market St., Kimmswick
Come dressed as witches for a fun girls night out for ages 21 and older. This spooky night includes music and entertainment, dancing, food, shopping, prizes, wine tasting, food booths, scavenger hunt, psychic readings, costume contests and much more! The event proceeds not only go to the historic town but also to non-profit charities and community organizations.
Celebrate with the Spirits
Spirits in the Garden
October 27, St. Louis, 4344 Shaw Blvd., St. Louis
Celebrate Hallows' Eve from 6–8:30 p.m. at the Botanical Garden for guests 21+. This is a Halloween party so come dressed up and play scary movie trivia, participate in a scavenger hunt, watch scary movies and dance to some of your favorite Halloween tunes. You'll even get to meet with a paranormal investigator and fortune teller. Make sure to be on the lookout for a stilt-walking Frankenstein's monster!
Sprechen Sie Deutsch
Hermann Oktoberfest
Every Friday, Saturday and Sunday in October, Hermann, 109 W 2nd St #1045, Hermann
Put on your lederhosen or dirndl, nosh on a pretzel and pour yourself a craft brew at Hermann's annual Oktoberfest, held every weekend in October. There's no party like a Hermann party (that is how the saying goes, right?), and this ultimate fall festival is no exception. The town pulls out all the stops to celebrate its time-honored German heritage, with the added perk of its scenic Katy Trail backdrop.
Take a Bite of the Best Apples
Historic Weston Applefest
October 6–8 downtown Weston
A crisp and crunchy apple harvest meets a celebration of local art at this longstanding autumn tradition in Weston. There are dozens of artists and artisans on-site, plus apple butter, apple cider, a garden market, food vendors and lots of beautiful fall sights. And it all starts with a parade.
If you want to stay in the city instead of venturing to nearby small towns, try one of these awesome little festivals in Springfield. Which one is right for you?
Prefer a stroll in the park?

Art in the Park
October 6–7
More Events
Check out our calendar for more events going on in and around Springfield, Missouri.