Life
The Best DIY and Crafting Classes in Springfield
Switch up your space without breaking the bank or committing to a full remodel at these DIY decor spots.
By Hanna Flanagan
Feb 2019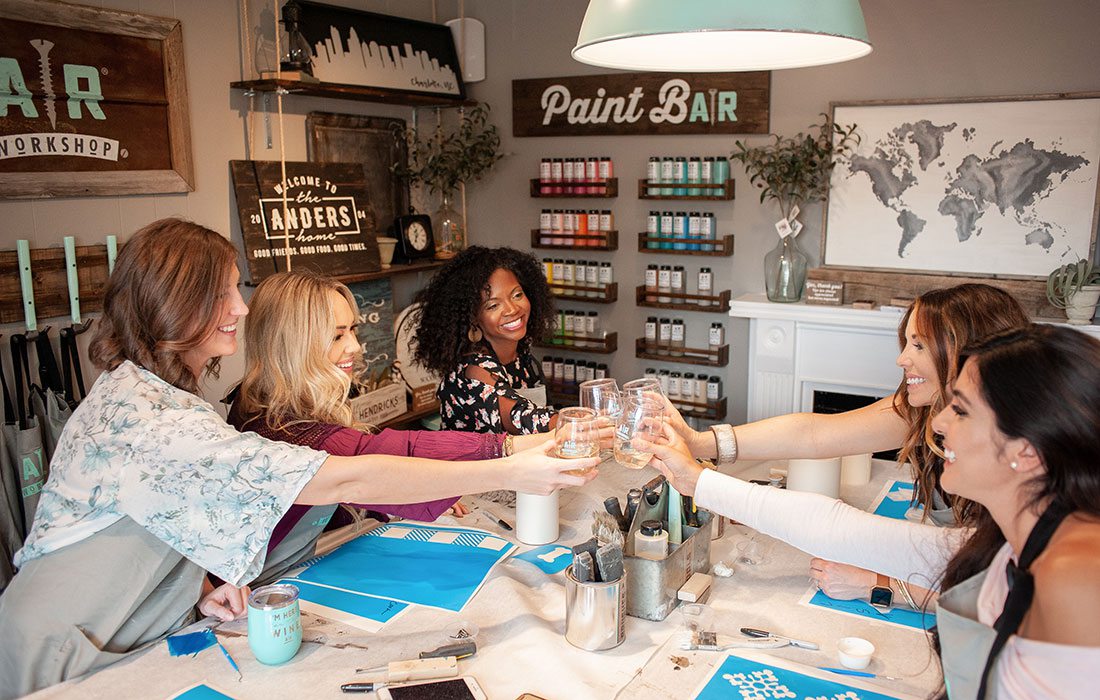 4 By 4 Brewing Company
Best for: Date Night
2811 E. Galloway St., Suite E, Springfield; 417-861-6400
4 By 4 Brewing Company holds Create & Taste events, a series of appropriately titled classes that combine two crowd favorites—DIY decor projects and beer—making for an above average night out. Explore the innovative brews at this Springfield taproom while completing a craft and chatting with friends. Check the 4 By 4 Brewing Company Facebook page for the class schedule and pricing because each one is a little bit different. Although entertaining, a few Create & Taste projects, like cookie decorating and ugly Christmas sweater–making classes, probably won't result in the best home decor pieces. But others, like beer can succulents, will surely spice up any space that's lacking.
Pheona's
Best for: A Challenge
103 U.S. Highway 60 W., Billings; 417-766-9381
Take advantage of Pheona's in-house supply of wool, antique linens and Japanese silks during any of the craft lessons offered at this vintage market. The can't-miss wool classes tackle home decor and design projects using techniques like needle felting, rug hooking and slow stitch hand appliqué. Class topics, times and prices vary, so be sure to check Pheona's Facebook page regularly for schedule updates. Send a Facebook message or call the store to book a class.
Scuffed Edge
Best for: Kitchen Projects 
561 E. Elm St., Republic; 417-730-0263
Let expert crafter and Scuffed Edge owner Tiffany Myers guide you through one of her Make & Take classes, which teaches attendees how to update their kitchen DIY-style for under $200. With sessions on pallet signs, Lazy Susan, Mason Jar centerpieces and custom coasters, you'll have enough decor pieces to give your kitchen a face-lift after a handful of classes. And, at just $20 to $60 per class, the one-of-a-kind finished products will be worth every penny. 
Hobby Lobby
Best for: Quick Crafting
1535 Battlefield Road, Springfield; 417-887-3680
Amidst art supplies, seasonal decor, flowers and candy, you might have missed the craft class sign-up sheet at your nearest Hobby Lobby. But each one of these chain stores reserves a space for community members to teach a class on a topic of their choice using Hobby Lobby products. From decor to painting to jewelry-making, this flexible system can be either a teaching opportunity or a learning opportunity, depending on what you're looking for. To teach a class, call Hobby Lobby and reserve a room. To attend one, just check the craft class schedule posted in store and sign up. 
AR Workshop
Best for: Beginners 
1550 E. Battlefield Road, Suite M-2, Springfield; 417-429-0803
AR Workshop has got the process of crafting nailed down to a T. Simply search for a class online—some of the most popular projects are plank signs, frame signs, Lazy Susans and pillows. Then, pre-select the customized portion of the piece, with details like a family name or your monogram, using the online registration portal. When you're done, AR Workshop employees (expert crafters, as you can imagine) will get to work making a personalized stencil based on the information you submitted. So by the time you arrive in the studio, the stencil is perfected and ready to use. The highly efficient process ensures a professional-looking result every time, regardless of your skill level. All you have to do is paint inside the lines. Easy enough, right? 
The Social Easel
Best for: Girls Night Out 
2924 E. Sunshine St., Springfield; 417-496-7972; thesocialeasel.com
The Social Easel, owned by lifelong artist Christie Hawkins, is another beginner-friendly choice on this list. Hawkins will teach a step-by-step painting class while you sip on a cocktail and follow along. What Hawkins started as a mobile painting business a few years ago has now found a home inside The Pitch Pizza & Pub. So, just grab dinner beforehand to turn your painting lesson into a full-fledged night out with friends. Check the website calendar for class dates, times, prices and project descriptions. Then, register online for whatever piques your interest. For those wanting to practice on a more regular basis, Hawkins also offers online classes. Whether online or in-person, The Social Easel provides an easy fix for any bare wall.