Trends
Tips for Decorating Your Sunroom
A sunroom can be a great extension of your home, providing sunny warmth all year long. Take advice from local Springfield, MO design experts on the best ways to decorate it.
By Nevada Moenning
Jun 2020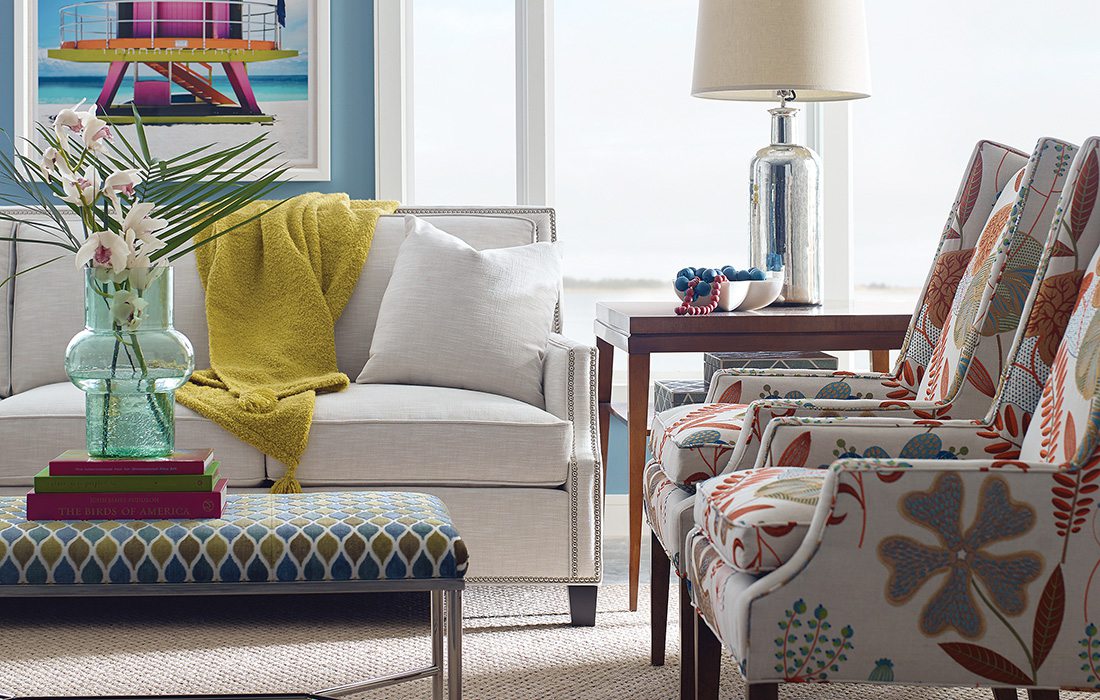 Window Treatments
Sunrooms do not require window treatments. "The brighter the better," says Madi Johnson with Fourteen Fifteen Staging. If that is your preference, then let the light shine in. If you do want window treatments, go for something lighter and airier. Johnson recommends white sheers, to let natural light flow into the room. Heather Smith with Decorating Den Interiors suggests Roman shades, made of fabric or woven wood material. "Roman shades are functional but also beautiful," Smith says.
Light and Bright Colors
Sunroom colors can vary depending on the client's personality. "Light and bright" is the motto for Fourteen Fifteen Staging. "Dark-toned walls can make a space feel smaller," Johnson says. Use light tones and incorporate pops of color in furniture and décor. "Classic Blue" is the Pantone color for 2020, so add blue accents to your sunroom and give it a beachy vibe. For a more serene setting, Smith recommends soft greens, blues or yellows.
Beach Decor
Join the 2020 trend and include beach décor in your sunroom. Johnson recommends adding texture to help you incorporate a beachy feel without going over the top in decorations. Chelsee Sowder from Nest Interiors + Design seconds that thought: "When decorating sunrooms I love to layer texture and color," Sowder says. "It's a great place to layer things like jute rugs, wicker and metal furniture, heavy weaved linens and more."  Use fabrics in pillows, rugs and throw blankets, and use natural woods in woven wicker baskets, bamboo and accessories with rope. You may also use coral accents or stripes. Stripes can make any sunroom feel like a nautical setting.
Plants
"In addition to textures, versatile decor pieces and house plants find home and the perfect balance in sunrooms," says Sowder. A great way to add character to your sunroom is to include sun-loving plants. These plants will provide natural elements to your sunroom every season of the year. What plants work best for sunrooms? "We suggest tropical hibiscus, ferns, begonias, African violets, peace lilies, succulents and trees such as fiddle figs," Johnson says. "These plants need to be kept moist, near bright light and occasionally lightly fertilized." These plants are trendy in 2020 and easy to maintain.

Herbs
If you enjoy growing herbs for cooking, bring the small plants into your sunroom and make the room even more functional. Herbs, like decorative plants, can be very easy to care for in a sunroom. "Rosemary and basil are two herbs that love sunny windows and are low maintenance," Johnson says. These plants can be overwatered easily, as they thrive in drier environments, so be careful not to water them too much.
Lightweight Furniture
A common misunderstanding about sunrooms is that they need heavy furniture, but as Johnson says, "The days of wrought iron are no more!" Sunroom furniture should be lightweight, decorative and multi-functional. Johnson recommends piles of pillows, tables, coasters to set drinks on and throw blankets for a rainy-day nap. Smith recommends that your furniture be true to a four-season sunroom and be protected from the elements. "I would recommend always using sun-safe fabric brands like Sunbrella, Bella-Dura, Inside Out, etc."