Spaces
5 Things to Consider Before Adding Bold Ceilings to Your Home
Bold ceilings are trending hard due to their ability to add an unexpected element to any space. With advice from two local design experts, we put together this guide with some points to ponder before you accent more than the wall.
By Jennifer Adamson
May 2019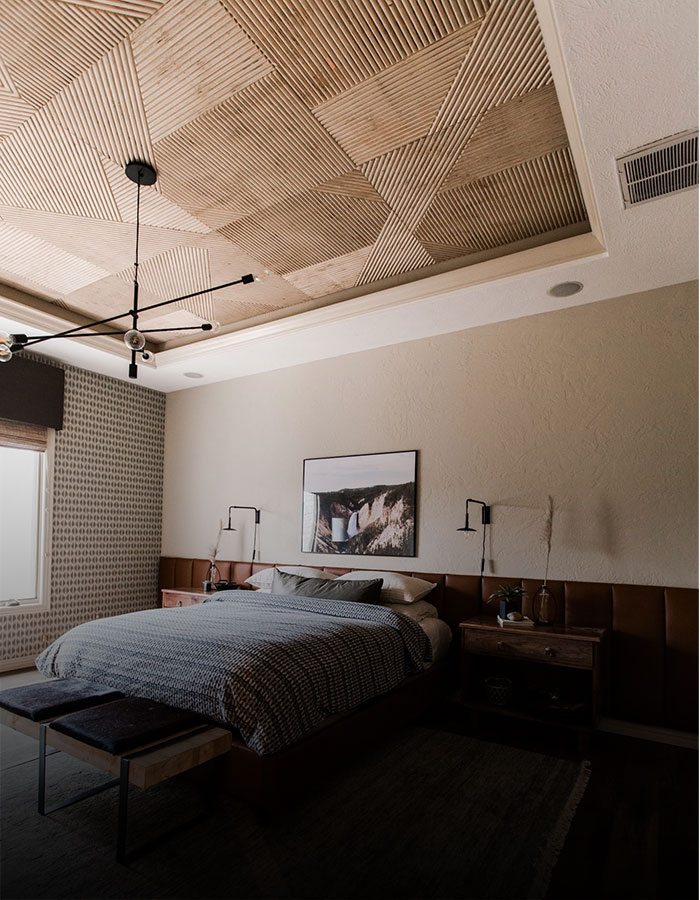 Understanding the Appeal
Social media has transformed the way we think about our living spaces. Finding inspiration for the next home project was once a time-consuming task of flipping through magazines or scouring the Internet. Now, millions of scroll-stopping images are right at our fingertips and can inspire creativity instantly. That's why more and more homeowners are thinking outside the box when it comes to customizing their interiors and aren't afraid to take risks to get the results they want, says Nathan Taylor, co-founder and principal designer of Obelisk Home. Bold ceilings, while not the right choice for everyone, up the wow factor of any room and can also be budget friendly. It just depends on which design you choose.
The Debate
When you think about your home, what goes through your mind? If you feel like it needs a boost of visual appeal somewhere, and you have a closed-off area to start and stop a design element, then a bold ceiling is a viable option, suggests Andrea Deckard, interior designer and owner of A. Deckard Interiors. The good thing about a bold ceiling is it certainly doesn't have to be permanent, so if you wouldn't slap the heart-eyes emoji on a photo of the final product, you can always reverse your decision.
Design Options  
Whether you're considering upgrading a living room, bathroom or entry, the possibilities for how you can accentuate a ceiling are endless. Deckard says paint and wallpaper are the most basic and cost-effective options. This method offers a simple splash of color, shine or pattern and can reflect your personality or exude a certain vibe you're looking for. Homeowners who are a bit more comfortable with change (and a bit more expense) might add more architectural elements, including coffers, tin ceiling tiles, Venetian plaster, decorative soffits or reclaimed wood to a ceiling. 
Making the Right Choice 
Deckard says the style of your home is what should dictate how you accent the ceilings. She says modern homes are best suited for paints and wallpapers while more traditional or historic homes often beg for more ornamentation. Taylor advises that the relationship between ceiling height, color and light, as well as your level of courage, should also be considered. For example, if you paint the ceiling of a small room aubergine, for instance, it will likely appear smaller because warm colors contract a space visually. However, your desire to go bold might outweigh your desire to follow the design rules. Most importantly, both designers say the style of ceiling should depend on whether you plan to do the work yourself or if you plan to involve a professional.
DIY or Hire
What does your ceiling look like now? Is it smooth? Is there texture? That's a good starting point for determining if you can DIY your way to a bold ceiling or if contracting a professional is actually easier. Deckard says smooth ceilings are prime candidates for any enhancement, whereas the uneven surfaces of textured ceilings can cause problems when adding anything other than paint. Plus, leveling a textured ceiling can be a messy and slow process, she says. Beyond painting, sound knowledge of general carpentry is often necessary, says Taylor, so if that's not your skill set, seeking expert help is encouraged.