Spaces
Creating Your Warm Winter Porch
After the holidays are over, the decorations—or lack thereof—around the house can be a bit depressing. We gathered a few tips on how to style your front porch during the winter months to keep it festive and welcoming all season long.
By Haley Phillips
Jan 2020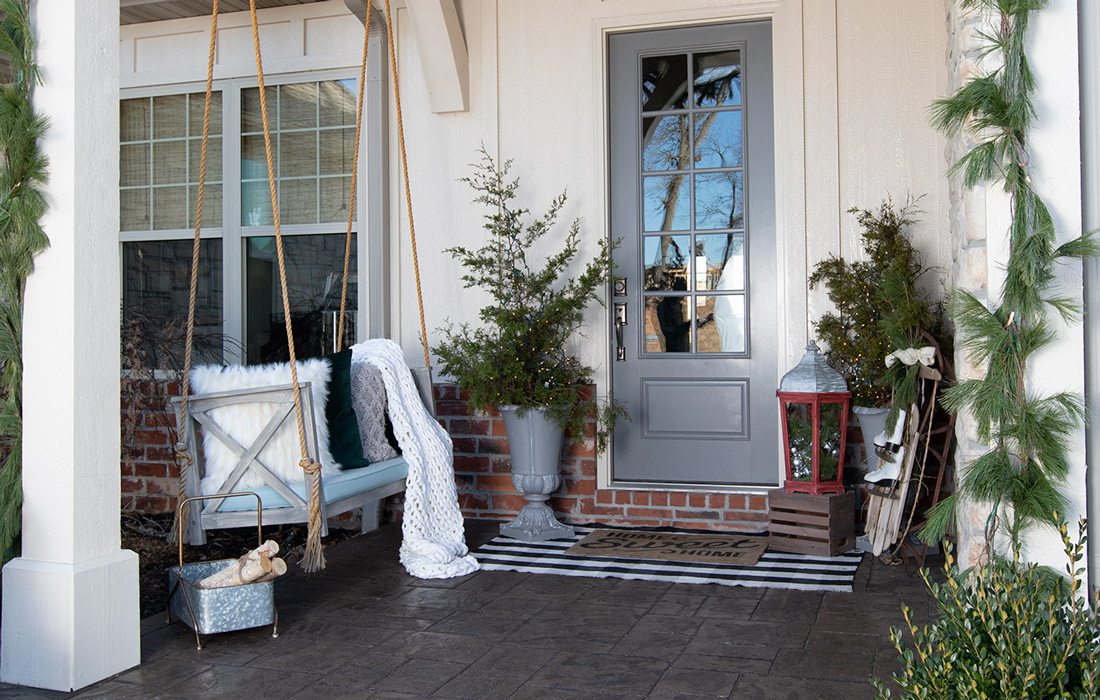 Everyone knows the holidays are the perfect time to go all out with your outdoor decorating. But after ringing in the new year, it's time to pack it all away, leaving our homes with an emptiness that lasts until the first signs of spring. Instead of succumbing to the dreariness of the season, make the most of the winter weather by sprucing up your front entryway with warm and inviting details to help welcome in your guests. If you take a nod from nature and use repurposed items you already have on hand, you're on your way to creating a front porch that will nail that first impression. Take it to the next level with a few helpful tips from the professionals to guide you.
Pick Your Palette
The first step to decorating any area of your home is to choose a color scheme. To keep your decor from becoming an extension of the now-past holidays, avoid heavy doses of red and green and instead look for warmer neutral tones. Breanna Angle, design assistant at Maschinos (1715 S Campbell Ave, Springfield, 417-869-1513) finds color inspiration in the surrounding nature. "Take a walk through your local parks and see what is still around during the cold weather," Angle says. Anything from pine cones and fir trees to juniper or holly can be used as inspiration for your front entryway's decor. If you stick with a limited color palette, add in a splash of unexpected color with a statement piece to keep it from looking too traditional.
Let There Be Light
After the twinkling lights of the holidays are put away, the early evenings in winter can seem even darker. Recreate that festive warm glow by adding back in a few smaller strands of white lights. Whether you use warm- or cool-toned lights, Angle suggests dropping them in vases, mason jars, colored bottles or any container with a pattern that light could shine through. For more contemporary winter inspiration, don't underestimate the use of a bold metallic. Incorporate the warm undertones of gold or brass by adding larger lanterns to your porch to create a striking contrast against the overcast skies. The lanterns look festive and are a welcoming sight to arriving guests.
Firmly Planted
Few things are more welcoming in the dead of winter than a thriving planter. To keep your plants looking their best during winter, Brandon Paynter, perennial manager of Wickman's Garden Village (1345 S Fort Ave, Springfield, 417-862-3707), suggests using pots made of plastic, wood or metal. During the cold months, these planters won't crack and break in the freezing temps. Make sure the pot has proper drainage or feet to elevate the pot, so water can run through it and won't freeze to the ground. To add interest to your planters, Paynter suggests incorporating branches with color or a unique look, like branches from a curly willow or yellow and red twig dogwoods.
Warm It Up
Here in southwest Missouri, we're lucky that our winters are milder than those of our northern neighbors. Take advantage of warm afternoon sun and snuggle up on your front porch with cozy elements like an outdoor rug, blankets and pillows. Angle suggests replacing holiday-themed pillows with more textured pieces like chunky knits, faux fur or even plush velvet. Stick to the theme by pairing neutral colors with white to keep everything from looking too busy. For extra warmth, add in a wool throw or a tabletop heat lamp to keep you and your guests toasty. 
Green with Envy
Greenery isn't just for the holidays. Angle recommends repurposing wreaths and garland left over by removing holiday details for an even more wintry look. No wreath? No problem. Paynter suggests using pieces of cut evergreen branches like spruce, pine, juniper, cedar and holly as a great alternative to wreaths. Use floral foam soaked in water to keep your branches in place and spray with an anti-desiccant to protect them from winter winds and harsh weather.
Get Home + Style Straight to Your Inbox
Get the latest in home decor, DIYs, local events, recipes, sales alerts and more straight to inbox every Friday with
Home + Style
.