Style
5 Pound Apparel's New Downtown Location
Do yourself (and the community) some good when you shop at this newly remodeled downtown location.
by Krysten Muench
Jun 2021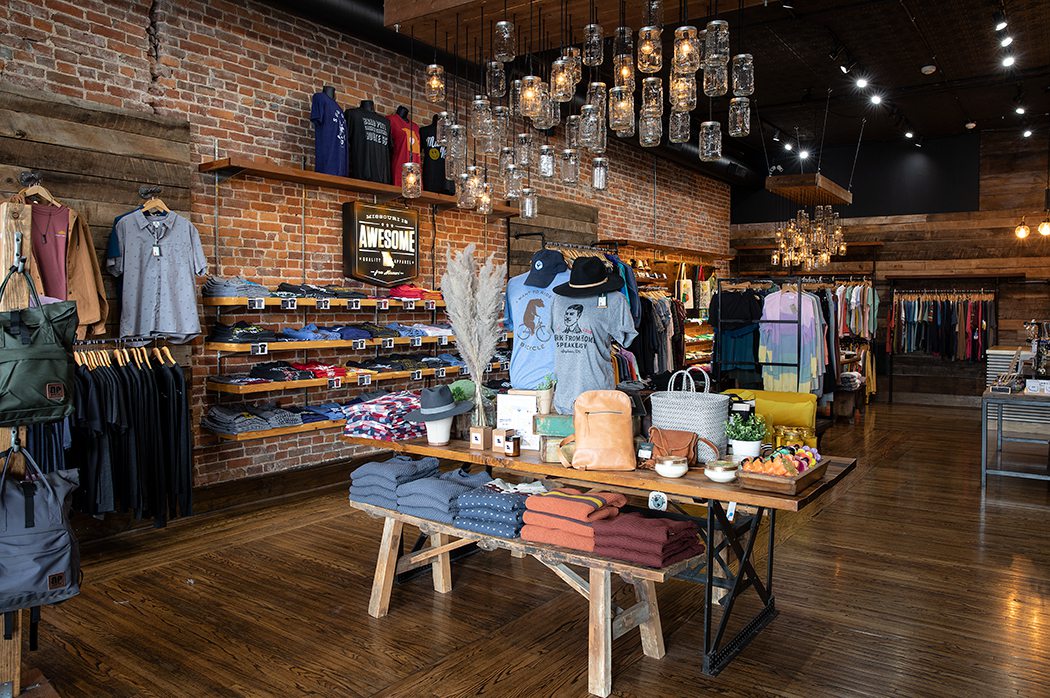 5 Pound Apparel (412 South Ave., Springfield, 417-368-6401) is strengthening its roots in downtown Springfield after consolidating with their second location in Farmers Park. "We pretty much knew a couple years in [to owning the business] that for the longevity of our store and our brand, we would need to scale back and focus more on the one store and online sales, seeing retail trend toward online," says Brina Thomas, co-owner of 5 Pound Apparel. 

Thomas and her husband, Ben, purchased 5 Pound Apparel in 2017 and are celebrating the store's tenth year in business. To kick off the anniversary celebration, the Thomases gave the downtown location a refresh in January of 2021. "With closing the Farmers Park location, we knew we would have fixtures and all kinds of things that we would want to incorporate into the downtown store," Thomas says. "All of the material from Farmers Park was a little more updated and modern looking, and we wanted to bring that feel downtown." After a fresh coat of paint, refinishing the original hardwood floors and building a custom cash wrap counter for checkout, 5 Pound Apparel reopened its doors in February feeling renewed. 
The original mission of 5 Pound Apparel is as strong today as it was when the store first opened its doors. For every purchase of the 5 Pound Apparel brand (which has grown to include much more than just T-shirts), the store donates five pounds of food to Ozarks Food Harvest. For every purchase of the pet line, 5 Pound Pup, up to five pounds of food are donated to the Humane Society of Southwest Missouri. Ultimately, all brands that are sold within the store give back locally, nationally or globally in some way. 
While the store carries a variety of clothing, jewelry, gifts and accessories, the thing that they're most known for is the hyper focus on local, whether it be the city of Springfield, the state of Missouri or the Ozarks region in general. The Thomases take supporting local to heart and do their best to amplify other small businesses whenever possible. "We want to make sure that other local businesses are thriving, because if [they] thrive, we thrive." 
Rest assured that when you support 5 Pound Apparel, you're doing good for the Springfield, Missouri community and beyond.