Weddings
Modern and Bold Wedding Cake Trends for 2020
Modern. Bold. Classic. Luxurious. Some of the best bakeries in Springfield and Branson, MO take a bite out of the latest must-have wedding cake trends.
By Ren Bishop
Jan 2020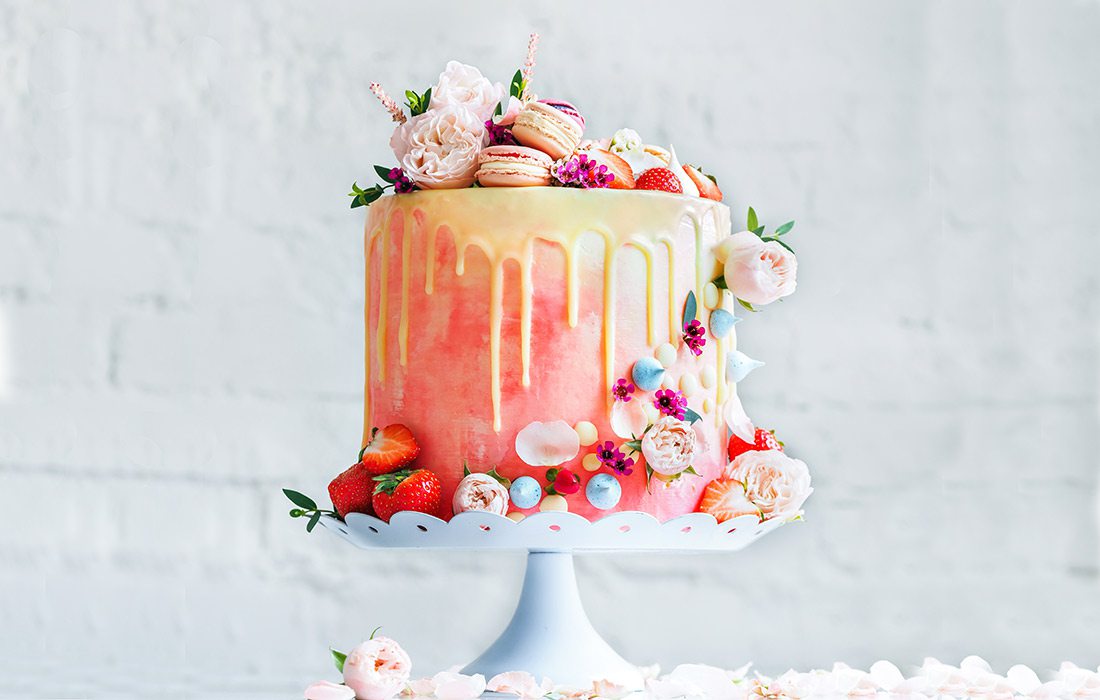 Watercolor
Best for a bride who wants a colorful statement at her reception.
Why We Love It: Watercolor cakes are a beautiful way to incorporate two huge wedding trends: luxury inspired by nature and gentle bursts of color. Sugar Leaf Bakery (2800 W. 76 Country Blvd., Branson, 417-336-6618) head baker Amanda Stout loves the variety of different looks she can create within the watercolor trend that can complement a bride's personality. Color options are nearly endless, with different mediums and techniques used to achieve different watercolor designs. For the best swirls of color, she uses fondant icing. She has just one suggestion—Stout recommends brides only splurge on a watercolor cake if its backdrop is simple or neutral. "Use the elements of your reception space to complement the cake design," Stout says. "If you're going outside, you can get away with a lot of colors, but if it's inside, you'll have more colors competing with it. You want to make sure the color of the watercolor complements whatever decor and space you're in."
Hexagons
Best for a bride who loves all things modern.
Why We Love It: For the bride looking to make a statement, hexagon cakes are the Insta-worthy trend. A cake made of six sides embraces a modern look while appearing a bit whimsical, wild and unexpected. Brides can choose a hexagon base with round tiers stacked high, or go bold and have every tier of their cake cut in a hexagon shape. Charity Fent, owner of Charity Fent Cake Design (3534 E. Sunshine St., Suite F, Springfield, 417-838-1182), recommends a simple and clean aesthetic for a hexagon cake with minimal decorative elements and color. "Keep it classic. Let the shape be the statement," she says. "The shape is where your eye is going to go, so the rest of it needs to be classy."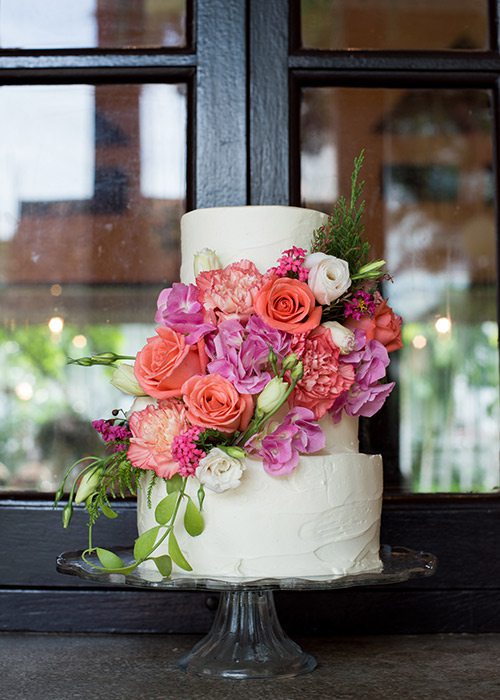 All-white cakes can give a bride and groom a blank canvas on which to add pops of color that match the decor of the wedding.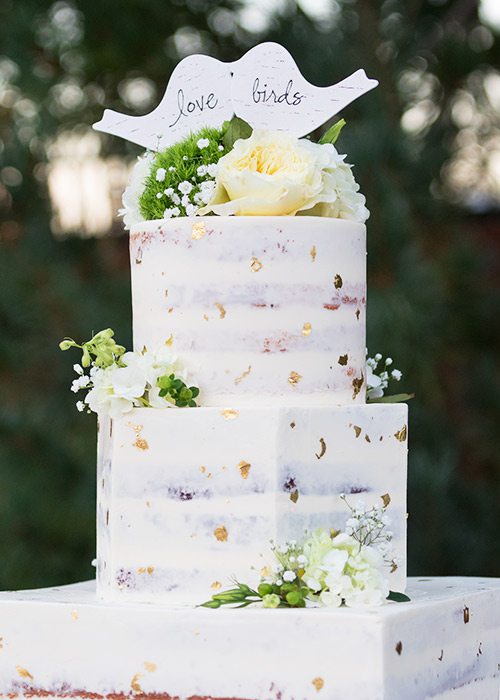 Hexagon-shaped cakes are all the rage. The modern take on a classic tiered wedding cake is a fun alternative. Gold flakes add an additional pop of elegance.
Photos courtesy Shutterstock
All White
Best for the bride who loves tradition.
Why We Love It: Classic and timeless, an all-white wedding cake is always in style. But 2020 brides can customize the all-white look with a number of textures and icing designs, as well as decorative accents, says Amy Bloodworth, co-owner of Amycakes Bakery (1108 E. Walnut St., Springfield, 417-831-6095). "More than 75 percent of all the wedding cakes we do are all white, but that doesn't mean they all look the same," she says. "My favorite look is an all-white cake with fresh flowers. It's a way to incorporate your wedding colors without sacrificing flavor." Completely white cakes are able to withstand a number of reception conditions. With all the icing white and no competing colors, any weeping icing or condensation is muted in appearance, even on a hot day. White cakes can also be easily dressed up by adding ribbons or fresh fruit, says Misty Stearman, head cake decorator at Hy-Vee (Hy-Vee.com). "Another way to make your cake stand out is to use pearl ice, which is an airbrush that makes the icing simmer when the light hits it."
Gold Leaf
Best for a bride who wants a little extra sparkle.
Why We Love It: Wedding cakes dressed with 24-karat gold leaf might be the ultimate wedding day luxury. Metallic cakes with gold accents are popular, but colored icing just doesn't compete with the real thing, says Uliana Komodi, owner and pastry chef at European Café (207 Park Central East, Springfield, 417-986-4646). "You cannot get that gold look, that shine, any other way," she says. "It's such a luxurious product and makes any cake more beautiful. But just a touch is such a beautiful addition. A little bit goes a long way." Komodi uses small sheets of thin edible gold to complete the look, and when only used as an accent or detail, gold leaf can be a minimal cost to add. But it should be used by bakers with sturdy hands in a dry environment. It's delicate to handle, but once it's set on a cake, the gold leaf and its dramatic look stays put. "Gold is just timeless," Komodi says.