Weddings
Spruce Up Your Wedding and Save Money With Seasonal Flowers
We talked with some local experts from Eden's Flower Truck, Ozark Mtn Flower Truck, Hy-Vee and Queen City Blooms about incorporating seasonal flowers into your wedding day, and how they can actually save your budget.
By Tessa Cooper
Jan 2020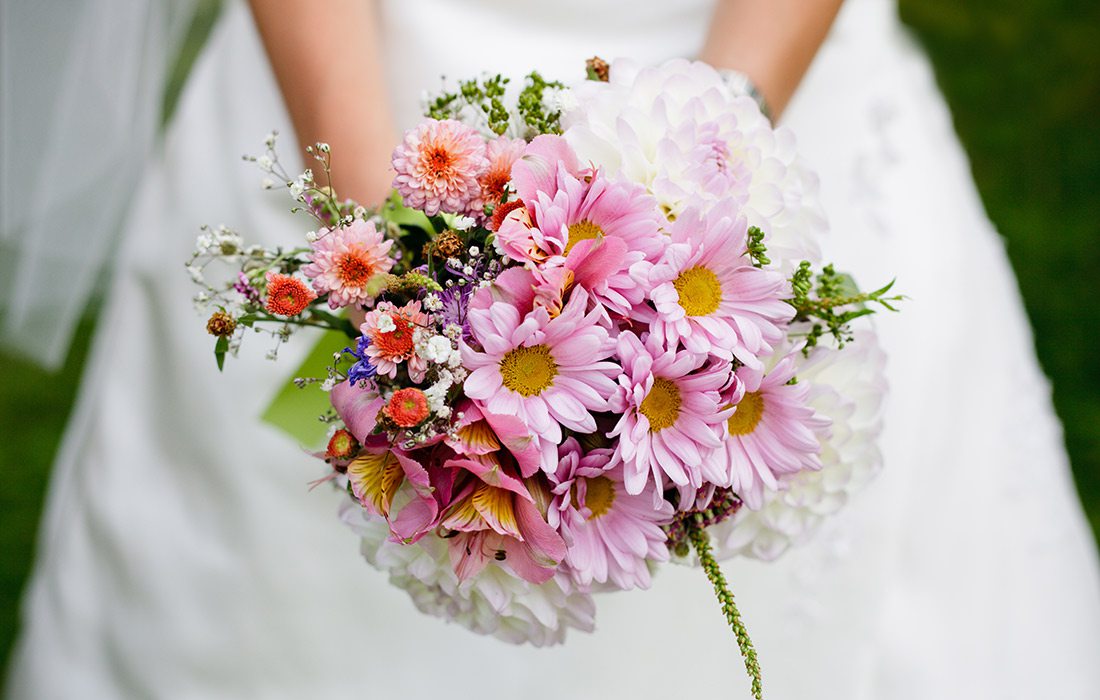 Familiarizing yourself with which flowers will be in season on your special day can help you set realistic expectations for arrangements and your budget. To get the shortlist of blooms for each season, we turned to Eden Garrett, owner of Eden's Flower Truck; Cassie Hartman, owner of Ozark Mtn Flower Truck; Amber Putmon, floral manager at Hy-Vee in Springfield and Alex McQueary, co-owner of Queen City Blooms.
Spring Wedding Flowers
In Season
allium, anemone, forsythia, hydrangea, lilac, peony, ranunculus, rose, sweet pea, tulip

Great For
The bride who loves an especially fragrant bouquet and soft colors.
Style Tips
Alex McQueary: Ask your florist if they source their flowers from local farmers. Sometimes you can get unique spring flowers from around the area. Bud vases work well for table settings because many spring stems are sensitive and don't do well shoved in foam. Also, a lot of these don't work well in garland because they need a lot of water and aren't hardy.
Cassie Hartman: If you're on a budget, you can use branches, like redbuds, dogwood or forsythia, for spring arrangements. Talk with your florist for ideas of how to mix and match florals into the arrangement.
Amber Putmon: Tulips and peonies are big in the spring, but both are delicate. Don't use these in foam blocks.
Eden Garrett: Many spring flowers are known for their fragrance, so choose flowers with pretty fragrances that are not overpowering.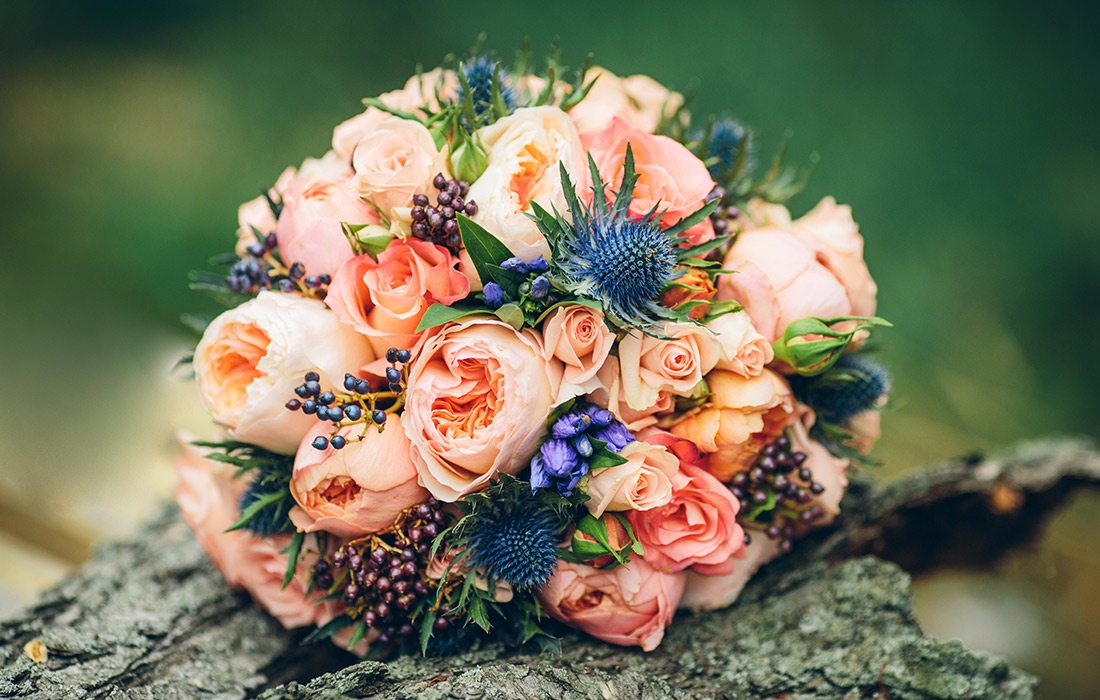 Summer Wedding Flowers
In Season
cosmo, gerbera, lisianthus, poppy, scabiosa, strawflower, sunflower, rose, Queen Anne's lace, zinnia
Great For
Carefree Bohemian weddings with bright jewel tones.
Style Tips
A.M.: In the summer, you can use color palettes ranging from vibrant colors to deep jewel-toned hues. You can definitely get a very eclectic, wildflower style with summer flowers.
C.H.: If you go foraging for Queen Anne's Lace, be careful not to get hemlock. They look similar, but hemlock is poisonous to humans and pets. As far as altarpieces or garlands go, keep them in the shade to prevent wilting.
A.P.: Summer is a great time to mix flowers, textures and colors like lime green, hot pinks and bright oranges.
E.G.: When having a summer wedding, keep the flowers refrigerated as long as possible before walking down the aisle, especially if the wedding ceremony is outside.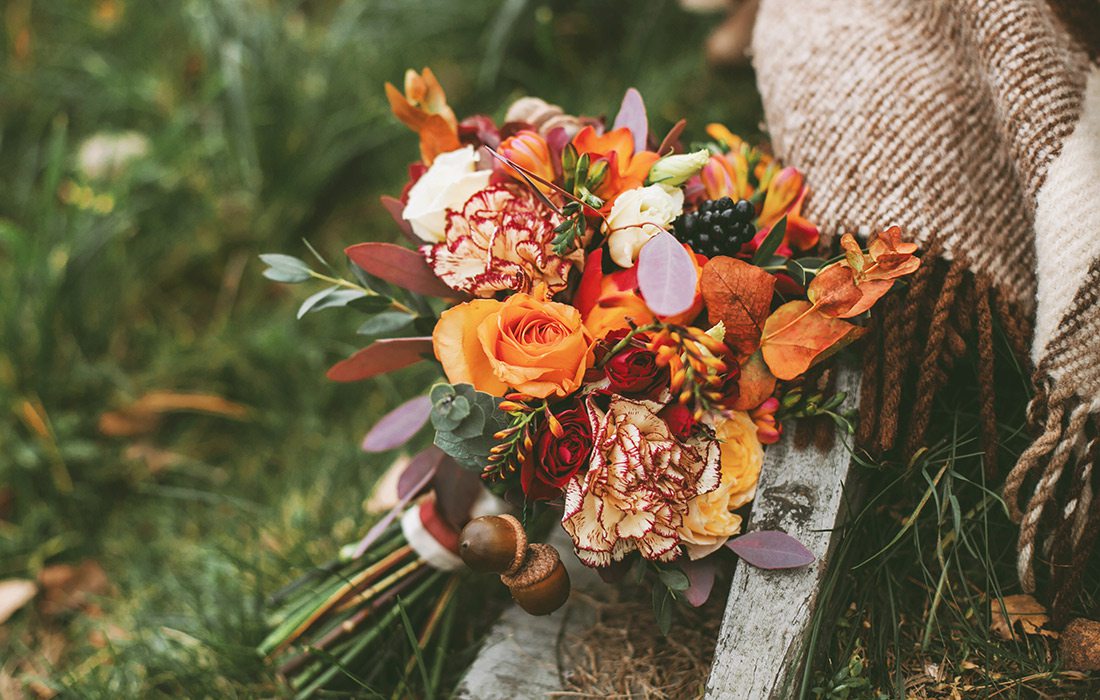 Fall Wedding Flowers
In Season
amaranthus, black-eyed Susans, celosia, chrysanthemum, dahlia, garden rose, lily, pampas grass, marigold, scabiosa pod
Great For
Muted colors and experimenting with dried arrangements.
Style Tips
A.M.: Pampas grass has been really popular. It's a wonderful texture and only available in the fall. Additionally, playing with dried flowers and dried grasses is a perfectly suited for the fall.
C.H.: You can get marigolds that are so much better than the ones that grow in the garden. You can even get ones that don't have a scent.
A.P.: Fall brides are looking to add texture to their bouquets, and eulcuptus works great. For a boldlook, use protea for contrast and pelee mums for vibrant color.
E.G.: Lilies, celosia and chrysanthemums are extremely popular. They come in a variety of fall hues. Mixing these with gold, green, amber and russet colors make great combinations.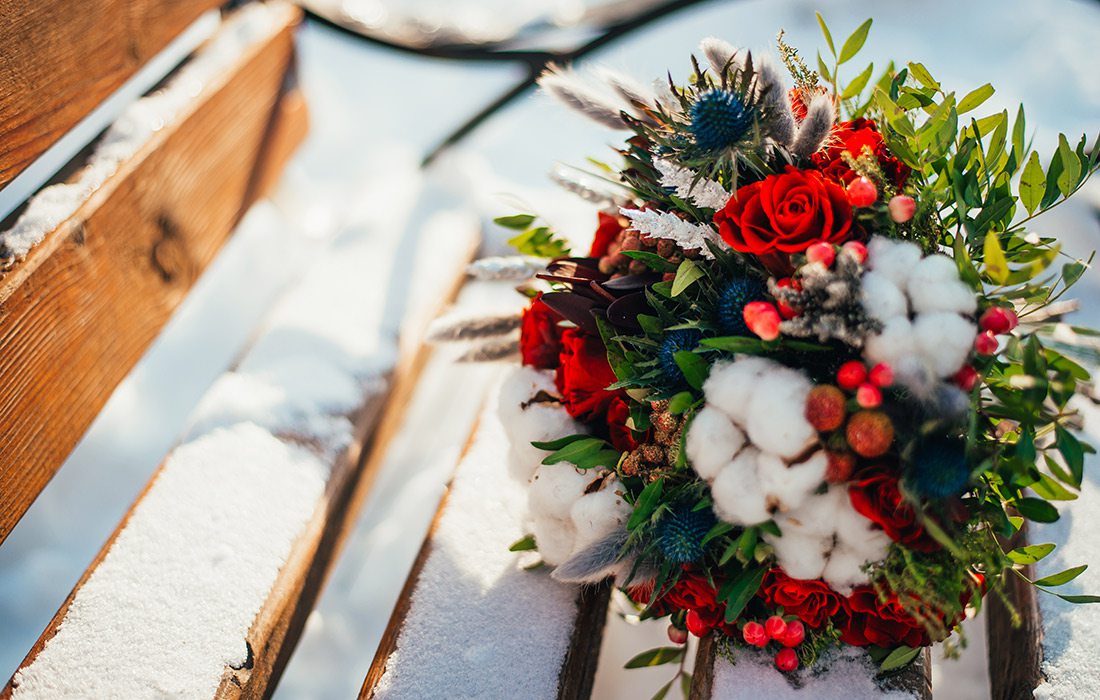 Winter Wedding Flowers 
In Season
amaryllis, evergreen foliage, hellebore, holly, jasmine, orchids, poinsettia, privet berry, rose, winterberry
Great For
Fairytale-like white arrangements with greens and statement reds or muted pinks.
Style Tips
A.M.: You can do some really pretty garlands with evergreens. You can also incorporate evergreen wreaths into decor.
C.H.: For more of a yellow-green, go with cedar. Juniper works well for a cooler, icy blue-green. If you're wanting to DIY any of your arrangements, reach out to Christmas tree stands or farms, and ask them for cuttings.
A.P.: Lots of brides want roses and greenery for their winter wedding. This combination creates a classic style, plus baby's breath looks like snow.
E.G.: Many brides think a whitewashed wedding is the only color hue to use. Instead, choose ivory, cream or blush. Keep in mind to not let the flowers be exposed to frigid temperatures. Flowers can freeze quickly.