Weddings
Big and Bold Wedding Centerpiece and Bouquet Trends
This year's wedding floral arrangements are big, bold and full of movement that seems to almost spill out onto the scene.
By Britney Huish
Jan 2021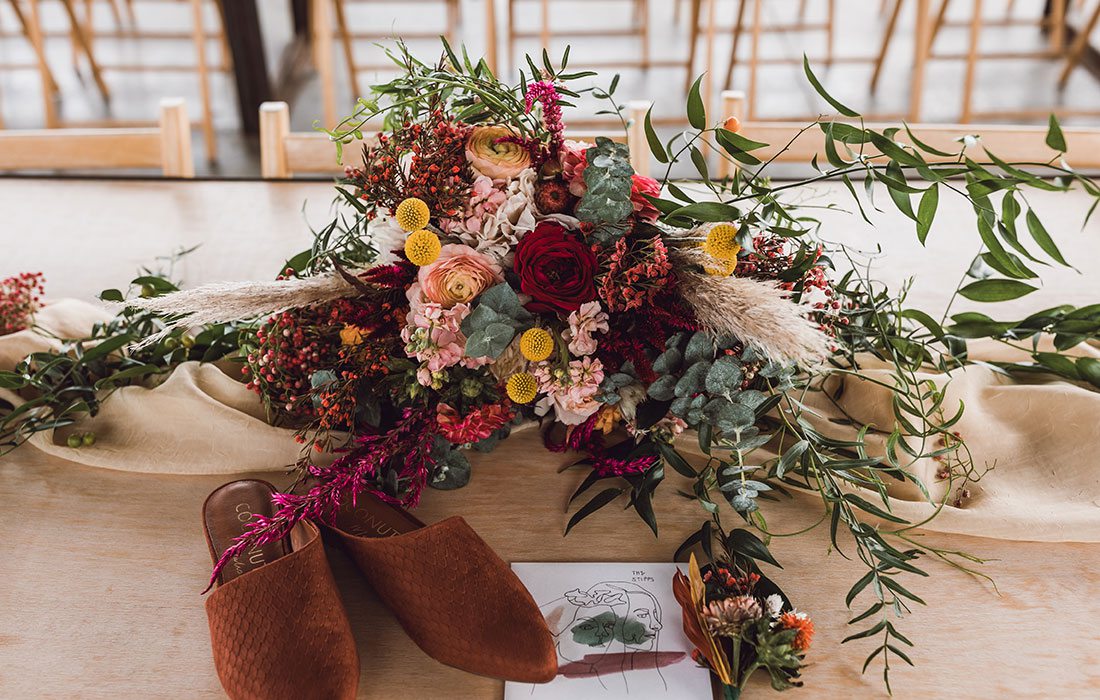 Wedding Centerpieces
The Trend: When it comes to centerpiece arrangements, bigger is better, and these days, centerpieces are less boxed in and formal in shape. Instead, they're wild and natural looking. They're so large and impressive, it almost seems that they have movement about them. Alex McQueary, co-owner of Queen City Blooms, says to add movement, select flowers with a natural gesture in their stem. Both fresh flowers and dried grasses can create movement depending on a couple's aesthetic preference, according to McQueary. Flowers like delphinium, ranunculus and anemone can have uniquely shaped stems that add interest to an arrangement.
The Look: This trend looks great with bold colors and earth tones, which makes it plenty versatile. It ultimately comes down to your aesthetic, and this trend is not limited to color. McQueary says she's been seeing a lot of bold jewel tones, as well as earthier rust palettes in the fall. White, blush and burgundy are also still holding on strong. Roses are a popular choice at Queen City Blooms, as they come in so many colors, textures and sizes, that they're always a go-to. In addition, delphinium comes in blue hues, which is helpful for more colorful palettes. Astrantia come in mauve, which acts as a mid-range color for both colorful and earthy palettes. Magnolia is a good foliage often used for earthy palettes because of its glossy, deep green on one side of the leaf, and the velvet-like, mustard yellow on the other side.
The Do's And Don'ts: Use blooms in a variety of sizes and shapes. McQueary recommends larger blooms like roses, peonies or dahlias as focal flowers, as well as smaller textural blooms like wax flower, strawflower or scabiosa for filler.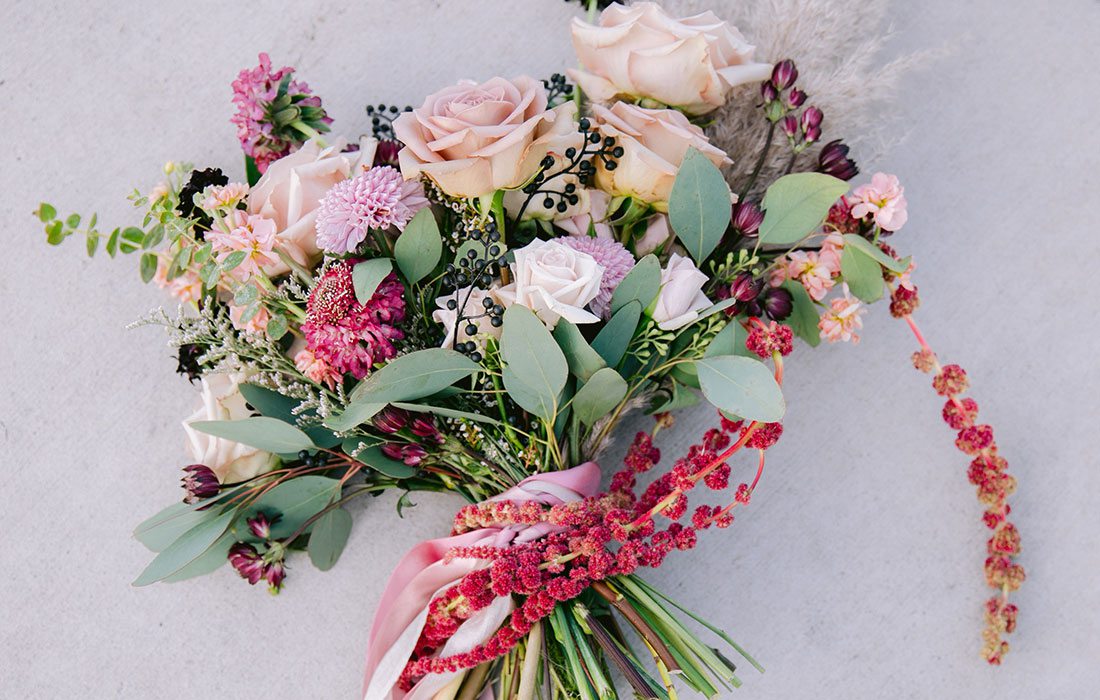 Wedding Bouquets
The Trend: Just like with centerpieces, brides are turning to bouquets that have natural movement to them. Amber Putmon, floral manager at Springfield's Hy-Vee, says the key is to use the principles of floral design: balance, proportion, dominance, rhythm, contrast, harmony and unity. The preferred hand tied almost Pinterest style is created with heavier emphasis on balance and contrast. They are made in the hand and arranged starting with greenery and largest blooms following to smallest. The goal is to achieve a full look with pops of accent colors while focusing on neutral ivories, creams and white.
The Look: Popular flowers for modern designs include garden roses, snapdragons, larkspur, Queen Anne's lace, eucalyptus and dusty miller, according to Putmon. These blooms shine best when they're featured in a design and left tall and extravagant. As far as more traditional bridal bouquets go, the most popular blooms are ranunculus, garden roses, peony, eucalyptus, dusty miller, astilbe, wax flower and roses. 
The Do's And Don'ts: Putmon's biggest tip is to consider what message you want to send with your bouquet. If you're looking to take up space with your bouquet, it's important to remember different flowers achieve different goals.