Camping
The Best Glamping Spots in Southwest Missouri
For all the best parts of the camping experience, embark on a glamping weekend! These easy-to-access, low-effort and sometimes a little luxurious spots let you enjoy the Ozarks outdoors without wrestling with a tent.
By Katie Pollock Estes
Oct 01 2023 at 8 a.m.
What kind of glamping experience are you looking for?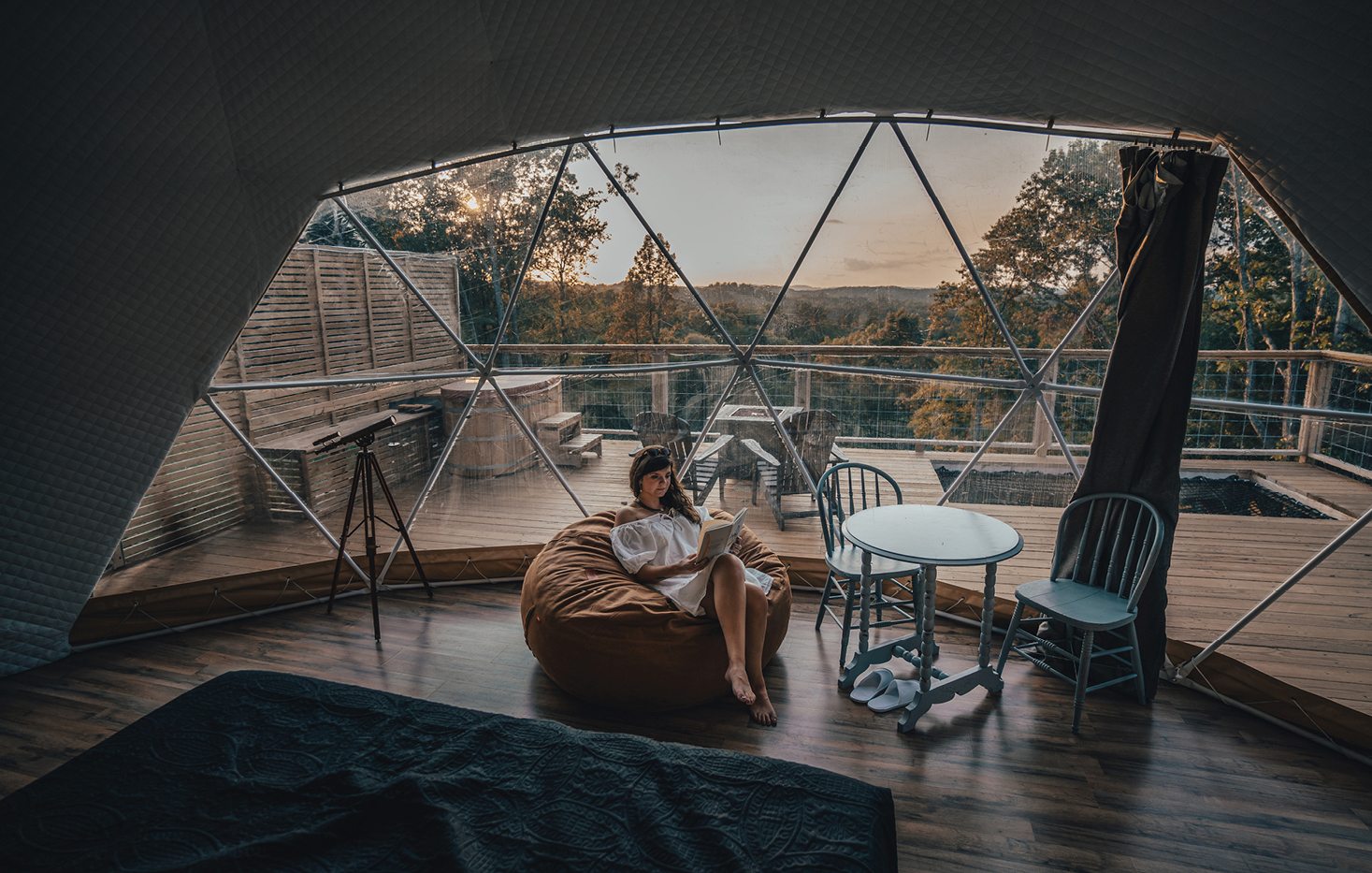 Dome Tent at Fox Wood Cabin

Who It's For: Your inner Instagrammer
Glam Scale: Romantic and glamorous
At Fox Wood Cabin, a luxe camping dome is situated on 40 wooded acres near Eureka Springs, and their decks overlook beautiful views of forested hills and a great big sky.
If you're someone who likes a vacation that's no plot, all vibes, then the set-up here will have you whipping out your phone to document all the cozy moments. There's a teeny little barrel-style cedar hot tub, a rope hammock built into the floor of the huge deck (stargazing, please), and a tent that looks simultaneously rustic and futuristic. Inside, the air conditioning, heating, mini-kitchen and private bathroom make the spot feel less like a tent and more like a cabin. Plus the perks are nice: Guests can find slippers, sleep mask, waffle-making kit, snacks and a bottle of wine or champagne when they arrive.
Because of its location near Eureka Springs, it won't be too tough to find things to do when you venture out of the dome. The scenic, hilly downtown is a fun place to wander in and out of shops and restaurants. Or you could tour the Crescent Hotel, which some say is haunted. Either way, you can end the night peeping the stars outside your cozy dome.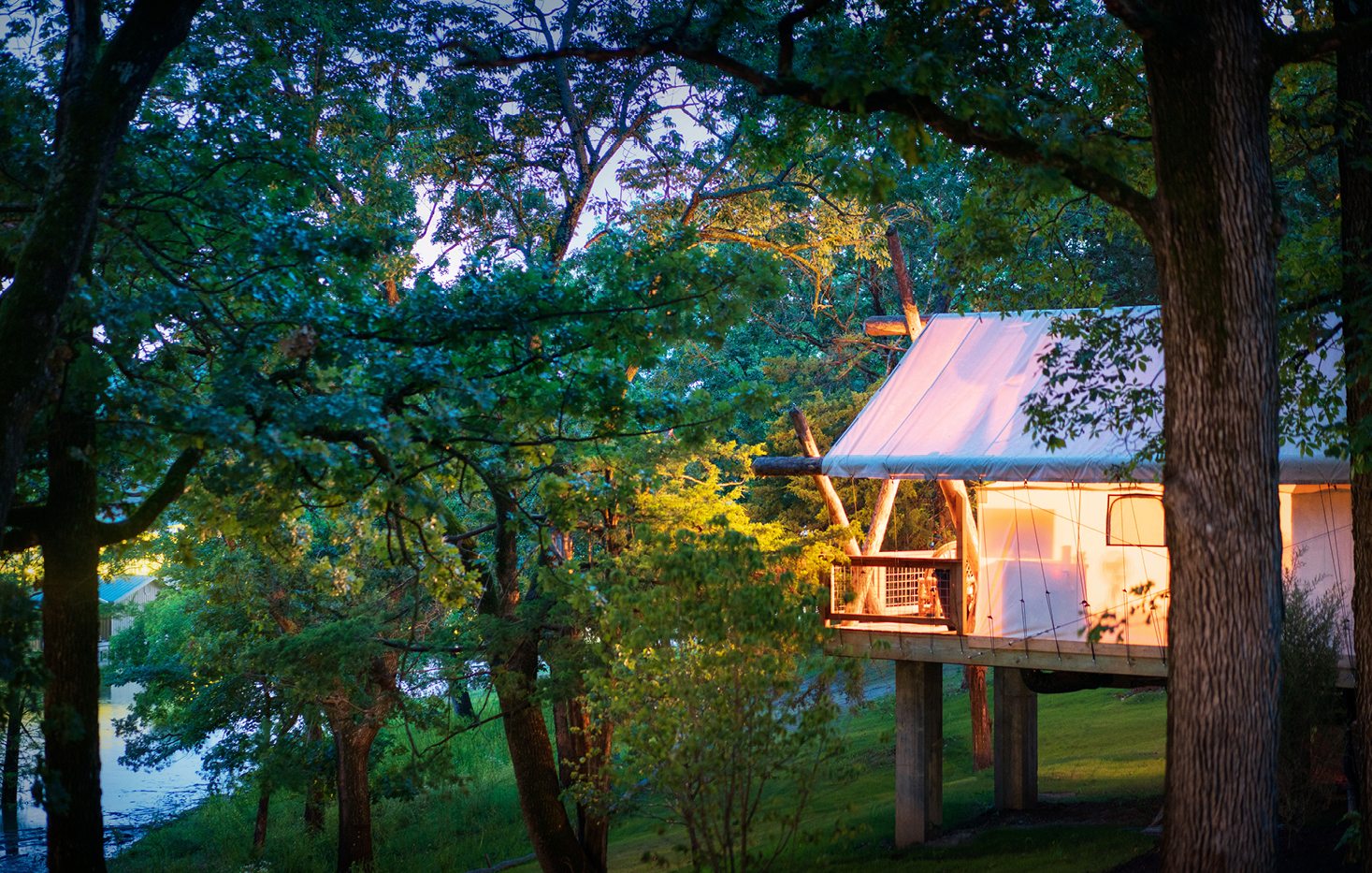 Camp Long Creek
Who It's For: Families that want hotel-like amenities and lots of activities
Glam Scale: Romantic and glamorous
Camp Long Creek is a Big Cedar Lodge property, so you know they have the whole hospitality thing down pat.
The property has a handful of cabins and glamping tent options, but our favorite is the Family Glamping Unit. It features a stone patio inside a private, fenced-in courtyard. And, adorably, that courtyard is where a tiny little kids tent is set up for the smaller members of your crew. Also in the courtyard is a firepit and an outdoor tub. Steps away, you can enter the main tent, which features a comfy king-size bed, rustic seating options and a spacious deck that looks out over Table Rock Lake. The private indoor bathroom has a stand-up shower, and the main bedroom even has a TV—all making this feel more like a hotel room.
This is a great spot for anybody who loves lake life because there's a marina on-site offering short boat rentals, including pontoons, deck boats and more. The property features a pool and hot tub, and The Canteen nearby fits the vibe; this converted Airstream camper has a walk-up window where you can order a quick meal (breakfast fare, burgers, sweet treats and more). We especially like the grilled bratwurst topped with onions and spicy mustard.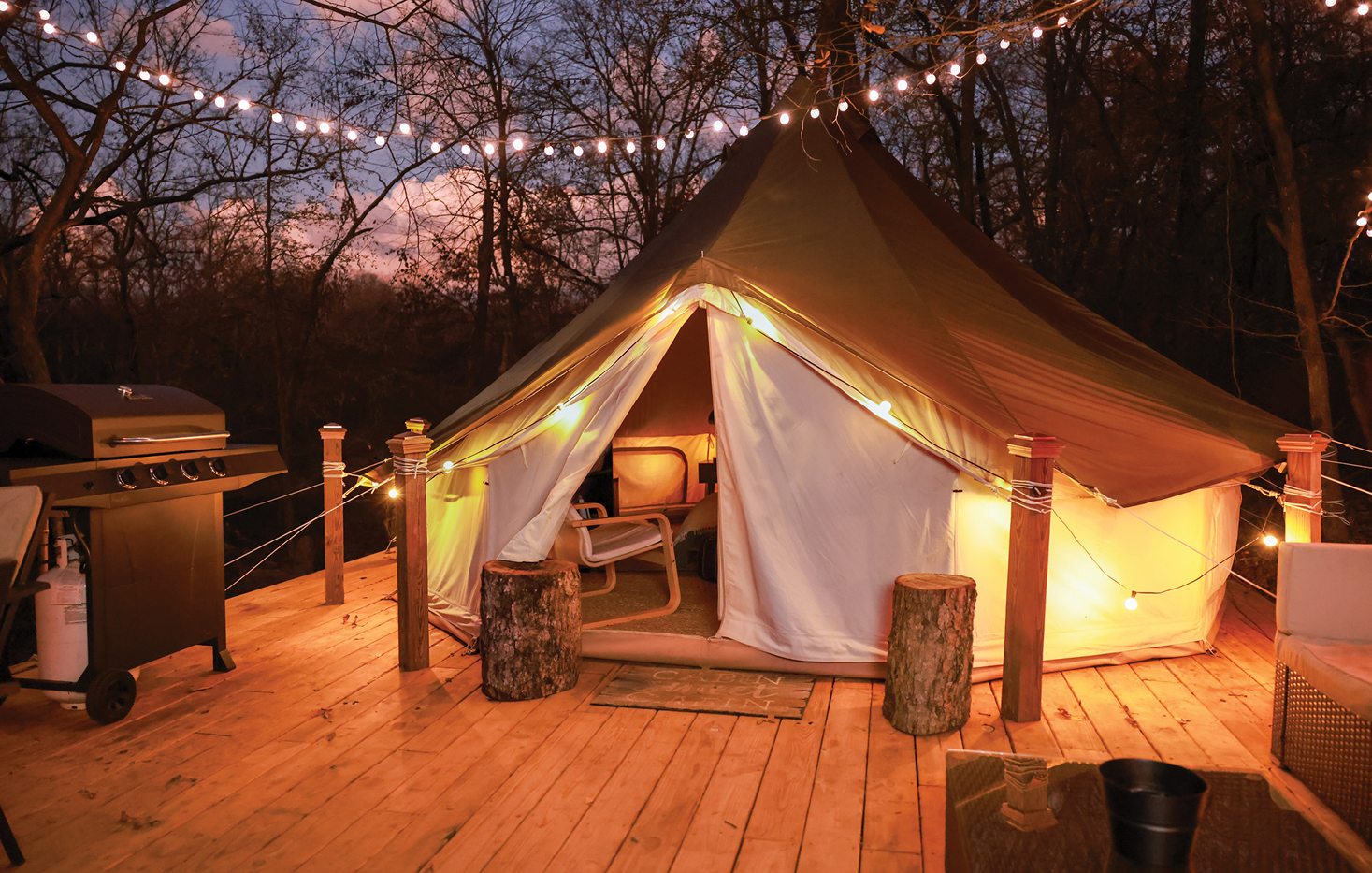 Tent for Two on the River near Prairie Grove, Arkansas
Who It's For: A couple looking for a true wilderness moment
Glam Scale: Rustic and remote
If spending time on Ozarks waterways just makes you wish you had your own private piece of the river all to yourself, then you'll probably enjoy this glamping tent tucked away in the woods near Prairie Grove, Arkansas.
A spacious wooden deck holds a canvas bell tent, dining table, outdoor sofa, grill and even some tiki torches and string lights for a little ambiance. Inside the tent, you'll find a comfy bed, mini-fridge, seating and some storage. And even though you'll be roughing it ever so slightly more at this spot than some of the others on the list (there's no air conditioning, for example), you still have access to a separate bath house with shower, sink and compost toilet.
It's the area just outside the tent that is the most enticing. There's a firepit perfect for roasting marshmallows. Comfy hammocks are strung up between some of the trees on the shady lot, and a scenic stream pools into a perfect, private swimming hole just steps away.
When you need to find your way back to civilization, Fayetteville, Arkansas, is only about 15 minutes away. There you can stock up on groceries for your tent, or find a spot to dine out.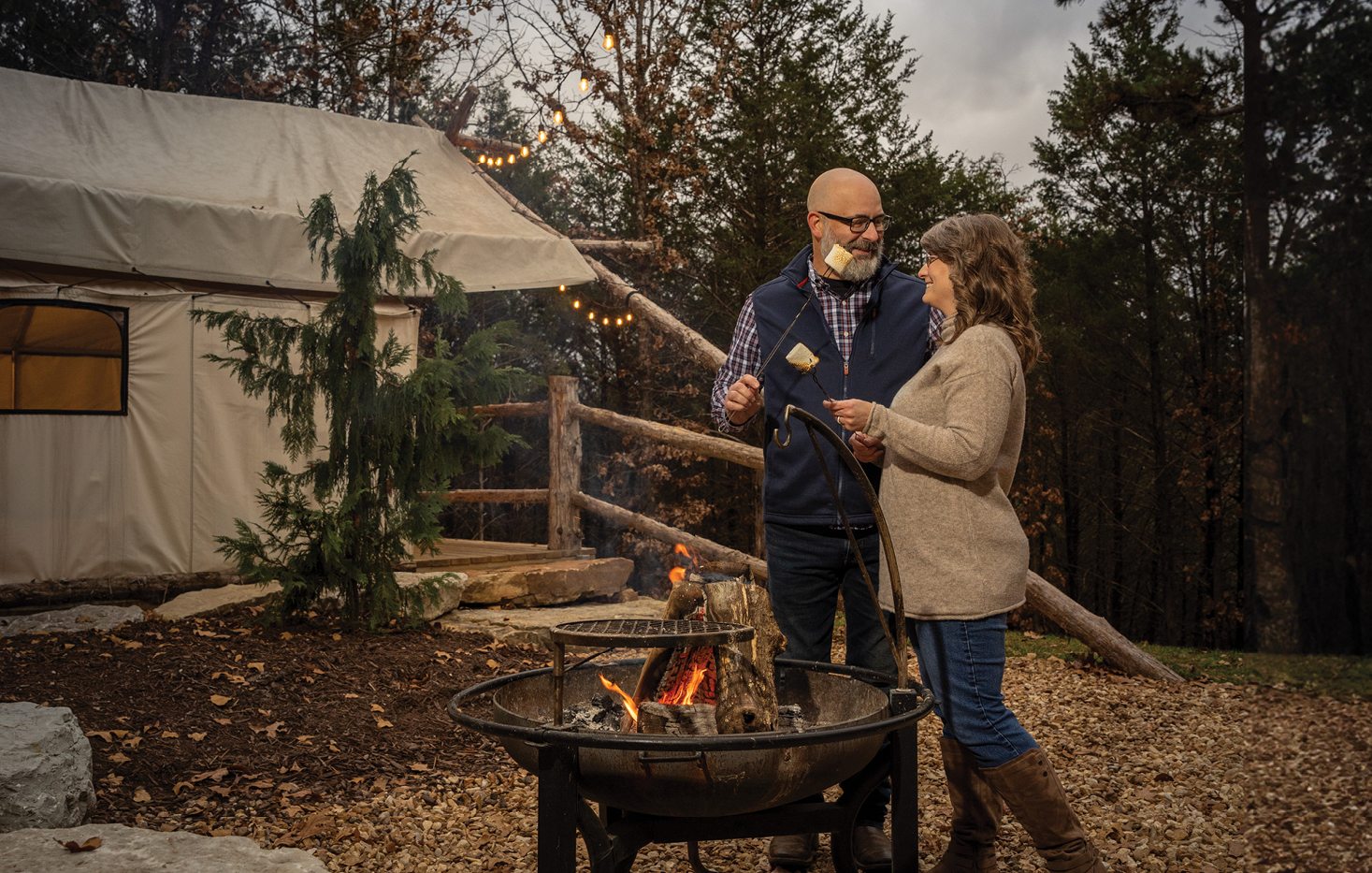 A Night Under the Stars at Ozark Mountain Adventure
Who It's For: A couple looking for a sweet place for a weekend away
Glam Scale: Rustic and remote
At Ozark Mountain Adventure, three canvas glamping tents sit on 53 secluded acres and have queen-size beds, temperature control and just enough room for two to cozy up together for a night away. Private bathrooms, firepits, a bit of outdoor space and rustic-comfy decor make this a relaxing spot to settle down for a weekend.
Ozark Mountain Adventure is located in the Branson area, so it won't be tough to find things to do. It's just east of Branson, so Lake Taneycomo and Branson Landing are just a quick jaunt away.
But if shopping, shows, boating and fishing aren't what you're in the mood for, you can just as easily stay put. There are walking trails peppering the property for a scenic stroll along wooded paths and past sites like Piper Creek and three natural scenic springs. The firepits in the yard outside each tent are perfect places to cuddle up under the stars.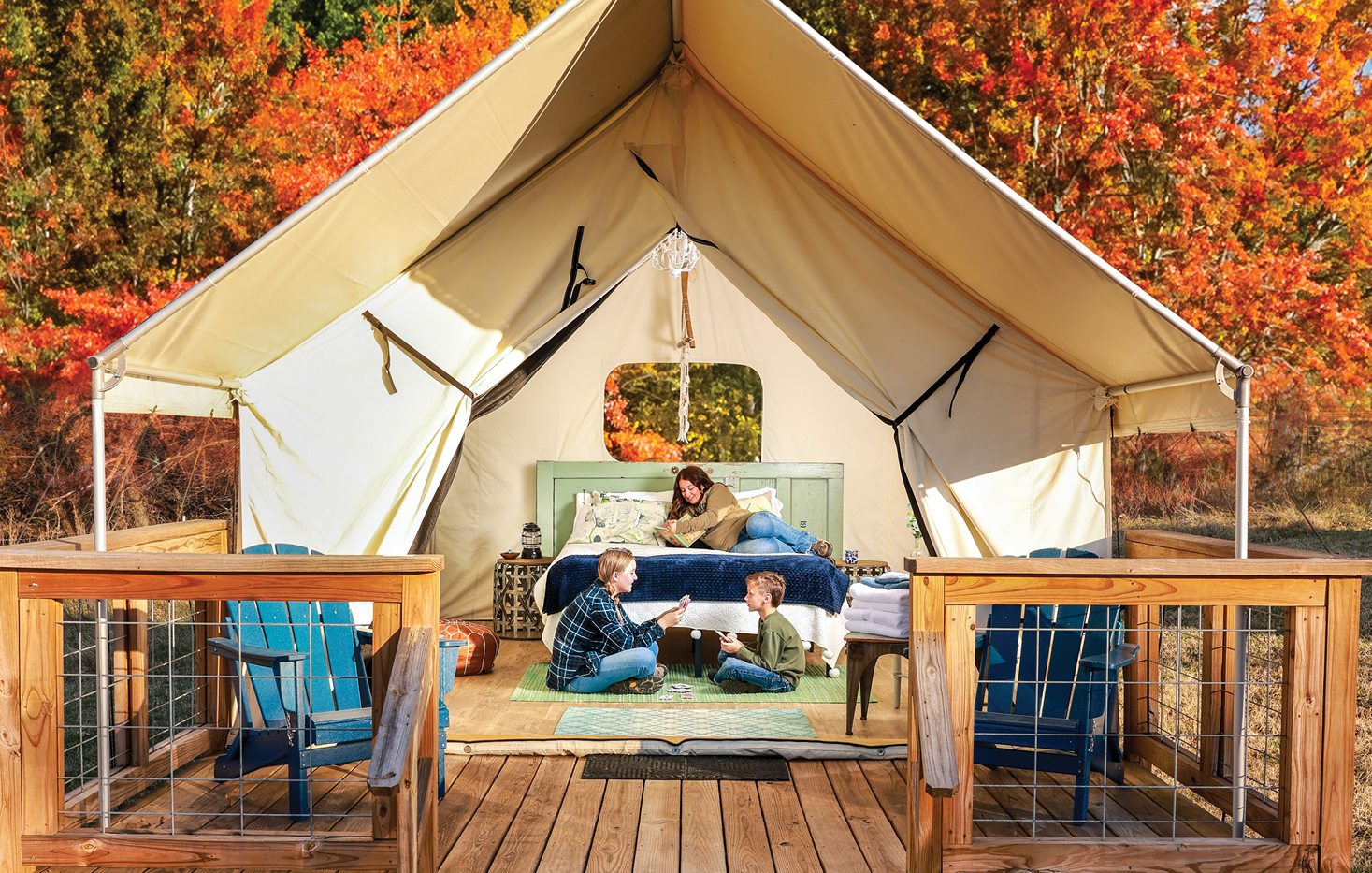 Little Sugar Farm
Who It's For: A small family that loves to play outside
Glam Scale: Rustic and remote
With a sprawling backdrop of 376 acres filled with woods, prairies and creeks, Little Sugar Farm is a family farm established more than 100 years ago. Now the family is sharing it with other 417-landers who want to get away to the wilderness for a bit. There are two types of tents on the property, and we recommend booking a safari tent. That's because they can sleep up to four people and have a view that looks out over a beautiful pasture. And there's plenty of comfort since the tent is located on a raised wooden platform and includes a firepit, Adirondack chairs and even the opportunity to book massages or a professional photography session if you want.
Located in Jane, Missouri, and nearly on the Arkansas border, Little Sugar Farm is only 20 minutes from Bentonville, Arkansas. That means you can glamp by night and explore the art, trails and incredible dining in Bentonville by day. We recommend starting the day at the Crystal Bridges Museum of American Art and grabbing a meal at Oven & Tap. If you prefer to stay on the property instead, you can opt for hiking and fishing, then wrap up the day by whipping up a meal in the outdoor kitchen.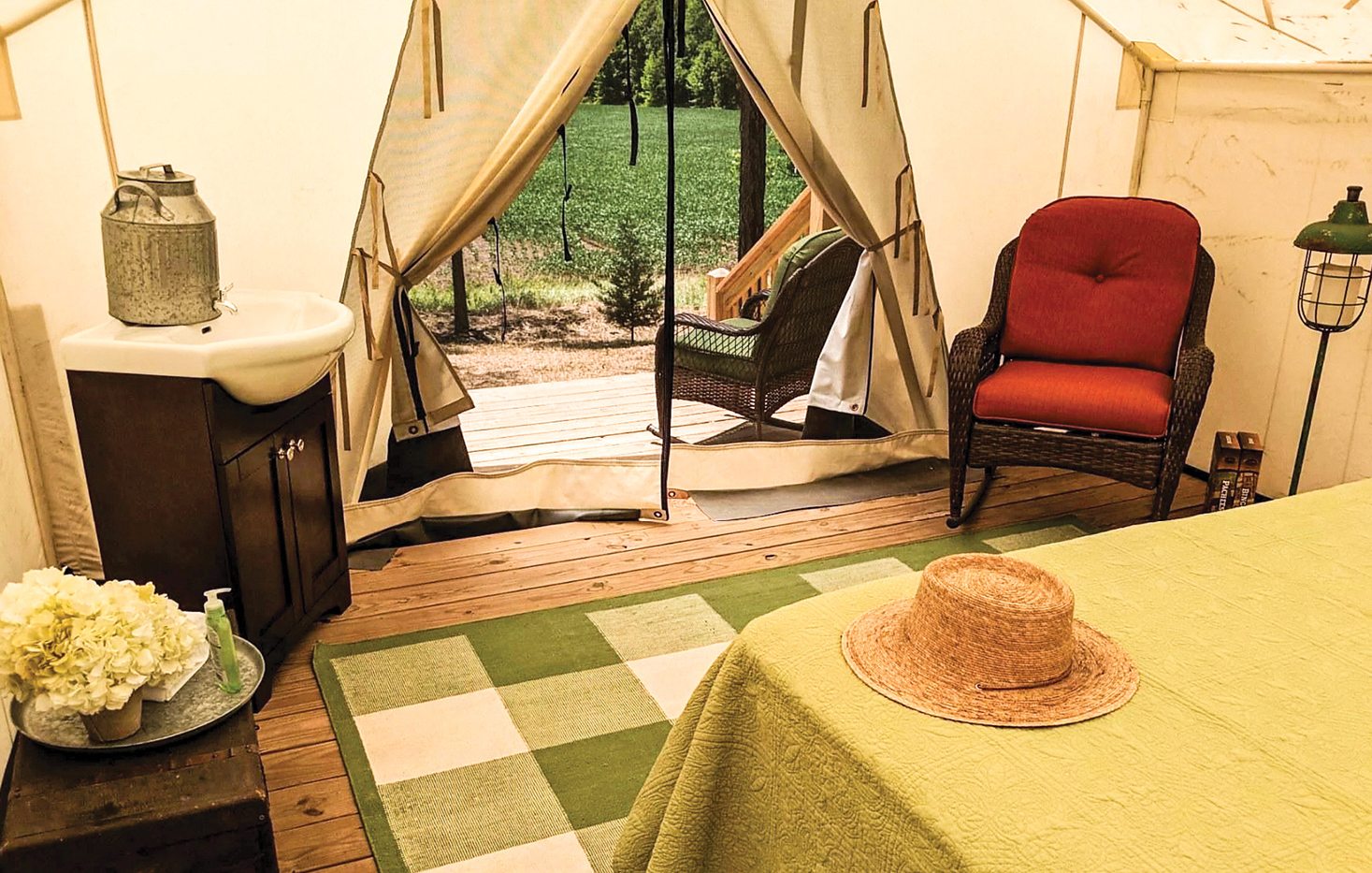 Hawley Farms Glamping
Who It's For: Someone who wants a B&B experience and camping experience combined
Glam Scale: Rustic and remote
There are a couple of lodging options at Hawley Farms, but our favorite is the Juliet Creekside. This canvas tent with a wooden front porch sits at the back of an alcove surrounded by woods. Guests have the large clearing all to themselves, and there's even room to put up a few regular tents if you're bringing a group. Inside the bedroom is a sweet space with a comfortable bed and cozy bedding. Outside is a firepit surrounded by Adirondack chairs, a grill for DIY dinners, and access to a swimming pond. As for bathrooms, be prepared to rough it a little bit with the solar shower and outhouses.
A free breakfast for two is included (for a bit of a B&B feel), and all of the tents and cabins give guests access to the Happy Hour Deck with its gorgeous views.
Kansas City is just a short distance from Hamilton, where Hawley Farms is located. That means you can have a fun city adventure during the day before glamping in the evening. Plan your trip for a Kansas City Chiefs game weekend, or bring the girlfriends for a KC shopping trip. Or, just lean into the small-town vibe in Hamilton, and explore its quaint downtown area, perfect for popping in and out of sweet little shops.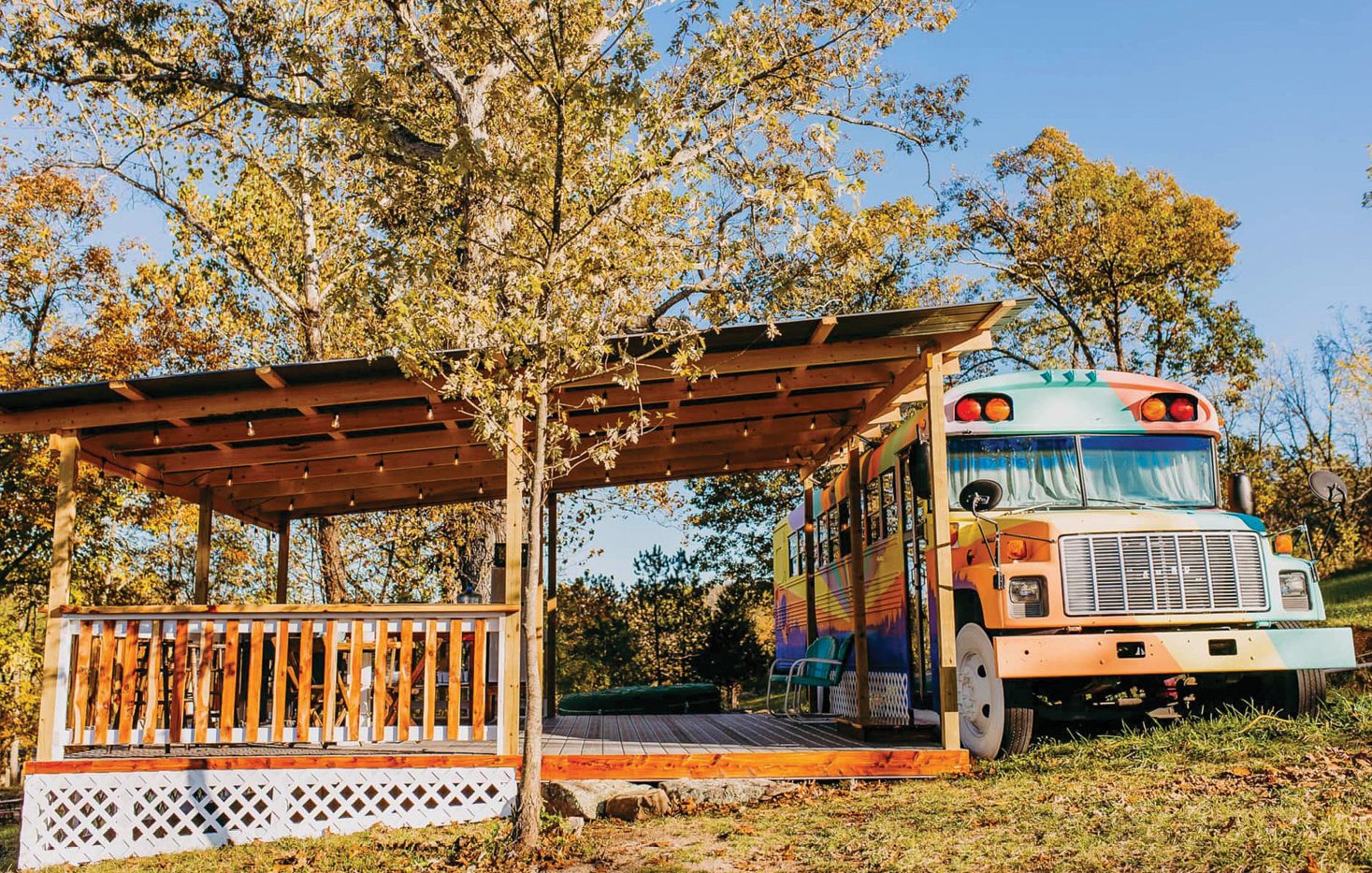 Lost Hill Lake
Who It's For: Anyone who is #vanlife curious
Glam Scale: Kitschy and fun
Converted vans and buses with brightly colored paint jobs and cozy wooden covered porches are peppered across the Lost Hill Lake property.
There are several to choose from, but our favorite is the Sunshine Skoolie. This rainbow-hued former school bus sleeps seven, so it's big enough to hold the whole family. The inside features natural light, cozy furniture and all the comforts of home, like electricity, air conditioning and heating. Unlike some of the other options on the property, though, the Sunshine Skoolie offers a bit more space to yourself thanks to a private outdoor kitchen and a private inflatable hot tub. Lost Hill Lake also has a fire pit, dry sauna, hiking trails and swimming lake on-site and access to Meramec River views. You can even book a Thinking Rock Picnic excursion that includes a short hike (or ATV ride, if that's more your speed) to a sweetly decorated picnic set-up.
If you opt to venture off-property, Lost Hill Lake is located in St. Clair, which is just west of St. Louis and very near the riverside town of Washington, Missouri, where there's a sweet downtown to explore and some wineries too.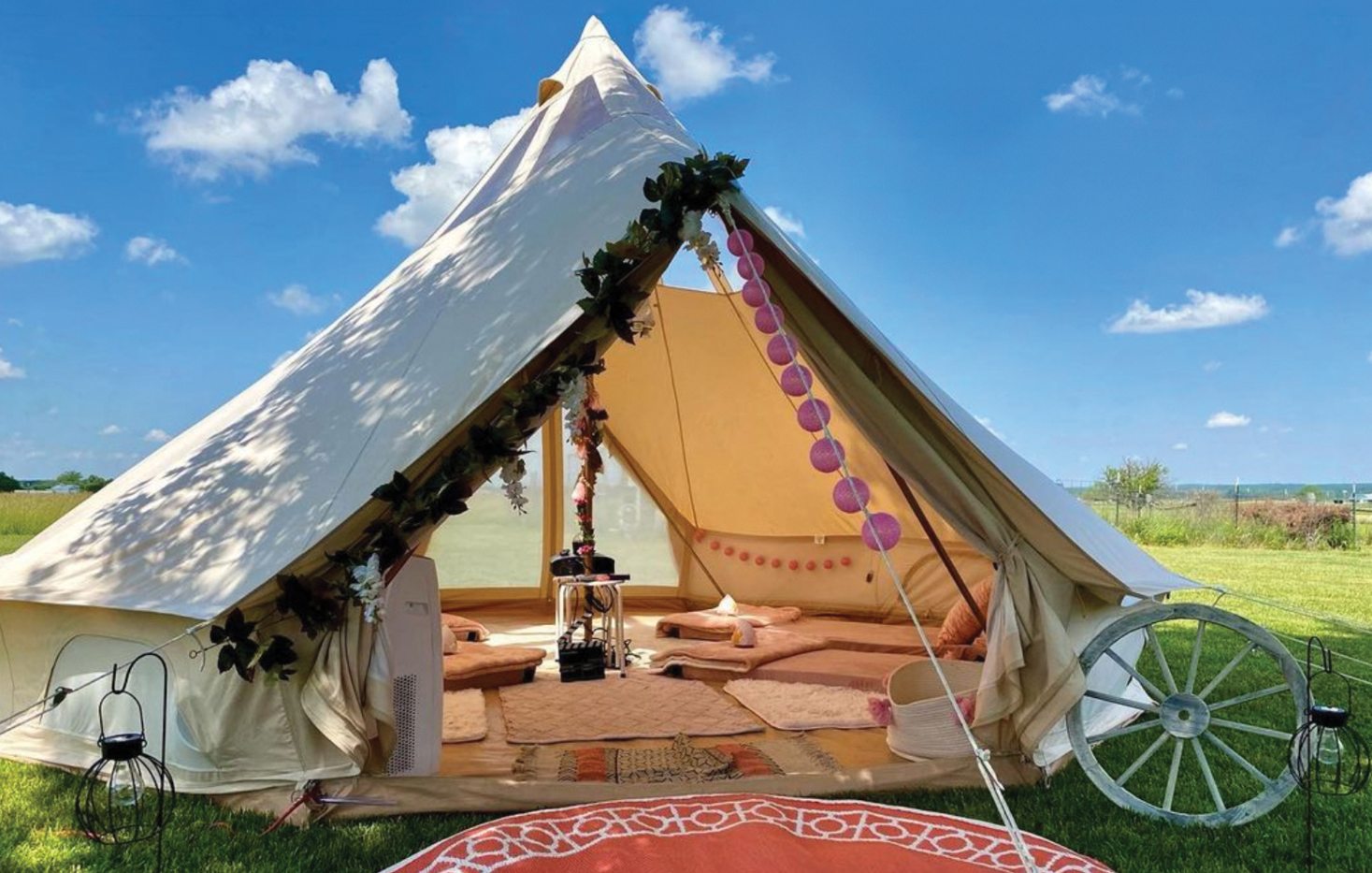 Ozark Valley Glamping
Who It's For: Campground fans who want a more upscale (and hands-off) experience
Glam Scale: Kitschy and fun
This spot's a little different than some of the others on the list. You don't go to Ozark Valley Glamping. Instead, Ozark Valley Glamping brings the tent to you.
You pick your site, and they'll deliver and set up a canvas bell tent, airbeds, bedding, table, seating, decor, lawn games and other goodies. So if you're the type of person who has a favorite park, a favorite campsite or a favorite scenic location (but you're absolutely not interested in sweating it out while you wrestle with tent set-up), then you can still spend the night at that vista you love. Additionally, Ozark Valley Glamping can set the tent up on your own property—great for kids' slumber parties.
If you're looking for a place to setup, we recommend checking out Table Rock Lake State Park. The park features campgrounds in super-close proximity to the lake, so you'll get pretty views of the scenic waterway while you spend the night cozy and comfy in the bell tent. Just be prepared for jealous glances from the pop-up tents next door.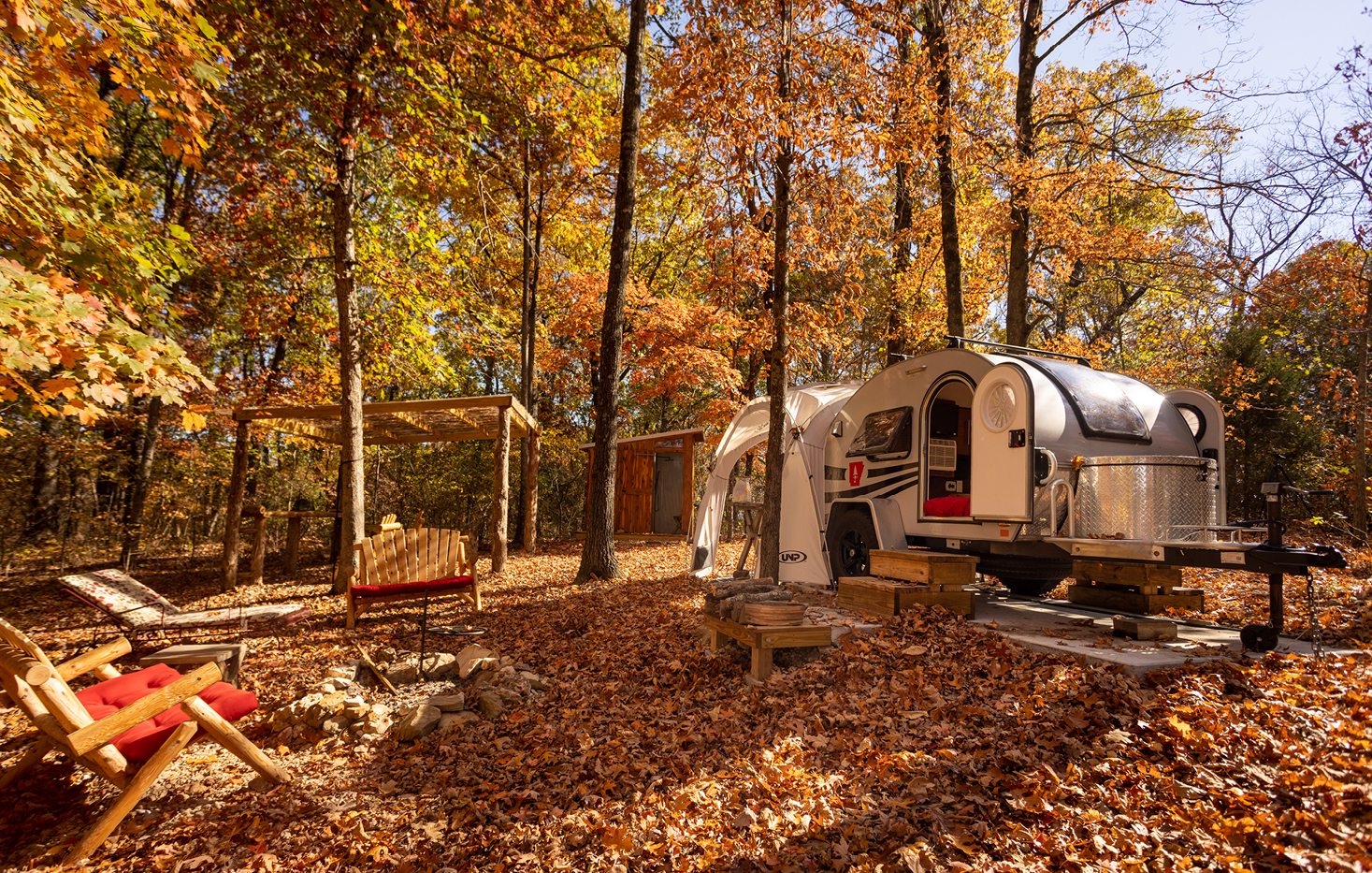 Teardrop RV Set-Up

Who It's For: Aspiring RV-ers who just want to take it easy
Glam Scale: Kitschy and fun
We love this sweet set-up for anybody who is interested in trying the very-much-trending-right-now RV camping vibe, but who isn't sure they're ready to tow a trailer around or deal with the set-up and tear-down.
Here, a sweet little two-person teardrop travel trailer is already set up and ready to go in a cozy clearing in the woods. The site is located near Mark Twain National Forest, in fact, so it boasts a backdrop of soaring trees that explode with color in the fall. There's a bathhouse on-site with a private bathroom and shower. And while the space inside the petite little teardrop camper might be small, it's also cozy with temperature control and soft bedding to snuggle up in. Outside, there's a firepit, outdoor kitchen galley and plenty of outdoor furniture to sit in while you enjoy your morning coffee under the trees or a nightcap under the stars.
You can find the teardrop camper in Cassville, Missouri, which means it's in pretty close proximity to Roaring River State Park. Take a day trip there to explore the park's hiking trails, visit a natural spring or take a peek at the trout hatchery.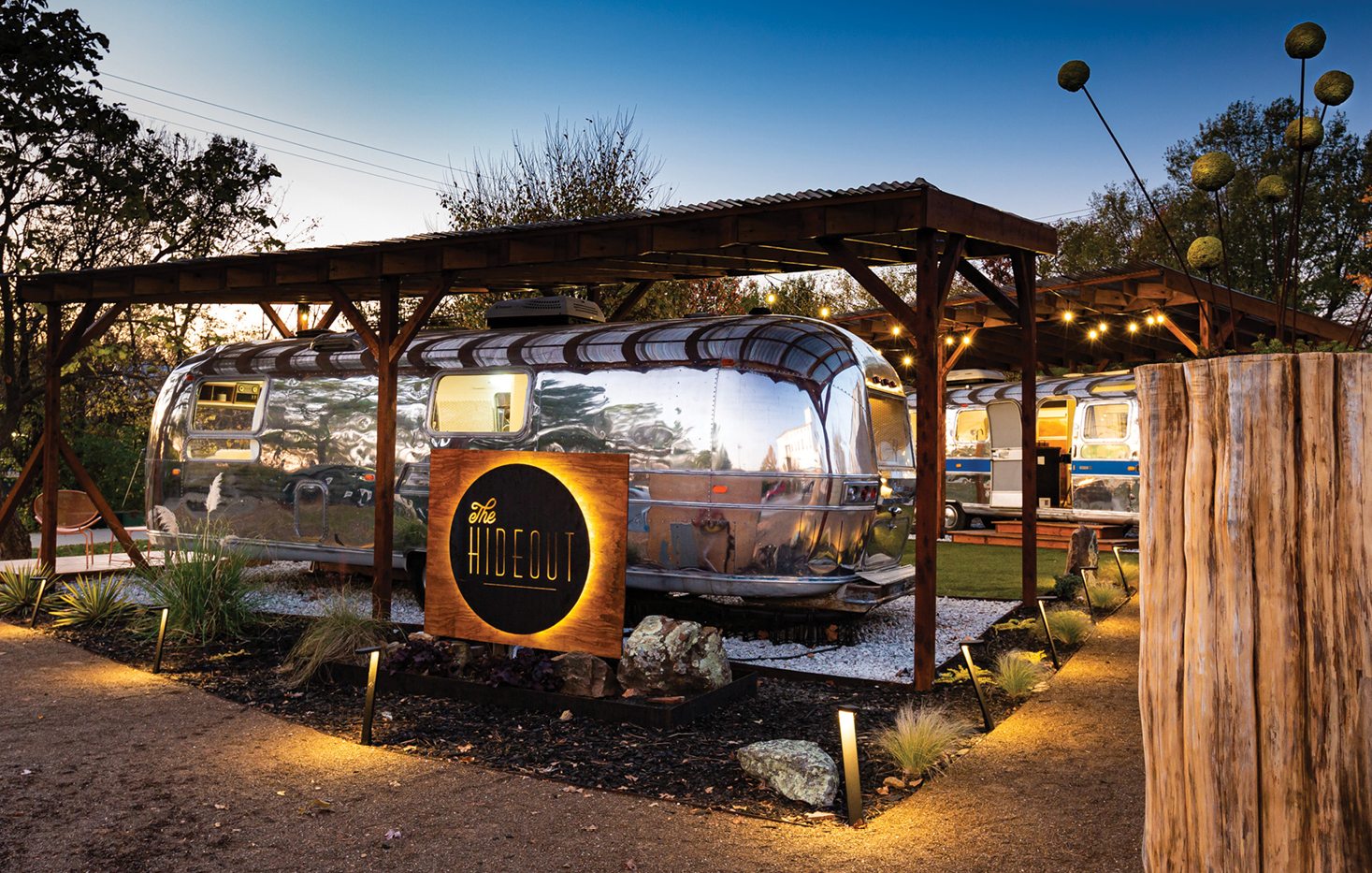 The Hideout
Who It's For: Football fans in need of a sweet place to stay after a Razorbacks game
Glam Scale: Kitschy and fun
This little cluster of two shiny, remodeled Airstream campers surrounds a cozy firepit, twinkling string lights and a green-forever-no-matter-what patch of artificial turf. And its location in Fayetteville, Arkansas, makes it the perfect not-quite-camping destination for college football fans. You can pre-game outside the camper (it's your own private tailgate!), head to University of Arkansas to see the Razorbacks play, then head back to the camper to snuggle up in its super-cozy interior.  One of the Airstreams has an L-shaped sofa covered in soft pillows that offers plenty of seating around the bed, while the other end of the camper has two bunks decked out in lush bedding and a clean, private bathroom. The second camper is equally cute, with a double bed, sofa, small kitchen and sizeable bath.
Less remote than other glamping sites on our list, The Hideout is located in the heart of Fayetteville, within walking distance of the Razorback Greenway Trail for when you want to stretch your legs, the airy and Instagrammable Arsaga's Mill District coffee shop for your caffeine fix, and Wood Stone Craft Pizza for a tasty dinner.