Retailers
Tips and Insights from The Bonsai Guy
The story of how a Springfield veteran turned a therapeutic treatment into what just might be the most calming hobby ever: bonsai.
by Chris Cox, as told to Rae Swan Snobl
Mar 2021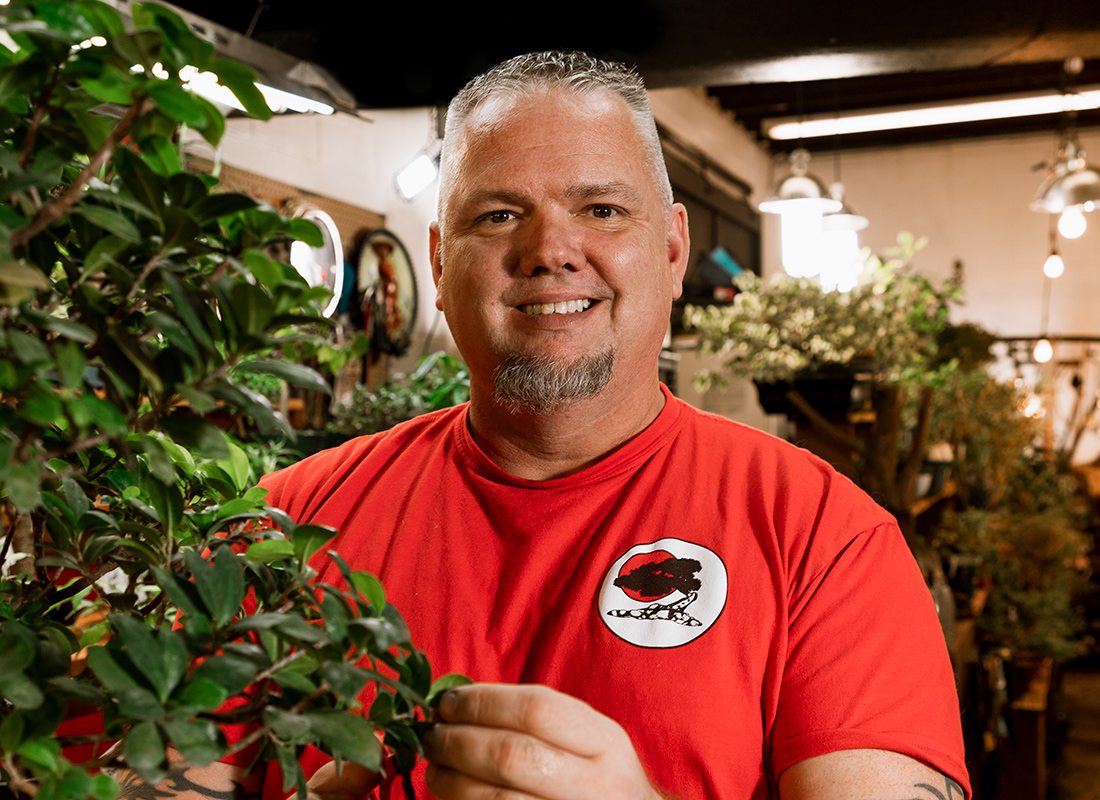 When I came back from [a tour of duty in] Afghanistan in 2012, I had PTSD. I went through many therapy sessions and was nudged into horticulture therapy. I did not think it was for me but I began working at a greenhouse and discovered I had an appreciation for trees. I was introduced to bonsai in 2014 and fell in love with the art.
Bonsai is the art of growing certain trees and shrubs in small, shallow containers. Through careful and precise training and pruning, the plant is slowly shaped and manipulated to look like an older, mature tree. I honed my style of bonsai art through reading many books, watching videos, researching online and working with other artists.
From 2018 to 2019 I shared bonsai at vendor shows around the Springfield area, and in 2020 (before knowing about the pandemic), I decided to open a shop and nursery in downtown Springfield called The Bonsai Guy (600 W. Walnut, Springfield, 417-848-9569). It sells trees and supplies, offers personal and group workshops, and has a "lease" program for large bonsai for homes or offices. Most importantly, it brings nature into downtown.
There are many benefits to learning the art. Bonsai gave me an outlet to focus my energy. I adopt my mindset from an old Japanese philosophical saying, "Bonsai no kokoro," which means bonsai created in your heart and from a veneration of nature has no ego. Bonsai teaches me patience. I absolutely love sharing my passion with others and inspiring others to start their own journey with the art.
Four Tips for Caring for Your Bonsai Tree
1. Water and Light
A bonsai needs more frequent watering than a usual house plant as it has a large drainage hole and should not sit in water. The soil has different rocky elements to allow drainage. Lighting depends on the type of tree. Many indoor bonsai can thrive with regular indoor lighting.
2. Temperature
Some of the most popular bonsai are tropical trees and will need to be protected in cold weather. These bonsai can be outdoors during the late spring and summer but must come inside once temperatures drop below 60 degrees. Indoors, ensure the bonsai is protected from cold windows, fans or heat.
3. Trimming
The fun part is trimming and turns this hobby into art. Certain bonsai need trimming more often than others. A simple sharp pair of scissors can work. I sell different types of tools specific for bonsai.
4. Pests
Indoor bonsai do not have the natural predators to keep the pests away. The most common culprits are aphids, mealy bugs and spider mites. I sell products specifically for these pests that will ensure your bonsai can flourish during the winter months and indoors.