Things to Do
The Best Places for Scenic Cycling in Southwest Missouri
No matter your level of experience, you can bike through picturesque parts of 417-land this season. Try these routes for changing fall colors you won't forget.
By Michelle Lewis
Oct 2022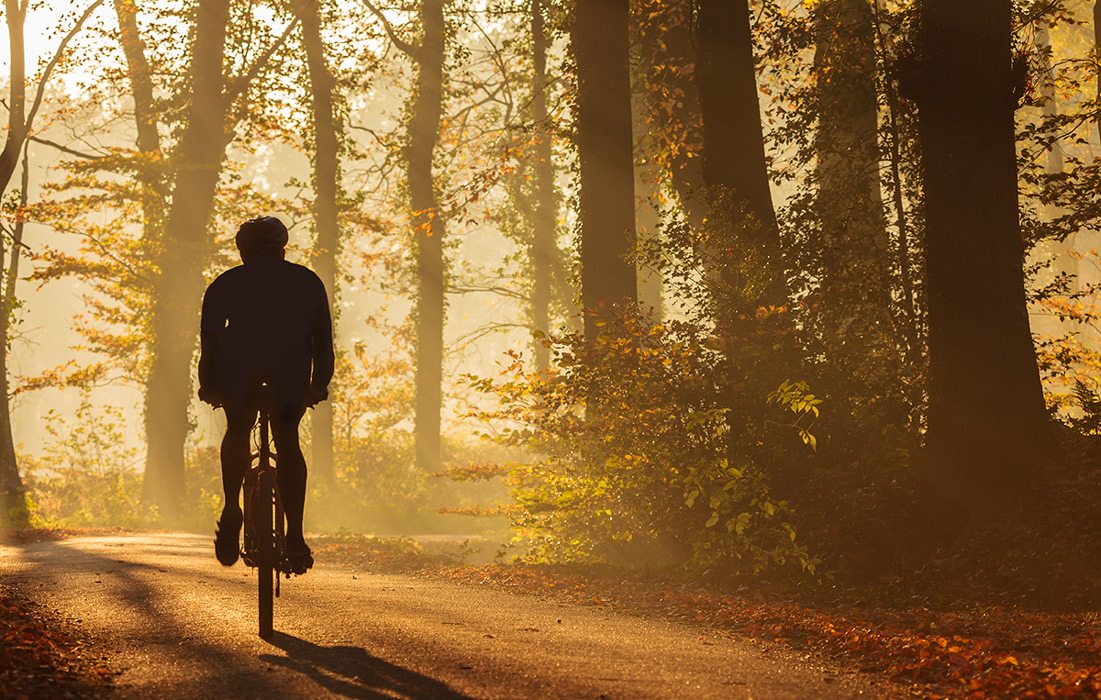 For Cycling in the City 
Phelps Grove and Rountree Neighborhoods
Some of the best fall colors in Springfield, Missouri can be found in neighborhoods. For a particularly remarkable ride, explore the Phelps Grove and Rountree neighborhoods. Start at Phelps Grove Park, a spot that has plenty of beautiful trees both in the park and around the neighborhood. Pass the Springfield Art Museum and make your way west on East Bennett toward Rountree. See historic homes and clusters of trees as you head north on South Pickwick Avenue. Take a break for a drink or bite to eat when you reach the shops located near the intersection of Pickwick Avenue and Cherry Street.
For the Whole Family 
Nathanael Greene/Close Memorial Park
The paved paths around Nathanael Greene/Close Memorial Park are perfect for kids' little legs. The minimal inclines and smooth ground let young bikers enjoy their ride while the gardens and tree canopy offer incredible views. Bonus for fall: At Nathanael Greene, stunning colors come from not only trees but also plants and shrubs. If anyone needs a break, the park offers shade and most importantly: bathrooms inside the Springfield Botanical Center. And if you're up for a trek, start at South Creek Greenway, which begins at the McDaniel Park trailhead and connects to Nathanael Greene.
For a Mountain Biking Adventure
Fellows Lake Trails
Fellows Lake has long been considered a hidden gem. Just 20 minutes north of Springfield, the area is robust with wildlife and is a perfect place to see fall colors in a natural setting. The trails at Fellows Lake, which are part of the Dirt 66 Master Plan that will ultimately span from Fellows Lake to the Sac River Mountain Bike Trails, are professionally built and primarily geared towards beginners, though there are some areas that are considered intermediate. Start with the Uncle Frank Trail and explore the area as you bike through wooded areas and look out over the lake. 
For a Galloway Day Out 
Sequiota Park to Galloway Creek Greenway 
Sequiota Park is a great place to visit all year long, but in the fall the colors of the changing maple and oak trees are beautiful. The central location of the park creates a short drive time, and it's one of the best places to access the scenic Galloway Creek Greenway trail. Surrounding the park and along the trail there has been an increase in development, making the area a great place for a casual fall bike ride. Start at Sequiota Park and follow the Galloway Creek Greenway toward the Springfield Conservation Nature Center, making stops for snacks and shopping along the way. 
Looking for More Great Trails?