Life
Lakeside Personality
Every piece of Table Rock Lake is a little different. Here's how we break it down by each area's unique vibe.
By Peyson Mecke
Jun 2023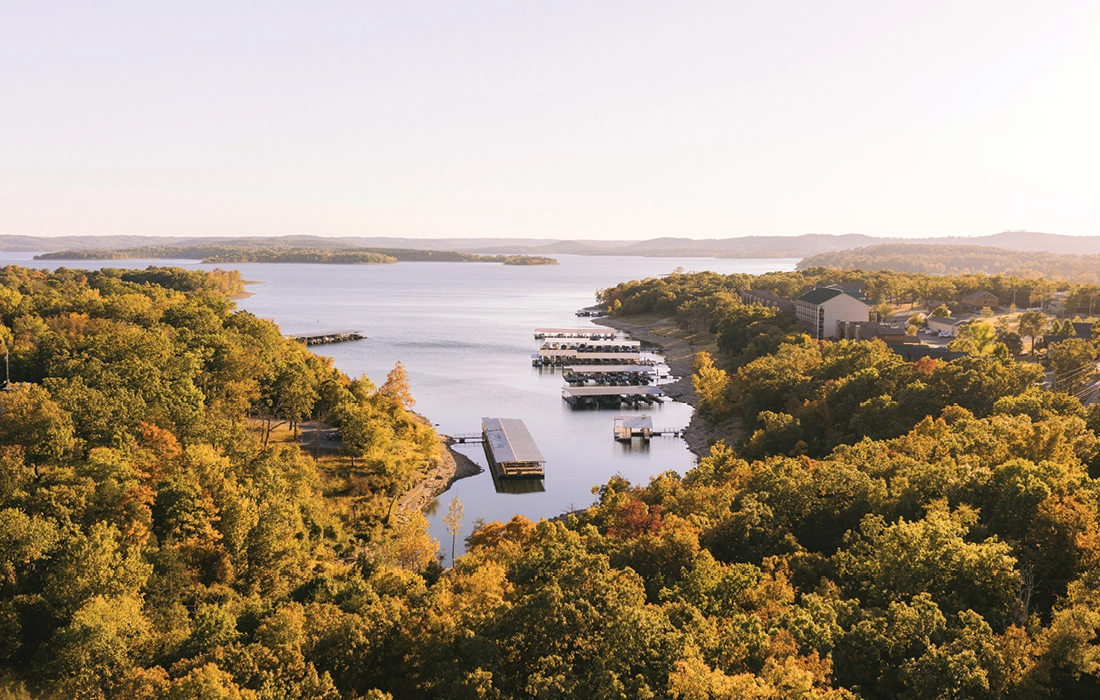 Big Personality at Table Rock Lake

Every piece of the lake is a little different. Whether you're looking for a little peace and quiet or want to be in the spot that's the life of the party, chances are, there's a lake town that fits your vibe.
Fun and Convenient
Kimberling City
In just 45 minutes, you can travel from south Springfield to Kimberling City. A straight shot down Campbell—which turns into Hwy 160—takes you all the way to a town that was settled as part of the dam construction by the U.S. Army Corps of Engineers back in the '70s.
Right before you cross the bridge is the main part of Kimberling City. This part of the lake has grown up in the past few years, with new restaurants seemingly popping up each season. Harter House is the main grocery store in town and offers a fresh butcher counter perfect for picking out what you'd like to grill for the night, or stop in for dinner at one of many local restaurants.
Most of the residential areas of Kimberling are nestled in coves off the water, with one of the most popular areas being Joe Bald Road that winds into multiple neighborhoods. There are also several small, lakeside resorts close to town and further out that are perfect for a weekend filled with fishing or a family getaway.
Port of Kimberling Marina is located just across the bridge, serving as the gateway to all things water fun. Kimberling City has much to offer that can be accessed by boat or land, making this a quintessential town on the water.

Center of the Action
Indian Point
This part of the lake is at the center of it all—on land and water. Indian Point is near attractions like Silver Dollar City and the happenings of Branson while providing a close-to-nature experience. Classified as a village, Indian Point is a community through and through. Once you turn off Highway 76, the village branches off onto multiple coves in the middle of the lake.
With dozens of lodging options of all sizes and experience types—from quaint cabins right on the water to resorts with endless amenities—there are virtually infinite getaways waiting for you. While close to town, Indian Point has several restaurants and food trucks tucked away on resorts that don't require a far drive. There are also three marinas located on the water. Each marina offers lake access, boat rentals and full-service convenience stops to fill up your tank (and your cooler) for a day on the water. All of the vacationing also makes Indian Point a great community to settle down in and purchase your very own lake home.

Quiet and Calm
Cape Fair
If you're looking for solitude, Cape Fair is your spot. Located at the furthest north area of Table Rock Lake on the west point of the James River Arm, Cape Fair is mostly residential with some smaller mom-and-pop resorts. This is a favorite location on the lake for leisurely boaters and fishermen alike.
Cape Fair Marina is a sought-after destination for those coming from the south part of the lake, but isn't a spot to miss for those local to Cape Fair either. The marina is full service (including a restaurant), carries tackle and live bait and has boat and slip rentals for a all-inclusive one-stop fishing spot.
When you're in town, you can't miss sitting down for a meal at Flat Creek Restaurant. Known for its homestyle cooking, Flat Creek has a large menu and specials ranging from all-you-can-eat catfish to its famous pork tenderloin dinner. There is also a family-friendly recreation area that offers 45 campsites, including some right on the water with beautiful views of the lake. You can launch your boat for a day of fishing or watersports, or enjoy the onsite swimming area.While a quieter area of the lake, Cape Fair has everything you need with a slow pace that lets everyone in town run on lake time.