Life
Play for a Day at Table Rock Lake
If you know, you know. Or as the kids say, IYKYK. These are a few spots on Table Rock Lake that you can't miss checking out.
By Peyson Mecke
Jun 2023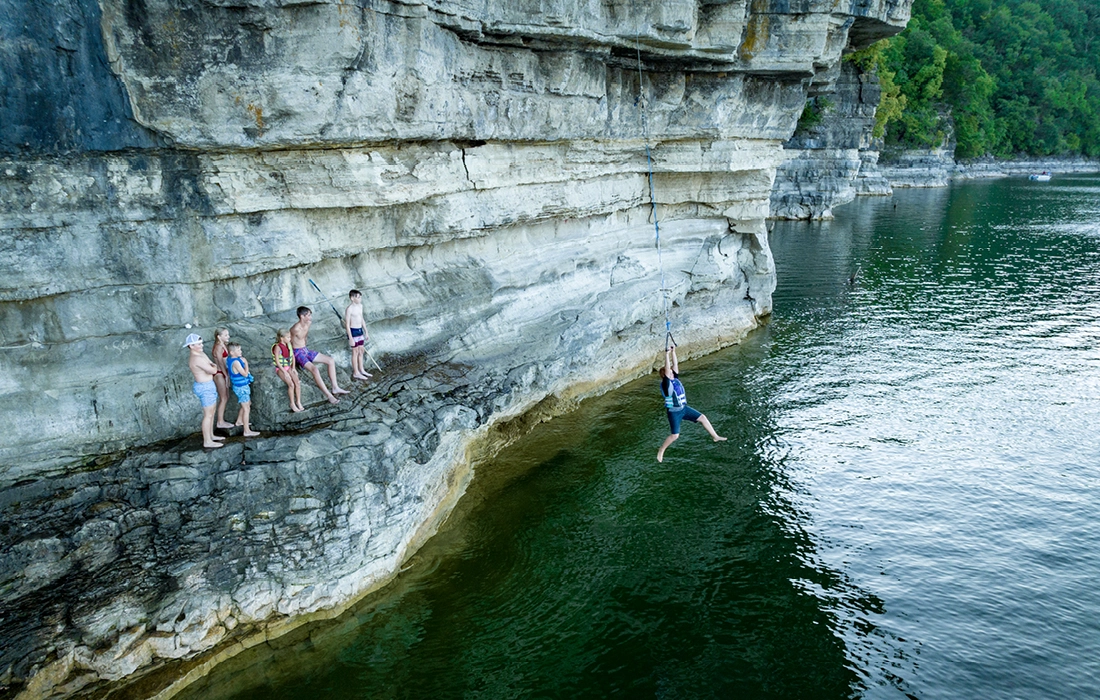 The Swings
A sheer wall of rocks line a cove on the lake that is prime to tie up boats, swim in the water and—the best part— climb up to the swings. A ski rope hangs from the middle of the rocks and lines of kids and adults alike wait to swing into the water.
Find it: From Port of Kimberling Marina, go east under the bridge. Follow the lake past Mill Creek Campground and Joe Bald Park.
The Jumping Bluff
There are lots of cliffs great for jumping off on the lake. If you're looking for a specific spot, try the jumping bluff on the south side of the lake with a variety of different levels. Be sure to put on your water shoes!
Find it: Go north from Bent Hook Marina. Once you enter the main channel, it will be up ahead and on your left.
Cricket Creek
Located on the Arkansas side of the lake, Cricket Creek Park offers a public swimming beach, tent camping and RV sites and might be the most scenic park on the lake.
Find it: 20515 Boat Dock Rd. W., Omaha, Arkansas.
The Facebook Group
If you want to be in the know, join the Table Rock Lake Group on Facebook for the inside scoop on local recommendations and more. Group members cover all areas of the lake.
Find it: Online on Facebook.
Cow Creek Slalom Course
Experienced skiers look no further than Cow Creek. This cove has a slalom course for you to perfect—or learn— your racing skills.
Find it: Located between Port of Kimberling and State Park Marina on mile-marker 6.
Hideaway Marina
As the first marina on Table Rock, Hideaway is on the north part of the lake toward Cape Fair; stop for gas and a bite to eat.
Find it: 1810 Hideaway Road, Galena.