Things to Do
Where to Go Horseback Riding in the Ozarks
Get ready to saddle up and go horseback riding through the Ozarks. We found four great places to give it a try.
By Jo Jolliff
Nov 2022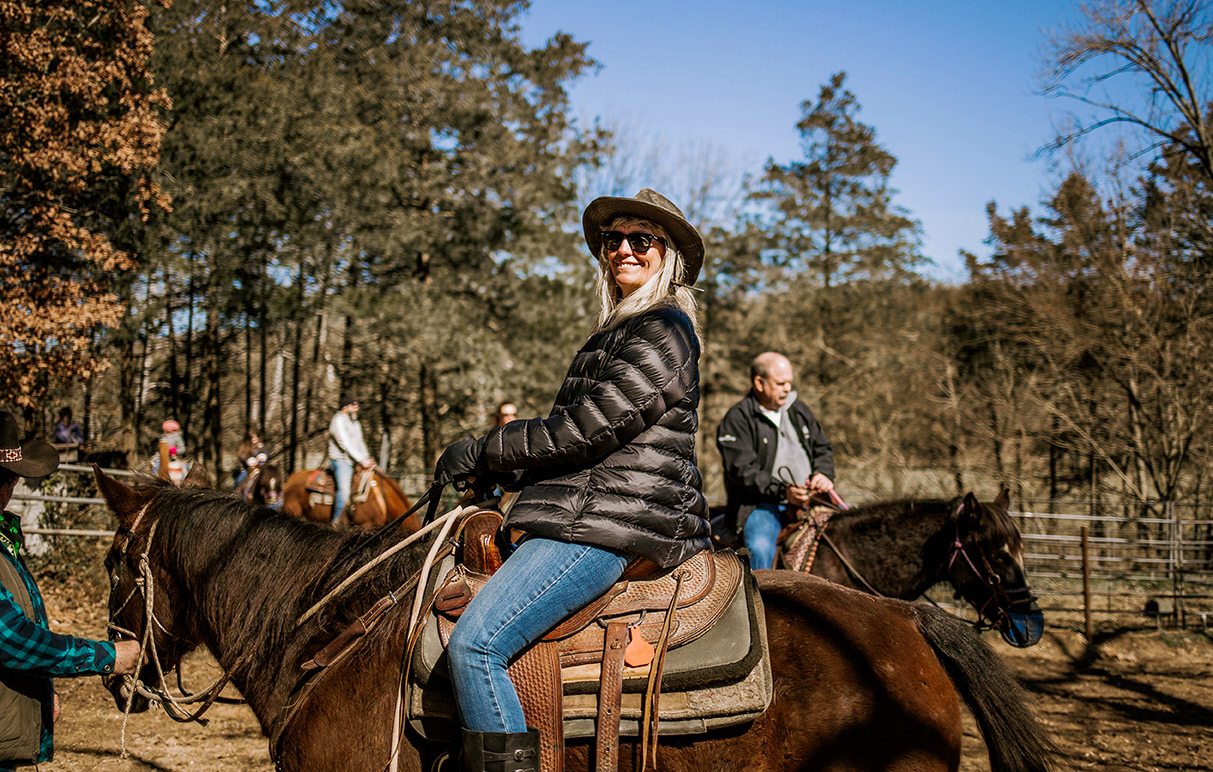 For the New Inexperienced Riders 
Bear Creek Trail Rides
3400 US-65, Walnut Shade; 417-337-7708
This easy ride is for those looking not to stray too far off the trail. Bear Creek's well-trained horses are beyond friendly and used to inexperienced riders. The horses tame and gentle nature combined with the experienced staff and shaded trails makes this the perfect spot for timid, new riders. Despite this being an easy ride, you certainly won't get bored; the 330 acres of privately owned land include breathtaking views along rolling hills perfect for trotting to get your heart rate up and a water crossing perfect for splashing.
For the One Wanting A Relaxing Ride
37 North Expeditions
417-501-5455
On Saturday, November 12, at 10:45 a.m.–4:15 p.m. you can experience horseback riding at its finest. 37 North Expeditions takes care of all the logistics and planning so you can focus on simply enjoying yourself. Their experienced guide will lead you through fields, woods and creeks on a relaxing ride with beautiful views of the Ozarks' fall scenery. After the ride they will drive riders to Bear Creek Winery for wine tasting with delicious treats including rustic pizza.
For the Casual Horse Explorer 
Valley Water Mill Equestrian Center
4007 N. Farm Rd. 171, Springfield; 417-833-3291 
For those wanting to test the waters with classes and training before investing time and money into the hobby, the Valley Water Mill Equestrian Center offers a wide variety of options to help get riders more acquainted with horses. This public use equestrian facility is home to introductory horsemanship classes, riding lessons for all ages and educational field trips. This gives kids the opportunity to experience life in the barn by seeing the work that goes into it and discovering for themselves if it's a true interest they're willing to scoop poop for.
For the Serious Horse Lover 
Sac River Stables
5798 N. Farm Road 125, Springfield; 417-742-4200
For those wanting to dive deeper into their knowledge of horses, Sac River Stables offers riding lessons and horse training. This gives riders the chance to delve into the details and see all of the behind-the-scenes work before committing to horse riding as a full-time hobby. For those more comfortable around horses, Sac River Stables is a family farm bordered by the Little Sac River, giving riders opportunities for more intense equine adventures. They also offer birthday parties and day camps for the horse lovers who just can't get enough time with the horses.