Things to Do
Outdoorsy Trip to Bella Vista, Arkansas
Take a day trip to nearby Bella Vista, an Arkansas resort community with tons of outdoor fun, great cycling trails and an artsy personality.
By Sony Hocklander
Jul 2023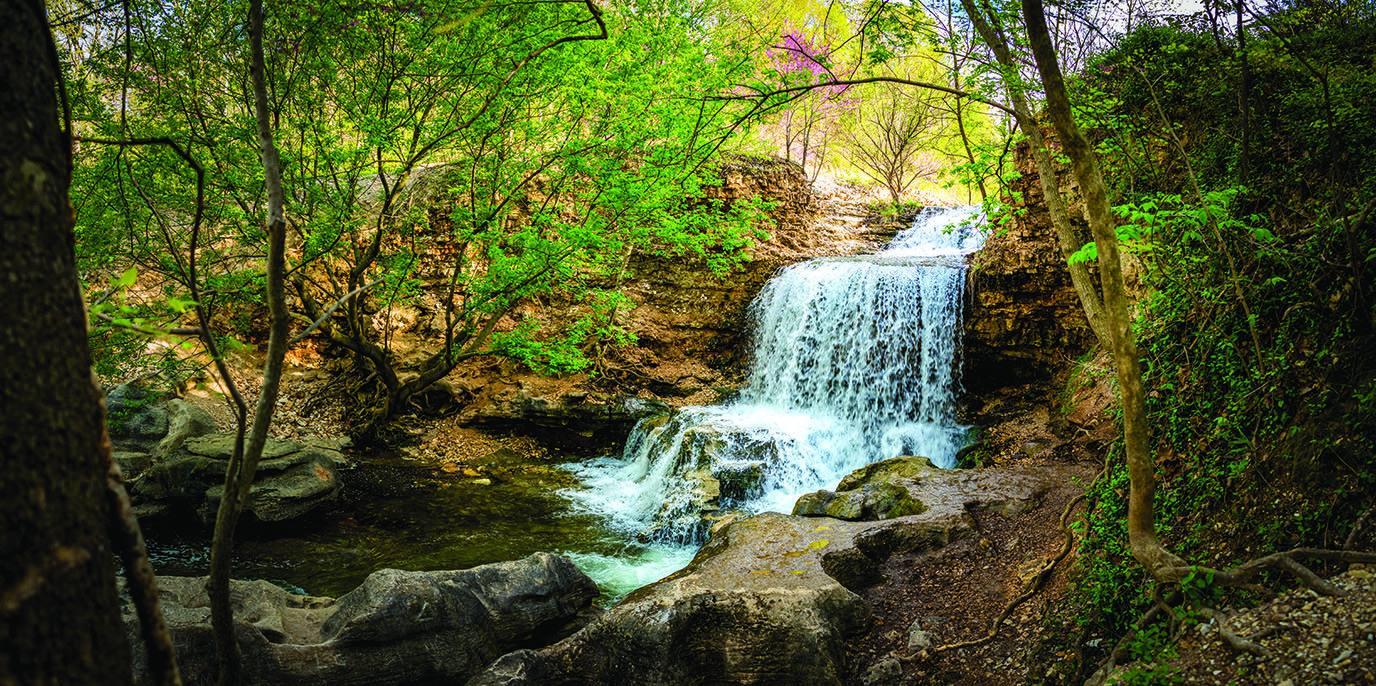 Bella Vista is close enough for a day trip, but it's got more than enough to fill a weekend —and then some. Whether you love the outdoors or love the arts—or both—Bella Vista (Spanish for "beautiful view") makes a great home base for a variety of ways to have fun.
Hike to a Waterfall
For an urban location, Bella Vista has easy access to gorgeous natural views. That includes the Tanyard Creek Nature Trail. The public 2.2-mile trail below Lake Windsor Dam winds along the creek and a number of bluff formations, with one spur leading to beautiful rushing cascades, a roaring waterfall and the dam. The first section of the dog-friendly trail is paved and accessible; most pathways are natural with some benches along the way. Don't miss a favorite highlight for many: a swinging bridge that spans the creek. For a more challenging waterfall hike, try the Pinyon Creek/Brittany Dam trail between Lake Ann and Lake Brittany.
Embrace the Lake Life
Bella Vista residents enjoy access to the community's seven private lakes. But if you book weekend lodging through Airbnb or VRBO, it's likely the rental includes guest access. With seven lakes, it won't be hard to find a place that's right for your family or group. The largest lakes—good for boating, waterskiing and fishing—include the 477-acre Loch Lomond, which also features a marina (103 Marina Dr., 479-855-8182) and a restaurant. With a guest pass you can rent a boat. Smaller, no-wake lakes are perfect for quiet paddling. If you're visiting for the day, enjoy lake views along several trails including the 1.75-mile Lake Bella Vista walking path 10 minutes south (off U.S. Highway 71, Bentonville).
Hop on a Bike Trail
Known for easy access to mountain biking, Bella Vista boasts more than 100 miles of trails for varied skill levels. Many are located just minutes from weekend lodging (find maps here). The town has three main trail systems that all connect: south of town are the Blowing Springs Park trails (700 Blowing Spring Road), a little east is the Back 40 loop (also connected to Blowing Springs) and to the west are Little Sugar Trails. The bike trails—many of which are multiuse trails you can also hike—are the best way to enjoy Bella Vista's natural beauty. Besides the Tanyard Creek and Pinyon Creek waterfall trails, hikers might try the easy Sugar Bridge and Bear Hollow Cave trails.
Explore Art and Nature
About 15 minutes southeast of Bella Vista in Bentonville, Crystal Bridges Museum of American Art is a must-see. In addition to visiting temporary indoor exhibitions and the museum's collection of world-class art spanning five centuries, explore the grounds for outdoor sculpture and a house built by Frank Lloyd Wright. Plan to walk some of its nature trails ranging from a quarter mile to a 1.4-mile loop. The museum sits on 120 acres that include streams, springs and native Ozarks landscapes. Crystal Bridges (600 Museum Way, Bentonville) also has a restaurant and coffee spot and is open with free admission daily except Tuesdays.
Grab a Bite, Catch Some Tunes
Bella Vista and nearby Bentonville have plenty of dining options to please any palate. If you're in the mood for a lively night out, try JJ's Grill Bella Vista (12 Cunningham Corner, 479-802-6455). They serve classic grill grub starting with appetizers like fried pickles, buffalo chicken dip and nachos. A wide variety of meal options includes tacos, sliders, burgers, fish and chicken strips, sandwiches, wings, soups, salads and more.