Things to Do
The Southwest Missouri Winter Must-List
Don't let the season's cold weather keep you indoors! Head out to enjoy the Ozarks with our list of wintertime must-dos.
By Katie Pollock Estes
Dec 2022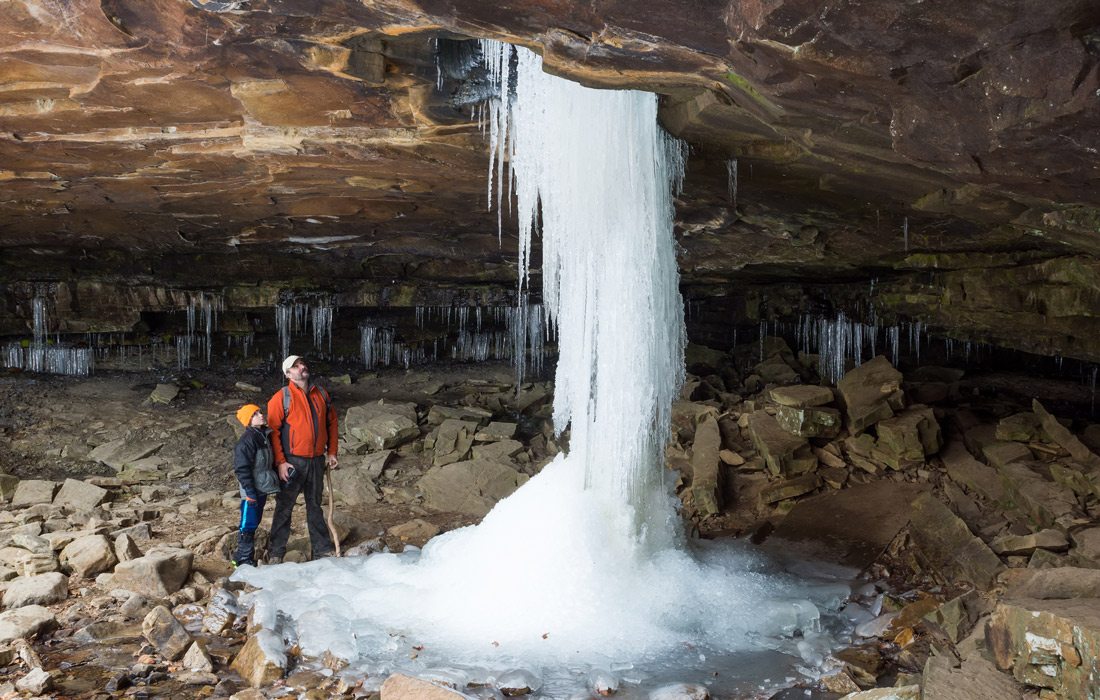 1. Find a Frozen Waterfall
There's something so magical about hiking through the woods to a Fern Gully-esque waterfall (heck, we wrote a whole cover story about it this past March!). But have you ever gone waterfall hunting in the dead of winter? On super-cold days, those waterfalls sometimes freeze, creating ice sculptures and natural works of art in the middle of the woods. So if you are up for the hunt, the payoff is truly beautiful.
2. Enjoy the View on a Winter Hike
Although you may need to bundle up, hitting the trails in the winter is always a worthwhile experience. The cold, brisk air is downright refreshing, and the views are a lot different this time of year.Your favorite summertime trail will have totally different vistas in the winter, when the leaves are no longer on the trees and the view has opened up a bit. For an easy-to-get-to option close to Springfield, try Busiek State Forest.
3. Go Sledding
Southwest Missouri isn't one of those places that's covered with snow all season long. So when we get a good snow that's just the right depth and texture for some serious sledding, we need to take advantage of it! When you see real snow in the forecast, take a PTO day from work and bring your kids (or just yourselves) to the nearest hillside to enjoy the zipping, sliding, heart-racing, nostalgic fun of flying downhill on a sled.
4. Warm Up in a Cave
No matter how cold or hot it is outside, Missouri's caves are always a mild 60-ish degrees on the inside. That feels like air conditioning in the summer and downright balmy in the winter. So when you need to warm up this winter and want to see some of the gorgeous results of our region's karst topography, cave tours are the way to go. Some great local options include Fantastic Caverns, Crystal Cave, Smallin Civil War Cave and Talking Rocks Cavern. Not only are these caves' tours educational, they are so fun your kiddos won't even know they're learning.
5. Go Trout Fishing
Fishing isn't just for lazy summer mornings. You can fish for naturally reproducing wild trout in Missouri's streams year-round, and winter is a great time to brave the cold to catch your supper. There are plenty of options for places to fish, but the North Fork of the White River is a blue ribbon trout area that's always a good bet.
6. Spot Bald Eagles
Winter is a great time to look up to the skies and try to spy a majestic bald eagle soaring up above. Thanks to Missouri's plentiful waterways and lakes that don't freeze over in the winter, bald eagles love to nest in the Ozarks. Every January, Roaring River State Park in Cassville has a free bald eagle viewing event, so watch the Missouri State Parks website for details on the 2023 event (which weren't available yet at press time).
7. Whip Up Some Snow Ice Cream
One of childhood's simplest joys is scooping up freshly fallen snow and turning it into a sweet dessert. Snow ice cream is super-easy to make, although there are recipe variations for sure. Just make sure you have a few key ingredients in your pantry and ready for this season's snowy days: milk and sugar (or, alternately, sweetened condensed milk) and vanilla extract. And probably some sprinkles too, right?
8. Roast Mallows Around a Bonfire
At Rutledge Wilson Farm Park, you can rent a bonfire that includes wooden benches for seating and staff on-hand to get the fire started for you. You'll need to pack your own supplies and ingredients if you plan to make s'mores or roast weenies. Or, you could just wrap up in a blanket next to your fam and enjoy the warmth. It's a great warm-up activity during winter's milder days and nights. Reserve by calling 417-837-5949.