Trails
Happy Tails: Four Favorite Dog-Friendly Trails
Ben and Brina Thomas, owners of 5 Pound Apparel, spend much of their free time hiking with their black lab, Lemon. Read about their favorite southwest Missouri hikes that are equipped for pups and people alike.
By Savannah Waszczuk
Mar 2020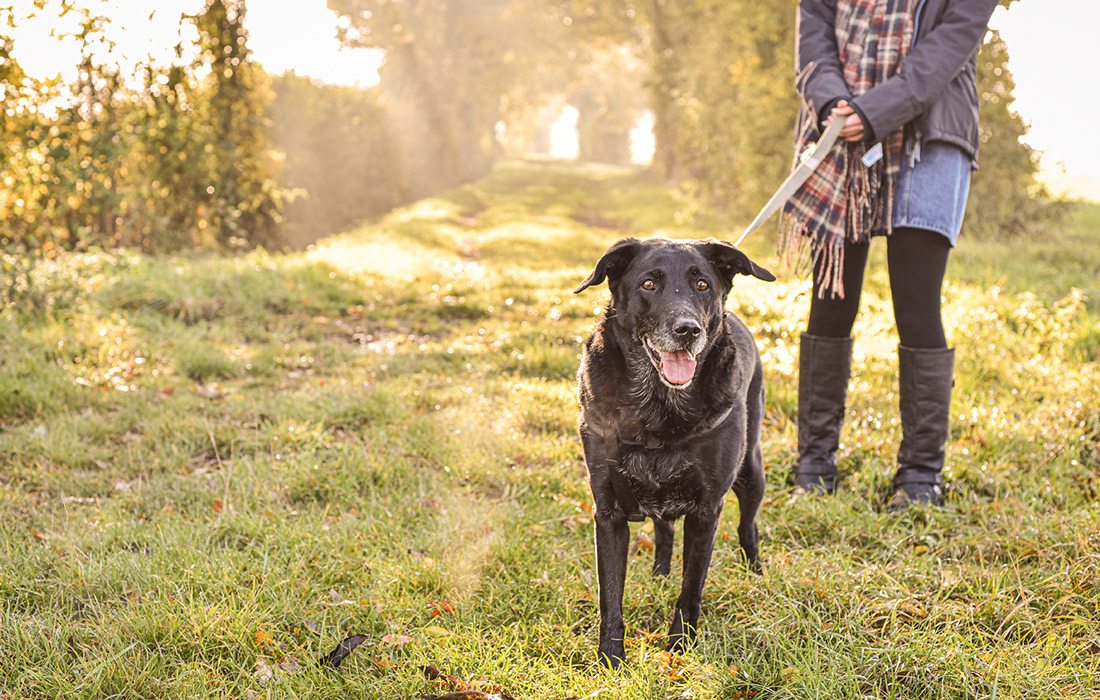 Located off of Highway 65 in Highlandville
Trail: The Purple Trail
Length: 3.9 miles
Dog-Friendly Details: A plentiful collection of elevation changes, water crossings and well beaten paths makes Busiek State Forest and Wildlife Area a popular place for pups. The Thomases say they particularly enjoy hiking The Purple Trail with their dog, Lemon. Located on Busiek's west side, this trail follows switchbacks up its main hill. "We like this traverse because it's not overly rocky," Ben says. "Since it's more dirt than rock, it's not as hard on her paws." After taking in great views from the top, hikers head west to a wooded area (shade relief!), then complete the loop by heading downhill on the White Trail where a creek awaits at the bottom. "The creek is a perfect little celebration," Ben says.
Located in north Springfield, just off Highway 13 on Farm Road 94
Trail: Ritter Springs Park Loop
Length: 3 miles
Dog-Friendly Details: If you want a hound-friendly hike without a lot of drive time, all you have to do is look to north Springfield's Ritter Springs Park. At just 3 miles, Ritter Springs Park Loop is the perfect length for a leisurely afternoon of exploring. "We've found that anywhere from 3 to 5 miles is a good distance for Lemon," Ben says. "We've taken her on 10-mile hikes before—one in Colorado, even—but she gets worn out if we go too far." Ritter Springs Park Loop is mostly paved—another bonus for those tender pup paws—and offers views of the south Dry Sac River. "There's also a pond where she can swim, and an open field," Ben says. "It's a great spot for tossing the Frisbee or playing catch." Be sure to bring the necessary accessories like a Frisbee, water bottle and picnic blanket.
Southwest of Branson on State Highway 165, just south of Table Rock Dam
Trail: Lakeshore Trail
Length: 4.4 miles
Dog-Friendly Details: You love a day at the lake, right? Well, chances are your dog will, too! So fill up the tank and head to Table Rock State Park's Lakeshore Trail. While you meander the mostly paved trail, your pup will stay busy with birds, boats and (probably a little) barking at the Showboat Branson Belle. (Time your hike right to catch a glimpse of the boat cruising along the shoreline.) "The lake makes this trail really scenic," Ben says. This round-trip trek starts at State Park Marina and stretches to the Dewey Short Visitor Center, so there are plenty of options for a snack or water break when lake activity is in season. Don't forget your leash, but feel free to leave your heavy hiking boots at home—the trail is mostly paved and fairly flat.
Southwest of Camdenton on Highway 54
Trail: Turkey Pen Hollow Trail
Length: 6.7 miles
Dog-Friendly Details: Everyone knows about the historic castle at Ha Ha Tonka State Park (and the landmark is definitely worth a look), but we recommend digging your paws a little deeper next time you're here. The Turkey Pen Hollow Trail takes trekkers through expansive forests and offers views of scenics glades and small streams. It's one of the more lightly trafficked trails in the park, which is great if you're having one of those days where you don't feel like running into other hikers and their dogs. (Don't worry—it's okay to admit it.) "Sometimes it's nice to find a trail that's not too crowded, so you can just be off by yourselves," Ben says. If you and your four-legged friend aren't up for hiking 6.7 miles, try a shorter hike—the Devil's Kitchen Trail is 1.3 miles and another favorite.