Trails
Hiking Arkansas' Buffalo River Trail
While the Buffalo River may be known for floating, it's also a great spot for hiking. Pack a tent and prepare to see the Buffalo National River from an entirely new perspective by hiking Arkansas' Buffalo River Trail.
By Claire Porter
Aug 2019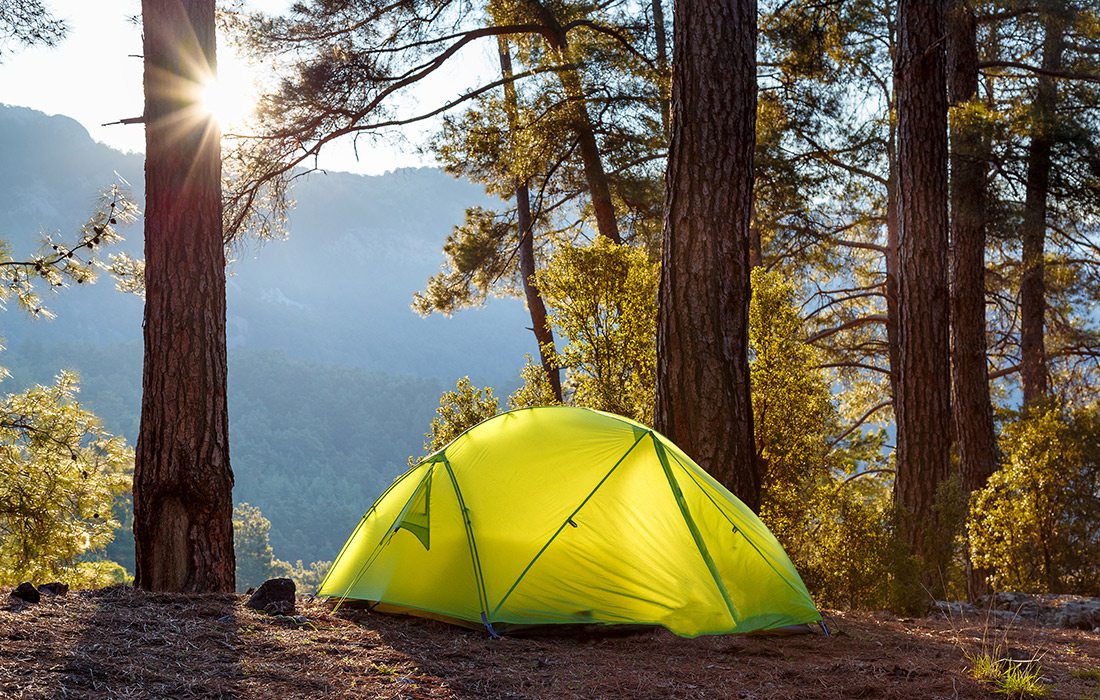 In the Ozarks, we're familiar with summer fun on the banks of the Buffalo National River. What you might not realize is this mighty waterway reveals its true magic when seen from above. From atop the tree-lined bluffs hugging each of the river's winding curves, the majestic beauty of the Natural State unfurls before your eyes. 
These views were exactly what a group of friends and I were craving early last fall when we planned a weekend hiking trip. Fresh off hiking the 34-mile Laugavegur Trail in Iceland a few months earlier, we were itching to implement some of the lessons we had learned on our Nordic adventure. After considering some farther-away trails in Appalachia, we settled on conquering the much closer-by Buffalo River Trail.
The Trail
The Buffalo River Trail (BRT) has multiple segments, the most popular being the 36-mile Western Section spanning from Boxley to Pruitt in Arkansas. By hiking between 9 and 13 miles a day, it can easily be tackled in a long weekend, or broken into segments of long day hikes. The trail hugs the river but never crosses it—for that you'll want to check out the Old River Trail, a horse trail that aligns with the BRT at several points and includes plenty of opportunities to splash through the water. 
The BRT passes through several large campgrounds, including Steel Creek, Kyle's Landing and Erbie, but backcountry camping is common, and there are ample secluded clearings to catch a wink. Steel Creek and Kyle's have restrooms, running water and picnic tables, but be prepared to carry and filter your own water and pack out your trash just in case.


The Prep
After a few hiking mishaps in which not knowing the trails cost me valuable time, energy and daylight, the first thing we did was study the route. Our group uses the All Trails Pro iPhone app, which offers downloadable maps with real-time GPS tracking, but I recommend having an analog map and mile-breakdown, too. We printed, annotated and laminated maps from ouachitamaps.com, marking potential campgrounds and places to refill water. 
If you're going in August, take plenty of bug spray, water, water filters, bear spray and a bear bucket or bear bag for food. And because the whole appeal of the BRT is seeing the river from above, know that you have some very serious climbs ahead of you. Trekking poles are your best friend here. Bring a buddy so you can drop a car off at your endpoint, or arrange for a ride ahead of time since cell reception is scarce. 
The Experience
The start of the trail, Boxley to Ponca, keeps you deep in the woods and traverses private lands. It's buggy, hard to find and there aren't many opportunities for water. If you're going to skip a segment, skip this one. However, once you emerge from the woods, the sight of sunlight glinting off the river at Ponca Low Water Bridge is exactly the pick-me-up you need to help you tackle the last few miles to Steel Creek. (If you don't make it, there's a bluff-top backcountry campsite a few miles past the bridge.) 
As you leave Steel Creek, stop to soak in the view from Steel Creek Overlook, just off the trail. With ample parking and amenities, unbeatable vistas and plenty of picnic-perfect rocks, Steel Creek to Kyle's Landing makes for a low-hassle day hike. On the way to Kyle's Landing, the woods become less dense and the sights become even more amazing. Soak in the eagle-eye views while you can, because the last segment near Erbie campground leads down to the river, along valleys, through homesteads and past historic graveyards. The trail has enough geographic diversity to show you this familiar region from a new perspective.
As floating season comes to a close, consider ditching the canoe and grabbing a pack to experience the majesty of the Buffalo River—that is, if your calves ever stop burning.
More Area Hiking Opportunities