Trails
Escape into the Woods at the Springfield Conservation Nature Center
Explore the diverse landscape of the Springfield Conservation Nature Center and learn about local plants and animals.
By Morgan Doyle
Aug 2020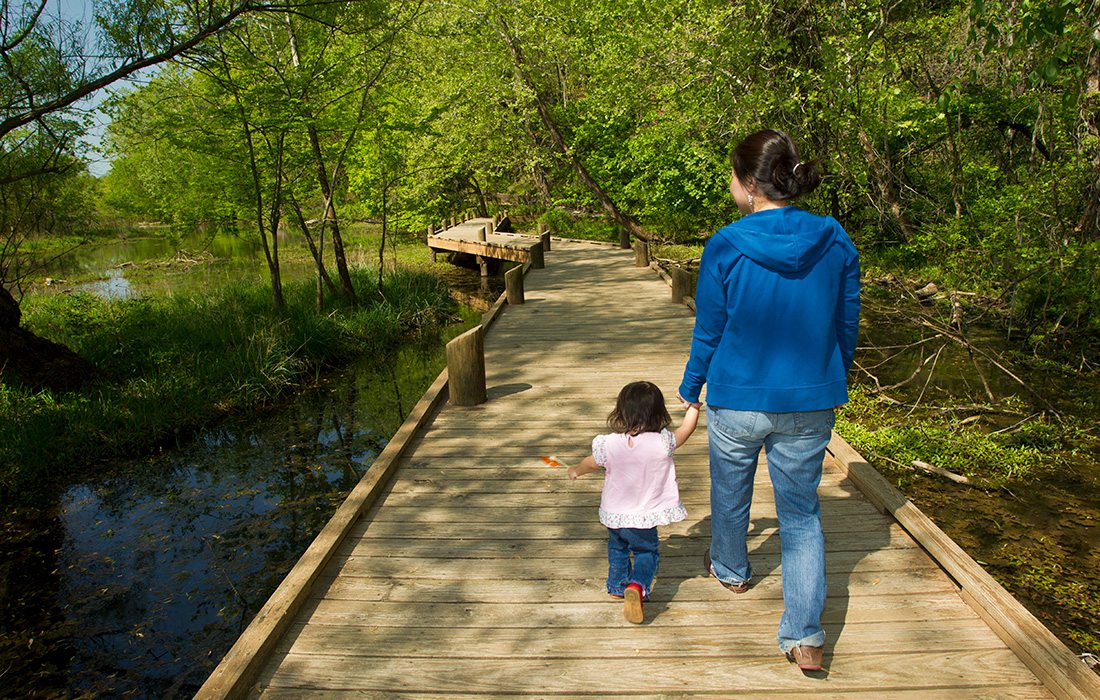 Despite being shoulder-to-shoulder with the U.S. Highway 60 and 65 Interchange, the Springfield Conservation Nature Center is home to a very diverse group of wildlife. Within 2.8 total miles of trails, visitors can venture through an upland hardwood oak hickory forest, wetlands, a glade, a bottomland prairie and a savannah. Nature Center Manager Rudy Martinez says these habitats attract anything from white-tailed deer and turkeys to the occasional otter or bobcat, along with many reptiles and amphibians. Most animals won't be out and about during the heat of the summer, so early morning or late evening is the best time to visit.
There are five trails to explore throughout the park's almost 80 acres, with the furthest being the Long Trail at nearly 2 miles. The trail includes a bridge where visitors can see up the creek and into Lake Springfield. The Boardwalk Trail is a little under half a mile and has a decked boardwalk over the wetland where frogs and tadpoles can be spotted if you stop and look closely.

"It's always fun to take a family through there with kids because you really have to slow down and take time and notice what's in your surroundings," Martinez says. "The more you look, the more you're going to find." The trails are 80% shaded and have been around since the center was constructed in 1988.

According to the park's website, the area is also a popular bird watching location and part of the Great Missouri Birding Trail. The diverse landscape attracts migrating birds in the spring, and a fall migration happens late August into September. Find a spot by the entrance to watch a variety of bird species land on treetops near the parking lot.

The nature center building is currently closed but is usually open for visitors to step inside and learn about local habitats. There are photography exhibits, hands-on children's activities and many educational programs. The trail system remains open every day, but there are no bathrooms or water fountains available, so make sure to plan ahead. Light clothing is recommended, along with comfy shoes, sunscreen, bug spray and water.