Waterways
4 Lakes to Explore This Summer
Lakeside fun doesn't have to mean a full weekend away. Inside Springfield City Limits, we have a few small lakes that offer their own brand of summer fun.
by Katie Pollock Estes
Jun 2021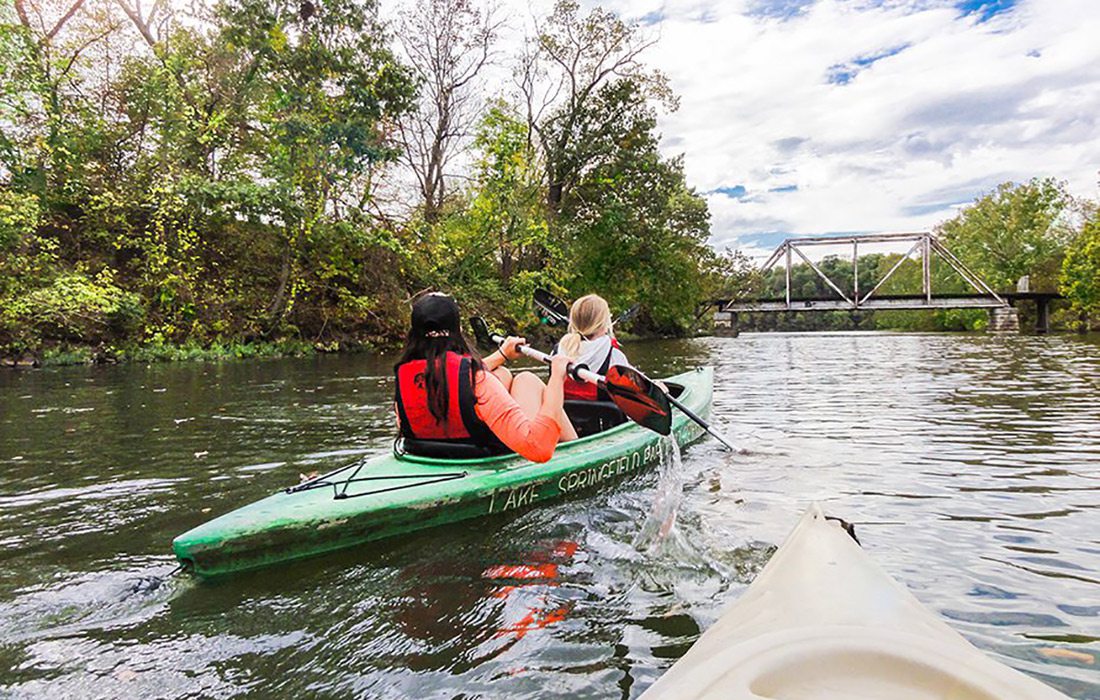 Fellows Lake
For days when: Your rod and reel are calling your name.
This lake is was built by damming part of the Little Sac River and is known for some great, low-key fishing opportunities. Muskellunge, or muskie, is the fish that gets the most attention at Fellows Lake but Fellows is also known for bass, crappie, walleye and other critters too. In the past year, the lake has gotten a brand new marina and will soon have easy access to the new and nearby Dirt 66 trail, so you can definitely make a day of it if you want to.
Find it: 4208 E. Farm Road 66, Springfield
Lake Springfield
For days when: You want to paddle but don't want to travel.
Lake Springfield Park and Boathouse is a great spot to start a day on the water because they rent out canoes, kayaks and even stand-up paddleboards (plus gear like life jackets) all summer long. That means you can take a float trip without giving up the whole weekend and driving to a farther-away Ozarks river. Bonus: Aside from paddling, this is a nice spot for a walk too thanks to the nearby Lake Springfield Park Trail, James River Greenway Trail and Greater Ozarks Audubon Trail.
Find it: 5324 S. Kissick Ave., Springfield
Lake Drummond
For days when: You're in the mood for a stroll
Considering the fact that Nathanael Green¬e/Close Memorial Park can be such a bustling place sometimes, we're always taken by just how peaceful it feels when we're strolling around Lake Drummond. The flat, paved walkway offers loads of great views around the small lake, and a handful of comfy places to sit and watch the ducks and geese. When we walk the trail, we especially love passing by the weeping willow trees that are along the water's edge.
Find it: 2400 S. Scenic Ave., Springfield
Valley Water Mill Lake
For days when: You feel like learning a little something
You can fish on the piers at Valley Water Mill Lake, located at Valley Water Mill Park, and you'll certainly enjoy strolling along the path that surrounds the quiet, scenic body of water. But what stands out here is the Watershed Center, which is the home base for the Watershed Committee of the Ozarks. Their educational mission means the site is peppered with signage that teaches about the region's ecology, water treatment (because the lake feeds Springfield's water supply) and flood control.
Find it: 2400 E. Valley Water Mill Road, Springfield