Waterways
Float the Kings River in Eureka Springs Arkansas
With easy floating and the option for Class III rapids, this Arkansas river is called Kings River for a reason.
By Vivian Wheeler
May 2019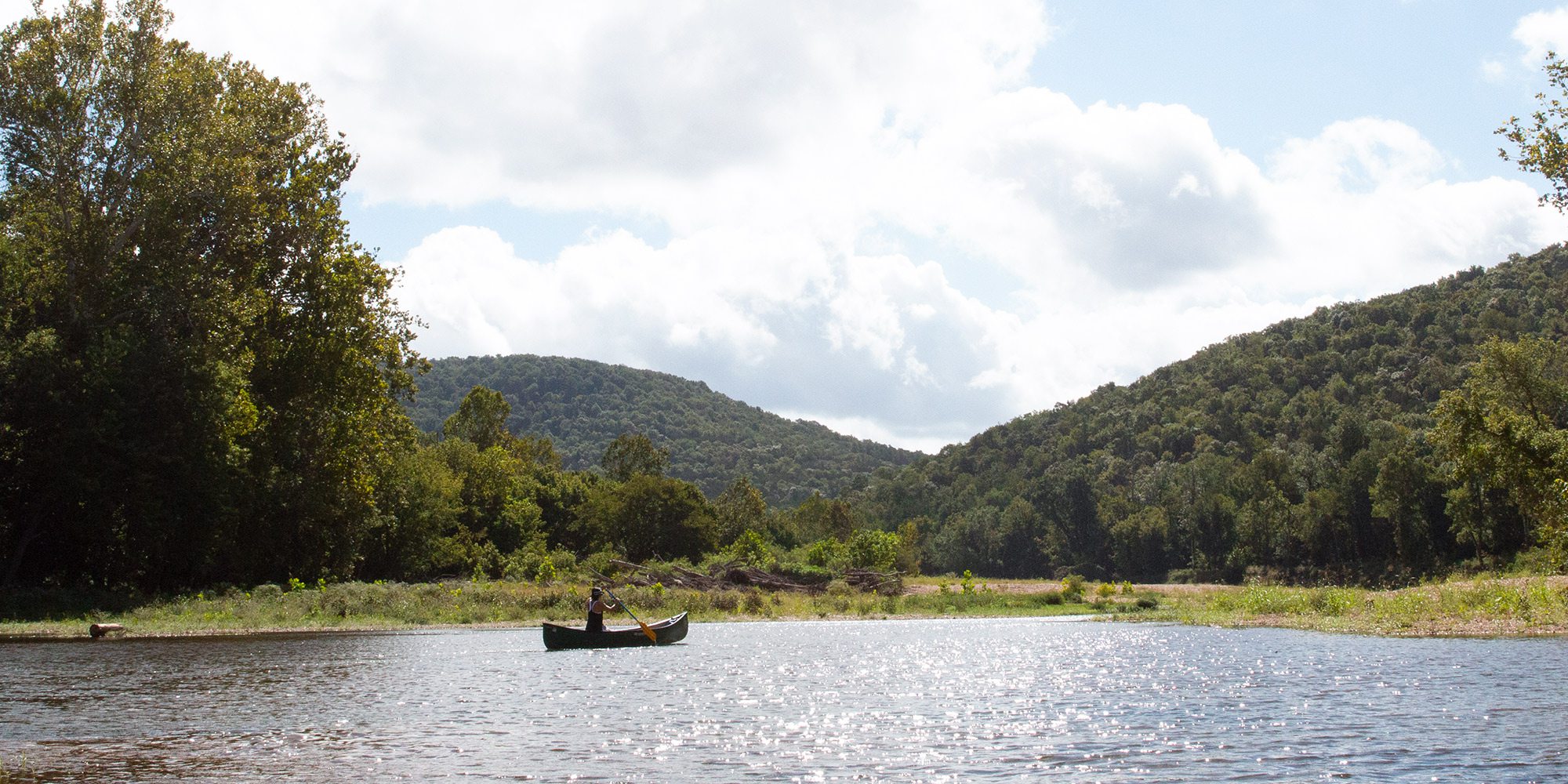 Located just 15 miles from Eureka Springs, Arkansas, the Kings River is one of the few remaining free-flowing rivers in the country. With its headwaters arising in the Boston Mountain of the Ozark National Forest, the Kings runs north 90 miles until it empties into Table Rock Lake at the Missouri state line. On the Kings River, you'll see soaring rock bluffs, sloping gravel bars, crystal clear pools and shady forested banks. Luckily, these sites should be around for generations to come, as the Nature Conservancy has established a 5,000 plus-acre preserve, which includes 10 miles of frontage on the Kings River.
Paddlers typically divide the Kings River into two sections. There's an upper section of the river that spans 11 miles, which is a Class III whitewater stream and includes a waterfall at the Kings River Natural Area. The lower Kings River runs for 82.5 miles and is a relatively gentle Class I stream. One of the river's most popular floats in the lower portion is the stretch from Rockhouse to Trigger Gap. Clocking in at 8 miles, this stretch runs through land owned by the Arkansas Nature Conservancy, and you'll find interesting rock features, gravel bars and plenty of deep swimming holes along the way. Toward the end of your float, you'll cross through a low-water bridge that can be a bit swift at times. Go right down the middle of the bridge. 
If you're looking to make a weekend trip out of it, there's a lot to do in the area. Eureka Springs offers great restaurants and window shopping. Stop by Chelsea's Corner Cafe and Bar for homemade pizza and live music, or swing by the Rowdy Beaver for a beer. If you have the time, make the hour and 15–minute trip south to the Kings River Falls, which is one of the best swimming holes in the Ozarks.


Kings River Float Trip Recommendations
Rockhouse to Trigger Gap | Length: 8 miles | 
Difficulty: Easy
The Ozarks has an abundance of rivers that crisscross the region. Check out the best float trips in Missouri.