Waterways
Best Place to Fly Fish in Southwest Missouri
Believe it or not, fly fishing knee-deep in the water is a classic winter activity. Several nearby state parks offer stunning springs and rivers for casting your line while unwinding among tranquil scenery, iconic landmarks and more.
By Katie McWilliams
Feb 2022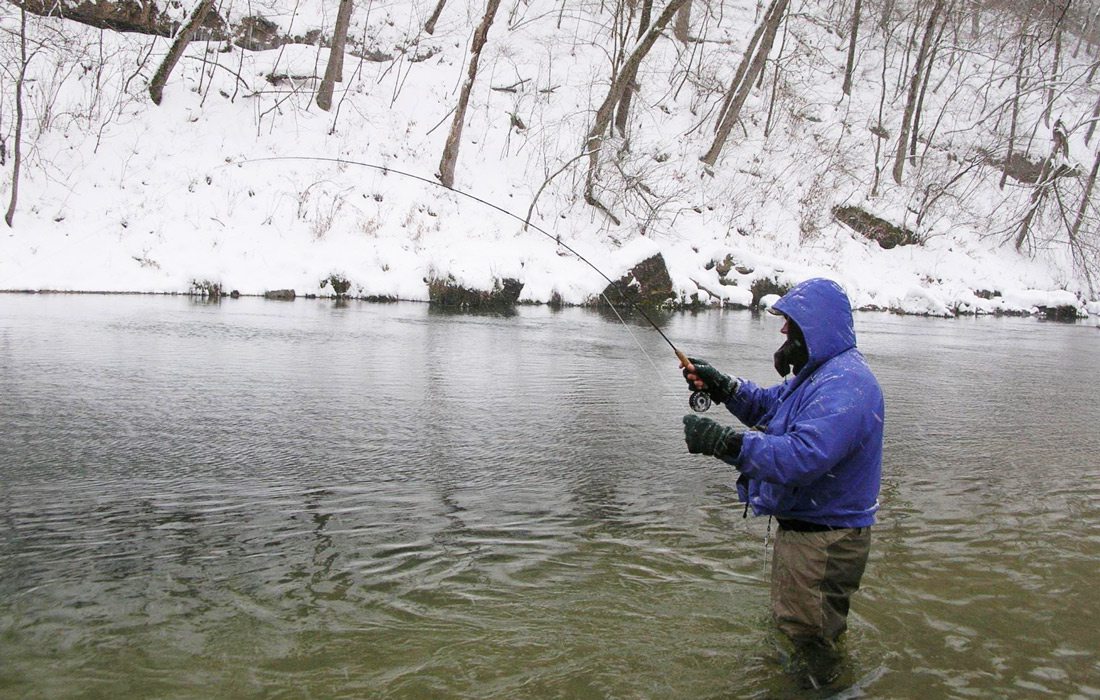 Experience a Historic Gem at Maramec Spring Park
St. James, Missouri
Immerse yourself in the cool, clear waters of the fifth largest spring in the state at Maramec Spring Park (21880 Maramec Spring Dr., St. James), which the Missouri Department of Conservation supplies daily with dazzling rainbow trout. You can also reel in the big ones at the Maramec River featuring some of the most diverse fish populations in North America; just be sure to release them afterward! Whenever you need a break from dousing in the currents, take a leisurely ride through the Historic Drive filled with unique sites from the park's iron working days.
Reconnect with Nature at Roaring River State Park
Cassville, Missouri
You likely won't hear the river rumbling at Roaring River State Park (12716 Farm Rd. 2239, Cassville); think tranquil currents, birds singing in the still trees and hungry trout circling around your waiting hook. Keep in mind that like most parks, policies are adjusted during the winter season, such as only allowing flies and bait attached to a single hook. Fish must be released as well, but feel free to take home photos of your big catch. Rewarm your chilly legs by hiking one of the park's many trails, from the scenic River Trail to the rocky Devils Kitchen Trail.
Improve Your Skills at Bennett Spring State Park
Bennett Springs, Missouri
Not only is Bennett Spring State Park (26250 MO-64A, Lebanon) a prime spot for reeling in rainbow trout in the over 100 million gallons of refreshing spring water, but it also offers interactive features for fishing enthusiasts. From an online trout cam to the Jim Rogers Fly Fishing School perfect for learning or refining your skills, you'll be well prepared for a successful catch along the park's spring branch. While you're enjoying the gushing spring waters, take an adventurous hike through canopies of trees and a natural tunnel, or stay for the weekend in a cozy rental cabin. Call 417-532-4307 for more info.
Take an Unwinding Trip to Montauk State Park
Salem, Missouri
With abundant springs and a small creek supplying the peaceful Current River with dozens of gallons of water year-round, it's no surprise that fly fishing is the premier attraction at Montauk State Park (345 County Rd. 6670, Salem). The quiet trees and calming river waters provide a peaceful atmosphere for catching and releasing rainbow and brown trout during the winter months. There are plenty of other features to explore as well, including a paved bicycle trail, a full-service restaurant and a gristmill reflecting the thriving community once housed where the park is now.