Waterways
Everything You Need to Know for Fall Fishing in the Ozarks
Enjoy Missouri's breathtaking fall foliage by strapping on some waders and testing your hand at trout and bass fishing during catch-and-release season.
By Jenna DeJong
Nov 2020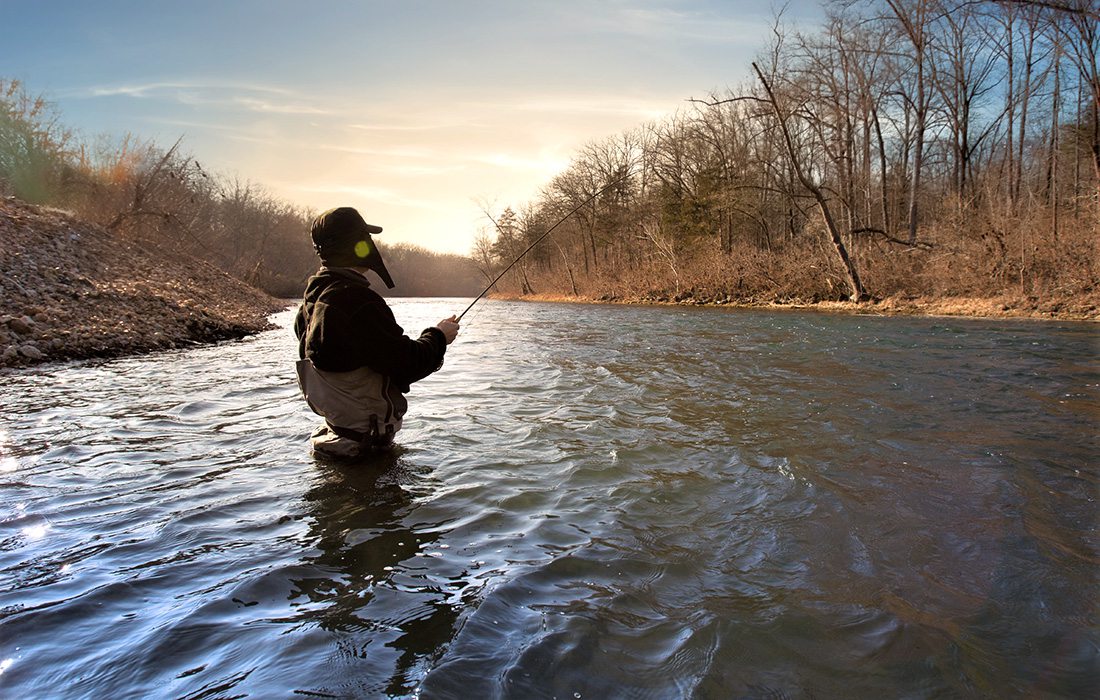 Meramec Spring Park 
One of the biggest reasons those in southwest Missouri should make the trek to St. James is to see the breathtakingly beautiful spring. The emerald waters and wildlife viewing make for a gorgeous backdrop while fishing for rainbow trout. The grounds also offer a cafe, campground and museums. To enter the park, there is a $5 fee per vehicle. 
Distance: 2 hours, 15 minutes northeast from Springfield
Montauk State Park 
An easy drive from Springfield, Montauk State Park's catch-and-release season begins November 13 and is only available on Friday through Monday. The park offers both rainbow trout and brown trout, and a few picnic tables for when you're ready to relax and take a break. 
Distance: 2 hours northeast of Springfield
Roaring River State Park 
Don't miss fishing in one of Missouri's most popular parks, especially since it's known for premier fishing. The park is stocked with rainbow trout from its hatchery managed by the Missouri Department of Conservation. If you're looking to turn this trip into a weekend away, the park also offers cabins and hotel rooms. 
Distance: 1 hour, 30 minutes southwest from Springfield
North Fork of the White River 
The Blue Ribbon Trout Management Area along the North Fork of the White River has been known for catching trout, though flooding in 2017 has made this more challenging. Never fear, anglers should still visit this 8.6-mile stretch to fish for striped bass. These fish migrate to the river from Norfork Lake and usually hang around until November. This stretch of fishing begins at Rainbow Spring and ends at the Patrick Bridge access point. Get to the area by visiting public access points at Patrick Bridge or Blair Bridge Access. 
Distance: 2 hours southeast of Springfield
Rainbow Trout & Game Ranch, Inc. 
Whether you choose to visit for a weekend or stay for the day, these grounds made up of over 2,000 acres are a wildlife haven. In addition to rainbow trout fishing, the grounds offer horseback riding, hiking trails, whitetail deer and wild turkey hunting and a few different dining options. 
Distance: 1 hour, 45 minutes southeast of Springfield