Waterways
Paddleboarding with Ozark River Walkers
Paddleboarding is popular on our local lakes. But did you know it's a thrilling river ride as well? Ozark River Walkers is ahead of the river paddleboarding trend—even in the winter.
By Michelle Lewis
Feb 2023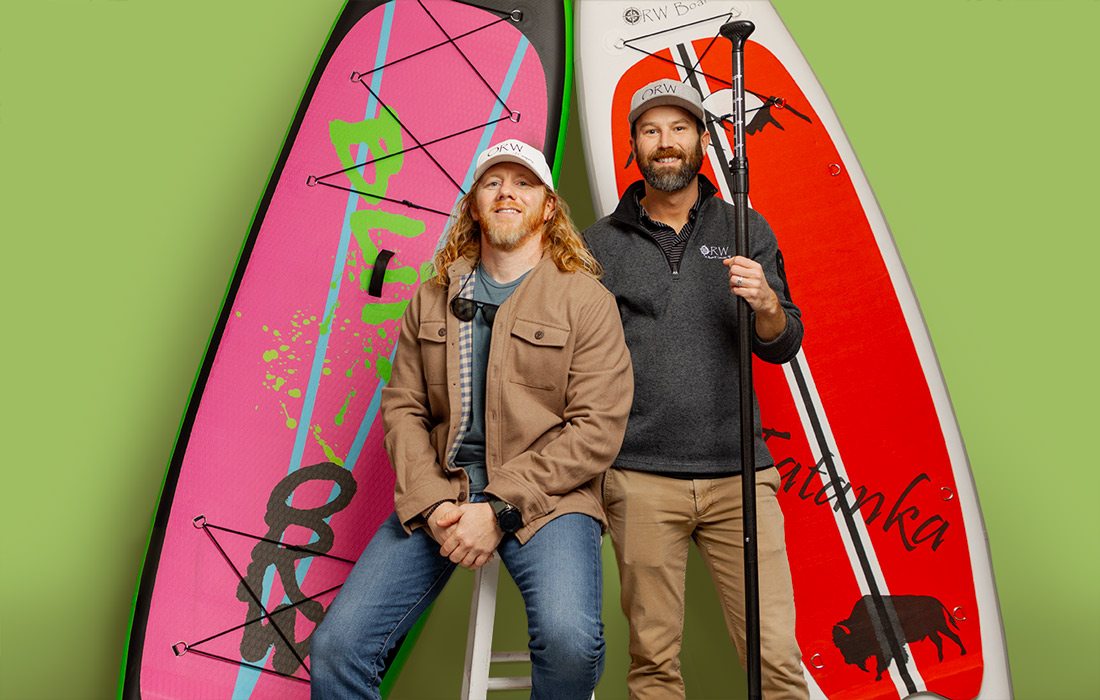 Growing up in Missouri and with the help of his father, John McCart got into watersports at a young age. "When I was 6 and my sister was 8, my dad took me out and put us in a canoe and said sink or swim," he says. Despite the push that could have scared him away from the water, the opposite happened, and McCart fell in love with it.
It wasn't until recently, though, that McCart fell in love with stand-up paddleboarding too. The introduction came from his friend Trey Kerby. "I was very reluctant to do it," he says. "But he opened my eyes and now that's all I do."
Paddleboarding is a completely different approach to being out on the water than canoeing or kayaking. The key difference, and the main challenge, is the fact that paddleboarding requires you to stand on a board while using a paddle to move yourself across the surface of the water. This requires a different maneuvering technique than you would use with a kayak or canoe. McCart says the physical aspect of paddleboarding is one of the best workouts you'll ever get. However, the entire time you're on the water you'll be having too much fun to notice. "You're just there to have fun," he says. "You're not worried about tipping over or sinking."
The sky is the limit when it comes to paddleboarding, especially in the Ozarks. Many other areas of the country do not have the number of streams and floatable rivers that the Ozarks holds. These rivers provide unique adventures every time. The calm waters can provide relaxing getaways and small rapids provide thrills unlike any other. "The more I travel, the more I see how special it is here," says McCart.
Despite the Ozarks being a paddleboarder's dream, it didn't take Kerby and McCart long to realize just any board wouldn't hold up to the natural obstacles the area holds. "We knew they could be built better and stronger for what we do around the Ozarks," says McCart. The pair began researching the production of boards to find exactly what was missing from the boards they kept wearing through. After trial and error and going through many designs, they released their first boards. Their Ozark River Walkers ORW Boards are inflatable and built to handle everything that the rivers could throw at them. For those who haven't ventured out on the water in cooler weather, Ozark River Walkers can also offer accessories to prepare you for the cold and teach you all of the tips and tricks to stay dry.
As the boards began to grow in popularity and sell across the country, Kerby and McCart knew they could use ORW to spread the love of paddleboarding and the outdoors that they each felt. The two have centered much of their focus around preserving the natural blue ways throughout the area by working with nonprofits like the James River Basin Partnership and hosting local river cleanups.
McCart encourages anyone interested in paddleboarding to reach out to Kerby or himself. They offer custom adventures ranging from two-hour floats to multiple-day excursions, even for beginners. "Getting to be there when people experience something that I love so much for their first time is a very, very magical moment," says McCart.